April Fools Day. Historically full of monkeyshine and mischief, I entered the House of Blues a bit more cautious than normal, as I had not yet fallen victim to any shenanigans.  The night was young and there were still several hours for anyone, and I mean anyone (I'm talkin' to you guy in the gorilla suit holding bananas!), to play a number on me.  I arrived just prior to the 8:30pm show time and to my surprise the venue was almost completely empty!  I thought for sure that there had to be some YMSB fans in Dallas and crossed my fingers that they would make their way to the HOB as soon as humanly possible.  Perhaps they were as distraught as myself that the Cubs lost on opening day, surely that could be why people were so late!  But like watching ants flock to spilled sugar, the place eventually started to fill out and not a moment too soon at that! As Dave, Jeff, Ben, and Adam came out to greet those of us waiting ever so patiently, it was comforting to see the quartet and a sea of the familiar YMSB fans that I've encountered in shows past.  Hippies, hipsters, business dudes/dudettes, tapers, tokers, young and old, the House of Blues served as a melting pot of sorts for us all to just get our "jam" on.
The boys started the night off with  'No Expectations' off of the album Mountain Tracks; Volume 2, a nearly 10-minute long jam that got everyone warmed up for a long night of footin' it!  You would be hard pressed to find a still soul at a Yonder show, this is the type of music that just beckons you to move your feet!  Known not only for their music, but also their stage banter, Jeff Austin, whom was also sharing in my opening day heartache, declared "You can't win every baseball game folks and that's what this next song is about…" before they started into the ever so appropriately titled song 'Sometimes I've Won'.  Next time, Cubbies, next time.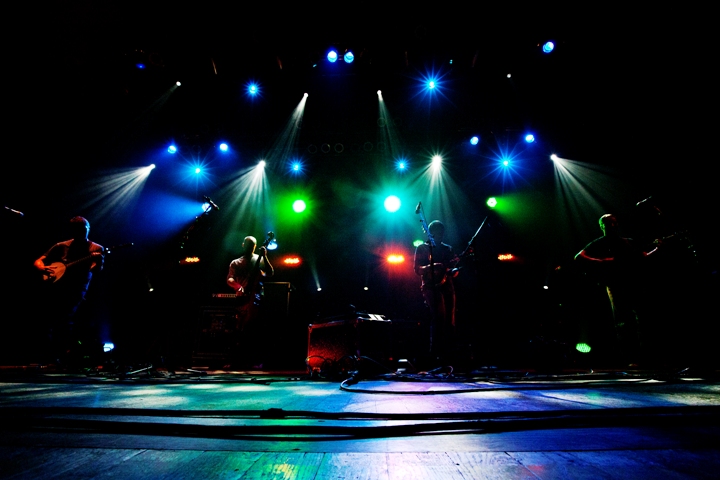 Not only was the music fantastic, the lighting was as well.  The combination of colors, patterns, textures created a kaleidoscopic effect that filled every surface the House of Blues had to offer and provided a visually stunning accompaniment to the aurally pleasing pickin' and croonin'.  And while speaking of visual aspects of the show, the mandolin man of the evening, Mr. Jeff Austin, was noticeably sans spectacles.  "I went and saw a spiritual healer and he healed me for 2,000 bucks an eye…".  Looking good Jeff!
To my surprise, the band played not just one, but several of my personal favorites such as 'Idaho', 'Granny Woncha Smoke Some', and 'Rambler's Anthem' (which notably they usually play towards the end of a tour, but decided to treat the Dallas crowd to the tune).  During 'Granny Woncha Smoke Some' there was a reprise of the Buzzkill Bertha security guard (from the Rebelution show).  The boys warned the crowd to perhaps not partake in the green as we are in Texas and not the liberally minded Colorado, but did make a very valid point saying that you won't see a bar brawl go down as the result of smoking pot. "As soon as you wanna take a swing, you want a Funyun instead."  As if this was BKB's cue to act, she immediately turned on her "spidey-ganja-sense" and was swatting down joints and pipes alike.  The crowd didn't seem to be too phased and the sweet smell of mary jane continued to fill the air.  I'm pretty sure that there is an understanding that should passed along to those in charge of keeping the peace… if a band plays a song about smoking weed, then it's perfectly acceptable to let the crowd toke up.  Relax and enjoy your second-hand high, jeesh.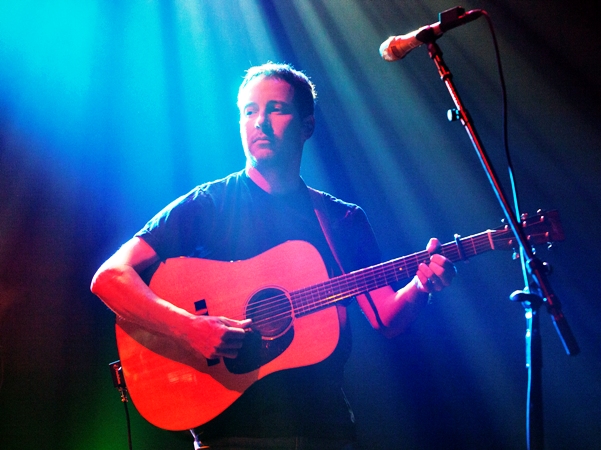 Playing nearly a 3-hour set and pulling songs from virtually every album in their impressive catalogue, the boys rounded out the night by putting their unique twist on a little Willie, a little Waylon, and the bluegrass classic 'Shady Grove'.  Musically the group was spot on all evening, playing both very cohesively as well as complimentary to one another.  Even though a majority of the stage banter came from bassist Ben Kaufmann and Jeff Austin, when it came to getting down and pickin', Dave Johnston with his banjo and Adam Aijala on his acoustic guitar most definitely held their own.
Yonder Mountain String Band is certainly a good time no matter which way you slice it.  The blend of bluegrass, rock, and countless other influences lends your ear to an exceptional listening experience and acts as a catalyst to get even those with two left feet, dancing. With tour dates spanning a good part of this upcoming summer and fall (from smaller venues to festivals), I urge anyone and everyone to try and catch a show.  Here's to hoping that they found just enough music-loving hippies in Texas to come back!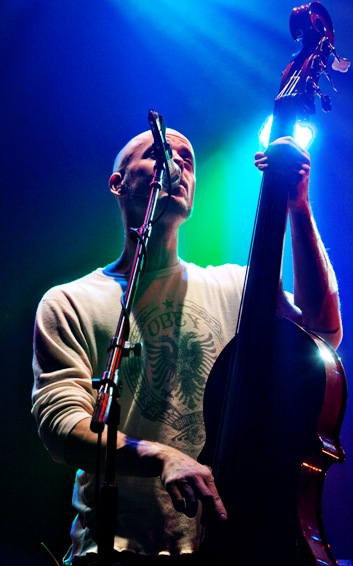 Check out more photos from the show.
-
Set 1
No Expectations
Sometimes I've Won
Winds of Wyoming
A Father's Arms
Crow Black Chicken
Looking Back Over My Shoulder
Idaho
Ripcord Blues
New Deal Train
Rambler's Anthem
Cuckoo's Nest
Elzic's Farewell
East Nashville Easter
Set II
Traffic Jam »
Little Rabbit »
Traffic Jam
Southbound
Must've Had Your Reasons
This Train Is Bound For Glory
Damned if the Right One Didn't Go Wrong
Granny Woncha Smoke Some
If You're Ever In Oklahoma
Bloody Mary Morning
Corona
Part I
Ramblin' in the Rambler »
Raleigh and Spencer »
Ramblin' Reprise
Encore
Good Hearted Woman
Shady Grove