Kicking off one of the few final stops on the Winter Greens Tour, the first band to start the night off was Los Angeles based Orgone. Quite the eclectic ensemble (from fabulous afros to cowboy hats and boots), Orgone's rhythm section originally got their start back in the nineties and it wasn't until 2001 that they brought on Fanny Franklin to lay down the lead vocals. While listening to Miss Franklin sing her heart out, you'd almost swear that she is the love child of George Clinton and Aretha Franklin as she's got the perfect mix of funk and soul.  Energetic and engaging, the band played tunes off of their most recent 2010 release Cali Fever (with the exception of their instrumental album Killion Vaults), as well as doing a marvelous rendition of 'Cosmic Slop' by Funkadelic.  Lyrical highlight of the night was definitely when Fanny was belting out 'Give it Up"—"trying to wear skinny jeans when you a size 18…. You got to give it up!"   Truth.
Orgone finished their set and passed a primed and ready crowd off to Rochester, NY based reggae group Giant Panda Guerilla Dub Squad.  Formed by the brothers O'Brian in the early 2000's, GPGDS has been making quite the footprint (or should I say panda-print?) on the reggae scene.  Touring major US festivals such as Wakarusa and Jamboree and having shared the stage with the likes of The Wailers and Toots and the Maytals, GPGDS was a solid addition to the Winter Greens Tour.  With heavy bass lines and a traditional reggae meets modern dub sound, GPGDS kept the crowd going as the HOB grew increasingly hazy (no fog machines to speak of, mind you).  The bulk of their set spanned their Live Up! and Slow Down albums and they even brought Marley Williams of Rebelution out to join them on stage for a number.  All in all they played a solid set and musically speaking were very tight.  Those who came just to see Rebelution were without doubt treated to two amazing openers who definitely did themselves justice and more.  After the stage was cleared, instruments and gear swapped out, it was Rebelution's turn to light it up… and light it up they did.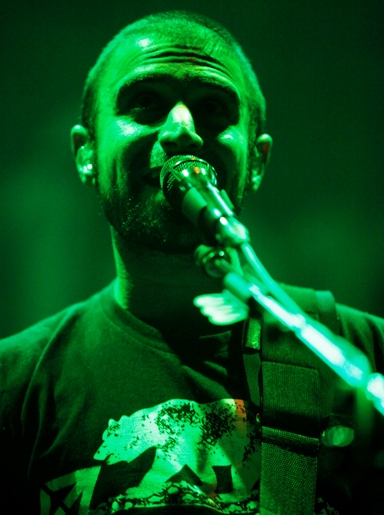 Opening with what could have been the topic of most conversations for the evening, 'So High', Rebelution played up the "green" theme as the stage was adorned with lots of foliage and verdant lights to set quite the mood.  This was definitely a different sight from their set at Austin City Limits in 2010, but a welcomed one. With Eric Rachmany on guitar and vocals, Rory Carey on keys, Wesley Finley on drums, and Marley Willams on bass, Rebelution is one group that you must experience live.  Studio albums can only do a band so much and as most know, what you hear on a CD is not necessarily what you will get live.  In their case, Rebelution has great studio albums, but a far more stellar live show.  The combination of phenomenal musicality, raw energy, and perhaps Marley's inviting smile makes them one band that I'd recommend anyone and everyone to see live… even if reggae music is not your "thing".
Playing one of their more popular songs "Safe and Sound", the boys induced a crowd sing along and perhaps smoke-a-long in the balcony.  Unfortunately a security guard who I'd like to dub "Buzz Kill Bertha" was quick to act on any fun being had by snatching up pipes and joints by the dozen.  Lindsay from Dallas said, "I might have lost my weed, but the music is just too good for me to worry about that now…".  And she was right.  Mostly playing Rebelution originals off of their 2007 album Courage to Grow, they managed to sneak in a Don Carlos cover, 'Johnny Big Mouth' which was an absolute pleasure to hear live.  They rounded out the night with 'Outta Control' and another fan favorite 'Attention Span'.  Rebelution finished their set on a 'high' note and left Texas fans wanting more and more.  Overall the night was a great blend of soul, funk, afro-beat, and reggae tunes and one can only hope that Orgone, Giant Panda Guerilla Dub Squad, and Rebelution plan to make a stop in Texas again soon helping to further prove that it's not all country music and BBQ round here, ya'll!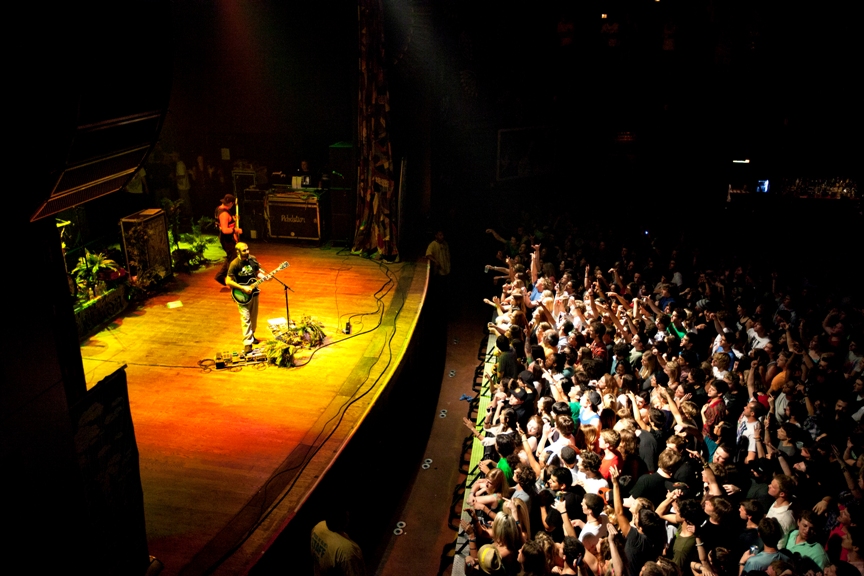 The venue: rather iconic.
The atmosphere: most definitely chill.
The crowd: a clever mix from every walk of life.
The music: transcendental.
To passerby's it was just another night at the Dallas House of Blues, but to those inside it was an evening to forget about "The Man" and elevate to higher (yes, pun intended) ground.