Ten years gone.  It's amazing how time escapes us year after year and before we know it we are ten years older, hopefully ten years wiser, and still looking forward to that familiar music festival in the middle of Manchester, Tennessee. It doesn't seem like a decade has actually passed since I first experienced Bonnaroo.  I was on the verge of nineteen, still living at home with my parents, going to college, and working a full-time job to pay off my Jeep Wrangler I had just purchased (I still drive it to this day!).  I had gotten wind of the festival through some friends who were pretty heavy into the jam band scene and figured, as I'm the adventuring type, I would give it a shot.  Packed my bags and traveled to the Volunteer State with no expectations other than I was going to have a weekend filled with camping, friends, and perhaps some great music.  Just over 50 acts scheduled including the likes of Ben Harper, Ween, Widespread Panic, Trey Anastasio, Phil Lesh and Friends, the weekend was melding into a musical blur and I was having one hell of a time.  I remember thinking to myself while packing up camp and getting ready to head back to reality, I really hope they do this again next year.  Not only was there a Bonnaroo the next year, and the next year, and the next… the legacy that is this music festival has arrived at ten years running, growing exponentially larger with each passing summer.
Wednesday June 8th, 2011
Gear packed, car loaded, and newfound friends in tow, we hopped on I-30 to begin the ride from Texas to the 'Roo.  Myself the seasoned veteran, and the two of them as first-timers, we both were not knowing what to expect from the ten-year anniversary celebration, but excited for what was to come nonetheless.  With bellies full of Whataburger, we started making our way from Dallas to southern Illinois.  Due to a back injury, a friend of mine offered to come be my pack mule (help carry my heavy photo gear) to ensure that not only I, but also that my back survived the weekend.  It was a 12-hour trip to Carbondale and then tack on another 4 hours to make it to Manchester.  Perhaps a bit eager to get to Illinois and subsequently Tennessee, my lead foot got the best of me.  We hadn't even been on the road for an hour yet and a Texas State Trooper was greeting me in my rear-view mirror.  Not the best way to start out the weekend, but thankfully I wasn't going too fast (only 77 in a 70 mph zone) and he let me off with a warning.  Ironically, the trooper said that most of those he's pulled over in the past couple hours were all on their way to Bonnaroo.  Can't get to Tennessee fast enough!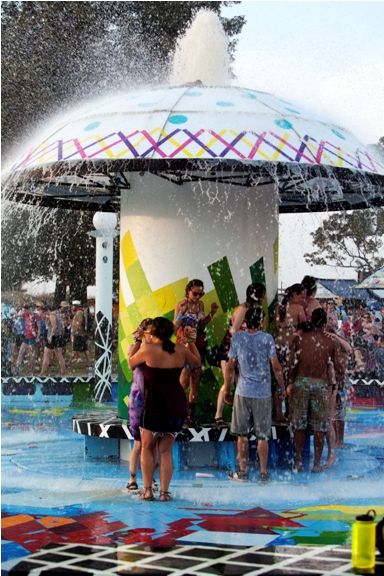 Other than the minor run in with the law, the remainder of the trip went rather smoothly.  We swooped into Illinois and Jeremy took over driving so that the rest of us could at least close our eyes.  Four hours later and we were weaving the back roads into Manchester.  Stopped off and grabbed my press credentials and proceeded to join the line to enter the 'Roo.  Our Thursday was finally underway!
Thursday June 9th, 2011
We must have hit the lines at just the right time.  In years past, I've waited close to 3 hours to actually get from the interstate to campsite on the 'Roo grounds.  This year was out of the ordinary. They opened up camping on Wednesday and you could immediately tell the difference with the lines.  As we had four people in our group, I printed out the "Carpooling to Bonnaroo" sign in hopes of score some swag as we passed through the security checkpoints.  After our wristbands were put on and we were getting directed as to where to set up camp, I waived the sign and asked the volunteer what we were supposed to do with it.  Her eyes lit up and goes "Hold on."  She talked to someone nearby and they radioed someone else.  Apparently not that many people partook in the "Carpool to the 'Roo" contest and they were going to give the next car in line a VIP upgrade. All of us got rather giddy at the thought of having super close camping, showers, food, private viewing areas, etc.  Unfortunately, another car beat us to the punch at another checkpoint.  Close, but no cigar.
As the high-noon sun beat down, we staked our claim on a camping spot and started setting up the tents.  It was in the upper 90's (not including the heat index), the air was rather still, and it was as if all the clouds that were in the sky earlier decided to take a lunch break.  It was HOT.  Before long, our makeshift homes for the next few days were up, along with our mega tarp providing shade and refuge from the summer sun.  After a couple hours of relaxation, slight napping, and lunch, we made our way to Centeroo.  You never really can get your bearings as to where your campsite is in relation to Centeroo until you walk it.  To my surprise, it took a very long time for us to get from camp to the iconic arch.  Upon locating a map of the premises, we realized we were in the far northeast corner of camp… one of the furthest spots from Centeroo.  Oh how those VIP upgrades would have been glorious!
Of all the Thursday acts, my main priority was to catch Texas native, Hayes Carll backed by the Gulf Coast Orchestra.  I've been a fan for several years now, seen him countless times in venues that span the state of Texas, and had been looking forward to his Bonnaroo debut.  Hayes falls into the meld between Texas country and Americana.  For those of you who have never experienced Texas country, here's your chance.  I admittedly have never been a huge fan of country music in general.  Let me rephrase that, pop country music.  I do have a love for the likes of Waylon Jennings, Johnny Cash, Hank Williams, Loretta Lynn, Emmylou Harris, Merle Haggard, etc… but for some reason have a hard time getting into the modern day manufactured crap that lacks heart and soul.  Thankfully, Mr. Carll has more than enough heart and soul and perhaps he could spare Big & Rich some (are they even still around?).  Thursday's set drew in a fairly hefty crowd to The Other Tent and lasted for roughly an hour (not long enough, if you ask me).  He played a nice mix of songs off 'Little Rock', 'Trouble in Mind',  and his 2011 release 'KMAG YOYO'.  After "Another Like You" (which he notably sang without the vocals Cary Ann Hearst of Shovels and Rope) he addressed the crowd by saying "it sounds like those drum circles are paying off" as this was a nod to how well the audience was keeping up with the rhythm.  He played several of my personal favorites including "Rivertown", "Drunken Poet's Dream", and "I Don't Wanna Grow Up".  Ending on "Bad Liver and a Broken Heart", you could tell that not only did Hayes win over the Bonnaroo crowd, but he also gained some new fans.  Anthony from Wisconsin said "Holy shit.  That was hands down one of my favorite sets in the history of Bonnaroo.  Hayes for President, man!"  Well said Anthony, well said.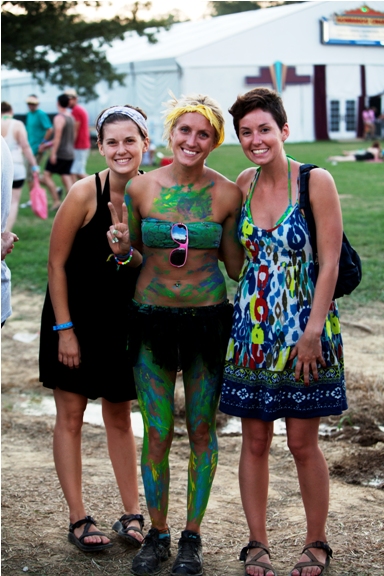 As the sun started it's descent and the heat started to subside, The Knux kicked it off over at This Tent.  Keeping it all in the family, brothers Kentrell "Krispy" Lindsey and Alvin "Joey" Lindsey are a hip-hop meets electronica duo hailing originally from New Orleans.  Starting out with a mash up of Nirvana's "Teen Spirit" and hitting us with some serious bass, The Knux called for much audience participation to "make some fucking noise!"  And make some fucking noise we did.  Highlight of the set was getting to hear "Bang! Bang!" live.  It's one of those songs that is so damn catchy when you hear it you immediately recognize it and start singing along.  Their new single "She's So Up" also has a similar effect.  Overall, there was booty poppin', a smidge of moshing, and a good time being had by those in attendance.
As what held true for years past, I've always witnessed interesting events while at Bonnaroo.  This year, while walking around Centeroo towards the Comedy Tent, I ran into a woman dressed in white.  Her friend approached me asking how I got my camera in and I let her know that I was media.  She said she was not allowed to bring hers in and was wondering if I could stop by and snap a few photos.  They then said that in a few minutes they would be heading over to some nearby trees for a wedding.  This was not my first Bonnaroo wedding and hopefully not my last, but it definitely caught the attention of other photographers and a small crowd started to form.  Vows and rings were exchanged followed by a pot-laced kiss.  It was simple, it was sweet, and it reminded us of what Bonnaroo is about… peace, love, and music.
Deciding to take a break from the music and let my ears recover, I made my way over to the comedy tent.  I've never in the history of Bonnaroo actually gone inside the comedy tent.  In past years I've been far too fixated on the music, but decided since it was year number ten, why the hell not.  For those of you who are not familiar, the Comedy Tent at Bonnaroo is a giant air-conditioned circus like tent near This Tent and the Bonnaroo Cinema.  This year's acts included Lewis Black, Cheech Marin, cast of Workaholics, Henson Alternative's Stuffed and Unstrung, Henry Rollins, Donald Glover, The League Live, John Waters and many others.  For most, going to a comedy show at the 'Roo is a nice break from the heat and a chance to sit in the air conditioning for approximately an hour, for others it's a chance to see some of their favorite comedy acts live and in person.  The line for the comedy is pretty brutal.  You have to wait and be given a ticket to gain access.  People were lining up for acts hours in advance just to get in due to limited seating.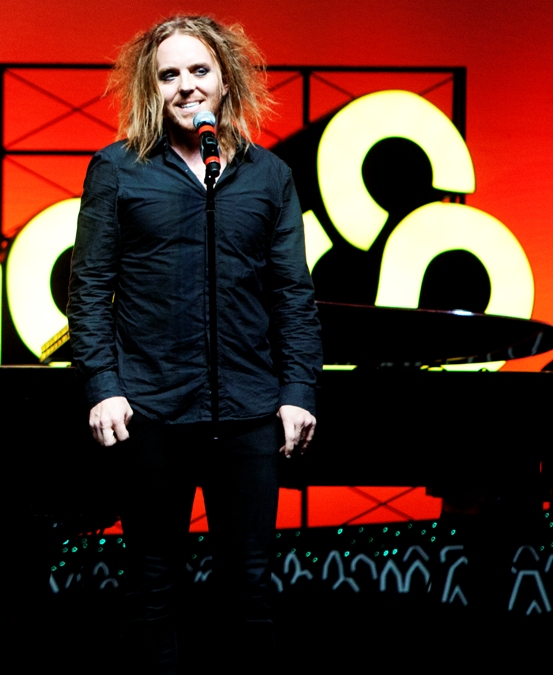 On the bill for the evening was Lewis Black with Hannibal Buress, Kathleen Madigan, and Tim Minchin.  Lewis who is well known for his politically fueled "angry" comedy, dropped quite a few f-bombs but kept the crowd laughing their asses off with every finger shaking rant.  "It's too fucking hot outside, if you don't know it is then you are overdosing."  Truth.  One challenge the comics had to overcome was the continued interruption of music wafting in from nearby stages.  Thankfully, they weren't fazed and were able to complete their bits without falter, but you could tell that some of the audience had a difficult time concentrating on what was going on inside the tent while lusting after what was going on outside the tent. Both Hannibal and Kathleen did their routines and got rousing laughter from the audience, then enter Tim Minchin.  He looks like a Robert Smith of The Cure's crazy 4th cousin twice removed (and that's a good thing… love the hair!).  Perhaps it was timing, as he was the last comedian to take the stage and by that time most people were either heading for another stage or too strung out on copious amounts of drugs, but his humor was not well received by those around me.  I personally dug the piano manifesto and his stage banter, if only the venue were different, one could fully appreciate his bit.  I do give him props for playing the Bonnaroo crowd, you never know what you are going to get.  Keep your chin up, Tim!
Emerging from the lovely air conditioning, the sun had finally set and there was a nice breeze to the air.  The Walkmen, Sleigh Bells, Deer Hunter, Beats Antique and The Band of Heathens rounded out the night.  Sleigh Bells definitely took the cake as far as the later sets were concerned.  The Brooklyn duo sounds like an Indie mash up of M.I.A. and Crystal Castles.  Taking a cue from The Knux earlier, they came out on stage to a song not of their own, Black Sabbath's "Iron Man".  They immediately went into their hit "Crown on the Ground" while being lit up by an intense light display and LED's on the Marshall stacks behind them. They played through their 2010 album 'Treats' and it was perhaps the loudest set I heard on Thursday.  Surrounded by those who had energy that rivaled that of the Energizer bunny, I was beginning to feel the weight of my eyelids and knew that it was nearing time for me to just call it a night. Having been up for nearly 48 hours, it was time to drag myself the couple miles back to my tent and pass out.  Earplugs were about to become my new best friend, especially when the neighbors felt it necessary to talk loudly about the most random shit at 4am.  Viva la Bonnaroo!