Friday night was Sue Ellen's 4th Annual Pink Party to benefit the Susan G. Komen 3-Day.  For those of you not familiar with Sue Ellen's it's one of the many amazing venues in the Cedar Springs area of Dallas—better known as the "Gayborhood".  It's also a great spot to get your PBR fix for only $2.00 a can… swoon!  Inside Sue Ellen's, pink lights lit up the venue and these quite spectacular pink balloon sculptures adorned the ceiling and walls and nearly everyone who came out wore pink in support of the cause.  It was very Pepto-Bismol chic!  Women walked around with raffle tickets and selling bracelets that said "I <3 Boobies!" Naturally, I couldn't resist and bought one (All proceeds went to a great cause!).  Drink girls walked around passing out complimentary Cosmopolitans, which was a nice touch.  Wear pink, see pink, and drink pink!
Kicking off the evening was Anton Shaw.  Definitely a local darling, many in attendance cheered and sang along while Ms. Shaw belted out flawless covers of Adele and 70's disco classics among other tunes.  With a diva-licious voice and a stage presence that commands your attention, she was the perfect pick to prime the crowd for Kristy Lee.  Personal highlight was the Adele covers.  I wasn't able to catch Adele when she was in town, so it was nice to hear someone with an incredible vocal range to their voice cover her songs.  You did amazing, Anton!
Before Kristy Lee hopped on stage, I approached her to introduce myself and find out if she was ok with paparazzi style flashes going off during her set.  The pink lights were pretty, but unfortunately wreaked havoc on my light meter and white balance in my camera.  Kristy assured me that she's "easy breezy" and it would be cool if I needed to blind her with my flash.  Not only is Kristy a laid back down to earth type of gal, she's incredibly genuine.  I've never once gone up to a musician and been hugged within the first 5 minutes of meeting them.  This was a pleasant surprise to the pompous "too cool for school" rockers I encounter.  People should hug more often, bottom line, but before the music even started, I was already won over by her sense of southern hospitality and charm.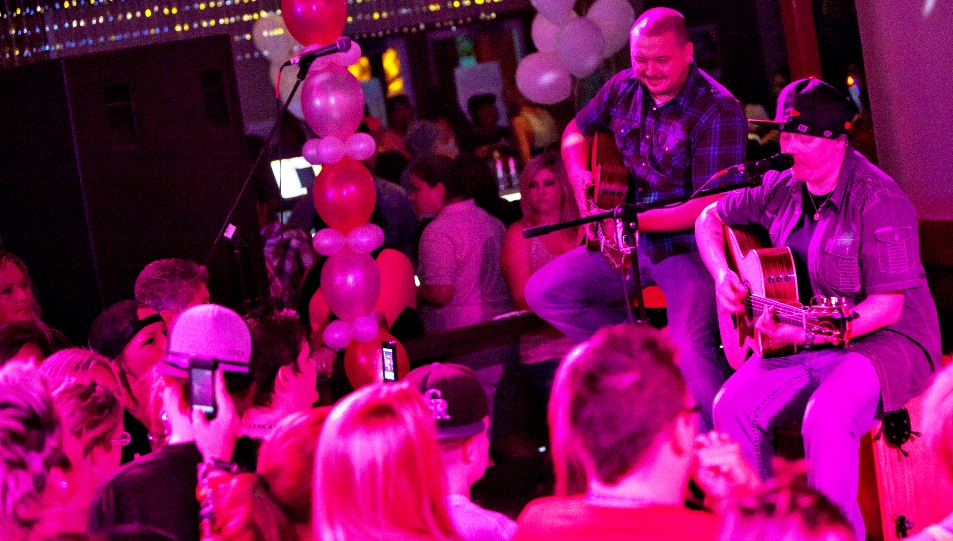 Taking a seat with her acoustic guitar, Kristy started to sing and immediately captivated everyone in the building.  Her voice has a gritty-delicateness to it that is only amplified in a live set.  She's not trying to sing like anyone but herself and she's doing one hell of a job.  Flying by the seat of her pants without a set list, Kristy played some of her more recognizable songs such as "Late at Night", "Hey Crazy", and my personal favorite "Defeated".  She also managed to sneak some new ones in as well.  "A new song just like that!  You saw how quick I am!" Everyone had a bit of a laugh after Kristy only struck one chord on her guitar.  One song I was really hoping to hear was "Grandma's Hands" as she does a killer rendition of the classic tune by Bill Withers, but as it appeared they were sans a saxophonist, perhaps that's why it didn't make the list.  Overall her set was soulful and her voice was an absolute pleasure to hear live.  If you weren't a fan of Kristy Lee when you arrived at Sue Ellen's, you definitely became one when you left!
Kristy is set to continue her tour with dates set in New York, South Carolina, Virginia, Alabama, Florida, Tennessee, Illinois (she's playing at a great venue in Chicago, IL—Schuba's!), Minnesota, and North Carolina.
Check out her website: www.kristyleemusic.com for music, videos, and more!