When I was very young, my house was filled with Dvořák, Beethoven, Verdi, Mahler, and Bach. My father would sometimes remark, in an almost wistful voice, that what I was listening to paled in comparison with its live counterpart. "There's nothing like experiencing the symphony in person," he would say. I was skeptical because I went on many a picnic with my family to Ravinia: an outdoor amphitheater with an adjacent lawn devoid of any orchestral sightlines. For those not sitting in the covered band shell, the music seemed almost secondary to the food and company on the grass. Trumpets and oboes wafted through the air in soft, hushed tones and I just didn't understand what my father was so enamored with.
When I was a bit older, I finally got to see what all the fuss was about. I donned a navy blazer, gray slacks, and a tie and we drove down to the city to see The Chicago Symphony Orchestra at Orchestra Hall. And…it…was…stunning! Violins called and cellos responded in a fleet and provocative conversation, flutes fluttered like busy hummingbirds, and the timpani roared like lions. My father was right – the music was an entirely different animal. I never heard instruments that loud, animated, and enveloping through our living room speakers.
As I drove home from the Boulder Theater last Saturday night, I was thinking about my dichotomous experiences at Ravinia and Orchestra Hall. After a great concert, I have the proclivity to (literally) skip out of the venue and then exacerbate my already hoarse voice with an exclamatory Solo Hoot – picture the one-man laryngitic version of Billy Nershi's famous call to revelry. But on Saturday, I walked briskly towards the west doors and continued on in that manner until I reached my car. While I couldn't muster a scintilla of celebration, I did harbor a soupçon of sadness. What could have been a really good, maybe even superb, concert by Béla Fleck and The Flecktones was plagued by two matters seemingly beyond the band's control and one entirely within its purview.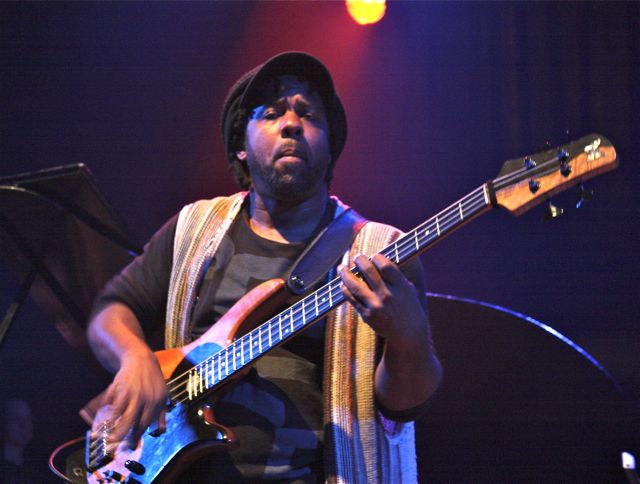 The most salient issue to beleaguer this show was, unfortunately, completely remediable: volume. When the quartet appeared at 8:15, I was standing in the front row, almost dead center. They took the stage one at a time and opened with Bottle Rocket, the final track from their relatively new album Rocket Science. Victor Wooten slapped his Yin Yang bass through Nemo's Dream and, one of my favorite BFFT tunes, Sex in a Pan. During Sex, I knew something was amiss because Victor's normally prurient bass line cum melody imparted little by way of sonic concupiscence. The volume in the Boulder Theater was simply too low. The usual haptic thrill of the bass's vibration and the aural fireworks of Victor's slap and pop style were both absent. I also had to strain my ears to get a clear listen to Béla picking his five-string acoustic banjo.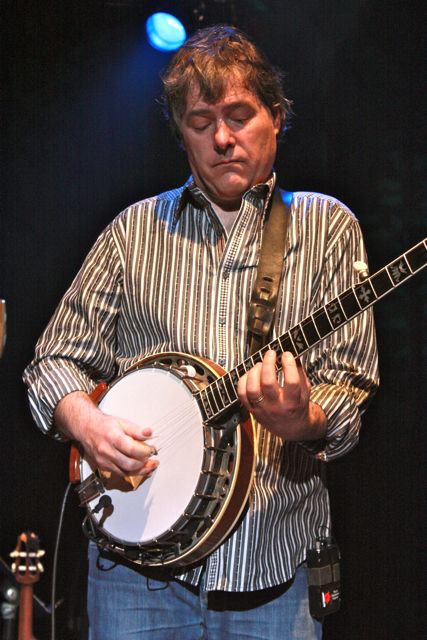 When guest fiddler Casey Driessen graced the stage for Irish Medley, he was all but drowned out until, 15 minutes later, he dove into a truncated solo. However, once he had the soundboard to himself, he dazzled the crowd with a hodgepodge of unorthodox bowing. First, he took fractional strokes and muted the strings to mirror the sound of a handsaw cutting through wood and, then, he dragged the bow horizontally across the plane of the strings to a peculiar, and somewhat ineffable, effect.
I started to move about The Boulder Theater to possibly find a sweet spot for more voluminous sound and logically ventured to the soundboard. Not only did the volume fade even more dramatically, I noticed another significant problem: the crowd just wasn't into it. Obviously, those who gravitate closest to the stage are more likely to dance and exhibit any myriad signs of enthusiasm. But once I left that tiny bubble, I was stunned at the general absence of movement, presence of talking, and overall lukewarm reception. I know that occasionally rapid changes in time signatures can confuse some who might want to dance, but I doubt it was the case in this instance.
Apart from the volume issues, I'm not going to speculate on why the crowd was generally aloof. But I will make one observation and allow you to glean whatever you'd like from it. By the time the doors swung open at seven, a line was already snaking around the corner and at least 50 feet down Spruce Street. I was about 30th in queue and hustled to the stage directly after ticket clearance. When I arrived on the floor, I was amazed to see only four people in my vicinity. But when I turned around, I was even more flabbergasted. The balcony was filling up fast. In fact, ten minutes after the doors opened, the balcony, with its cushy theater seats, was almost full while I could still count the number of people on the floor with my fingers and toes. Take what you will from that.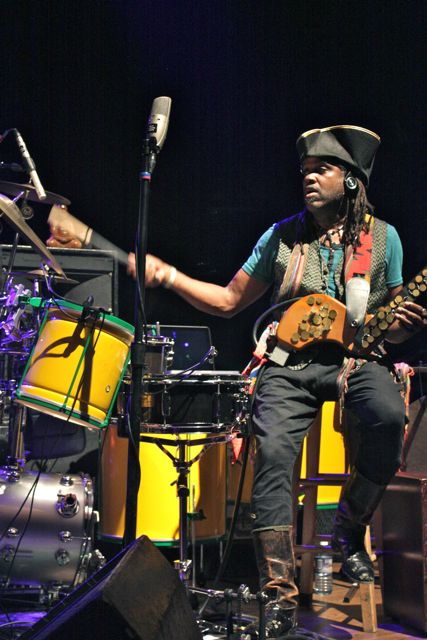 Later in the show, I ventured up to the balcony during the classic Sunset Road and was truly stunned. Mind you, this is not a large venue – 1,000 max capacity. Up in the balcony, the concert sounded like it was being played next door. And I'm not embellishing this observation for effect. It really felt like I was listening to the concert through a wall. Futureman's Drumitar was louder than the other instruments near the soundboard, but up in the seats, his synthesized drum beats were muffled.
My final bone of contention is probably a little more controversial (read: in the eye of the beholder) and it falls squarely on the band's shoulders. The single set, 150-minute show featured songs solely from albums on which pianist and harmonica player Howard Levy was featured. An original member, he took part in the creation of their first three albums in 1990, '91, and '92. BFFT featured seven songs from this classic, yet relatively small period. Five of the six other pieces came from Rocket Science which was released last year and featured Levy, who rejoined the band in 2010. The final song (apart from the solos) was entitled Sketch because it was still in its embryonic stages of development.
Most people might not have an issue with the setlist because so many classic BFFT songs arose from the early years. But a host of satiating powerhouses were birthed in the Jeff Coffin era and it didn't feel right to shelve all of them.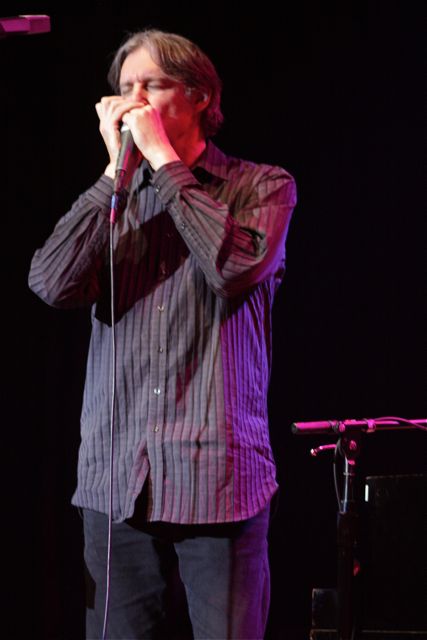 In an unusual twist of irony, the last time I saw BFFT was in 2003 at…Orchestra Hall in Chicago, which was rechristened the Symphony Center. My girlfriend, cousin, and, yes, my father, sat in what can only be regarded as nosebleed central. High up above the floor, the über-expensive box seats, the lower balcony, and the upper balcony, rests the gallery: we were in the penultimate row of the gallery, six stories above the stage. Not only was the show phenomenal, but the sound was crisper and louder than anywhere in the Boulder Theater this past Saturday. For once, the opposite of my father's wisdom about live concerts will hold true. The entire show will undoubtedly sound better through a pair of Sennheisers than it did in person.
To be sure, I think this concert was a hiccup – a misstep that would never stop me from seeing one of the most prodigious and exciting live bands that tour this country. It feels strange, yet absolutely necessary, to articulate the disappointment of my live experience without delving much into the actual music. Simply put, the intrusive elements that derogated from BFFT's "sound" made it impossible to really home in on their performance. Next time, I hope I can expand on the beauty of Béla's banjo rolls and not harp on the roles of dampened volume, aloof fans, and a prohibitive setlist.