Though Peter Ostroushko's generosity is well known among other musicians as he quietly sits in the background, adding instrumental support for many solo artists, he is in his own stead an incredibly versatile and sensitive player and composer. He has amassed a legacy of his own original recordings on Red House Records, orchestral compositions, scores for musicals, soundtracks for documentaries, and his own active touring schedule. He also plays several different stringed instruments in a variety of styles.
"Slowly, I've been trying to get rid of them," Peter Ostroushko admitted in a recent phone interview. "I've got it down to two now. I pretty much just travel with my violin and my mandolin, and I'm trying to get rid of the violin."
With Ostroushko's skill, even the single mandolin becomes a virtuoso's instrument in his hands. It was the first instrument that the Minneapolis native learned to play when he was growing up, and it wasn't from listening to records or even in classes. "I grew up listening to Ukranian folk musicians because that was what there was in our house," Ostroushko states. "This was real people doing real stuff they grew up with. Unfortunately, in this country, with popular radio and television and everything else, that has slowly dried out in United States. In other countries, people celebrate themselves immensely through their music, not going out to see music, but performing music for themselves in somebody's kitchen."
For him, it was that engaging Ukranian community that not only introduced him to live music but encouraged his own love for it. "I think the basic thread that hangs everything together is having been born and raised in Ukranian community in Minnesota. That's where the motivation comes from. That's where the inspiration comes from," he said. But there was more. "I think that coupled with what I call the Ukranian psyche, which is dark and brooding and joyous all at the same time, and the fact that my mother had a garden in our backyard in northeast Minneapolis (that she still gardens) just gave me a real affinity to want to dig in the dirt and plant and feel connected to the earth." That rootedness was very much a part of the music that Ostroushko began to play in earnest.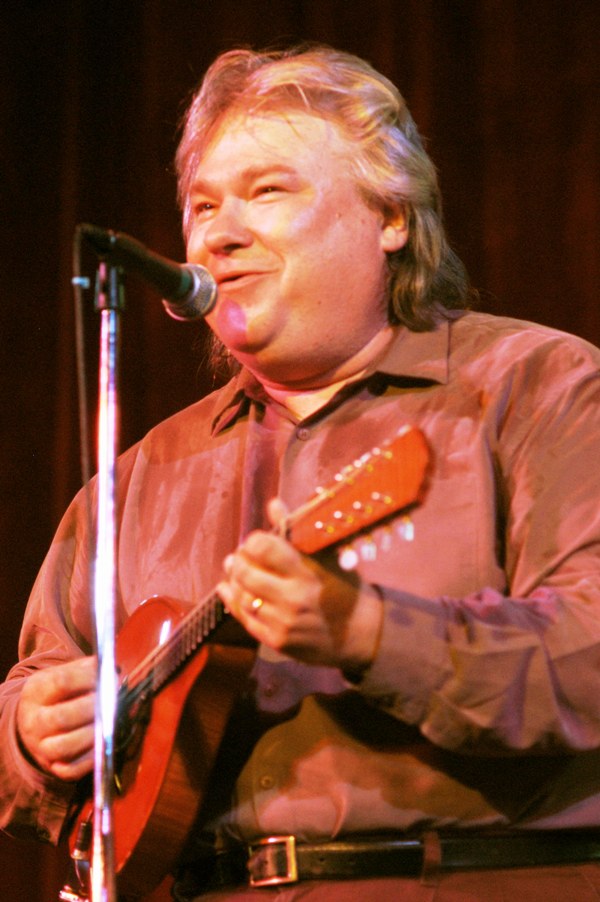 The Ukranian community wasn't the only one in Minnesota that stimulated live music and encouraged young musicians. "I think a lot of it has a lot to do with the richness of the cultures that settled here. Minnesota was the destination point for a lot of cultures," Ostroushko said. "Just in the northeast neighborhood that I grew up in, you could almost subdivide the cultures by a six-block radius. Within about six blocks of my house, there were mostly Ukranians and some Polish. Just east of us was the Italian neighborhood.  Just west of us was the Lebanese neighborhood.
"Of course, the Finns were up on the Iron Range with Norwegians and Swedes. You can still go to certain places in Minnesota and be identified. If you go down to the Minnesota River Valley west of here, you are going to hear accordions. You're going to hear German people doing their music.  If you go up to northwestern Minnesota, you'll hear a similar thing, only its Scandinavian based. A lot of the immigration back in the early days came from Europe.  It was all these immigrants that came and settled and brought their music with them and brought their culture with them. A lot of it hung on.
"But now, a lot of the immigration that's coming here is from Mexico. Anywhere in St. Paul and even in little towns south of here where there are large populations of Mexicans, they are starting to have their own musical gatherings. There are certain bars you go in and there will be Tex-Mex music.  Likewise, the Hmong people have their own music. Between them and the people from Mexico, they are probably the two biggest immigration groups that have recently come to Minnesota. There are pockets all over the place of people that held onto their music and are bringing in a new freshness to it."
So even today, young players can find ethnic music and often musicians who keep those styles alive. And, some might even be willing to mentor a young player.
For Ostroushko, the Old World mandolin styles opened new vistas musically for him. Soon, he   became as easily comfortable with jazz and orchestrations, as with Old World constructions, folk melodies, and Celtic music.
He was strongly influenced by not only the influential folk scene in Minneapolis in the 60s, which stood on an even footing with Greenwich Village and San Francisco, but also by a growing blues base. "Back in the 60s, there were these three white guys at the University of Minnesota, Spider John Koerner, Dave 'Snaker' Ray, and Tony Glover. Those guys kind of single-handedly brought about the whole blues rival in the United States.....These musicians from Minnesota brought this whole revival around. They went to early Newport Folk Music Festivals and shook the ground....It was through Spider John Koerner and Dave Ray that a lot of white guys all of a sudden discovered blues music and went out and found the old masters that had recorded back in the 20s and 30s and were still alive and rediscovered them and started bringing them into the folk music scene.... John Lennon was known to say that one of his big inspirations when he was growing up was listening to Spider John Koerner and Dave Ray."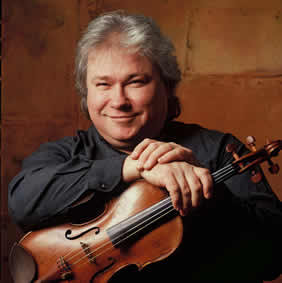 That Minneapolis folk scene also produced Bob Dylan and became a magnet for other musicians. New Jersey folksinger John Gorka now makes Minneapolis his home, and for a time Iowan Greg Brown lived and wrote in the city. "Greg spent time here, working on the Prairie Home Companion show for a number of years as a job," Ostroushko said. He was one of two people, Ostroushko marks as having "an immense impact on music globally." The other is guitar stylist Leo Kottke.
Ostrouskho is the first to announce that a new folk revival has started in Minneapolis due to the wildly popular Minnesota Public Radio show, Prairie Home Companion. "Originally, it was a local show, but in 1980 it went national," he remembered. In its thirty-something year history, Garrison Keillor brought Minnesota music and folk and world music to other states through the traveling remote Prairie Home Companion shows. "The show has been broadcast in Australia, in Scandinavia, and is broadcast to the soldiers in Iraq. They have been bringing Minnesota musicians and folk musicians to the world. That's been going on for 30 some odd years," Ostroushko said. "I played on the first broadcast of the Prairie Home Companion in 1974, which was the first year that Garrison started that."
When Minnesota Public Radio bought the Fitzgerald Theater to house the show in 1980, it renovated it to become a premier venue for all kinds of major music-related productions. This was an icon in St. Paul that was deteriorating and was restored because of music. And, Ostroushko is quick to add, "And not just music, but folk music!"
Through the years, Ostroushko has backed up many artists either in the studio or on stage. Some of them include Bob Dylan, John Gorka, Dakota Dave Hull, Lorie Line, Spider John Koerner, James Galway, Claudia Schmidt, Chuck Suchy, Tom Paxton, Norman Blake, Robin and Linda Williams, Greg Brown, John Hartford, Taj Mahal, and Willy Nelson. He's also recorded several albums of his own original music. He continues to write music for live theater, including many productions for the Children's Theatre Company such as "Little Women" and "Huck Finn."  "Actually, there were a few different productions of Huck Finn that I wrote music for," Ostroushko added.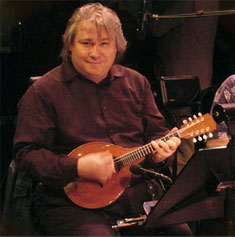 He has also composed music for symphony orchestras. "I tend to compose for strings, and that can be all kinds of strings. It can be violin sections or it could be fiddles or mandolin or guitar or banjo or bass or cello," he said. "That's just where my affinity is. I certainly could write for other instruments, but most of the projects that seem to come my way are for strings. There's just a certain sound people want from me, and that's the sound that is in my head and that's what usually comes out."
Last year and the year before, he released three CDs. Earlier this year, he finished writing and recording music for a production of "To Kill a Mockingbird" for a Kansas City theater. He also composed and recorded music for the National Park Service based in St. Paul for their Mississippi River Park.
"I'm ready for some time off," Ostroushko admited this spring. "The creativity stuff is just always there. But I need to shut my mind down for awhile."
Even so, Ostroushko continues to tour, where he not only plays violin and mandolin but sings as well. He'll be at the prestigious Winnipeg Folk Festival in early July and in more intimate settings in the Upper Midwest.