The last day of Rhythms on the Rio began as Day Two did with a free yoga class from the good folks at YogaDurango. This festival inaugurated yoga last year as a special addition to the line up of great music, good food and brews, and the awe-inspiring Colorado landscape. After yoga, the festival had an open stage, also on days two and three for children's performances. These were local kids who were part of the music program that Rhythms on the Rio sponsors. It's always a great showcase for very young talent and lets festival goers know what this festival has been about for eleven years.
While I'm doing some shout-outs here, I wanted to commend Scotty Leggitt, who's been head of security for the festival for ten years. He and his wife Shauna camp backstage and keep an eye on the sound equipment and the stage area at night, often staying away and enjoying the stars until morning. He's also available for emergencies in the campground if necessary. He and his staff keep everyone safe and the festival grounds secure but he makes sure his staff aren't pushy about it. It's Colorado after all, and they're very kind up there.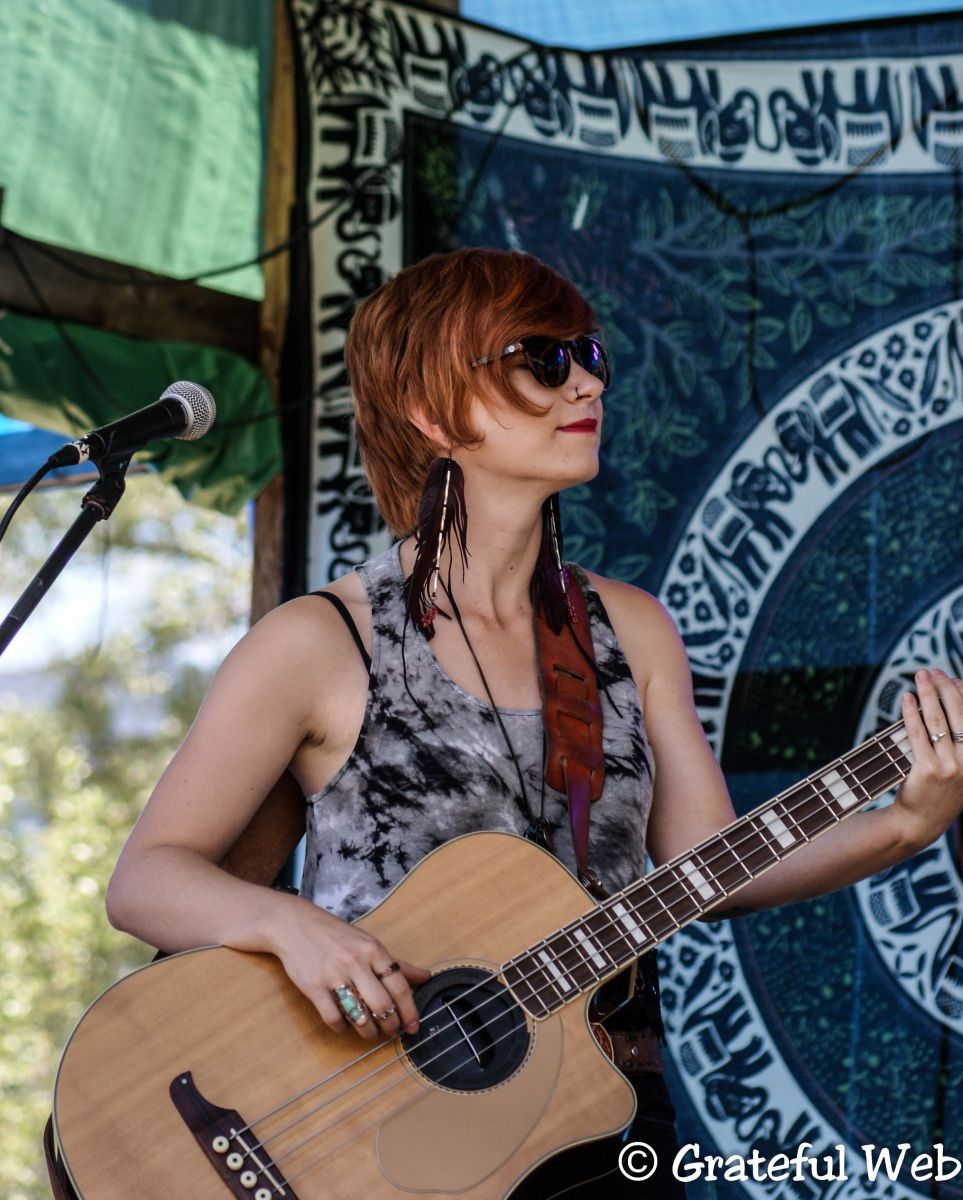 I'd also like to thank Anita Poushan and other massage therapists who donated their time to help musicians, staff, and volunteers. Often musicians who've been constantly touring come off the stage with stiff hands or cramped arms. Poushan, who is a local from the San Luis Valley, helps with that. While I was visiting with her, one of her colleagues worked on a member of the Infamous Stringdusters, hours before their set. It was a first for most massage therapists, Poushan said. Usually, it's after a show. But being cooped up in a van or bus for hours can take its toll. This musician just needed to relax and loosen up his body before playing.
Warming up the stage on the last day of the fest was Gleewood, a husband-wife duo (with a drummer) from Silver City, NM. To be honest, I was a tad surprised by this band. Their bio in the program offered a testimony to Christ and with a name like Gleewood I assumed they would be a contemporary Christian group. It was Sunday after all. Gleewood turned out to be a powerhouse Americana band, offering up traditional sounding tunes to folk to rock and even some rap tossed in. Their original, "Whiskey Sue," about the guitarist Jhett Schiavone's grandfather running moonshine into NY during Prohibition, was not only unexpected but a powerful song.  Jhett provides good guitar support for his originals and a surprisingly deep bass baritone on his vocals.
His wife, Callie Sioux, plays an acoustic bass that's as big as she is. She has solid chops on her instrument and provides lovely harmonies as a counterpoint to Jhett's leads. She and Jhett even head-banged in unison to one of their more rocker tunes, adding a bit of whimsy to the morning.
This is a band to watch. Though they have been playing all over the region and even opened for the Marshal Tucker Band, I'd like to see them bring their acoustic sound to other parts of the country.
Oh, and the term "gleewood" comes from medieval bards who called their guitar-like instruments that name. An apt name for this group.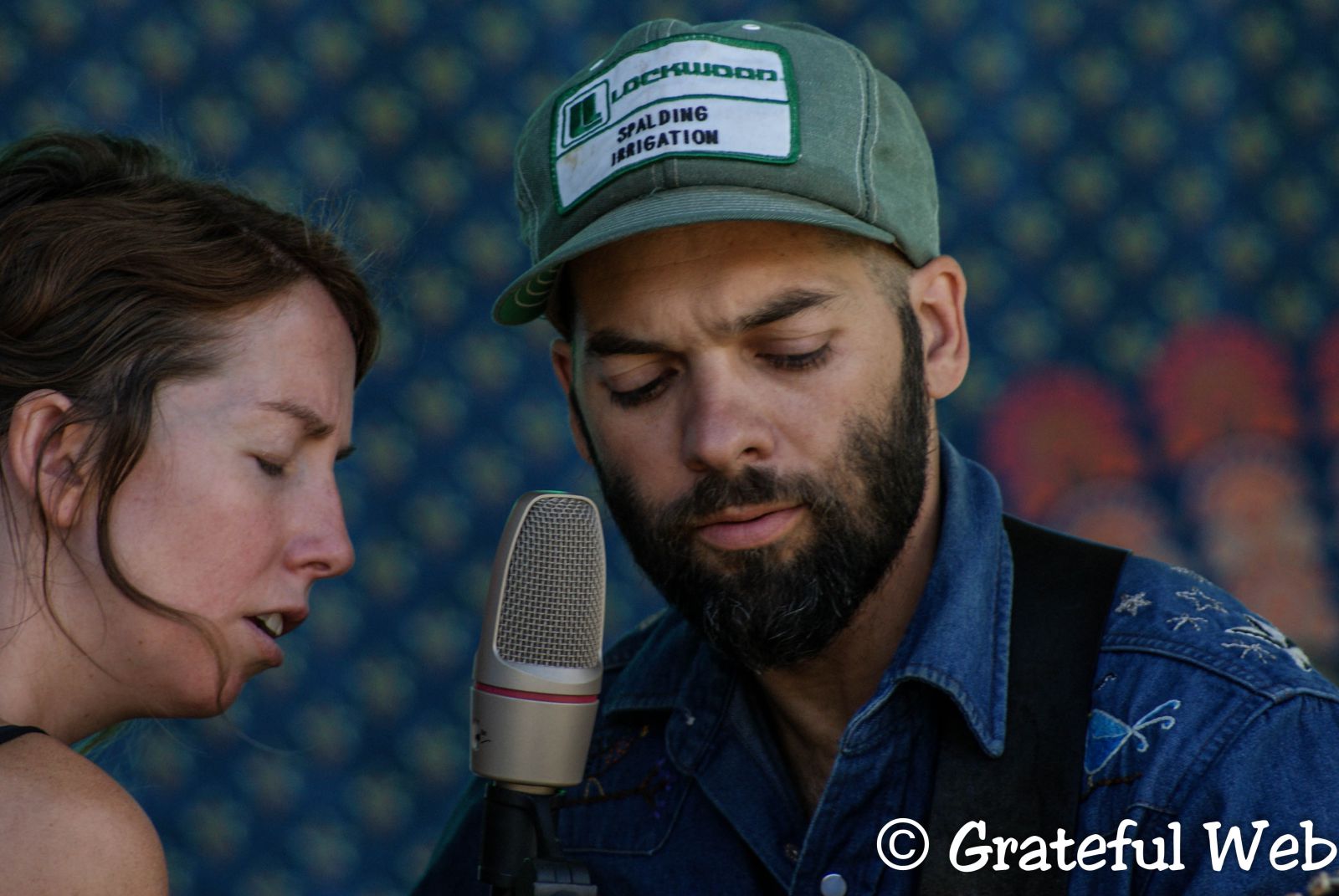 Next up was another acoustic duo, The Robin Davis Duo, from Boulder CO, with roots in nearby Pagosa Springs. Robin Davis scorches as he flat-picks his acoustic guitar while Jimi Giles counters with her big upright bass. Crowded around one mic like in old-time radio days, they belt out song after song with tight harmony. Amid their more traditional fare ("Little Sadie" and "Tennessee Stud"), they drop in a Springsteen tune and some originals. "Prom Night," written by Robin Davis follows in that Springsteen rocker vein.
I was impressed by a song with the line "I got drunk on 4-cent cotton." The flat-picking tune has a simple chorus that is gracefully delivered with Giles high "hey, hey."
The Robin Davis Duo has a new self-titled album that will come out later this year. It has eleven tracks: eight written by Davis, two by Giles, and only one traditional.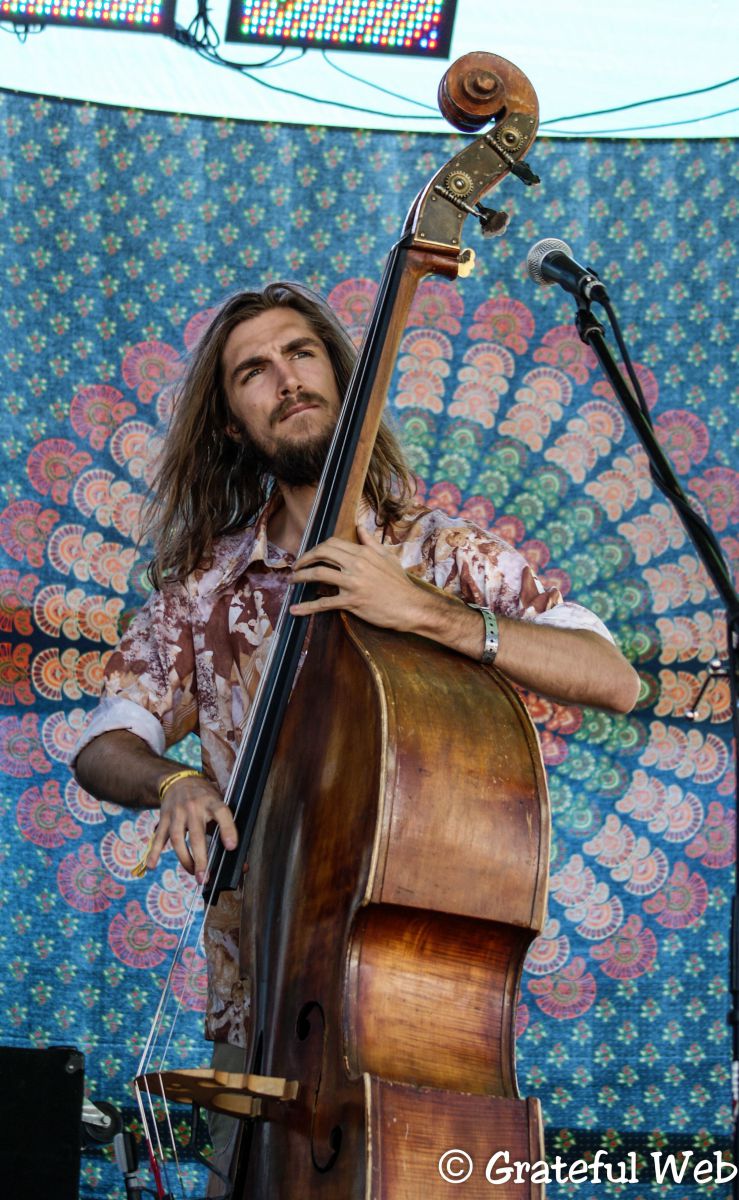 Next up was Gipsy Moon from Nederland, CO. I was intrigued by the band's name but assumed that it was referring more to the hippy gypsy lifestyle. What I heard, however, had a lot of Eastern European Romani coloring, all mixed up original Americana, big band jazz, and all manner of goodness.
Gipsy Moon's five musicians spice up any stage. They are Silas Herman (mandolin, guitar, vocals), Mackenzie Page (guitar, tenor banjo, vocals), Matt Cantor (bass, vocals), Andrew Conley (cello), and their newest addition, Omar (percussion).
Yes, I was impressed with everyone, especially Andrew Conley on amped cello, who strapped that bad boy on like a big guitar and rambled all over the stage with it. But I was charmed by Omar and his array of hand drums (doumbek, djembe, and the huge tribal djun djun). Sitting with one or another of these drums between his legs and bare feet, Omar sometimes tapped a djembe with one hand and the big djun djun with another. It was an amazing mix of drums and expertise.
Vocals were strong and beautiful, but mostly it was the instrumentation and the song choices that thrilled me. Duke Ellington's "Desert Caravan" was an excellent selection. The mandolin takes the violin part, giving it a gypsy feel. On another song, there is a delicious counter balance harmony with Mackenzie Page's vocals. Conley's cell is a lovely addition to the song. Silas Herman's mandolin worth throughout adds great color to all of their material. What I noticed most was every instrument's choice for every song has been carefully selected for the mood of each song, with even the cello taking on a violin's part.  And the djun djun sometimes added an Irish bodhran effect.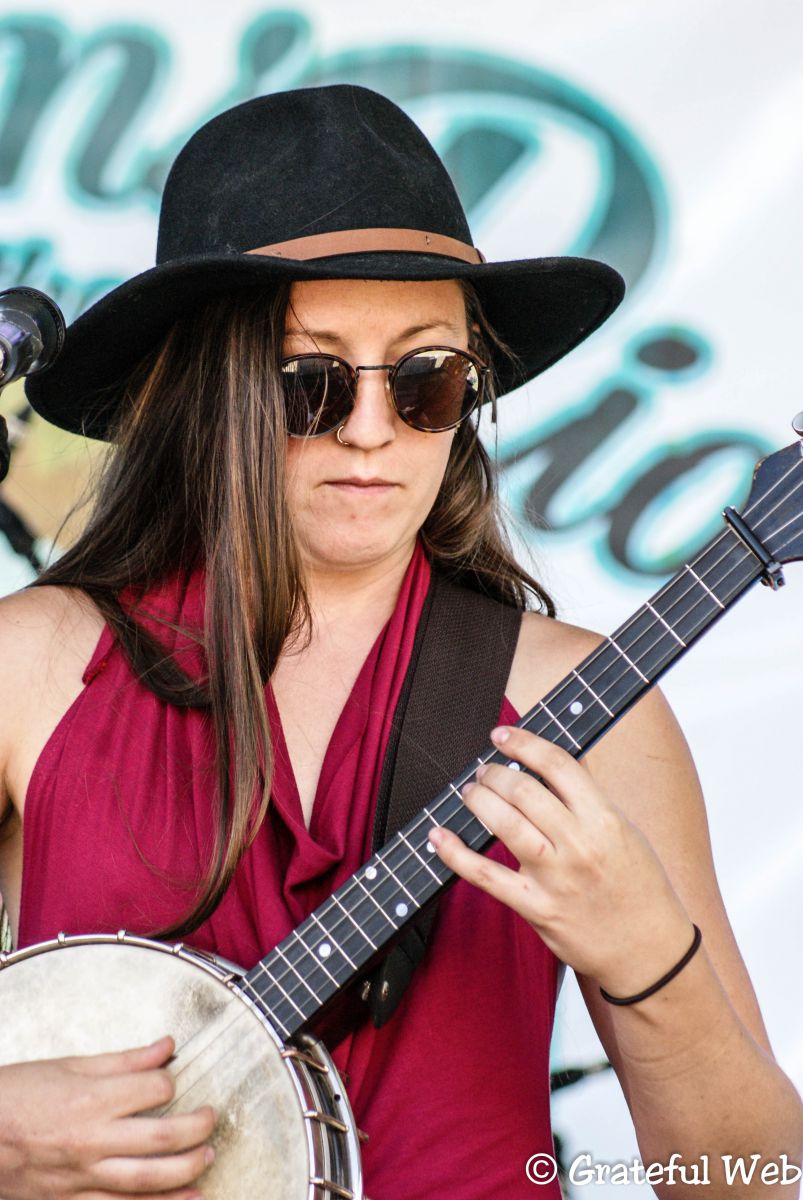 Another unusual selection was "Misirlou," a 1920s Egyptian tune that Dick Dale made famous in a 1963 surf film. Gipsy Moon's version was multi-leveled and beautiful. Also, their closing cover of a Russian folk tune where the banjo took the balalaika musical lines and then bowed to the mandolin and the doumbek to carry them further.
If you get a chance to see Gipsy Moon live, run to the venue. It will be a night you will never forget!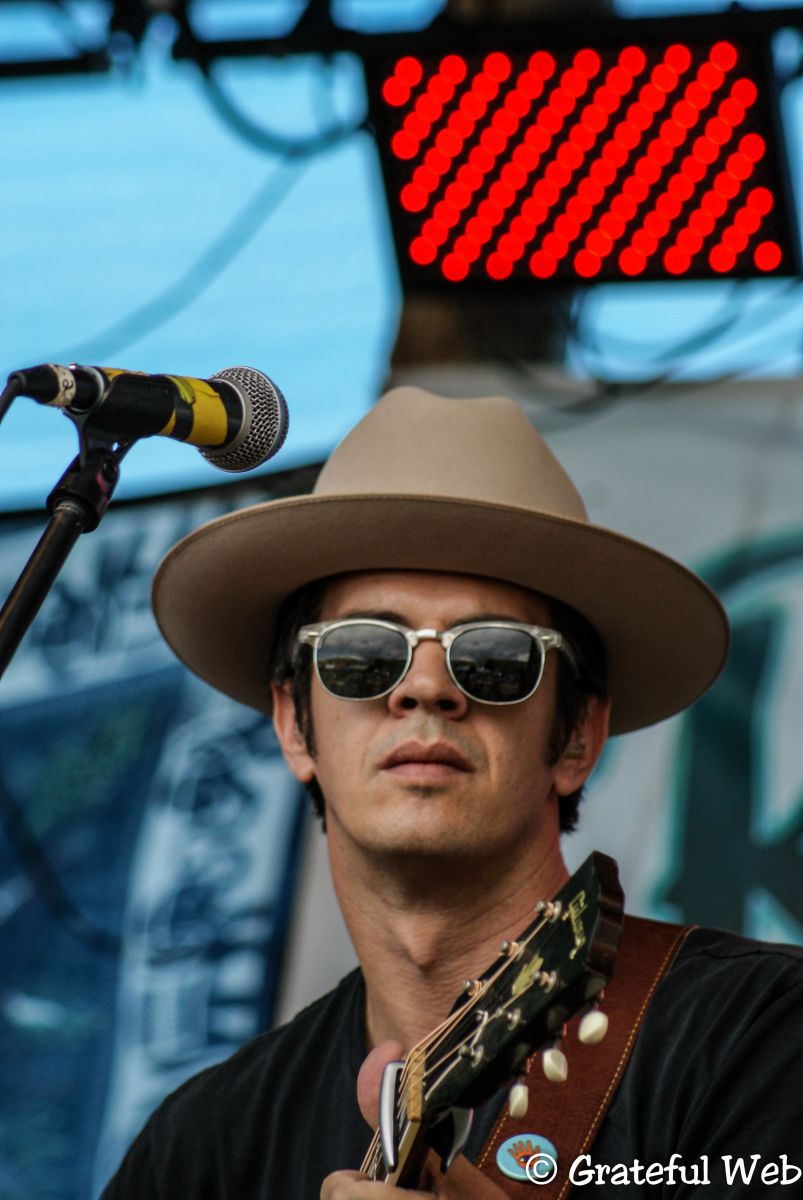 Band of Heathens set up next. I'd seen them two months before in Taos at Music on the Mesa. It was their second appearance there and their first here along the banks of the Rio Grande. I never tire of hearing these guys. What I found really great was this time I could hear every word clearly due to the efforts of their sound guy that they tucked in the van with them.  That luxury allowed me to enjoy Band of Heathens in a richer way. (Blake Himmert, the Rhythms sound maestro, is exceptional and probably could have given the same quality, but graciously stepped aside as he always does in such situations.)
What I heard this time was what I heard several years ago with the first album I'd ever heard from them, "One Foot in the Ether." It was a depth of poetic phrasing that often made me perk my ears up. For example, one song had the lines "She was up all night/She got crows walking around her eyes." Another had this image from the lyrics "snorting cocaine off a Buck knife." Another tune had the lovely line "rest again in my arms" while also talking about having "holes in my heart." Or the other line "I'm not gone/I'm just gone inside." Each song articulated heartbreak, hard living, and deep love.
Backing up all of this lyrical goodness were seasoned players and singers. Vocals were shared by founding members Ed Jurdi (guitar, keys) and Gordy Quist (guitar) and were supported by backup vocals by Trevor Nealon (keys), Richard Millsap (drums), and Scott Davis (bass). Ed Judi added harmonica on a couple of tunes as well. It was a great set of good Southern rock by some of the best.
Band of Heathens recorded the show and offered it on a thumb drive in the merch tent. They ran over time-wise but the audience wanted an encore and they gave it to them.
This show has me excited to parse their new album and sit with those lyrics and the stories they are telling. 
The final band of the day was Shel, an all-girl sister act from Ft. Collins CO. It was their second appearance at Rhythms and they always deliver. Eva, Hannah, Sarah and Liza Holbrook write a lot of their own material but do a couple of unusual covers.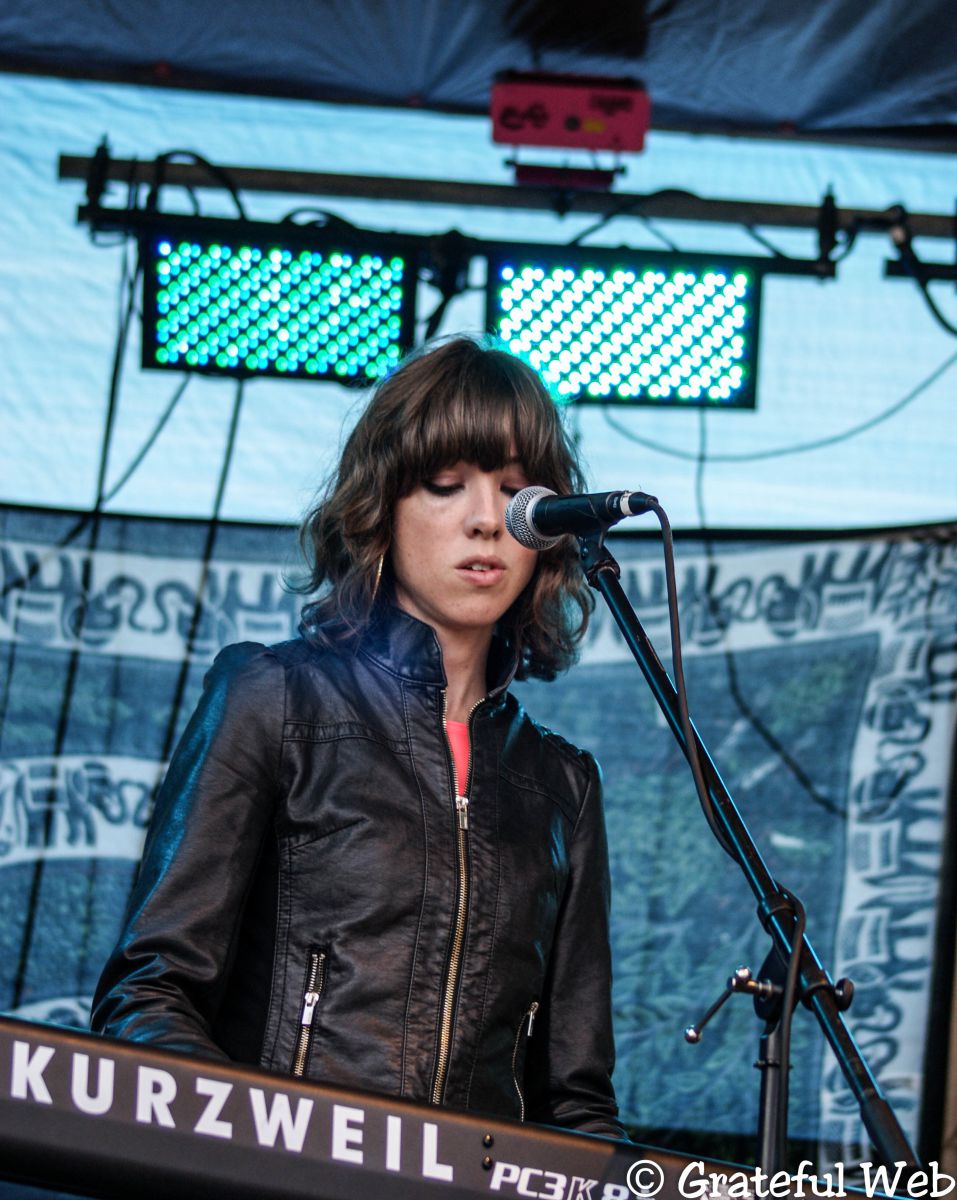 Their version of Led Zeppelin's "Battle of Evermore" was a surprise. They offered it last year but I had quite forgotten how well they executed it. The higher voices of two sisters shared the Robert Plant leads. Hannah, the drummer, added an electronic drum pad for the deep bass that John Paul Jones did with Led Zeppelin. Shel also used mandolin, keyboards, and fiddle for the instrumentation, giving an authentic feel to the song even though the instruments were very different from the legendary band.
Though Shel is labeled Indie Folk, it really isn't. It's Indie all right. But it often slips into pop and Americana and hip-hop. Hannah also beatboxes and added that to a song called "You Can Be My Baby." I think what has influenced their sound so much is the fact that their parents are musicians and home schooled them. They had very broad exposure to all sorts of music and had the opportunity to experiment with instruments.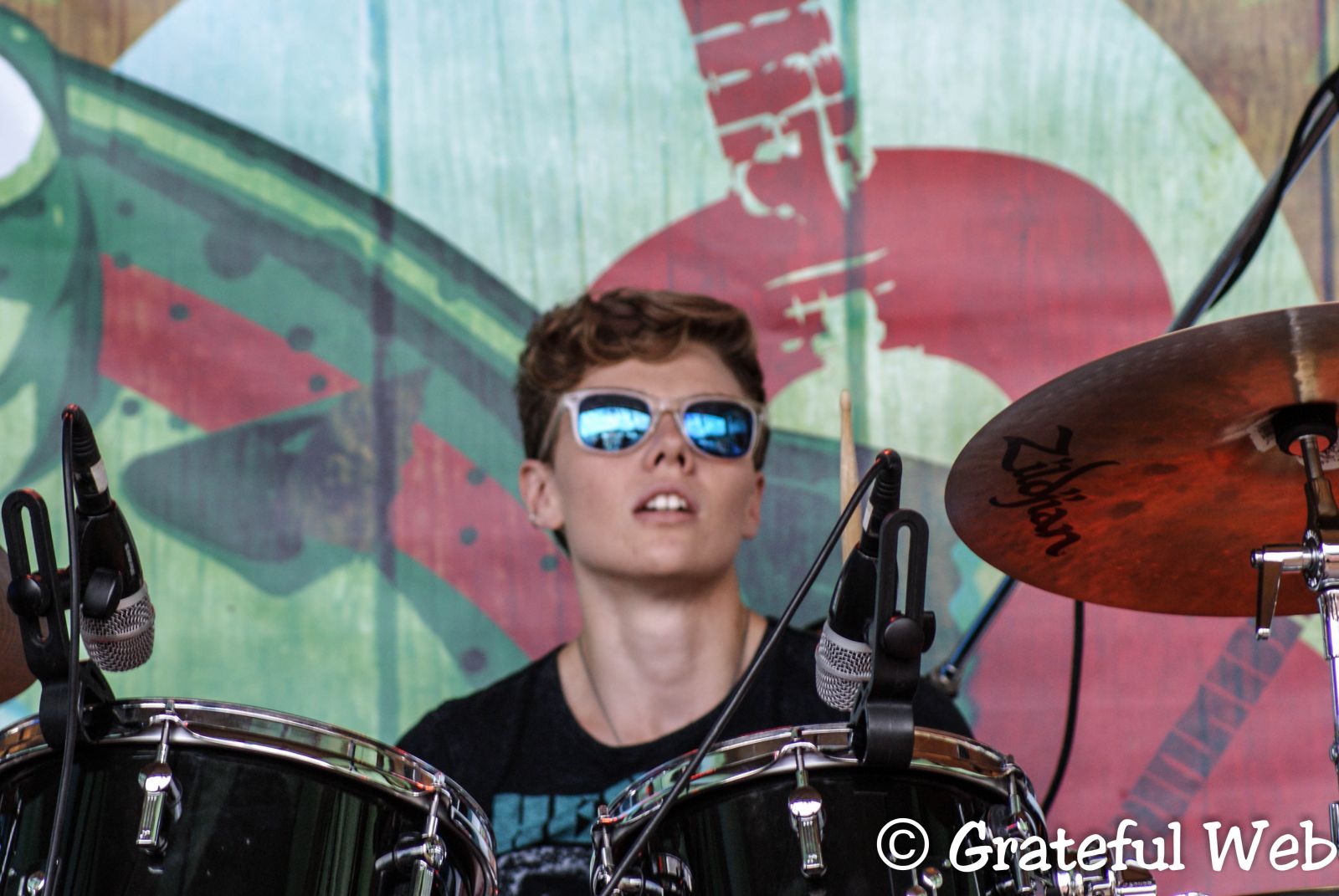 I was very encouraged to see so many parents (mainly dads) bring their young daughters to see these amazing young woman. Their diverse repertoire appeals to a wide audience and diverse young players. Shel is a delight to watch and experience.
So Rhythms on the Rio 2016 closed in bright sunshine with the echoes of three days of exceptional music echoing in my brain. As Paul Orr told me as I left, "Next year will be even bigger and better." I don't see how. But the festival committee always manages to surprise me with the talent they offer at Rhythms on the Rio.