The weather was warming and clearing on the last day of the 2017 Rhythms on the Rio Music Festival. Once more there was yoga in the morning by Durango, as well as the special showcase performance by children who had benefited from this festival's generosity. Rhythms donates the proceeds of this festival to the children's music program in the region that not only provides instruction but instruments.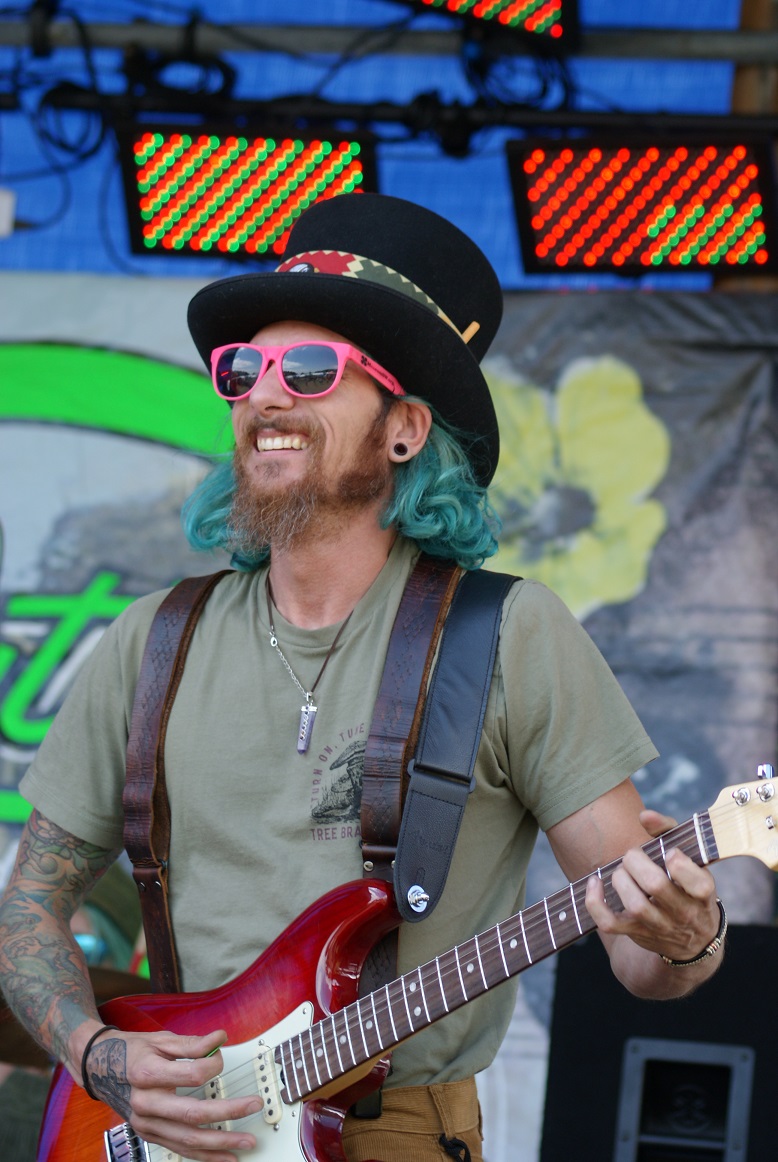 The first act on this Sunday morning was Gleewood from Ruidoso NM. I'd seen this act last year and was impressed by their talent. They were marketing themselves as a Christian band. They may be believers, but their music was most definitely suited for a much wide audience. And this year, with a fully tricked out band, they were selling their positive tunes that, by the way, were solidly written and possessed the meat of life and not platitudes. Their version of "The House of the Rising Sun" was eerie. A Gleewood original, "Whiskey Sue" was a ballad where Jhett and Callie switched vocal leads, taking on the parts of the man and woman in the song. It was a nice bit of theater. Another moment of theater happened when everyone in the band took off their hats and headbanged. Callie even stepped up on the drum platform so she could rock out. Since there's a lot of long manes on the guys and shorter moptops on the ladies, this was quite a show. Though Gleewood rocks hard, it does a lot of story songs that speak of life and living and hope. If you can get a chance to see these guys live, please do. They also are having to replenish their supplies of their new CD regularly.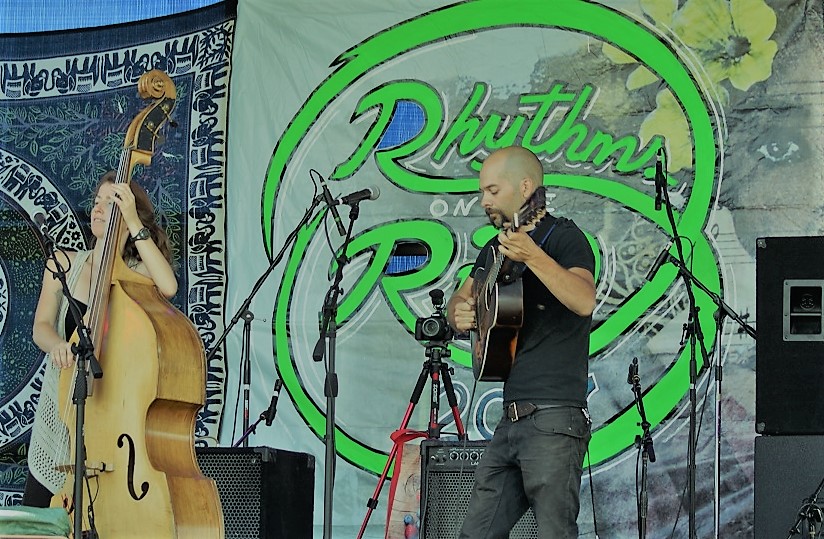 Next up was the Robin Davis Duo, making their second appearance at Rhythms. Robin Davis began his career steeped in traditional bluegrass music, learning to play some instruments, including mandolin, fiddle, and guitar, eventually becoming quite expert in flatpicking. He's played with some bands but struck out on his own a few years ago with Jimi Giles (standup bass). They tour now as The Robin David Duo, doing instrumentals and songs, a few covers and many originals. Their sound this year was a tad different from last year's set that was rooted more in traditional offerings and stylings. This year, I think audiences saw a band in transition, experimenting with new ideas musically that had a lot of grunge/punk sounds on mountain instruments. It was incongruous but was an interesting experiment. Robin's "Nova Haze" was another grunge ramble with a lot of guitar noodling. When they did drop into a traditional song like "Little Sadie," it was strong but had a heavier, moody overtone due to the tuning necessary for the bass (in the key of B) to be able to carry the melody. I would like to see what this band develops into as it goes through these musical experiments. It will be quite a duo!
Next up was the Jon Stickley Trio from Asheville NC. Just a fiddler, drummer, and guitarist, this band packed a musical powerhouse. Jon Stickley (guitar), Lyndsay Pruett (violin), and Patrick Armitage (drums) produced over an hour of solid instrumentals that ran the gamut of jazz, traditional Appalachian, jam, and rock and roll, keeping the audience guessing what they would pull out of their musical hats next. They moved from one song to another with little comment to the audience. They did Tim O'Brien's "High Road" with freshness, and a Bela Fleck cover that was a delight with Patrick's tasty and restrained drum solo. Their "Play People," which has been hitting at #5 on jam band charts for over a month, was an intricate interplay between fiddle and guitar. The drummer, especially on this tune, didn't just drive the band and keep it on track. Patrick added color and texture and a different timbre to each tune. Sometimes Lyndsay's violin sounds like a bowed cello with those deeper, draggy tones. Her original "Goa" was an orchestrated delight. Lyndsay plucked her instrument as the guitar added backup and the drums offered light touches of cymbals and kick drum. The piece moved into bowed jazz violin, allowing Patrick to fill in-depth with drums while Jon offered rhythmic strumming that morphed into percussion on his guitar as the violin produced a bass run and the drums kicked in. Finally, Jon dropped into jazz noodling on his guitar while Lyndsay returned to the plucked violin that began the tune. It was a marvel! They changed key to "D," what Jon called "the angriest key," and produced a jazzy walk through ethereal realms. Jon dropped into a folk tune and then noddled his way along as the rest of the band paused before they all jumped into something far better and bigger than anything new grassy.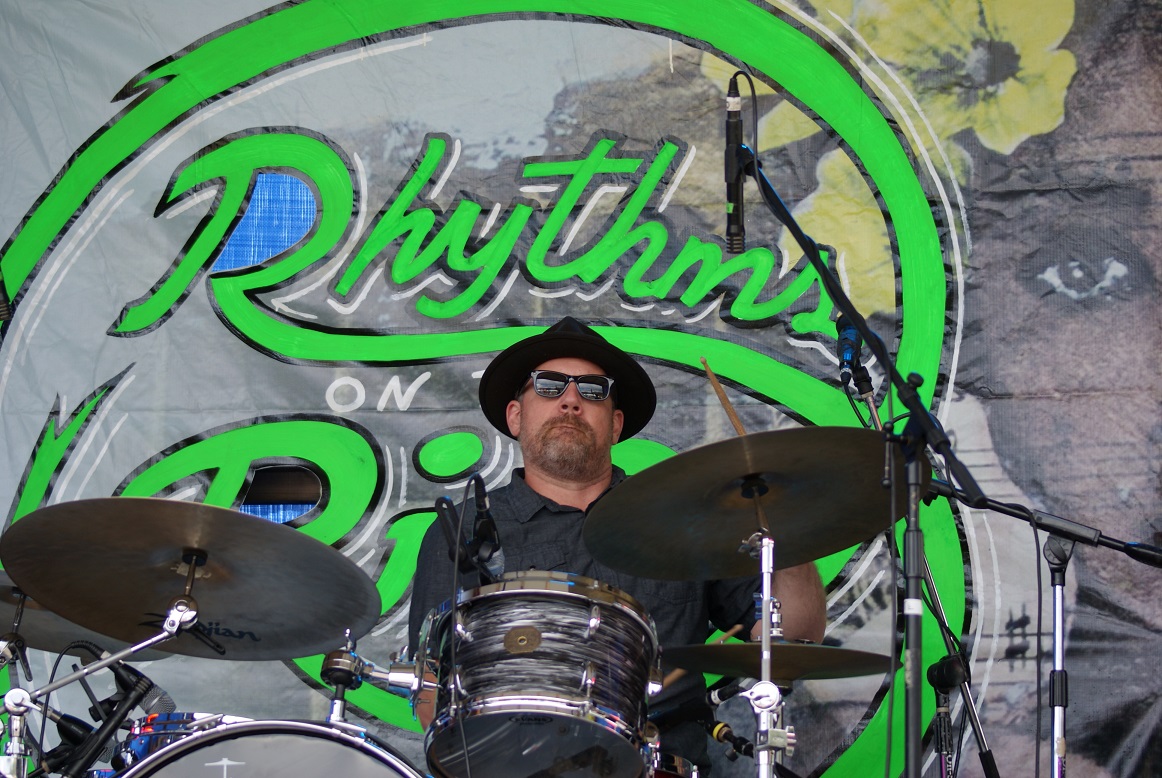 Another tune began with Patrick playing a constant beat then the whole group grunted into what sounded like a Primus rift from "Pork Soda." The song then took wings and transformed into something lovely. It was sweet stuff and prime for an audience of careful listeners. I can't say enough about Patrick Armitage's drumming. It was the most creative and restrained I've ever heard in a long time. It never slipped into self-indulgence. He played with timing and essence of each song. Remarkable and outstanding! And finally, one number started out as an Irish tune. Jon did some blazing flat-picking that accompanied the fast jigging of the violin. Then he threw in a line or two from "Ghost Riders in the Sky" and tossed in some jazz guitar while Lyndsay laid waste to the confines of the Irish jig and stepped out into very adventurous territory. The song continued to morph into this controlled mix of Irish, jazz, and bluegrass hoedown that ended in this plaintive violin that approached gypsy jazz. The set was exhausting, exhilarating, and utterly delightful to listen to. It was my honor to witness all of this deliciousness from The Jon Stickley Trio.
The next act was one I was eager to see. Tyler Childers and the Food Stamps came from coal country, Paintsville KY, just up the road a bit from where my daddy was a coal miner in McCreary County. So I was very interested in what this young man had to say in his songs about living in that region. Tyler played acoustic guitar and was backed up by a bassist, a drummer, and an electric guitar player who also played pedal steel. His set had a good red dirt country sound as he sang originals about struggle, addiction, aspiration, lost love, and hope. The guitarist/pedal steel player had more of a southern rock bent that added a needed oomph to the band's instrumentation. The drummer and bassist added vocal backup with the drummer offering tenor harmony while the bassist added deeper tones. Sometimes they traded off backup within the same song. These were excellent choices for Tyler's first band since he started out just as a solo singer/songwriter.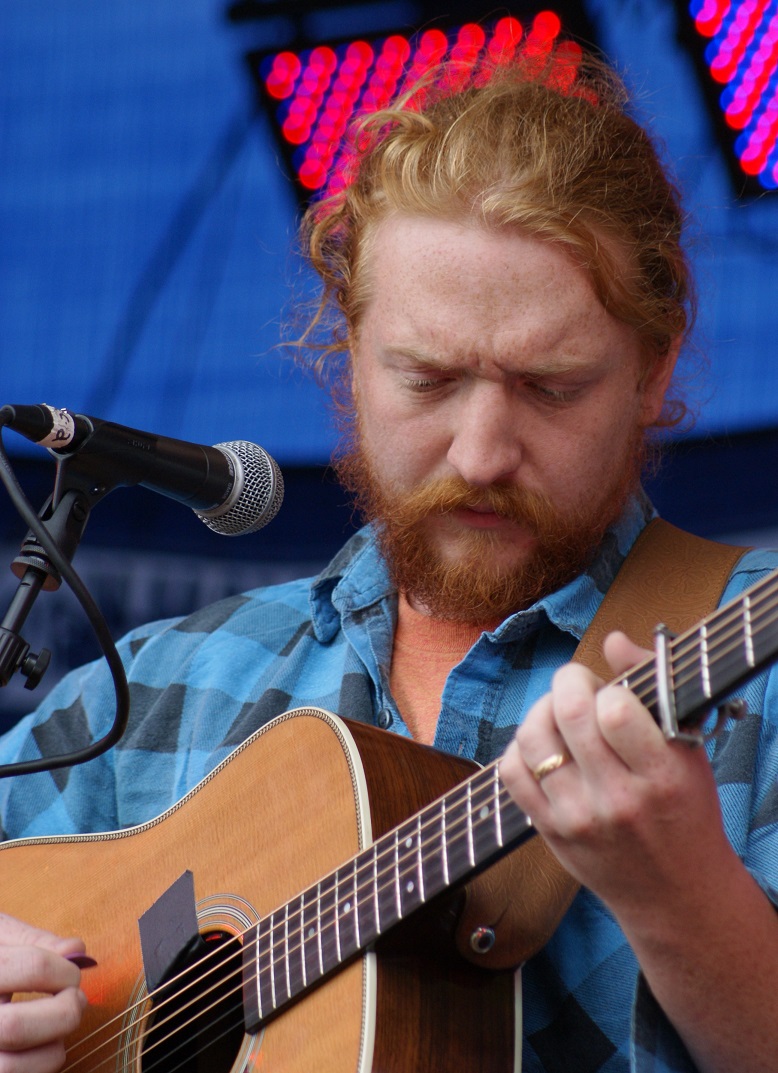 Tyler can flatpick with the best of them but often just does rhythm guitar. His voice is rough and real. His songwriting reflects what he sees in his community. One line of his was, "I've been down in low cotton"—an apt description for depression. Another line talked about the consequences of a profligate life: "I'm workin' on buildin' that headstone tonight" and made with "hand-hewn bricks." Then there was the song about love and living in the cold. In it was a line: "I never met a girl as half asleep like you." That tells you a lot right there.  His love songs are strange and complex—"…you can set my house on fire, babe." He can write a tender, poetic song about lost love that is also harsh and real at the same time. The songs kept coming one after another with those lines that stick with you. As in the song with this line: "How can you make it to higher ground when you won't get up and leave." It was a powerful song about addiction, written from the point of view of a sober loved one watching someone slip further and further down into darkness. But his songs aren't hopeless. One song said, "I'm trying to hold onto the lovely through the bitter, hard times."Toward the end of the set, Tyler's band walked off stage so Tyler could do a few tunes solo. He sang a plaintive mountain song about his lovely Lady May, written in the old ballad structure. He did another story song about a loved one being laid to rest, possibly his grandmother. Tyler Childers is a talent to watch. He's either had or seen a hard life and is bringing that world to a wider audience. Lookout. This young man maybe one you'll only see in large stadiums from now on. He's got something authentic and real.
The last act of the day and the festival was the Texas band, Shinyribs. They bring not just a band and great songs; they bring a floor show. Mr. Shiny, Kevin Russell, comes dancing out on the stage while the band breaks into "All About That Bass." He dances and sings and is backed up by Alice Spencer, one of the Shiny Soul Sisters. The band is incredible. Winfield Cheek knocks it out with stride piano and honkytonk on keys. Keith Langford lays down the steady beat on drums. Jeff Brown adds his style on thumping bass. And the Tijuana Trainwreck Horns provide the color through the flute, sax, trumpet, and trombone, adding that wonderful south of the border Rancher sound. They are Mark Wilson (flute, sax) and Tiger Anaya (trumpet, trombone).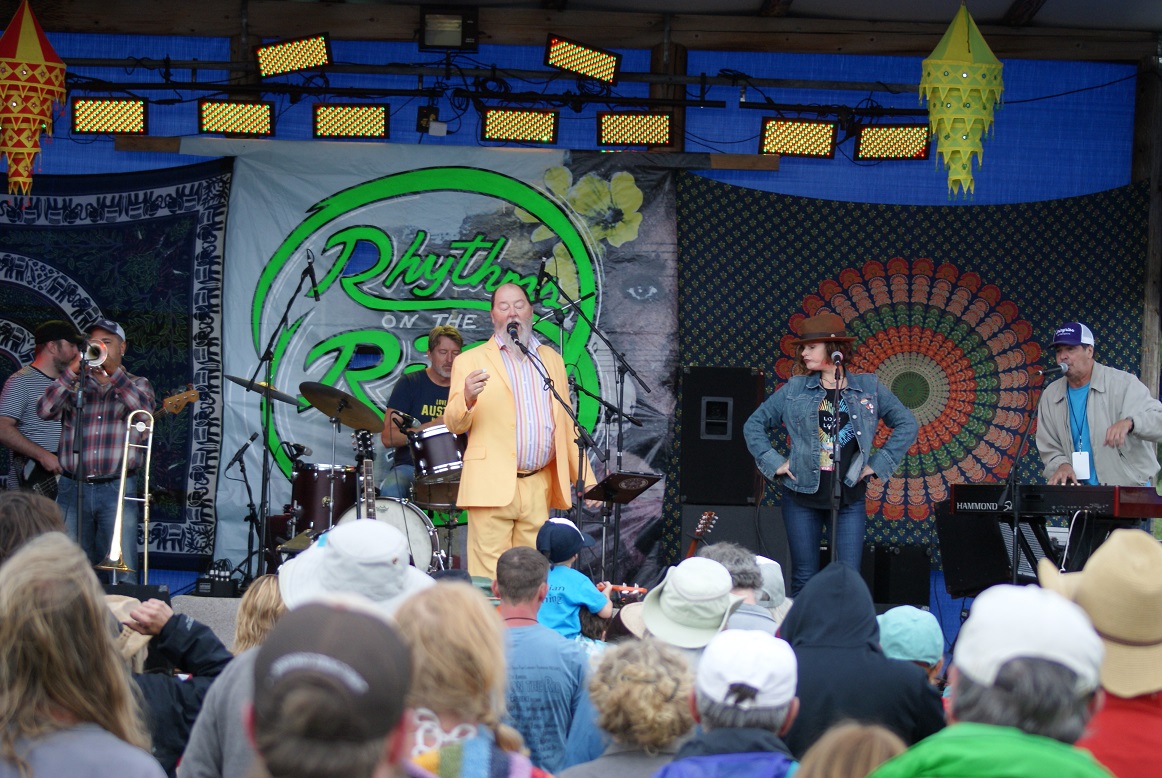 Shinyribs calls their style Gulf Coast Rock and Roll, but there's a lot of New Orleans and boogie thrown in. It's always a party with this band, and they even took it out into the audience when Mr. Shiny got down to lead a conga line among the festivalgoers who were dancing at the lip of the stage. Shinyribs did mostly covers like "Tupelo Honey" and their opening number. But they did add a couple of originals. Their song about telling the truth had a swampy sound that was turned uptown. I was impressed not only with Mr. Shiny himself but also the strength of the Tijuana Trainwreck Horns. What dynamite players! This was a killer way to end this year's festival. We all left the festival grounds smiling just as the sun emerged.