The little festival that could, Rhythms on the Rio 2017, did it once again, bringing a stellar lineup and unmatched Colorado hospitality to a welcoming festival audience. This year's fest started out overcast and chilly (we are in monsoon season, after all), with the promise of rain. But none of that dampened anyone's spirits.
Opening this year's music extravaganza in mid-afternoon was Charlie Wheeler, the frontman for Seattle's Ghost Town Whistlers. That band started out as a solo act that expanded to a collective, rather eclectic group. Wheeler's 45-minute set presented his signature Pacific Northwest style. Just a guitar and a mic, Wheeler offered the audience deep lyrics in a droning delivery with a lot of bar cords up the neck. I think I would have appreciated his music more with his full band to fill out what were really kind words.
Being able to hear every word has been the hallmark of this relaxed festival. Many outdoor festivals and concerts present challenges due to weather, usually wind and thunderstorms, that can seriously affect the quality of the festivalgoers experience. Thanks to Blake Himmert and his crew from Denver, working with the local sound techs, listeners are always treated to clear lyrics, balanced with crisp audio from all of the instruments. This year's fest was no exception. Blake offers some of the most spontaneous, creative touches I've seen from any sound tech; and I've covered a lot of festivals. He doesn't just set it at sound check, adjust it when the act gets on stage, and then lets it run itself—which I have seen others do. He's constantly checking, tweaking, and adding effects as needed, even to bands he's absolutely never heard before. Let's just say he's that good.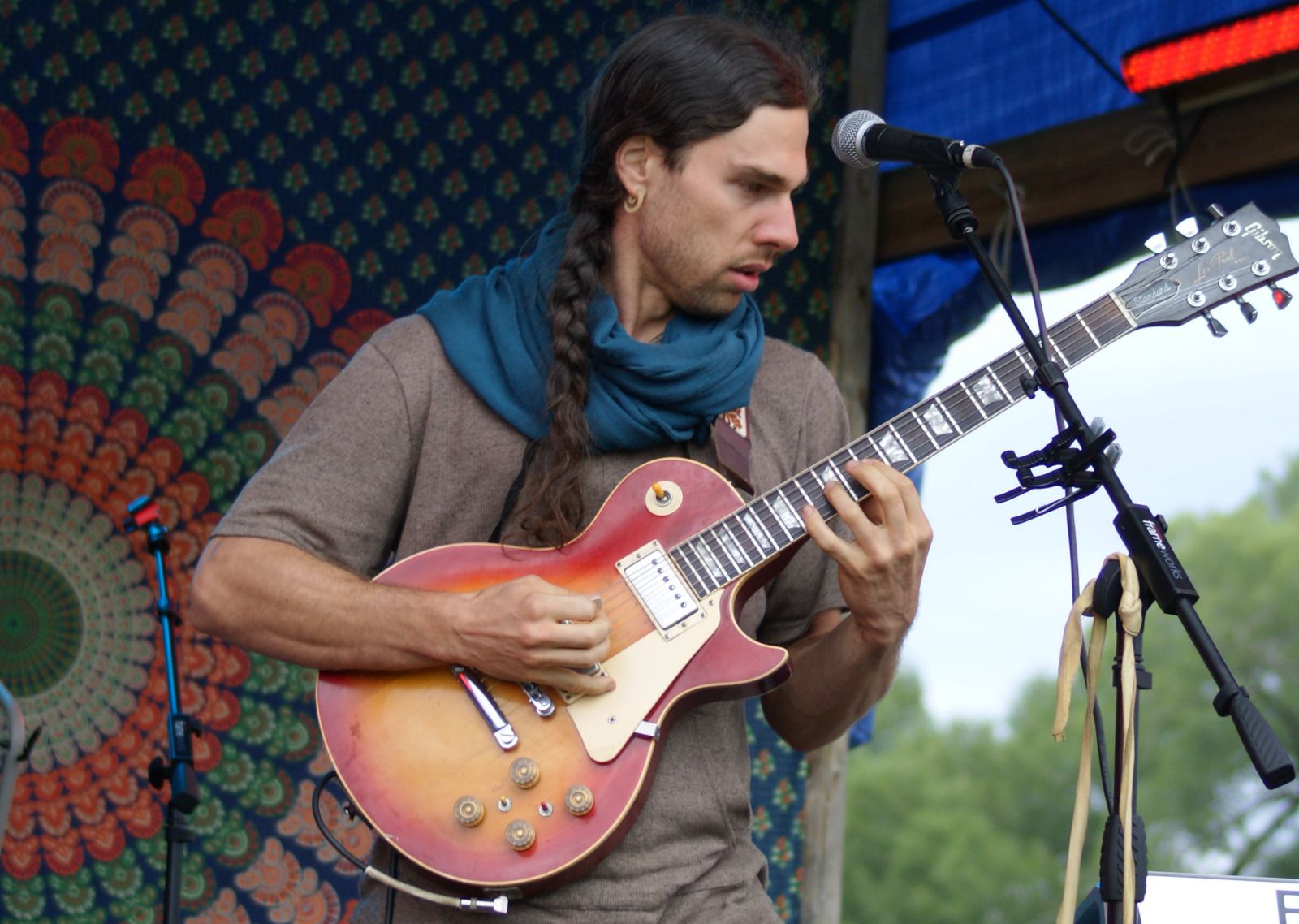 The second act was Elder Grown from Durango CO. That little town has sprouted some of the best bands in the southwest (Hello Dollface, Liver Down the River, Elder Grown, and many more). Elder Grown's sound defies being pigeonholed into any genre. It fuses hip-hop to funk to rock to reggae to just about whatever this five-piece band dang well wants to. Their instrumentation is intricate and varied, with members switching instruments often.
The vocals are equally varied and ever changing since everyone sings in the band. I was particularly impressed with the three Hoffman brothers' voices. (Two of the brothers play the same instruments—bass and guitar--and switch a lot.) John, who started the set on bass has an incredibly unique tenor voice that is rich and colorful but has more of a softer register. Josh (who started the set on guitar) has a similar sounding voice on some songs, but his is a very unusual instrument. He can be a power singer at times, belting out tunes in a more baritone fashion. The other brother, Paul, plays drums only and does the hip-hop songs.
The other two members of the band aren't slouches either. Brandon Clark plays keys mostly, though he also can play guitar and bass (And John and Josh can play keys as well). Sam Kelly sticks with what he does exceptionally well; he plays the saxophone. Every single member of the band does back up, and they also switch lead singing.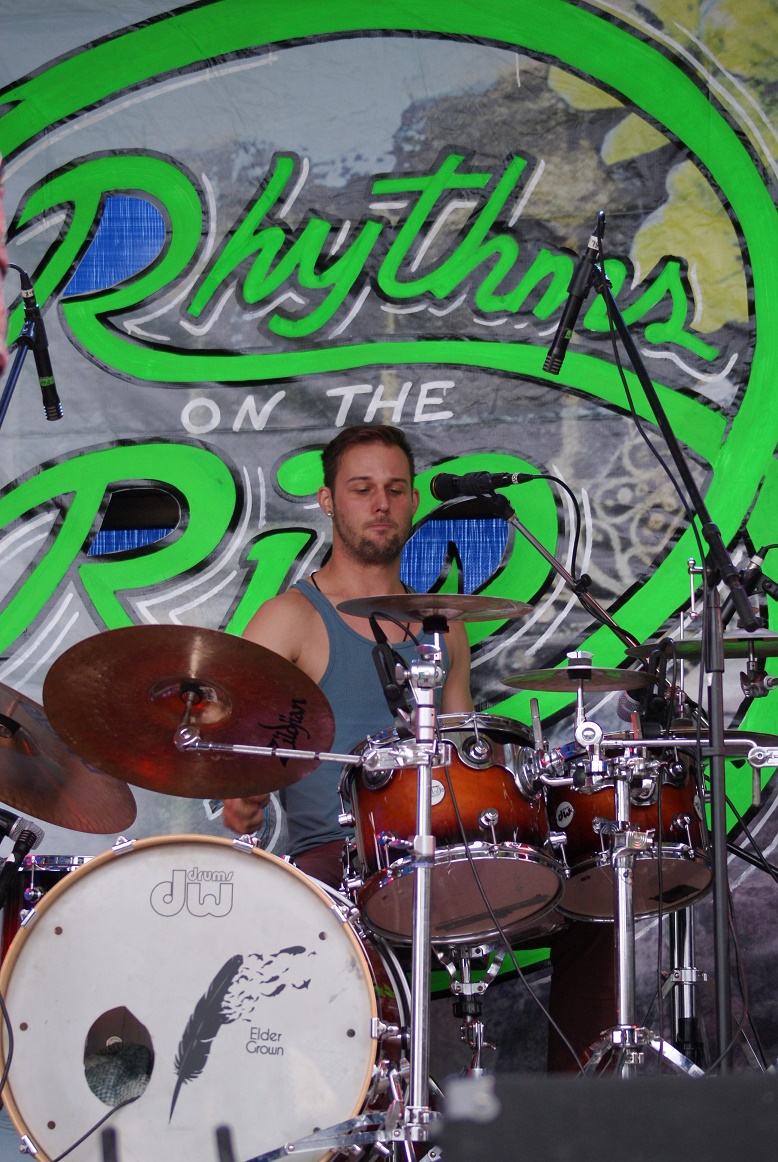 I think what I liked best about this band was its ability to not just change genres within a set but also within a single song. Mostly, this was due to particular arrangements and jamming ability, as well as intentional merging of one song within another as when they stuck the Beatles song "Dear Prudence " in the middle of a hip-hop tune.
Since some of the band members teach music at Durango schools, they invited a fellow orchestra teacher, Rusty, to step up and play fiddle (not violin—this was mountain fiddle that was a bit twisted) on a few songs.
Great stuff. This was Elder Grown's second appearance at Rhythms, and I hope not their last.
Up next came Head for the Hills from Fort Collins, CO. This four-piece band plays traditional bluegrass instruments: Guitar--Adam Kinghorn, and The Deer. rd, Bass—Matt Loewen, and Mandolin—Sam Parks. Again, there were great vocals and harmonies and intricate instrumentation. Out of the gate, Head for the Hills jumped into the old country tune, "Mama Tried," showing off their roots and their great harmonies (everyone sang except the bass man). Then they moved into an Irish tune that slid rapidly into a hoedown with the fiddle and mandolin playing off each other.
Hip-hop was also part of this band's repertoire, but this one was smashed head long into a bluegrass tune, showcasing Joe Lessard's fiddle. Then they did a tasty instrumental called "Floodwaters" that Sam Parks wrote when a festival they played at that had to be moved to higher ground because of a major flood.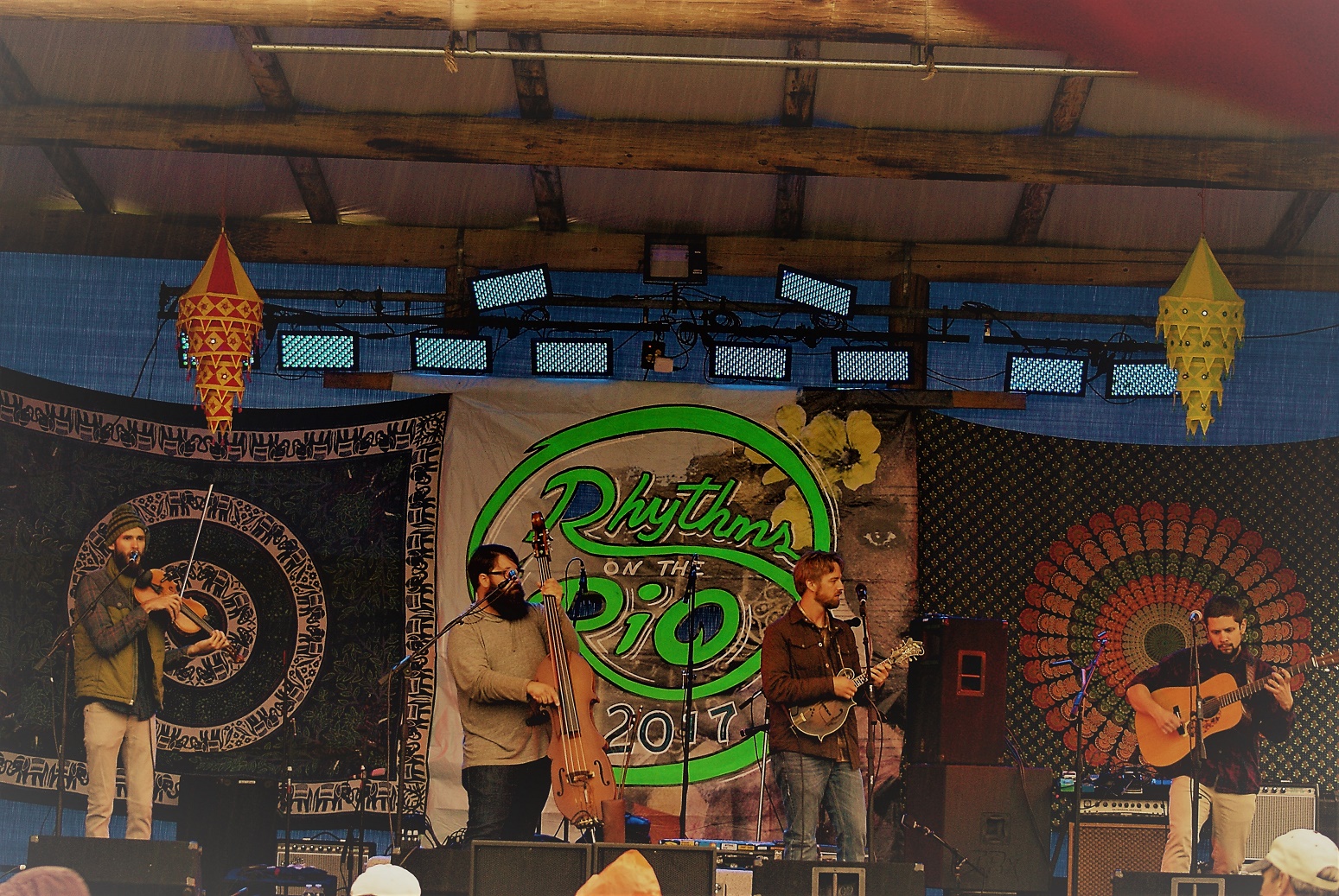 I especially liked "Scrap Metal," a gypsy-laced song that contrasted a homeless man and a wealthy man with scrap metal as the link between them. Again, instrumentation was crazy great.
They followed that with old country tunes, some more hoedown music, and a great swing tune that had a lot of the Paris gypsy jazz influences of Django Reinhardt.
I enjoyed a cut they did from their new record that had the chorus: Why did you? Why'd you run to another town? "Give Me A Reason,Goin'" asks why after a breakup. Another one from the new album that is their official music video was "Bitter Black Coffee." Great tune!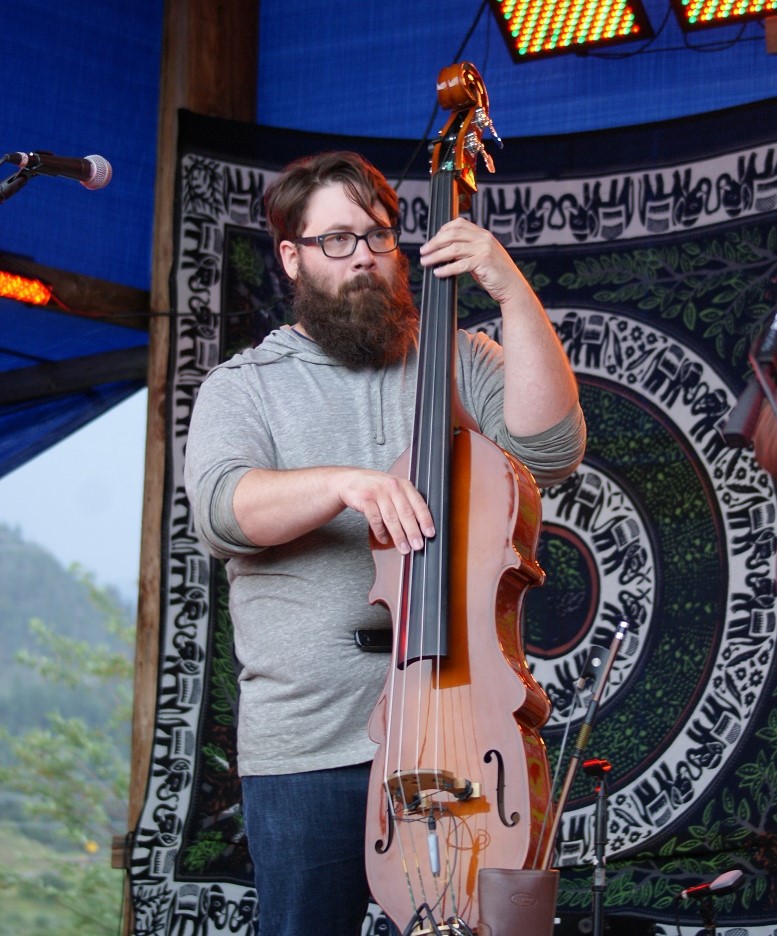 They offered "Crying to the Wind," an environmental song that was more hip-hop. Their version of "Going Down the Road Feelin' Bad" was right on the money. And the crowd loved their original that had the line: "I'm going down to that place I got to be—the Colorado back country."
The headliner for the first night of the 2017 Rhythms on the Rio Music Festival was Elegant Survival. It was an amalgam band of members of Elephant Survival--Bonnie Paine (washboard, electric cello, djembe), Darren Rodriguez (guitar), and Darren Garvey (drums)--and The Deer--Jesse Dalton (upright bass) and Noah Jeffries (guitar). Now if this wasn't great enough, they asked two guests from Head for the Hills to join them: Joe Lessard (fiddle) and Sam Parks (mandolin).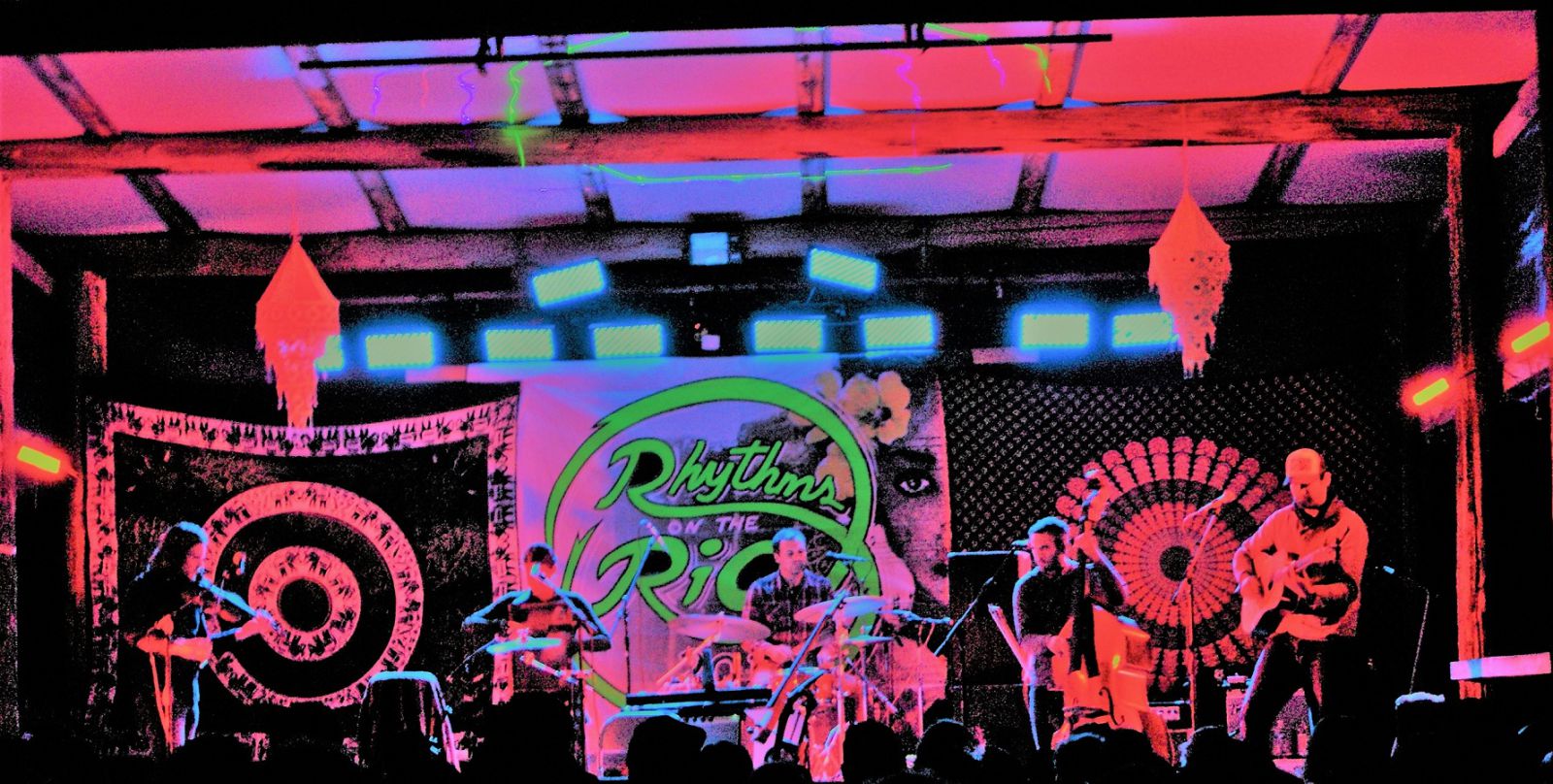 With all this instrument power and vocals by Bonnie and Noah switching leads and back vocals by the rest of the band, it was a spectacular evening. It was mainly Elephant Revival original materials with some of The Deer's writing as well. There was a great ecology song that had this walking spooky beat where I expected to see florescent skeleton's come dancing out of the dark night. There was the great ballad about Johnny howling at the moon with band members and festival-goers howling. There was a moody, jazzy instrumental that feature's Bonnie's electric cello and Jesse's bowed upright bass than drifted into plucks on occasion. Very nice.
It was a most delightful way to end the first day of the 2017 Rhythms on the Rio Music Festival.