Two and a half months ago, I was fortunate enough to get my first glimpse of Elephant Revival, the Lyons band whose sound is so unique, a reporter coined the term "Transcendental Folk" in an effort to capture it. In my review of that e-Town appearance, I tried to unpack this enigmatic neologism by exploring the naturalistic philosophies of Emerson and Thoreau. The band's sonic essence, lyrical panegyrics to nature, and even philanthropic aims all feel like a secular benediction conferred onto Mother Earth.
During the interview portion, e-Town host Nick Forster asked percussionist Bonnie Paine if Elephant Revival would like to host its own festival. She replied in the affirmative, but with the caveat that the festival would have to reflect their personal ethos – not just musically, but politically and environmentally. In that same spirit, Elephant Revival's April 27th show at The Ogden was a celebration of music and nature infused with a healthy dose of political awareness. 
The Plenty Wolf Singers, a group of Lakota drummers, singers, and dancers, were the first of two openers. Elephant Revival met them prior to their first Buffalo Heart charity concert at a Sweat Lodge in East Boulder. Set up on stage right, (roughly) 12 men chanted while hitting a Pow wow drum almost three feet in diameter. Two other men and one woman, donning traditional Pow wow raiment with feathers, vibrant colors, and rich embroidery, danced to the rhythm of the deep, robust percussion.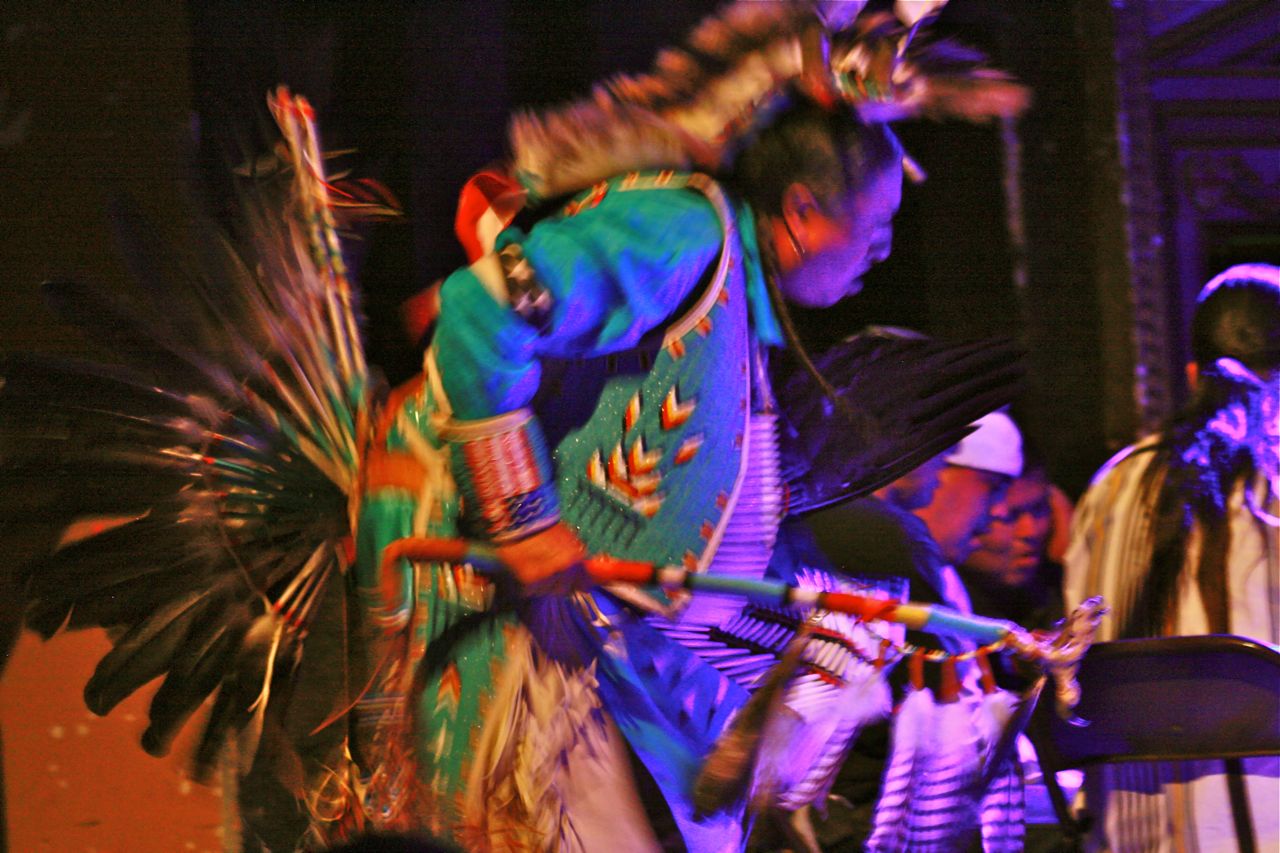 Accompanied only by his acoustic guitar, Chad Stokes (Chad Urmston of Dispatch fame) took the stage after The Plenty Wolf Singers. While his set was filled with catchy riffs and familiar favorites, his mordant barbs against income inequality and the growing inutility of government drew an equal amount of applause. Like Elephant Revival, Stokes uses his platform as a musician to call attention to, and remedy, injustices anchored in poverty. His non-profit, Calling All Crows, had a booth set up in the foyer. Passersby were encouraged to write entreaties (on pre-addressed and pre-stamped postcards) to Missouri governor Jay Nixon asking him to commute Reggie Clemons's death sentence. Usually, I do not take the time to describe opening acts, but the Plenty Wolf Singers and Chad Stokes weren't just any ordinary openers. They were part of an overall theme of advocacy that surrounds a typical Elephant Revival concert.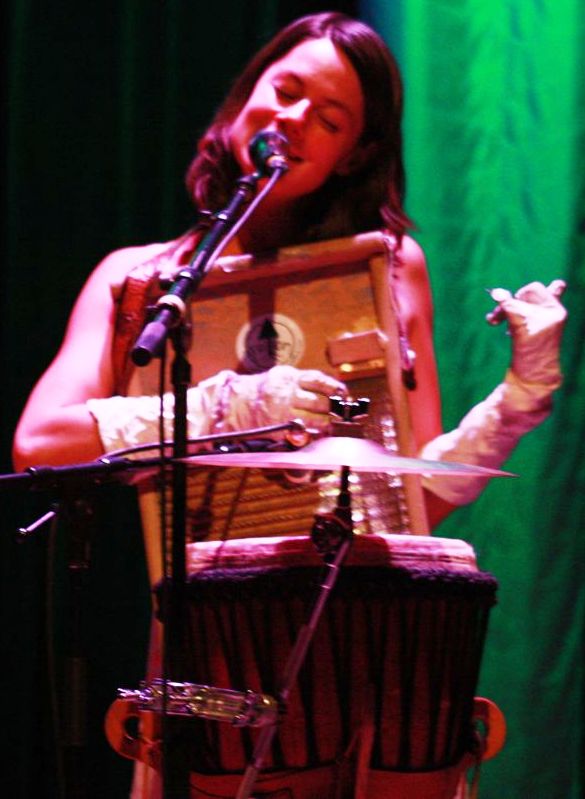 Elephant Revival took the stage a little after 10 p.m. and opened with Makchi Tamboui, a tranquil and eurythmic chant led by Paine. While all five members contribute vocals, Paine has received the lion's share of attention for her voice; in dozens of press reviews, it has been characterized as "eerie", "otherworldly", and/or "hypnotic". While I agree with those assessments, guitarist Dan Rodriguez sings with an equal amount of serenity and soul. His stature (~ 6'6") belies the gentle, folk timbre of his voice. In Quill Pen Feather, Rodriguez's leads dovetailed perfectly with Paine's harmonies and the snare drum rolls of her washboard.
About 20 minutes into the set, The Ogden audience was treated to a visual surprise. Aerialists Jill 'Jilly' Katz, Aaron 'Piper', Laurelight 'Maqi', and Ariana 'Airfairy' performed climbs, wraps, and breathtaking drops on aerial silks during Go On. The white silks, or tissu, were suspended from the ceiling and the aerialists used the fabric to furl and unfurl themselves in a host of positions and heights. They were also dressed, head-to-toe, in white, which tied in lyrically to the beginnings, birth, and nature invoked by the next song, Remembering a Beginning. Paine and fiddler Bridget Law met the aerialists while embarking on their own journey to learn the art of aerial performance.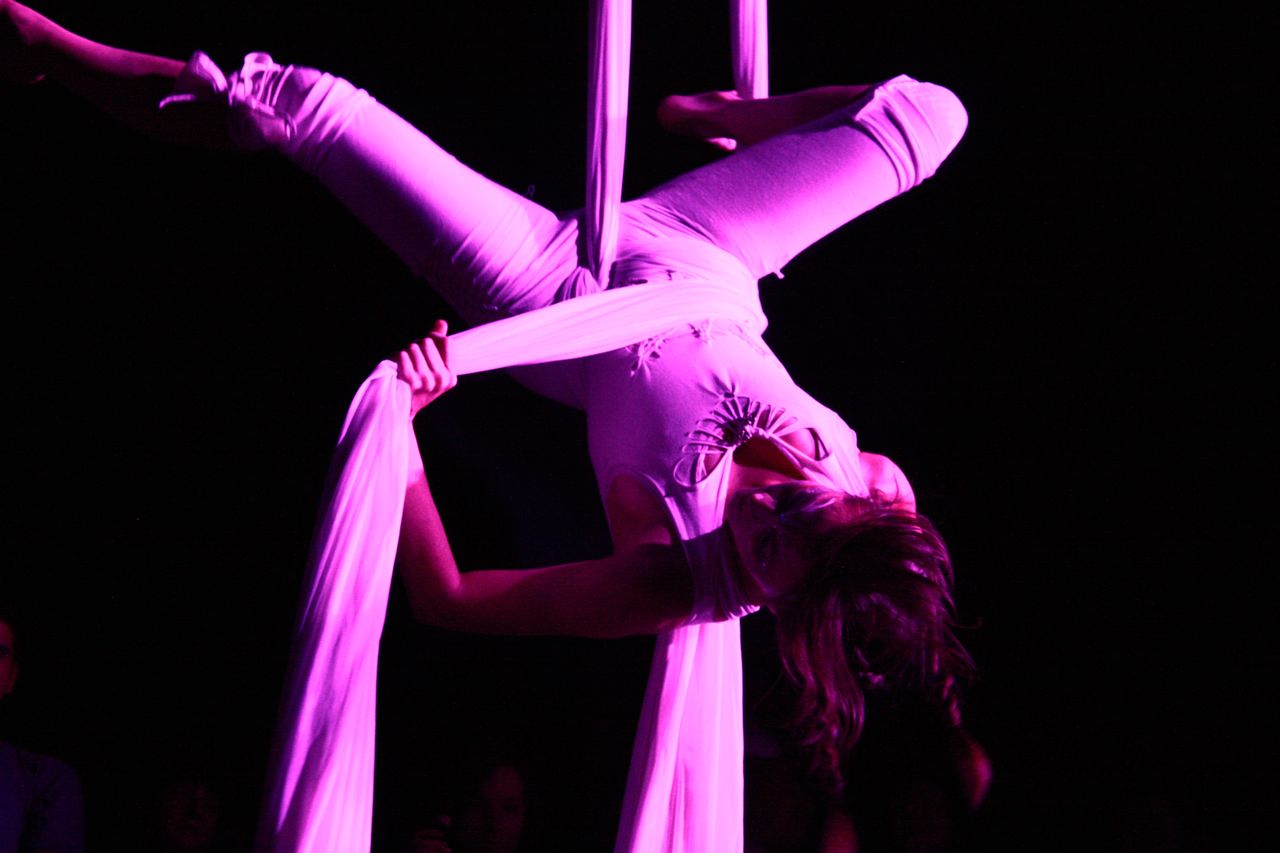 Besides creation, Remembering also seizes upon the most ubiquitous imagery in Elephant Revival's poetic repertoire – water: "Alone she cries / let me be inside / the ocean tide / remembering a beginning." Four songs in just this show contained titular allusions to nature's waterways. But more than that, Elephant Revival's jamming resembles an "ocean tide". Spinning, Down to the Sea, and Drop all displayed the band's telepathic ability to pinpoint volume control as a single unit. The tight crescendos reminded me of a tide gathering, cresting, and then crashing to the beach. The sounds were discrete, but the volume of each instrument increased uniformly with the others. Elephant Revival's diminuendos were equally impressive as the band displayed a monolithic ability to reduce its volume. In a similar manner, once that tide hits the beach, it retreats with universal alacrity and proportionality. The magnitude of each ebb and flow never altered the singularity of range.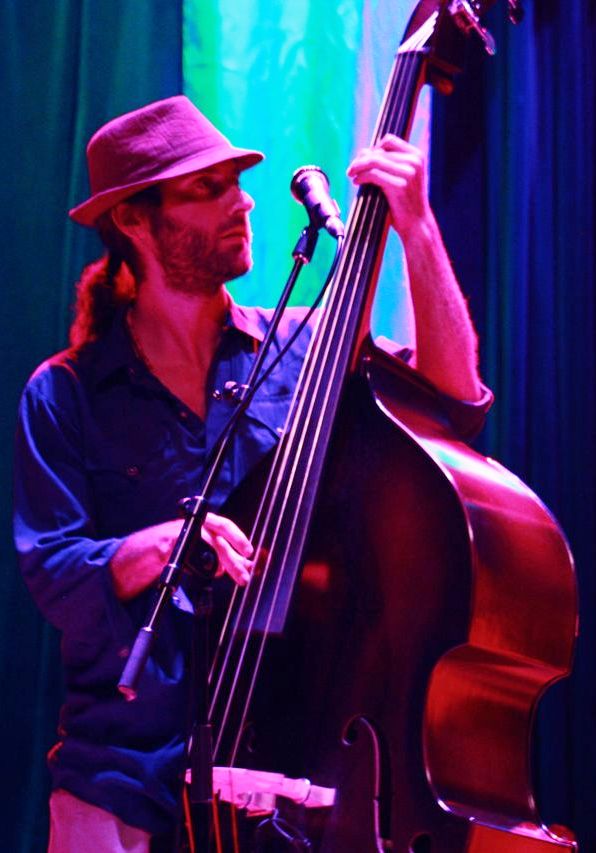 As in every band, each person arrives with a unique set of influences. Bassist Dango Rose demonstrated his love of cellist Rushad Eggleston's rhythmic bowing technique in Down to the Sea. A hint of Edgar Meyer's Appalachian work (such as The Goat Rodeo Sessions) was woven throughout the set as well.
Law was really the unsung hero of this, and many, Elephant Revival shows. Her vocals are never featured as prominently as Paine's, or even Rodriguez's, but the versatility of her fiddling is unavoidably brilliant: "I grew up playing in Texas fiddle contests, learned many styles of jazz and swing in college, learned to play bluegrass in jam sessions around Colorado and went to Scotland four times. Now I quest to learn more gypsy and cajun fiddle styles as well as writing tunes and always improving my improvisation chops. My approach is to play the instrument with grace and natural fluidity". Whether that last part was an accident or not, it's yet another allusion to nature's waterways.
The highlight of the night was Law's solo and fills during Sing to the Mountain. She not only played with an overflow of expression, her body movement brimmed with emotion. At times she bent way down at the knees while keeping her torso straight. At other points, her body dipped and swooshed like a willow tree.
The one complaint I would have about this show is its format. A single set rarely works as well a traditional two-set show for a couple of reasons. First, the crowd needs a break to talk about the music and physically recover. Second, bands often benefit because they, too, need to unwind and recharge their batteries. As the song count marched into the 20s, I could sense a tangible restlessness in the crowd. The momentum from the stage also began to hit a wall.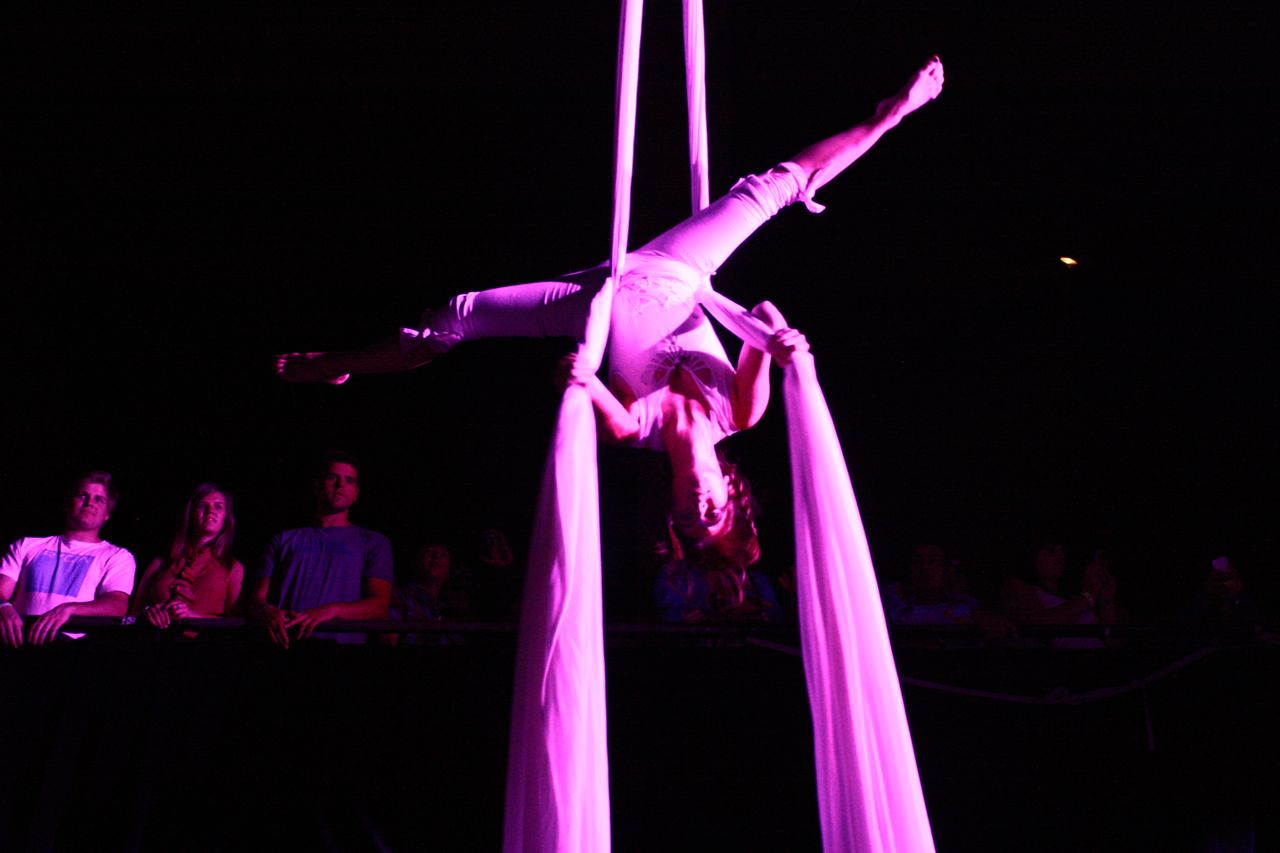 However, the three-song encore erased that downshift. It was punctuated by a dual effort between the band and Chad Stokes to honor the legendary drummer and singer Levon Helm, who recently died of throat cancer. Stokes belted out The Night They Drove Old Dixie Down, one of the most (if not the most) famous songs in The Band's oeuvre. The Plenty Wolf Singers joined Stokes and Elephant Revival for the final song, The Garden. It was a sight to see the stage packed not only with musicians, but also activists who use their platform for the betterment of society. Music does not have to carry a cause to be powerful, but the advocacy of all three groups surely helped to intensify this potent brew.