The FreshGrass Music Festival is a festival like no other. Set in Western Massachusetts's picturesque Berkshire Mountains, along the historic Mohawk Trail (now MA Route 2), in the industrial river valley town of North Adams, Fresh Grass takes place on the vast property of The Massachusetts Museum of Contemporary Art.
Affectionately referred to as "Mass MoCA," with dozens of galleries and multiple performance spaces, it is renowned as one of the largest centers for contemporary visual and performing arts in the United States.
Mass MoCA's sprawling campus is a converted factory building complex populated by an assemblage of interconnected mid to late 19th-century factory buildings. These impressive brick buildings were once a huge textile plant called The Arnold Print Works, which operated there from 1860 to 1942.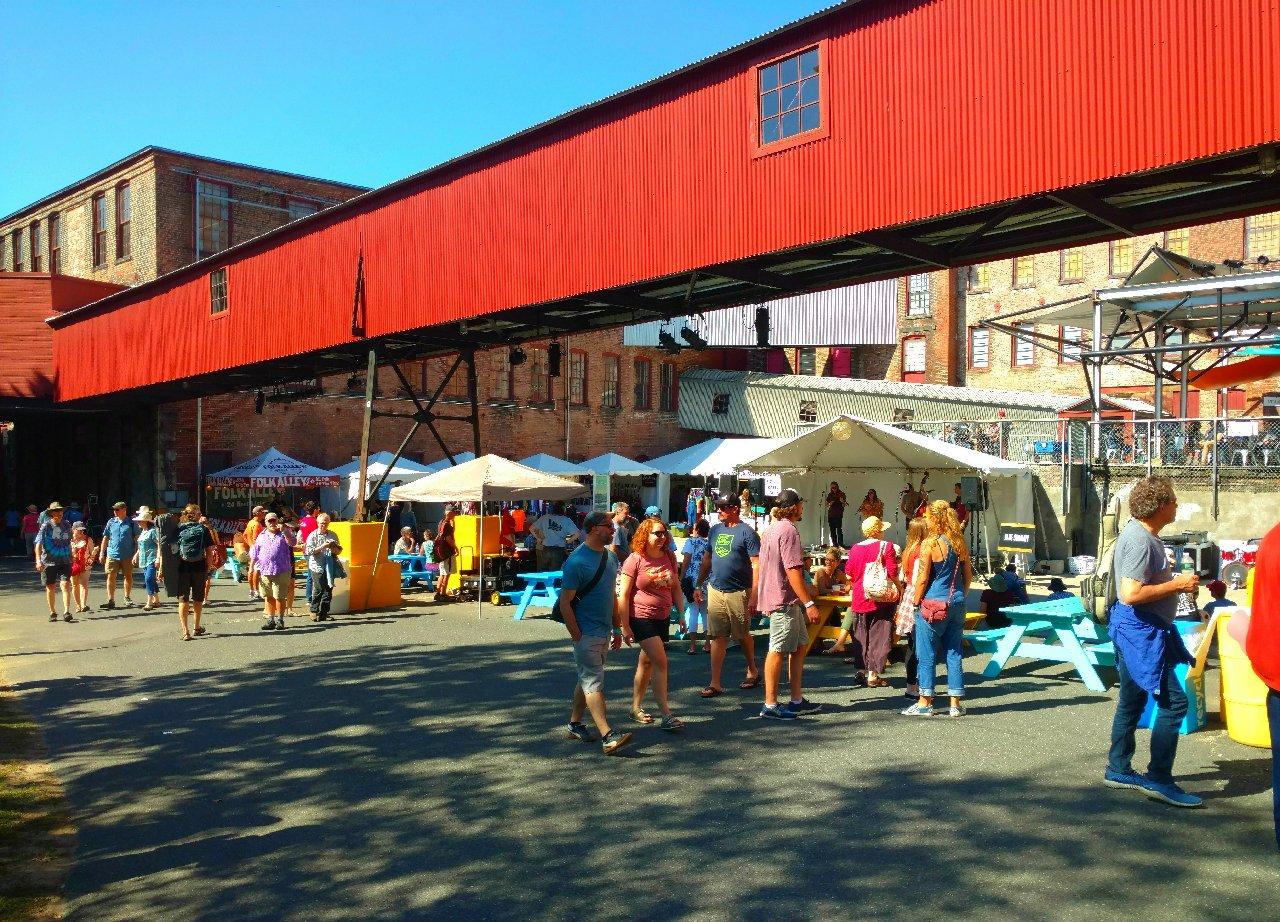 Interspersed among the labyrinth of buildings and the food vendors are the partially preserved remnants of machinery from the plant's industrial steam-powered manufacturing past.
These ancient, slightly rusting steel stacks, frameworks from overhead conveyor belts, ramps and walkways are interspersed with modern contemporary art elements to give the campus a phantasmagorical "steampunk" vibe.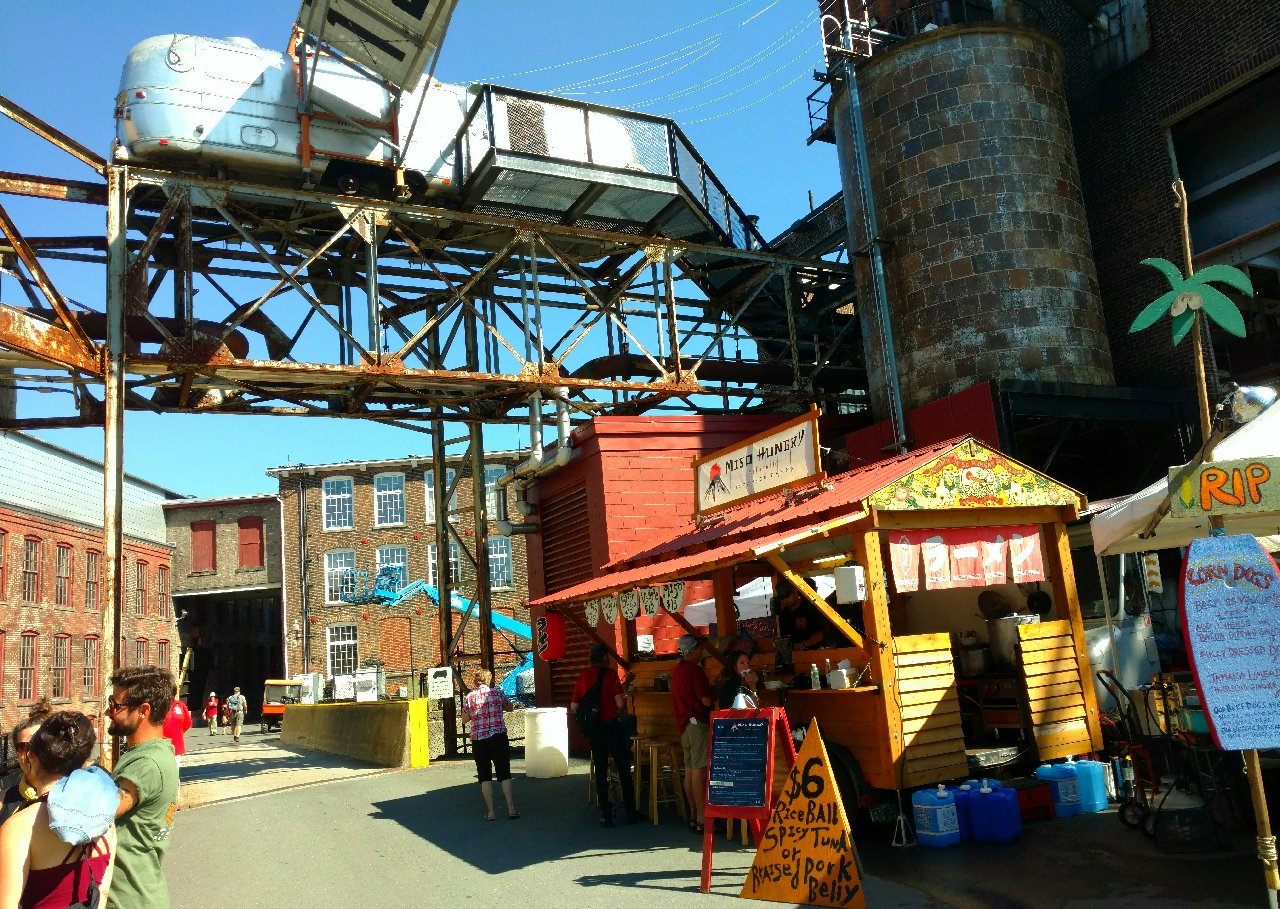 FreshGrass's multifarious setting, it's eclectic variety of music from around the world, also differentiates it from other festivals on the bluegrass circuit.
Yes FreshGrass has its share of traditional bluegrass acts (such as The Steep Canyon Rangers, Travelin' McCourys, Alison Brown and Balsam Range), and progressive string acts (such as Greensky Bluegrass and Leftover Salmon), but what sets it apart from most other festivals is its willingness to keep it "Fresh" and bring in a variety of music from other cultures from around the world.
This year included such diverse acts as Väsen (from Sweden), Hanggai (from the outer Mongolian steppes), Tinariwen (a Taureg speaking band from the deserts of Mali), and Calexico (a Tejano, Tex- Mex, Indie band from Arizona).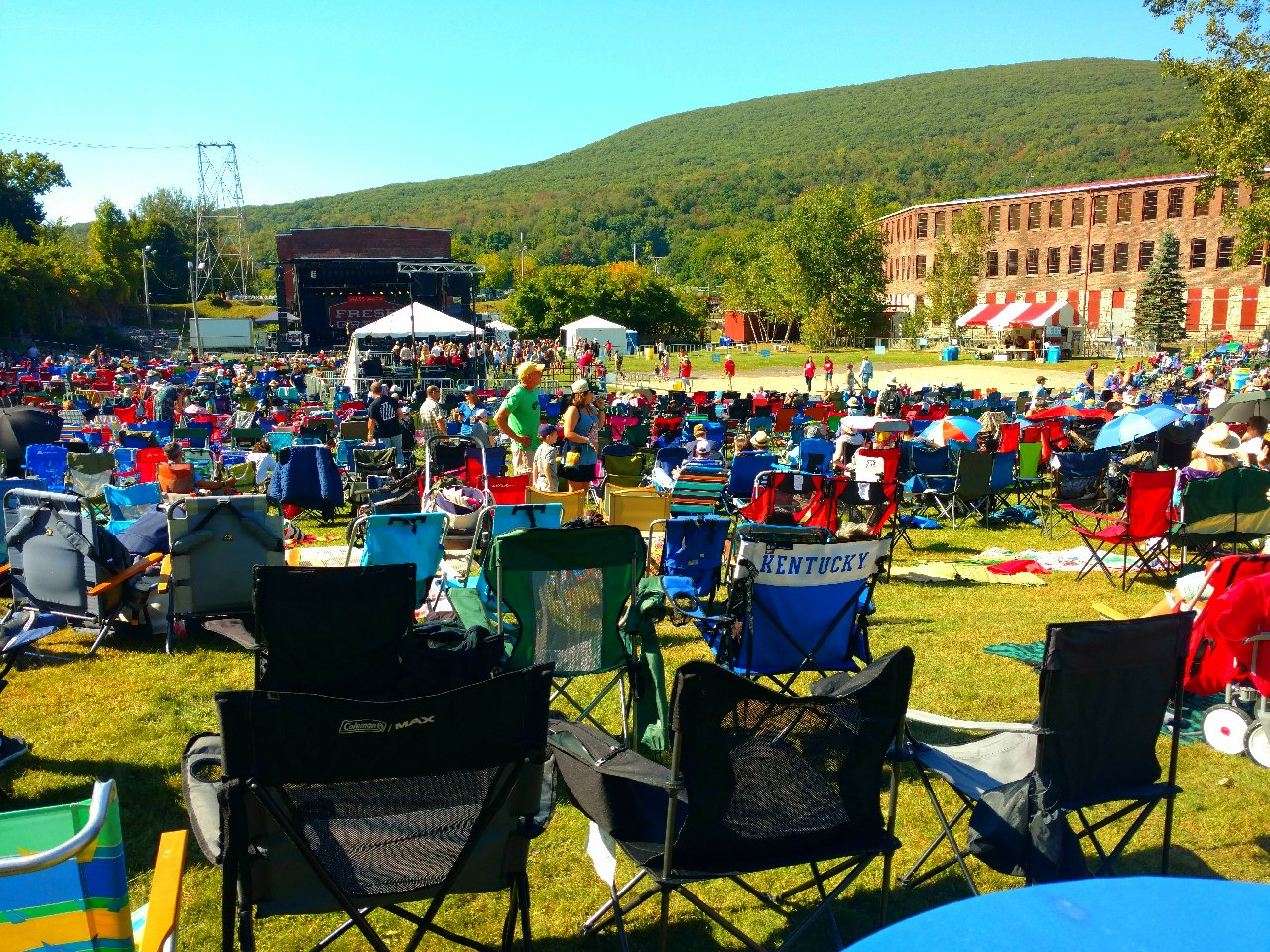 The closest similarity to FreshGrass that I can think of is Albuquerque's ¡Globalquerque! (which takes place on the large sprawling campus of The National Hispanic Cultural Centers and also features bands from around the world).
FreshGrass Friday
Due to the combination of my procrastination and much worse than regular Friday Boston area traffic, I got to North Adams about 9:00 PM. Fortunately, the box office was open till 11:00 PM, so I quickly got my press credentials. The check-in process was speedy and efficient.
I then hustled over to the off-site camping area called "Camp Aggie" to set up my tent. Camp Aggie is about four miles outside of town.
The check-in process at Camp Aggie was also speedy and efficient. When I started to set up my tent, I suddenly realized that I had forgotten my tent pegs. Panic set in. Fortunately, I remembered that I passed a Walmart about a quarter of mile down the road. So, I solved that problem quickly. Phew.
As I was frantically setting up my tent, I was fervently looking at my watch, knowing that the Travelin' McCourys were going to be going on at 10:45. I finally got situated around 10:00 and got over to Mass MoCA by 10:15.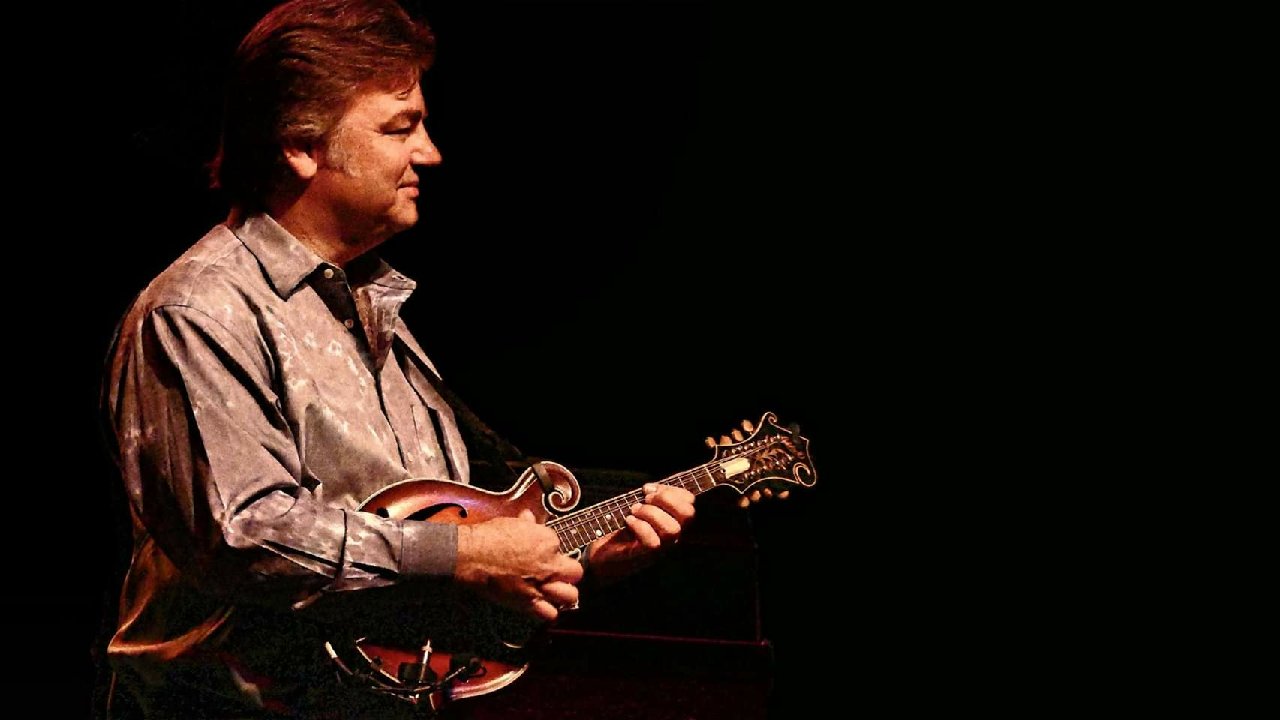 Because it was so late, I quickly glided through the entrance, and I was able to get myself to the enclosed outdoor "Courtyard D" area. Luckily, I was able to grab a spot right on the rail, stage left, where I eagerly awaited the Travelin' McCourys.
Courtyard D is surrounded on all sides by imposing 3-4 story tall, brick, 19th-century factory buildings which enclose the stage and invoke the feeling of being in a red sandstone box canyon.
It's hard to continually come up with superlatives to describe the Travelin' McCourys without being redundant. And last night was no exception.
The boys came on stage and opened with a flaming hot version of "Passing Through," during which flatpicking star Cody Kilby got to display his lightning-fast, intricate, nimble flatpicking prowess.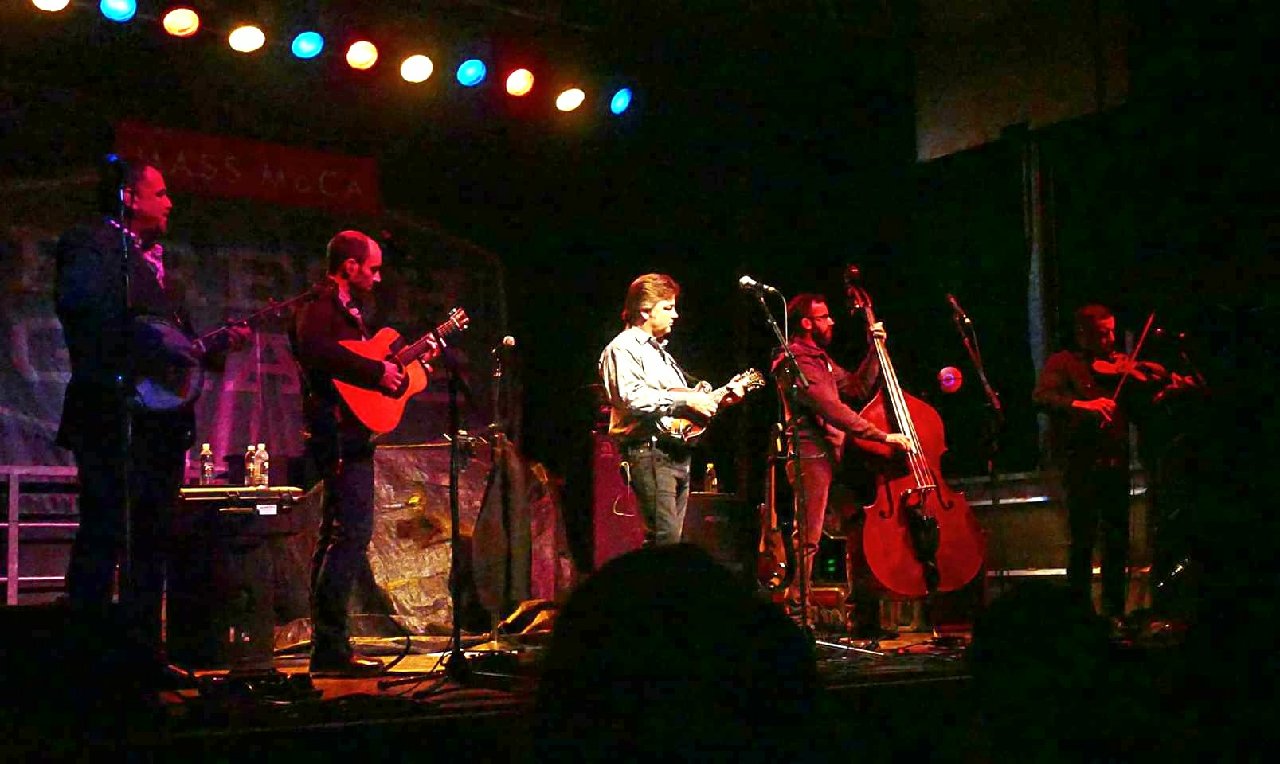 The McCoury's proceeded to blaze through a set list that included Heartbreak Town, Long Black Veil, The Shaker, Midnight Flyer, and Battlefield. There were several "breakdown" instrumental interludes interspersed. The tight, fast-paced set wound down with a couple of Grateful Dead standards: Cumberland Blues and Loose Lucy.
Mandolin player Ronnie McCoury introduced the set's encore/finale by remarking that "they all had to be down in Louisville Kentucky, (a 14-hour drive) by tomorrow night".
At which point fiddle player extraordinaire Jason Carter took the helm and finished up their set up with a rousing rendition of "Southbound." An apt choice, indeed.
The boys then gave a group bow to the crowd before they headed off. They were treated to thunderous applause, and we all walked away, smiling.
FreshGrass Saturday
I woke up to the dew-covered plush grass fairground at Camp Aggie. As I enjoyed my morning coffee while sitting in my camo-print camping chair, I watched the moon slowly glide through the crystal clear cloudless blue sky as it made its way to slowly set over the white limestone bluffs and the early Autumn foliage of the nearby hills. It was one of those "stop-and-smell-the-roses" moments.
I didn't get to the Mass MoCA campus and into the festival until about 2:00 PM. That's okay - "it's a marathon, not a sprint" is my festival mantra, and it was unseasonably hot with temperatures in the 90s.
On my way to the stage areas, I checked out the merch building. I was happy to see that the Travelin' McCourys CD was sold out (as was The Steep Canyon Rangers CD).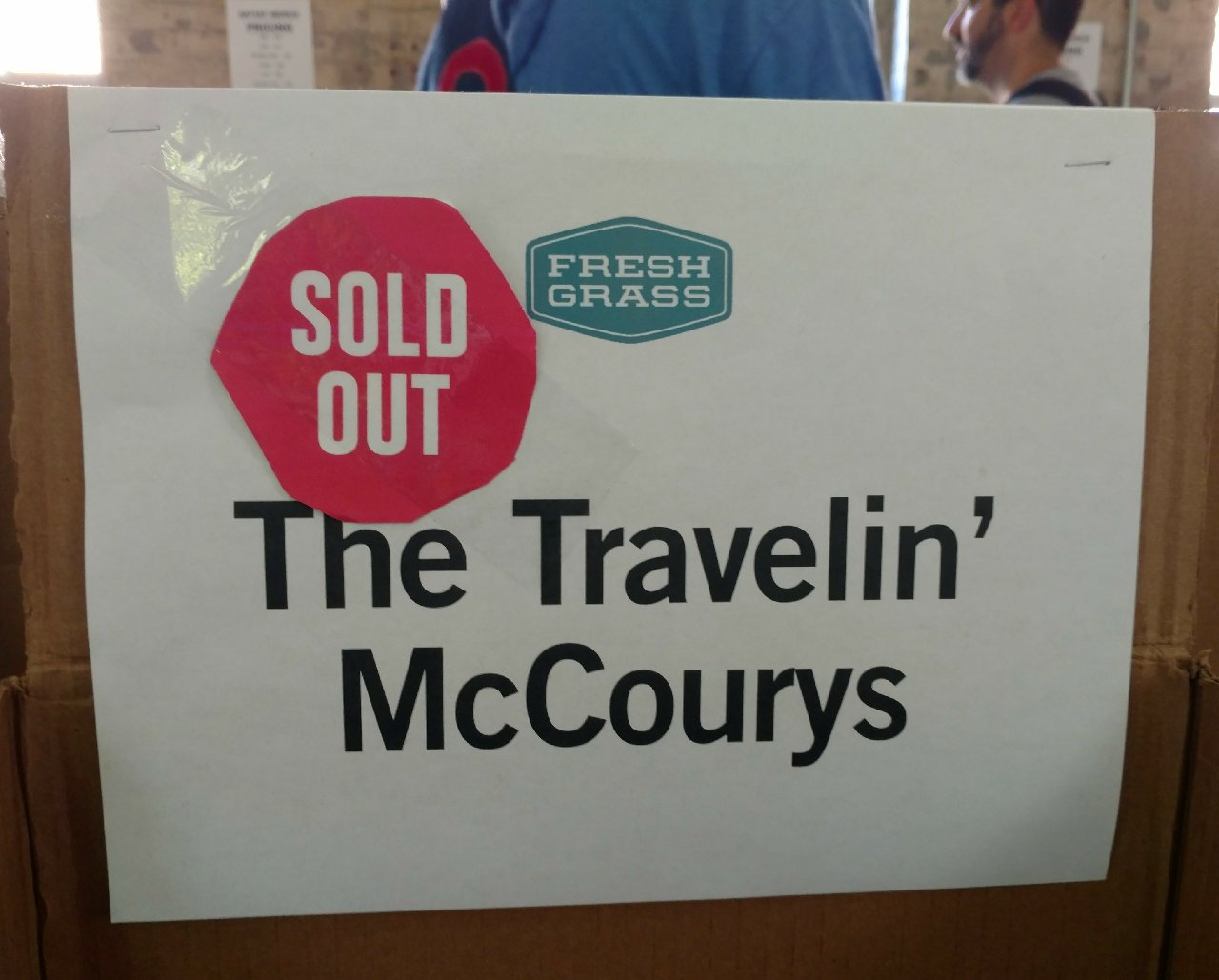 I walked into Courtyard D and maneuvered myself right up to "the rail" in front of the stage as a band called "Väsen" had just started their set.
Väsen is a Swedish folk music trio from Uppsala, Sweden, consisting of Mikael Marin (fiddle), Roger Tallroth (guitar), and Olov Johansson. Olov was playing one of the most bizarre instruments I had ever seen. It turns out it's called a "nyckelharpa" (which literally means "key harp" in Swedish). It's about two and half ft long, has 16 strings, 37 keys and is played with a bow. At times it sounded like a harpsichord, other times more like a fiddle, other times a cello.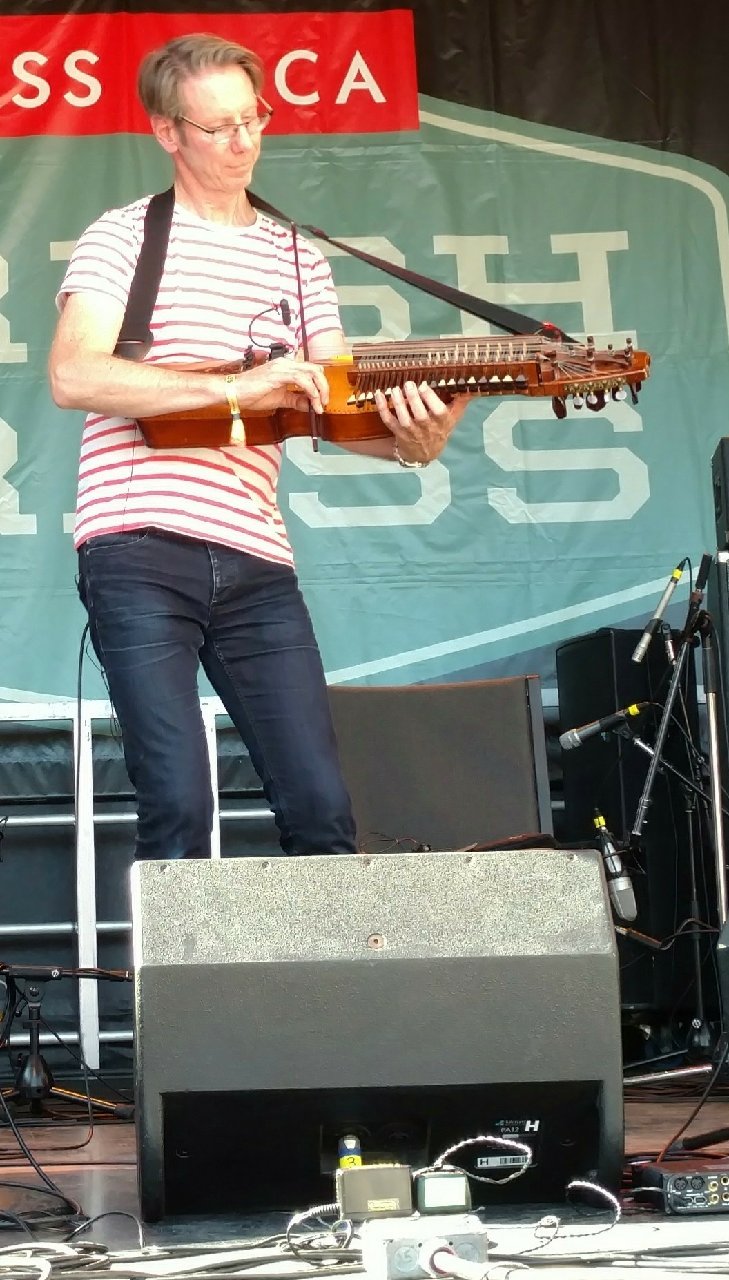 Despite my having never heard of a nyckelharpa before, I was surprised to see a young lady standing to my left, proudly brandishing her own nyckelharpa with a big smile on her face.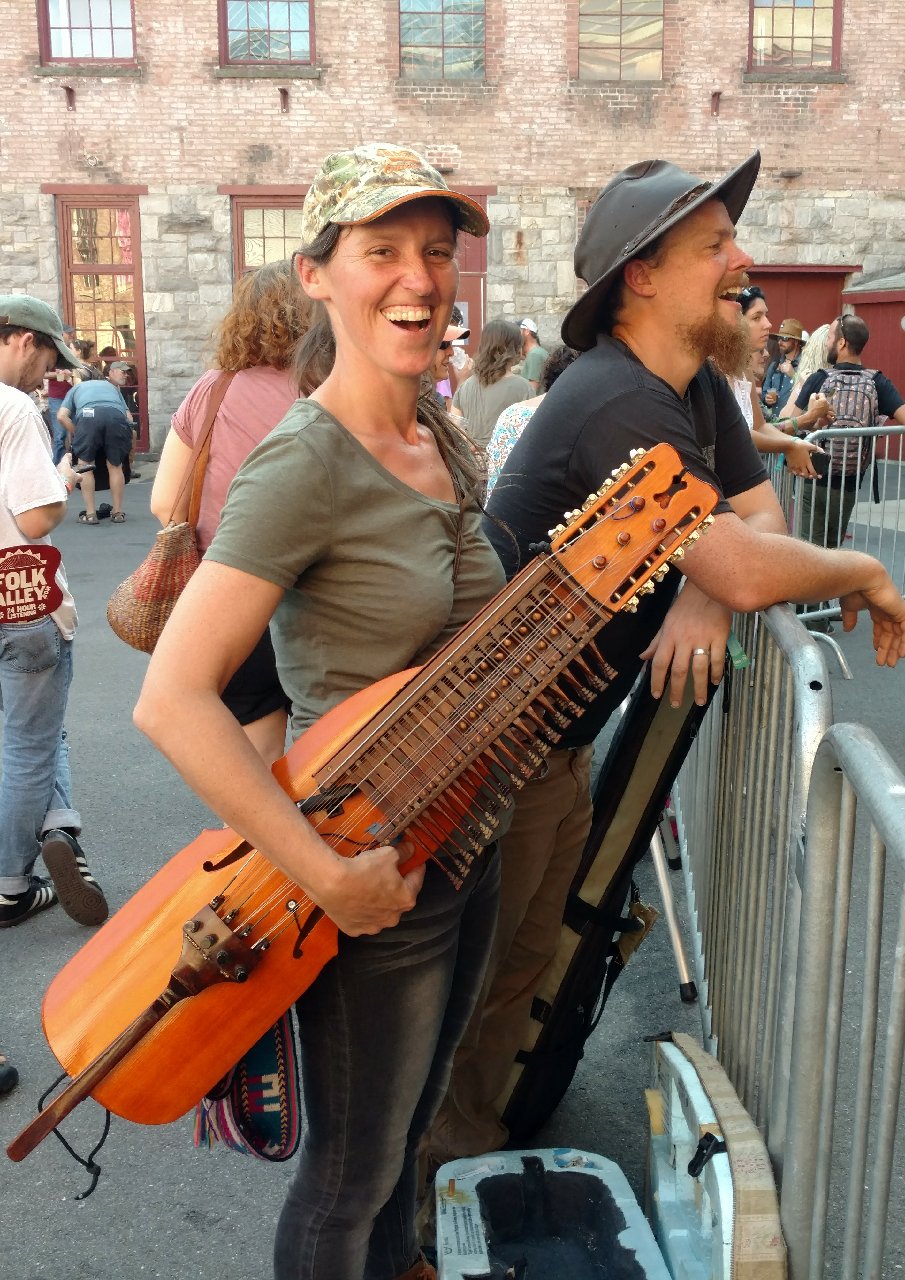 I enjoyed Väsen's set very much. I also enjoyed their dry wit and stage banter playing up their Swedish accents and cracking up the audience several times. Guitarist Roger Tallroth told a hilarious story of how he named one of his songs after his daughter Elsa's cosplay character: Robin. I enjoyed Väsen so much that I bought their CD after their set and had them autograph it (which was also a hilarious episode).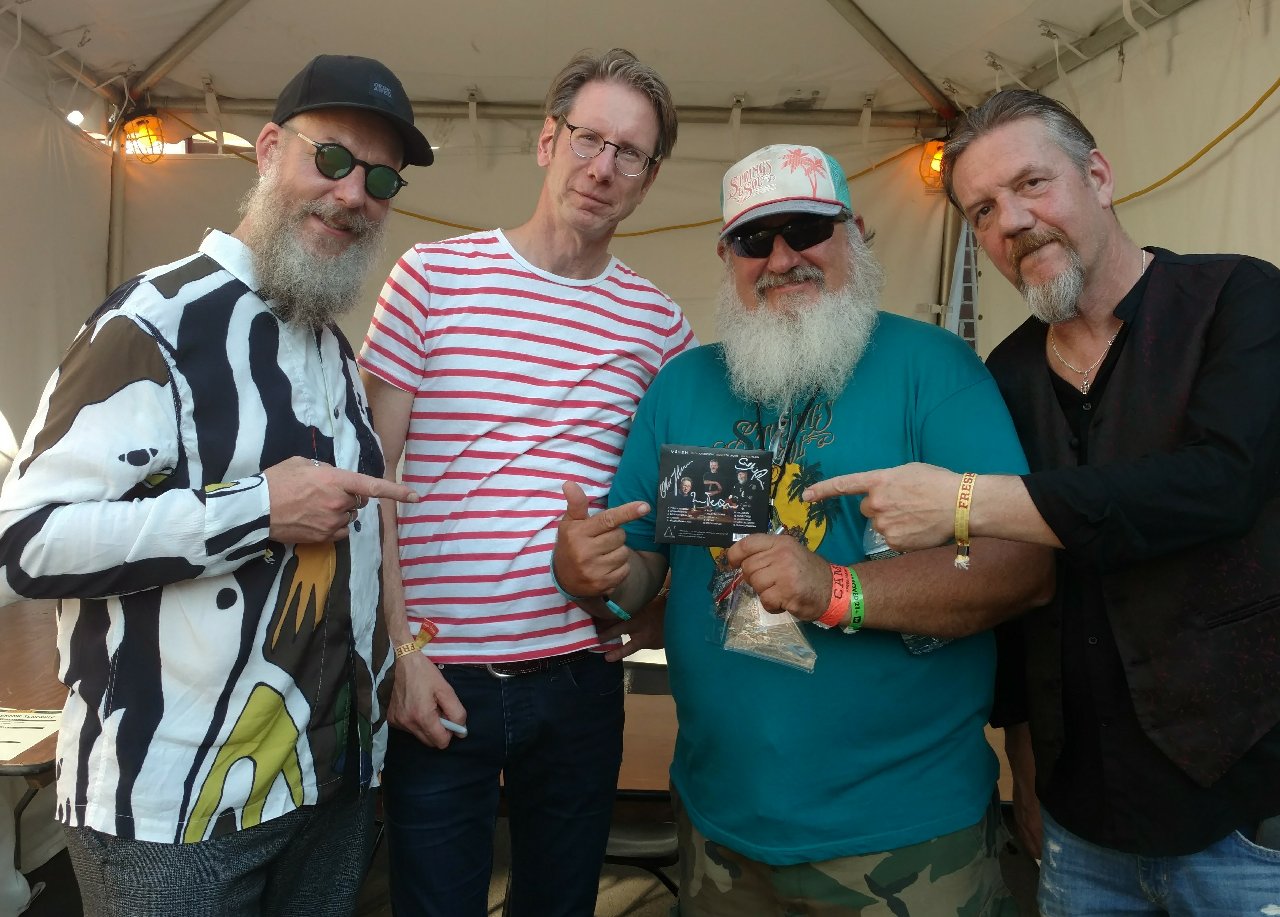 About this time, the temperature had soared into the 90s as I headed over to the main stage area (called Joe's Field). As I approached Joe's Field, I was greeted by music that sounded like a rowdy, raucous Irish band like the Dropkick Murphys. However, when the growling, guttural vocals started, I didn't understand the language, so I started to wonder if my brain was getting fried from the heat.
No, it wasn't heat stroke, it was because the language was Mongolian, and the band was called "Hanggai."
Yep, Hanggai is from Inner Mongolia, and their music is a blend of traditional Mongolian folk music and more modern styles like hard rock and punk rock. This blend of styles was even reflected in their stage presence as some of the band members wore more traditional garb, whereas others wore leather, sunglasses and had punk rock hairdos. It made for an interesting and extremely enjoyable show (I liked them enough to go over to the merch building only to find out that they had sold out of all their CDs several shows ago).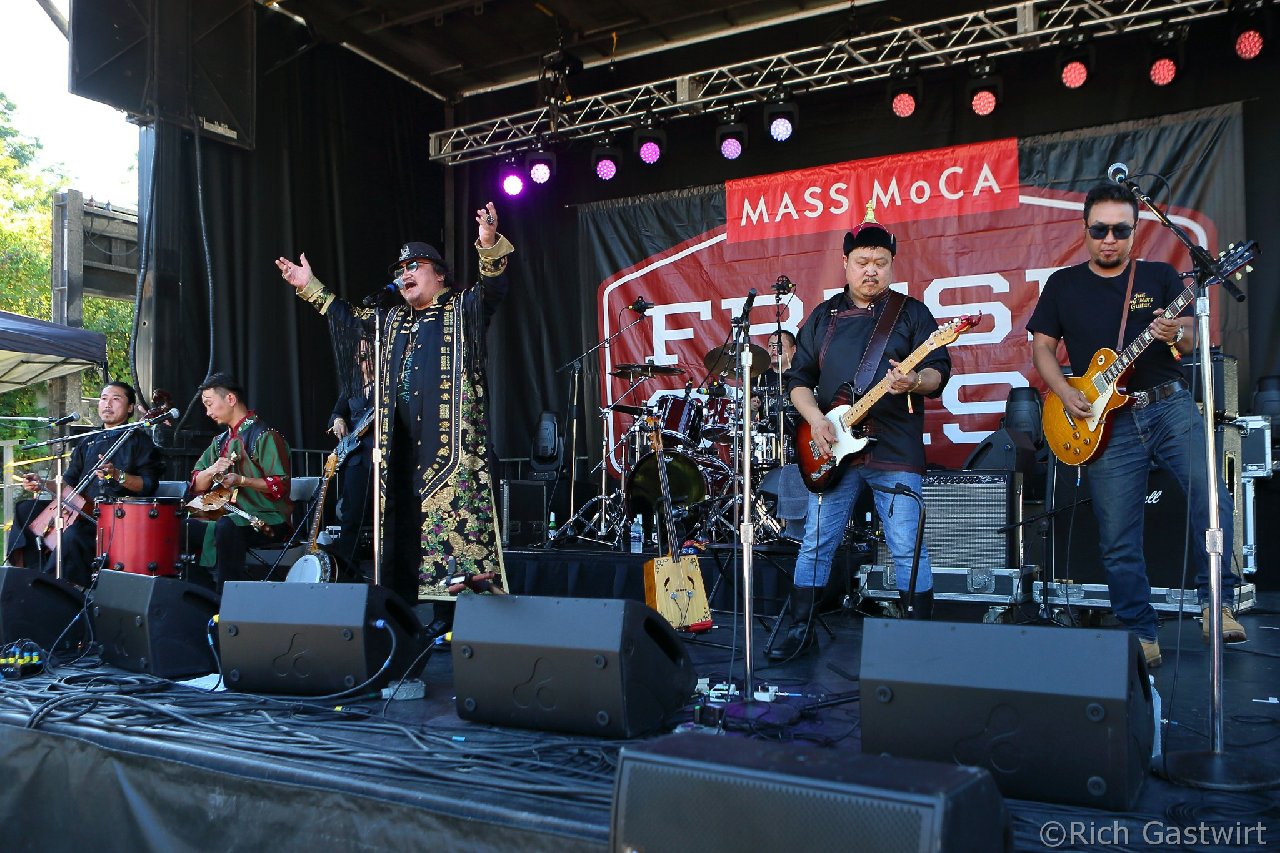 After my failed attempt to buy a Hanggai CD, I caught a couple of songs by "Jade Bird" in Courtyard D. Jade Bird is a London-based singer-songwriter who first who gained notoriety in 2017 while playing a showcase event at South by Southwest in Austin Texas.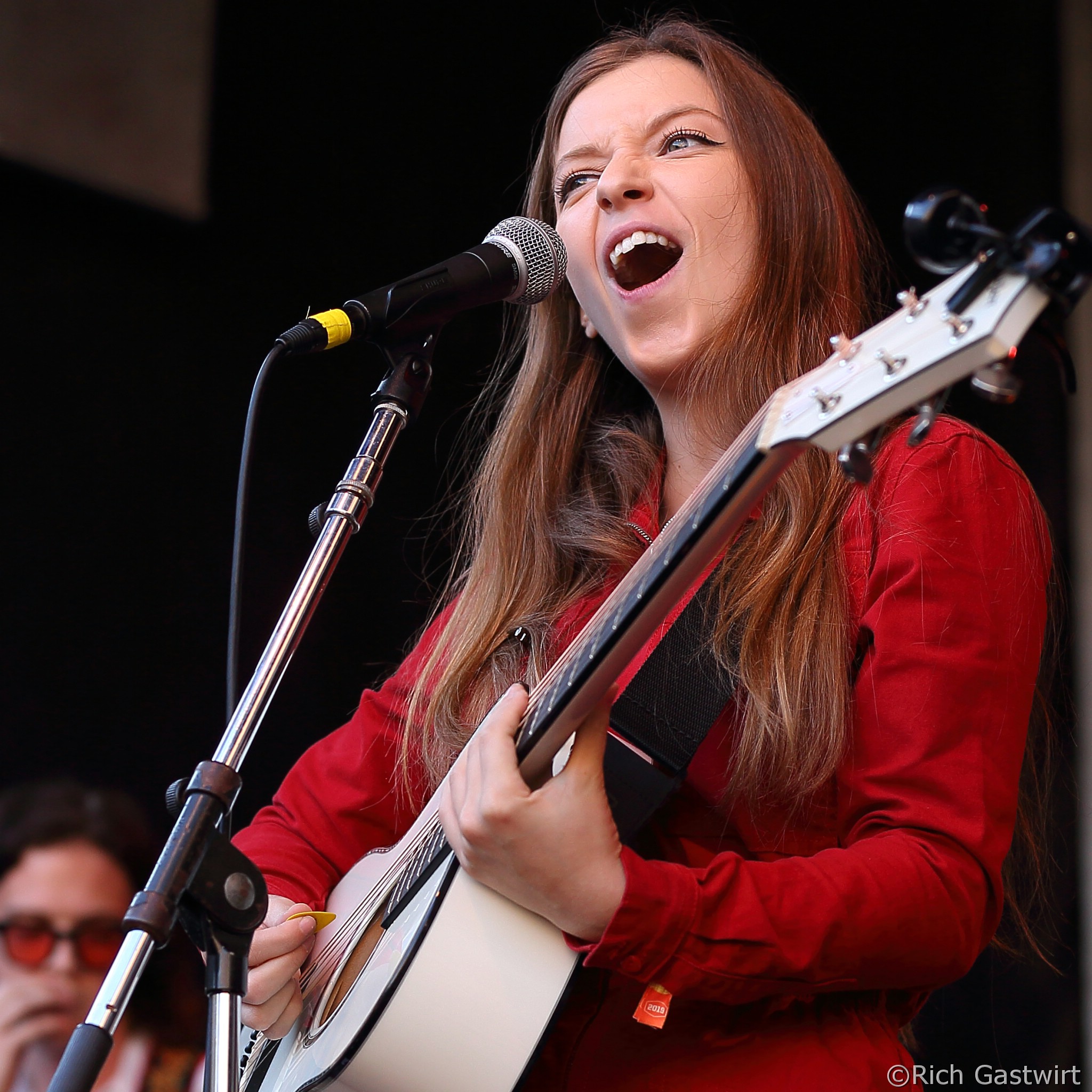 A couple of songs into her set, because of the heat, I decided I needed a chill-out break, so I sat in the shade with peace for about an hour.
Once I got my second wind, I headed back out to Joe's field to catch the remainder of "Down on the Porch: A Bluegrass Tribute to Creedence Clearwater Revival," featuring Alison Brown. As I got there, Greensky Bluegrass's Paul Hoffman joined Allison on stage to jam out the CCR standards "Born on the Bayou" and "Fortunate Son" as well as the more obscure "Long as I See The Light." From what I heard of the set, it sounded like a fitting tribute to CCR to me.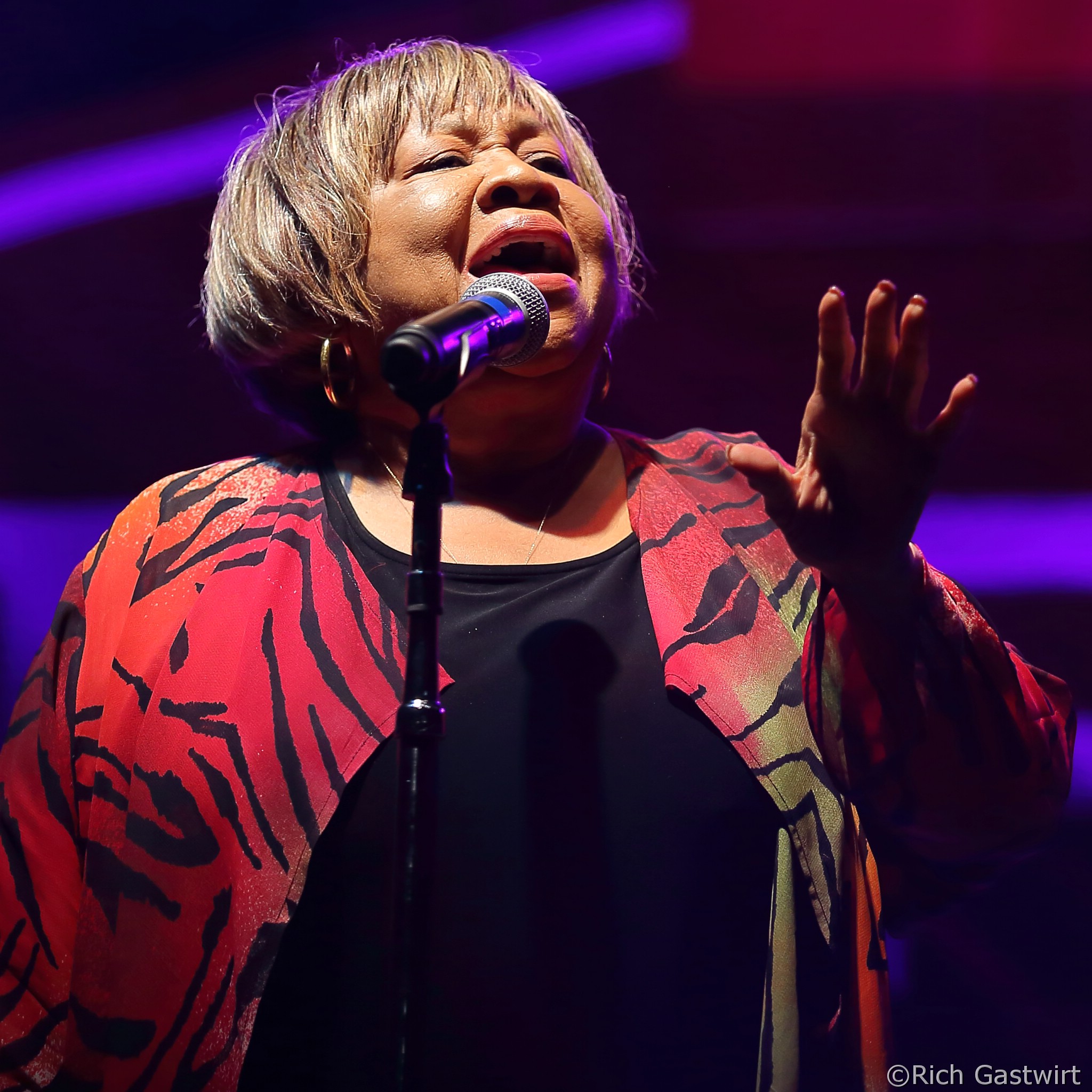 Next up on Joe's Field was Mavis Staples. Despite having a sore throat and thus a particularly raspy voice this night, the 80-year-old American gospel and soul singer and civil rights activist brought her A-Game.
Opening with Buffalo Springfield's "For What It's Worth," she croaked and crooned her way through an amazing set, which included her favorites "Change" and "Do it Again."
Stopping every now and then for some tea and honey to ease her sore throat, she remarked, "don't get hoarse" and "you've got to save your pipes."
I think her civil rights activist persona started to shine through when she launched into "Change."
"Can't go on this way
Things gotta change around here
Say it loud, say it clear
Things gonna change around here."
After which, she jokingly declared her candidacy for the Presidency of the United States (which explained the myriad "Mavis For President" t-shirts I saw in the crowd) and yelling out, "We've got work to do!!!!".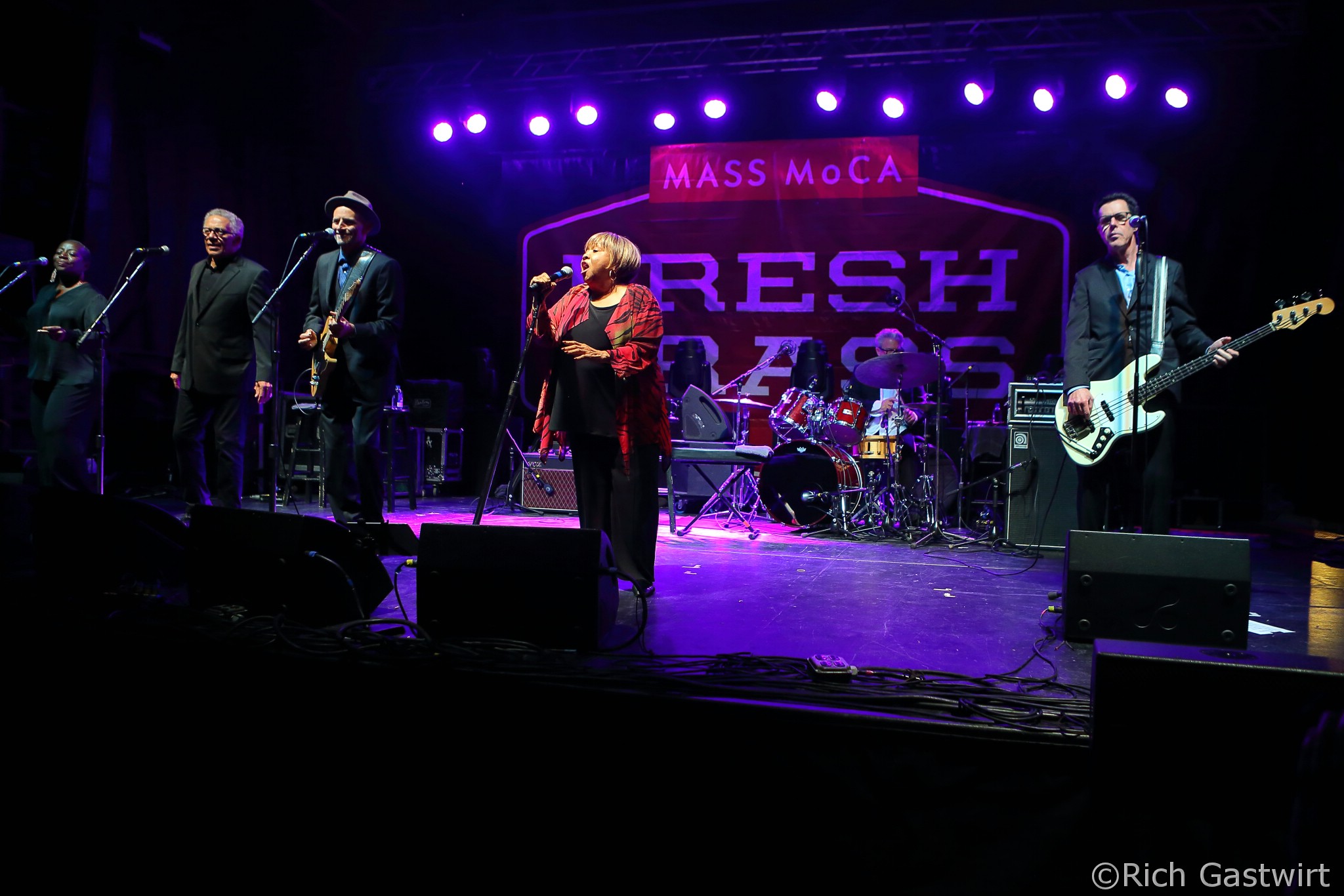 Great set, Mavis.
Greensky Bluegrass followed Mavis's set with its typically great set of their own highlighted by artist in residence Aoife O'Donovan joining the boys on stage for several tunes and by killer version of "In Control" and "Atlantic City."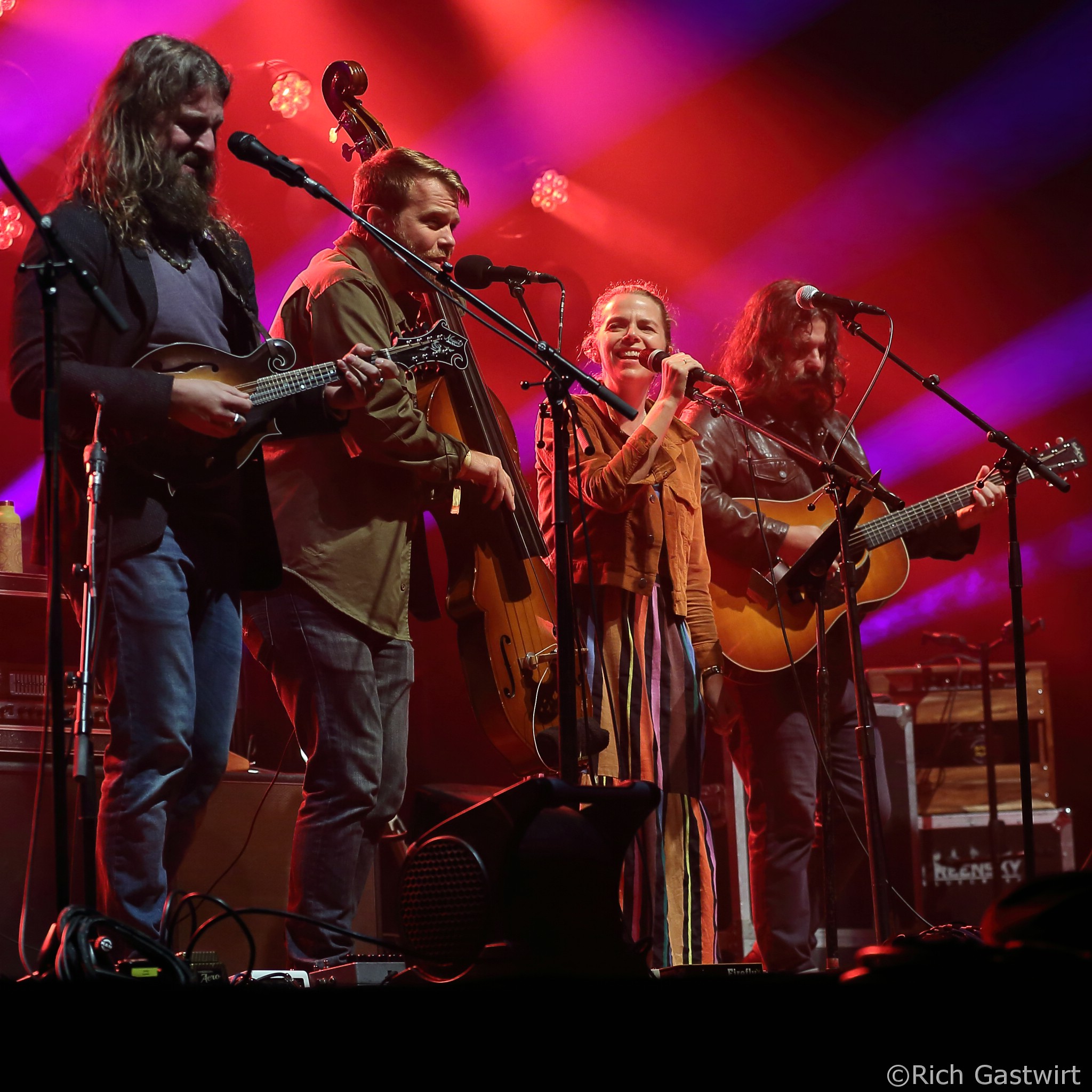 After Greensky's set, many people headed home for the evening, but the hearty late-nighters that hung around for the late-night show were not disappointed when "Leftover Salmon" took the stage in Courtyard D.
It was a great LOS set. These guys age just like fine wine, and they just keep getting better and better.
The first part of the set was the full band. And it rocked. I wish I had a better grip on their song names, but sadly I don't. Otherwise, I would sing the praises of one of Drew Emmitt's songs in particular. Partway into their set, the jazz band within the jam band, Sockeye, took over.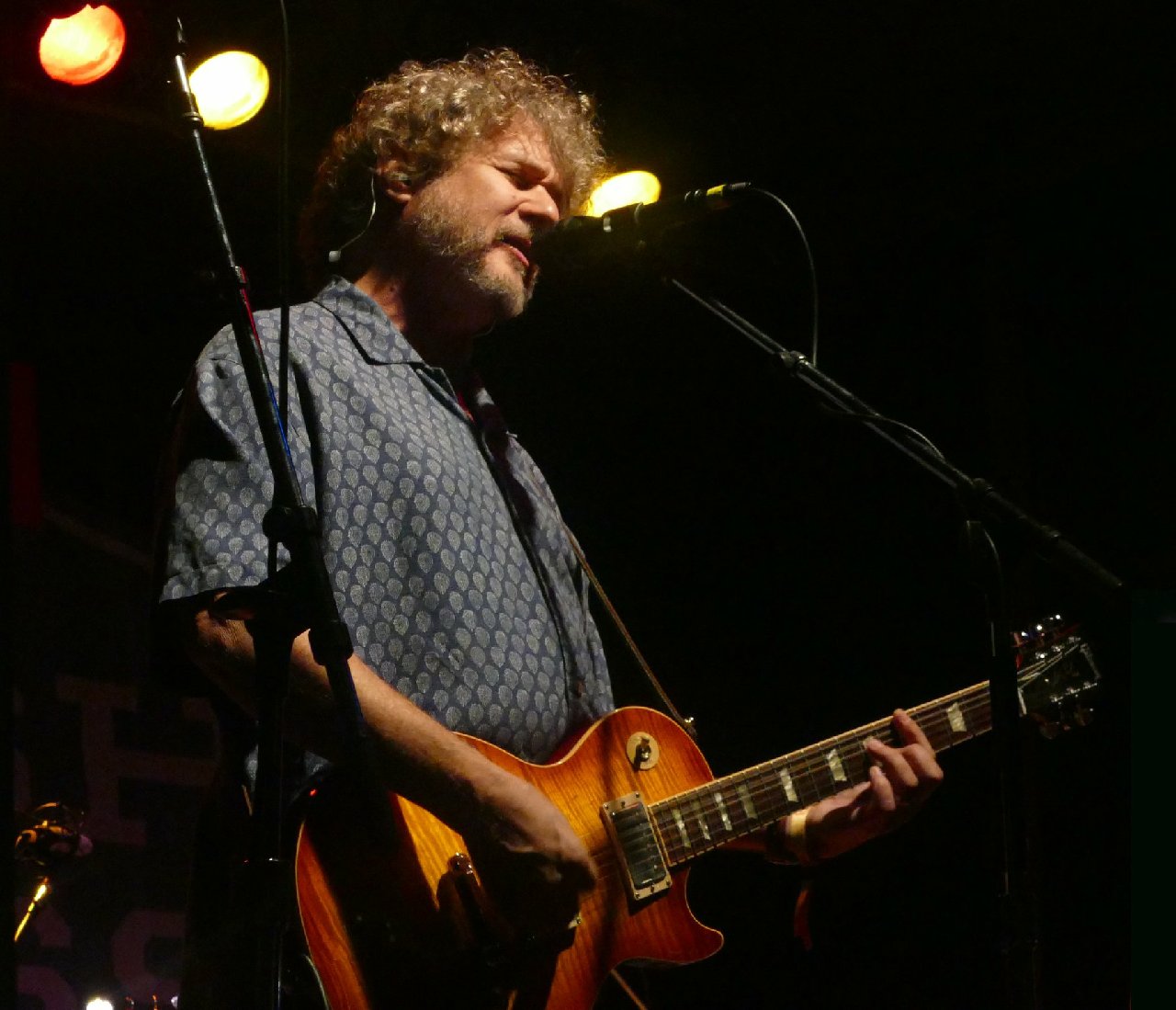 Sockeye consists of keyboard player Erik Deutsch, bass player Greg Garrison, and drummer Alwyn Robinson, and they're super trippy/jazzy with extended jazzy jams and no vocals.
At one point in their set, I swore they were playing some super jazzy Led Zeppelin, yet I couldn't quite recall the song's name.
It bothered me so much that after several days, I felt compelled to reach out to keyboard player Erik Deutsch and he told me it was indeed a Led Zeppelin song - "Going to California."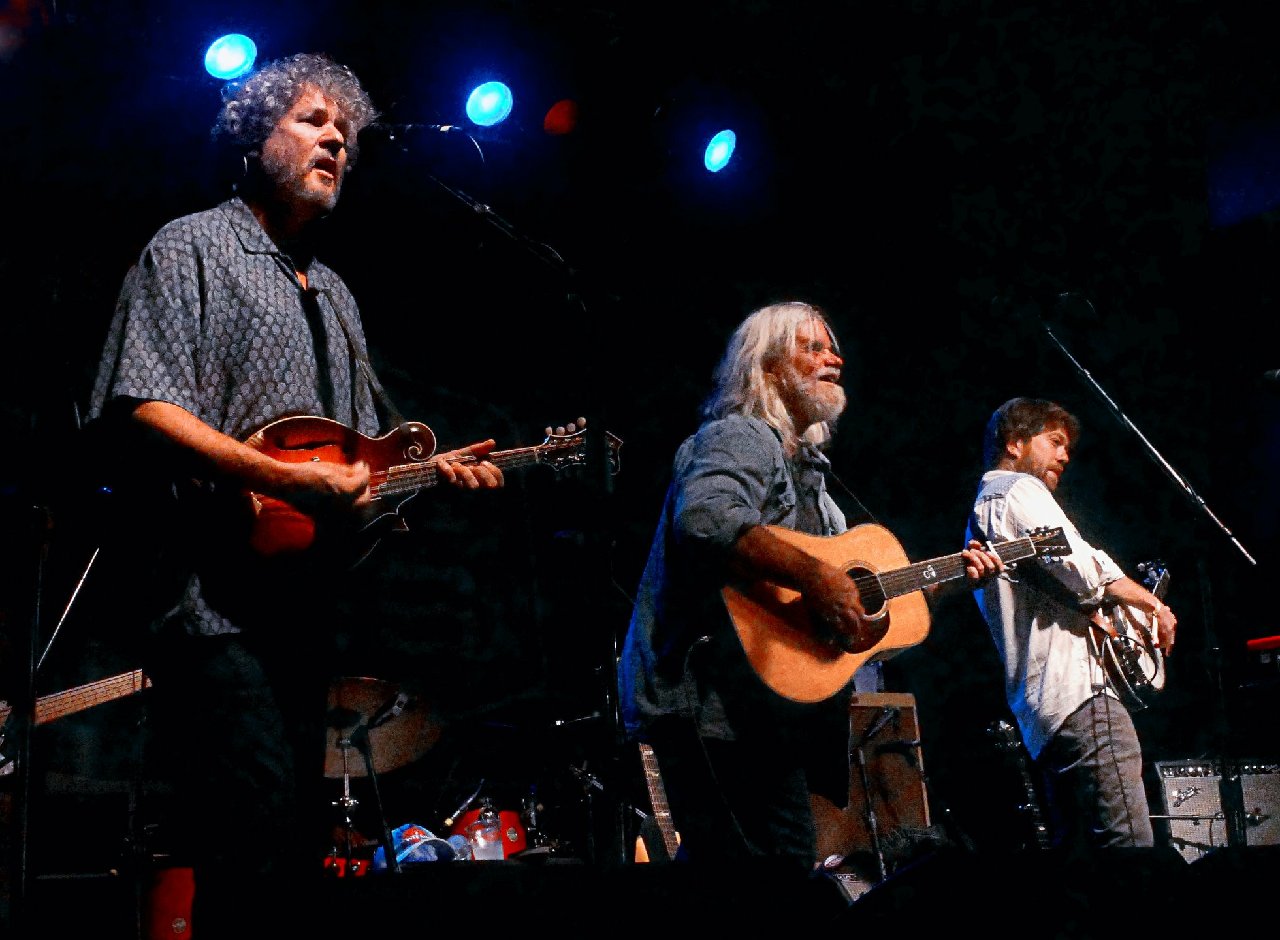 After the extended Sockeye jam, the rest of the band returned to the stage. The second half of their set was punctuated by an impassioned Vince singing his poignant politically oriented "Love is Going to Win Again."
The set closed out in grand fashion with GSBG's Anders Beck joining the boys on stage for some extended jamming.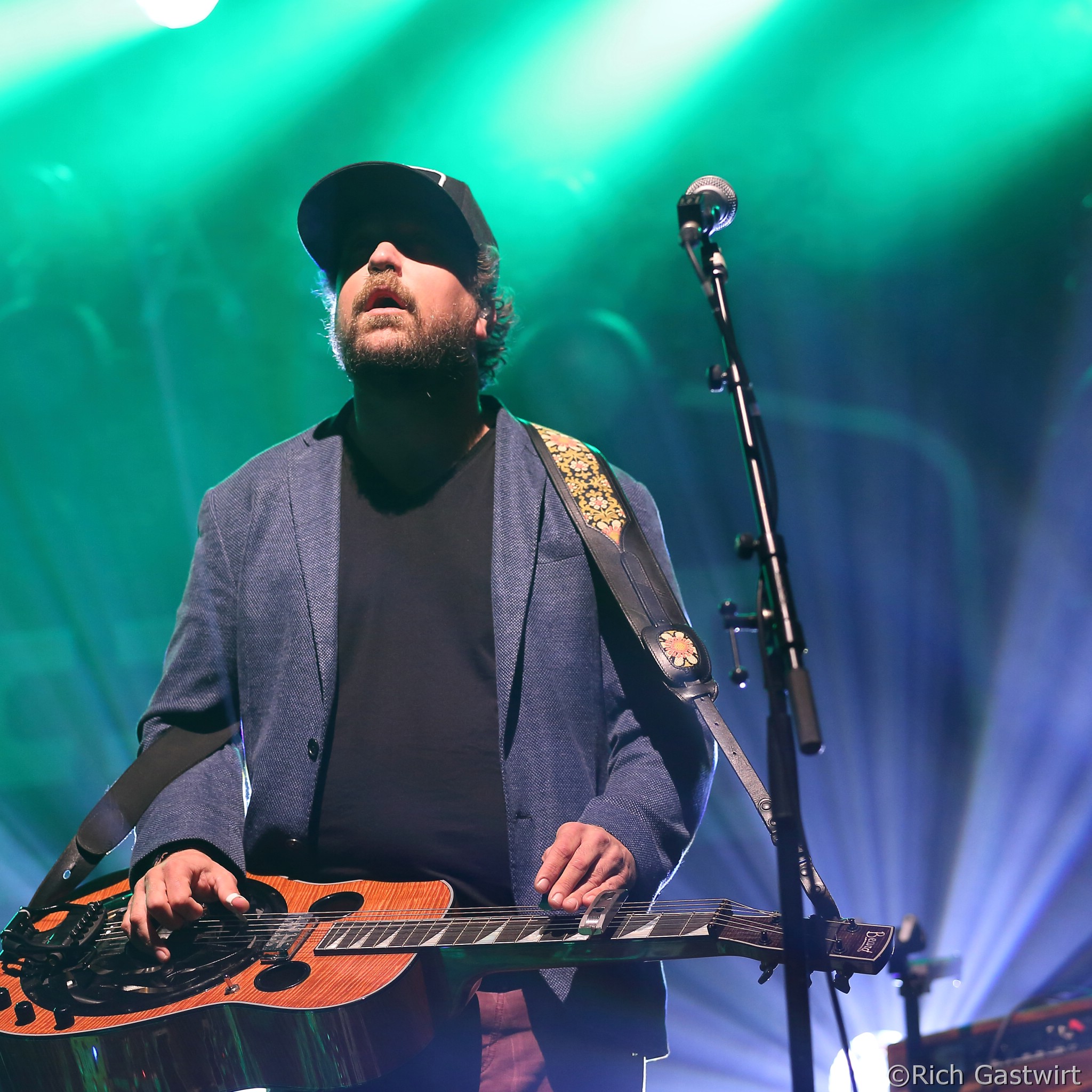 Good stuff.
FreshGrass Sunday
My FreshGrass Sunday started when I ran into a group of friends as I entered the festival.
They dragged me over to Joe's Field to check out Sam Amidon. Unbeknownst to me, apparently, he's a well-known regional artist since many folks were abuzz talking about him. Sam's banjo style was quirky with weird syncopation, but still very enjoyable. The song that stood out to me the most was something called "Walking Boss".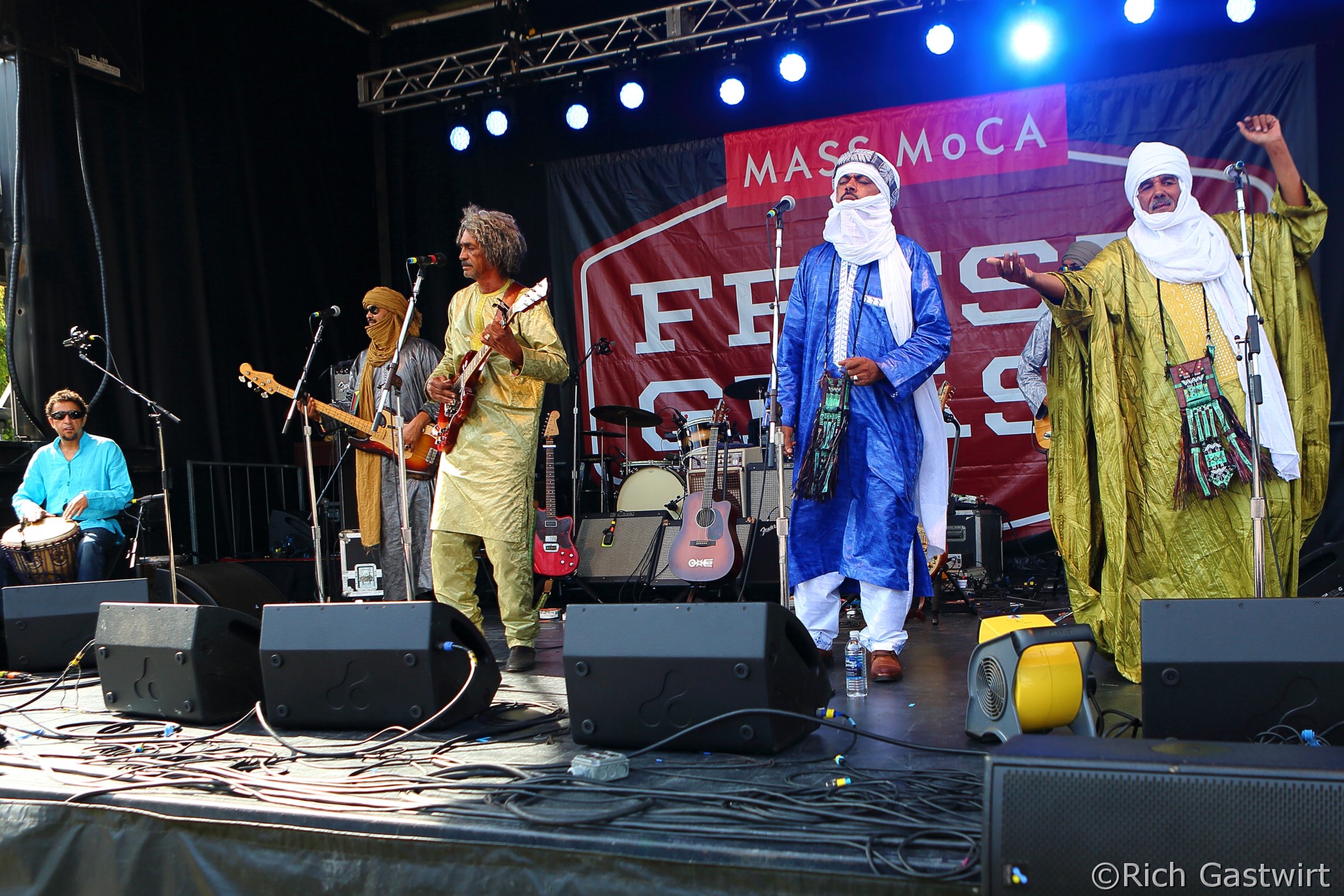 Next up at 2 PM on Joe's Field was the band I have been waiting for all weekend, Tinariwen. Tinariwen is a Tuareg speaking band from the southern Sahara Desert area of the northern Mali. (For the geographically challenged, Mali is a landlocked country in the northwest area of Africa below Algeria. It is mostly desert.)
I first saw Tinariwen in 2012 at the Wakarusa Music Festival in Ozark, Arkansas. I was so completely blown away by the spiritual bliss of that performance that I have been a fan of theirs ever since.
This year they strode out onto the Joe's field stage in their flowing desert robes at the peak of the weekend heatwave. It was extremely hot. So was Tinariwen's set.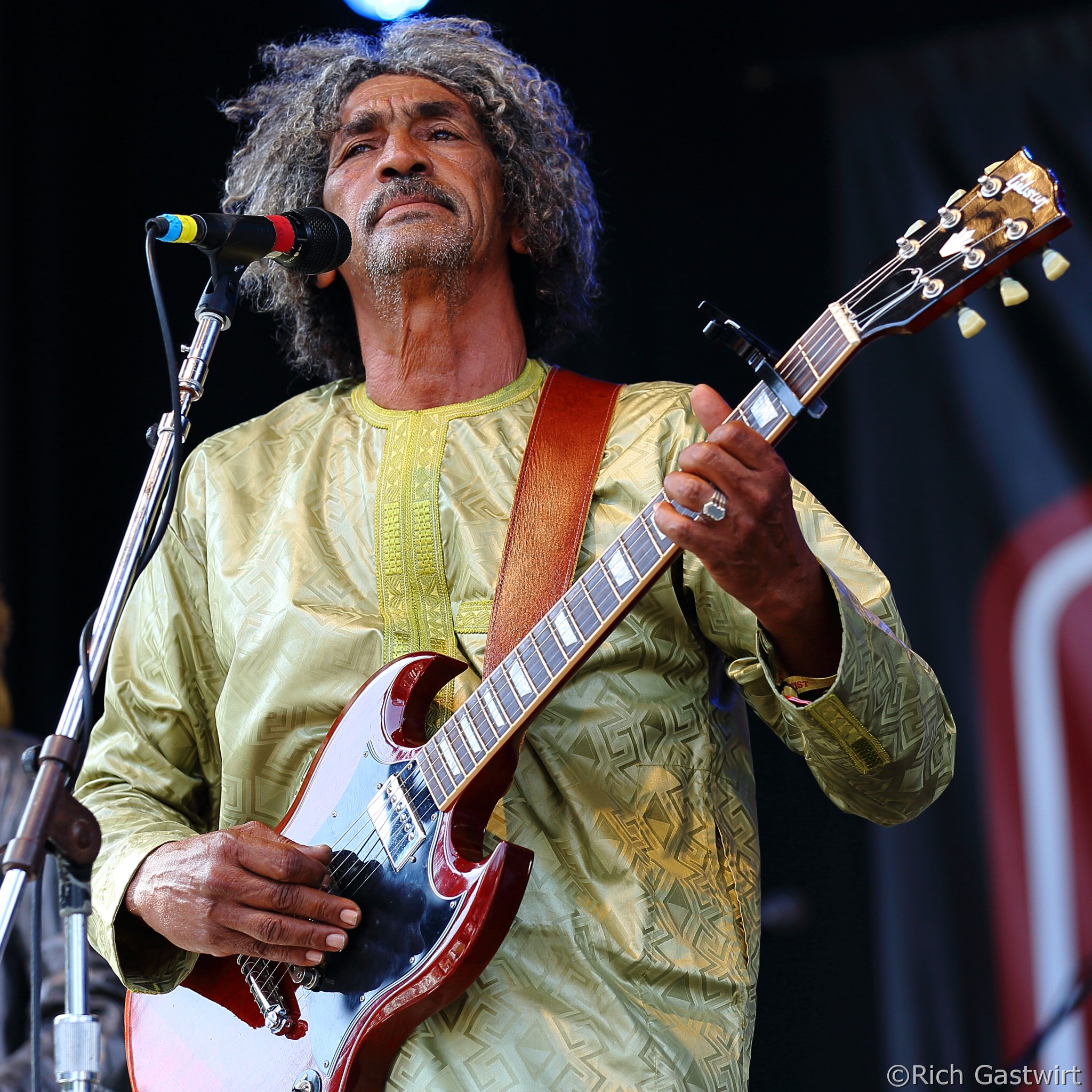 Their stage presence, with their flowing, multicolored desert robes, face scarves, and turbans from a faraway land, is magnetic and mesmerizing.
Their music, which is primarily electric guitar-driven, with chant-like vocalizations, is both exotic and hypnotic and fills my soul with joy and the need to dance and sway and smile.   As I looked around at the crowd during their set, it seemed that everyone else felt that way too.
When their set ended, they exited the stage to thunderous applause.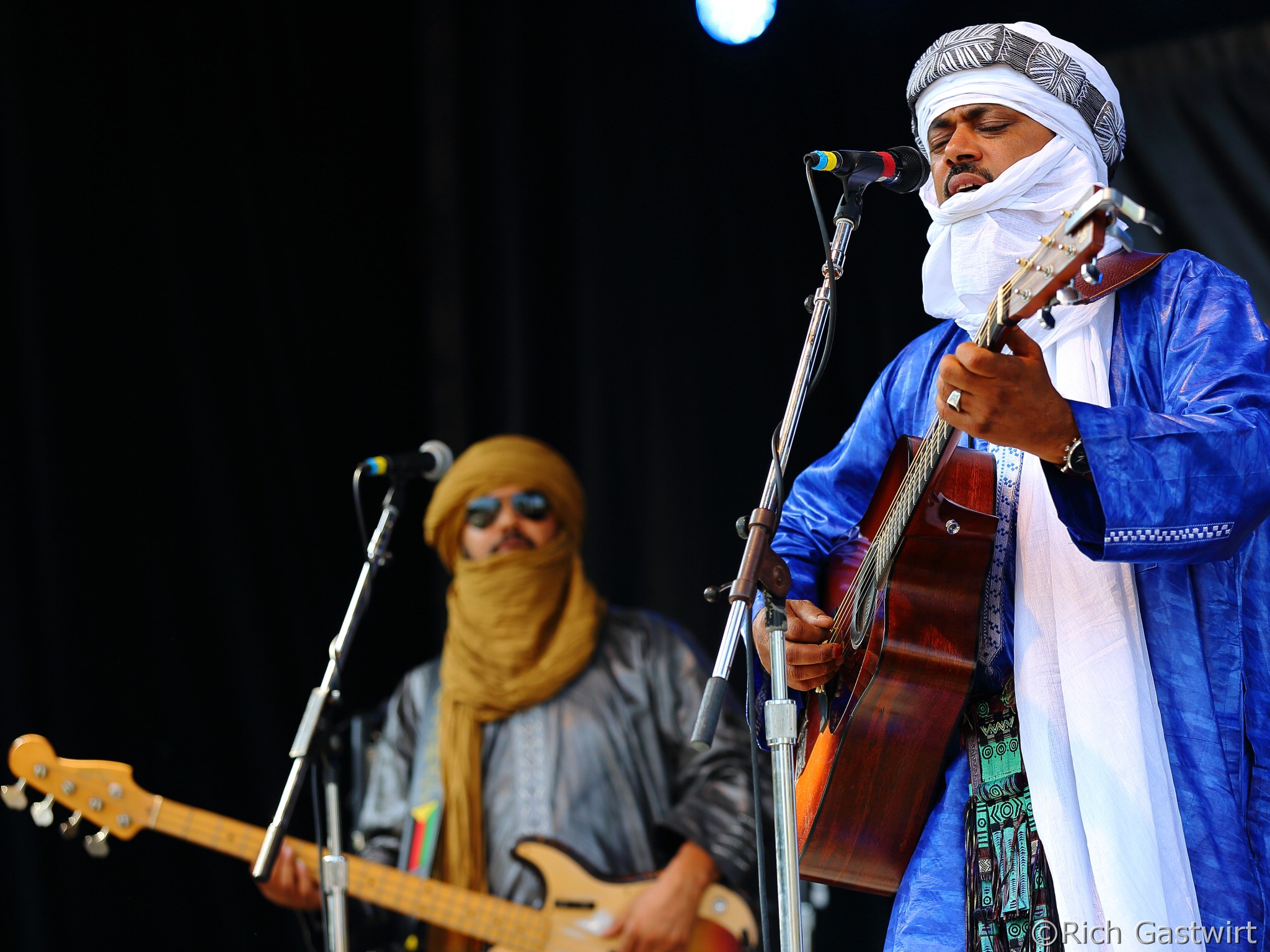 If you're looking for music that is strange, beautiful, exotic, and thoroughly entertaining, go check out one of their shows or buy some of their CDs (I own three myself).
As the afternoon heat started to break, 2018's IBMA "Entertainer of the Year Award" winners, Balsam Range, took the stage at Joe's field for the penultimate performance of this year's FreshGrass Festival.
Their set, with its blend of old-time bluegrass and contemporary newgrass, was a perfect follow-up to bring us back to the bluegrass groove. Their set was great. A couple of highlights were when they did their song "Voodoo Doll" and then threw in a Jimi Hendrix style Voodoo Child extended riff at the end.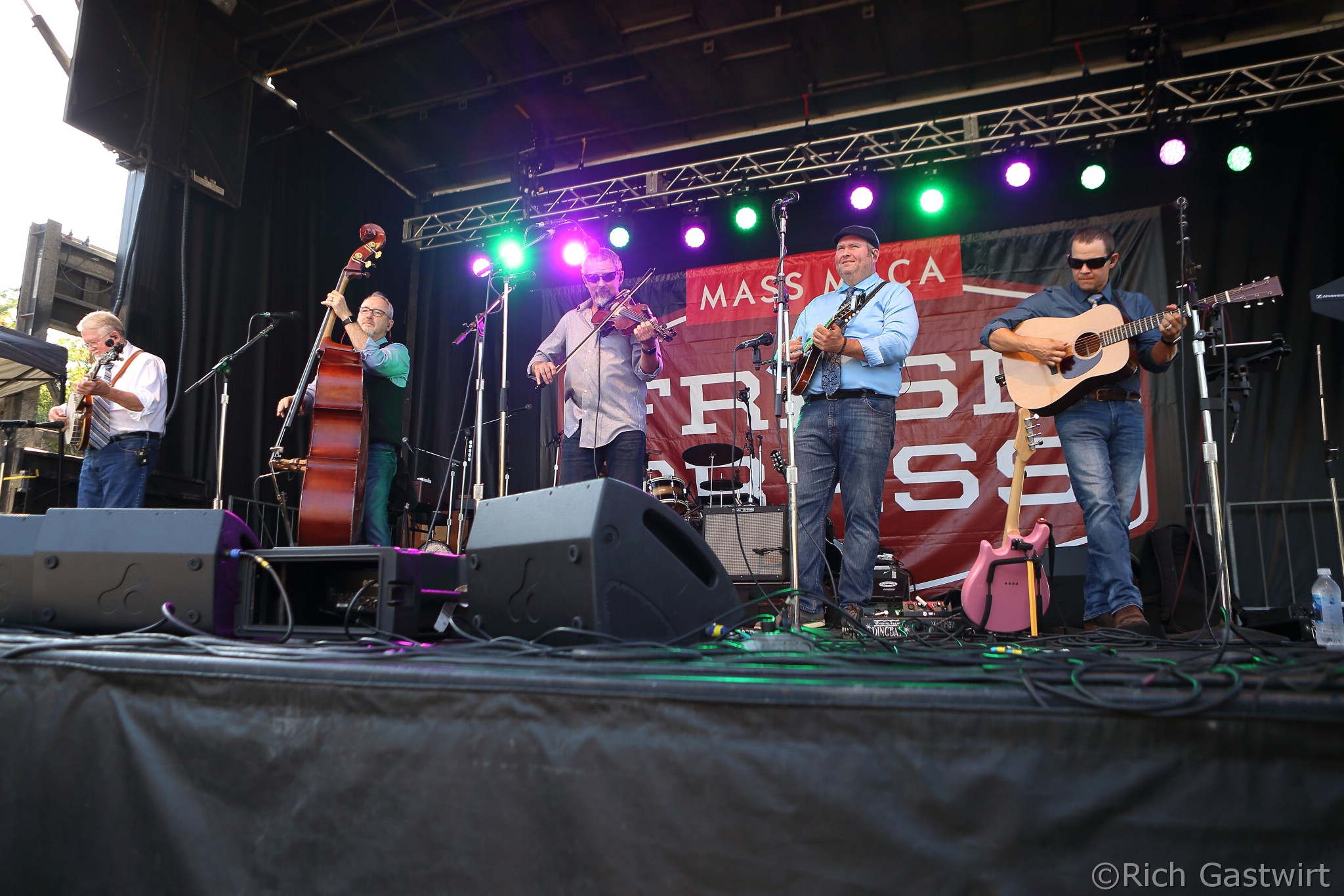 Balsam Range also provided one of my personal surprise highlights of the entire FreshGrass Music Festival when they covered The Beatles song "If I needed Someone." Now that blew me away.
FreshGrass's final performance on the Joe's Field stage was by Arizona-based Tejano-esque band, Calexico, and Sam Bream, who goes by the stage name Iron & Wine.
(Thus, they were presented as "Calexico and Iron & Wine").
They are touring jointly to promote their new collaborative album entitled "Years to Burn."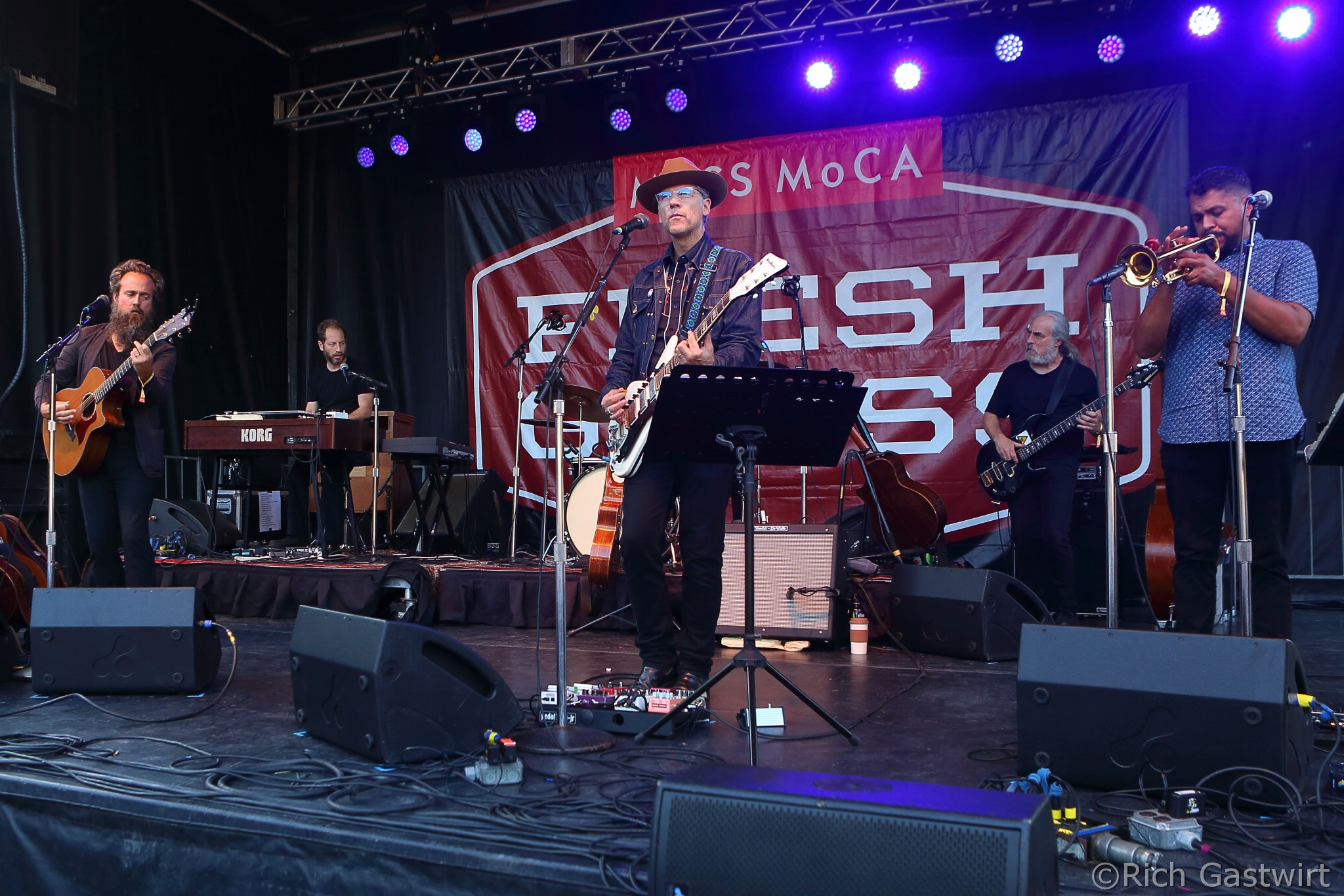 Since I'm not familiar with neither Sam Beam's nor Calexico's discography, I can only give you impressions of their set. It was great. The set meandered between many musical styles, including beautiful Hispanic accordion and Mariachi style trumpet music, jazzy spacey interludes which at one point conjured up images of Pink Floyd, soft, heartfelt ballads, and good ole rock and roll.
(On a side note: throughout their performance, I was thoroughly fascinated by Calexico guitarist Joey Burns' Eastwood / Bigsby "Airline" electric guitar. It's a wicked cool guitar.)
The set wound down in a hilarious moment of unfortunate serendipity: At the moment, the band was singing a song about a freight train, an actual freight train roared by on the railroad tracks which lay behind a thin veneer of trees about 50 yards to the left of the stage. This made everybody (even the band) laugh out loud and then clap. However, when the freight train continues to roll on for minutes on end, and the band completed its song, Sam Beam remarked, "I was going to play something soft. I guess we're going to have to switch gears." That also got a chuckle out of the crowd.
So, the band wound up closing out 2019's FreshGrass Festival by rocking out.
So just like that, 2019's FreshGrass Music Festival came to an end. As we all filed out of the Mass MoCA complex, I saw many smiling faces and listened to several interesting conversations about the various performances. All of them were positive, and everyone seemed to have an excellent time.
So, did I.