A new player has emerged in the bustling field of music festivals. The inaugural Homegrown Music Festival has been announced for July 21-23 at Byrd's Adventure Center nestled deep in the Ozark Mountains near Ozark, Arkansas. Aside from providing world class entertainment as announced in the first 2 rounds of the lineup, the folks behind Homegrown Music Festival have another mission: to be the areas first sustainable and family friendly music festival.
The Homegrown Music Festival staff, volunteers, vendors, and artists have all pledged to make an extraordinary effort to insure the environmental impact of this event is miniscule. Below we talk with Ben Wright of Henhouse Prowlers about the importance of sustainability. In celebration of Earth Day, we break down this new and grand mid-summer event.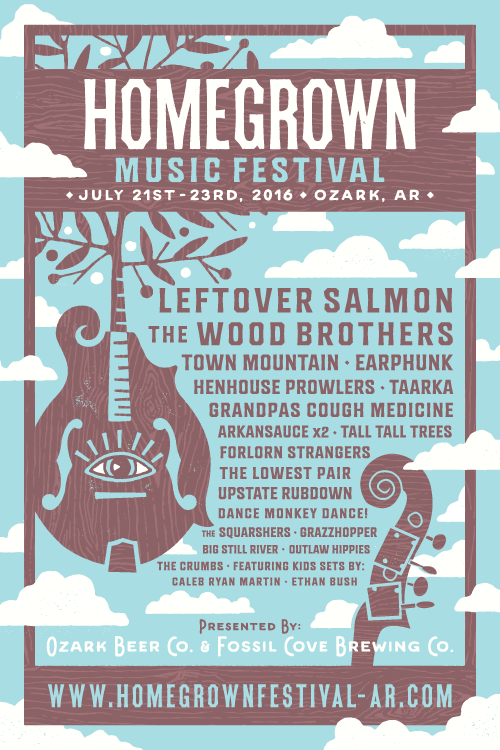 GW:  Please Welcome Ben Wright of The Hen House Prowlers.
What is sustainability? What does this mean to you?
Ben Wright: Sustainability is trying to live with a sense of balance, to me at least.  There are some things that we're all going to do that have a negative impact on the world around us.  It's important to know what that is and own it...and try and balance it out with things that are good.
GW: I am a proponent of the 'One Earth' mantra meaning that we have only 1 Earth, and we should treat it in a way that would serve humanity forever.  Do you have any mantras or beliefs that help you live less impactful?
Ben Wright: I try to be aware of where I/we are in the moment.  It's easy to always be looking into the future in this business.
GW: Can you share any of your 'sustainable weaknesses? Where do you find yourself needing to make improvements to live a more eco-friendly life?
Ben Wright: We're lucky enough to do a lot of travel in this business, but it's clearly not always good for the environment.  When it came time to get a new vehicle we went with Diesel, even though it was significantly more expensive.  Still, driving and flying anywhere isn't good for the environment.  When we're home we all use public transportation, but it's still not enough.  I'd like to think that by the time we need to get another vehicle for touring that electric vans will be more reliable and available.
GW: As a musician, you have done some extensive traveling. What's the most eco-friendly place you have visited?
Ben Wright: Honestly, Rwanda had some of the most incredible forests and bio diversity, along with being one of the cleanest countries we've even been to as a band.  Also, Europe has a much better handle on recycling and composting than the U.S. probably ever will.  It's impressive.
GW: I often feel that we live in a 'one use' society where most goods and services are manufactured, used once and then discarded?  Do you feel the same? How do you think can we change this?
Ben Wright: While I agree with that sentiment to some degree, there are things we can do on our own to fight against it.  As a band we try to spend extra money on products that will actually last longer.  The less we buy cheaply made things, the less people will manufacture them.
GW: Have your ethics as an environmentalist ever conflicted with your job a musician?
Ben Wright: Less conflict and more confluence, I'd say.  I wrote a song on our last album about a passenger train service in Upstate NY that shut down after the interstate was built.  It happened all over the country in the 50's.  There's evidence that the tire companies bought up all the lines and shut them down so that more people would drive cars.
Plus, our manager Vanessa is heavily involved in sustainability for several festivals, including Summer Camp and Shoe Fest.
GW: Arkansas, as the self-proclaimed 'Natural State' is one of the most beautiful states I have ever lived in. Can you share any memories you have enjoying our beautiful landscapes?
Ben Wright: Oh my, The Ozarks!
GW: Homegrown Music Festival is aspiring to be one of the few fully and completely sustainable events, have you ever attended a similar event? What was the thing being done that impressed you the most?
Ben Wright: I saw a fest here in Chicago that had people on bikes producing power for the stage.  That was pretty remarkable.
GW: Do you have anything you would like to talk about? The floor is yours, sir.
Ben Wright: (To the organizers) Good work on this festival!   It sounds like it's going to be a lot of fun, all while being mindful.
GW: Thank you so very much for taking the time to speak with us, we look forward to seeing you at HGMF.
Also, be sure to catch Hen House Prowlers at Summer Camp, Delfest, and Sacajawea Bluegrass Festival this summer. Visit http://henhouseprowlers.com/shows/ for full schedules.
Upon Arrival to Homegrown Music Festival, each patron will be given a souvenir plate, cup and utensil to be reused throughout the weekend at vendors. The vendors themselves have pledged not to bring any single-use plastics or papers to the festival grounds. Any paper plates, napkins or things of that nature must be made of recycled materials. Dishwashing stations with water heated by solar power will be manned by volunteers from the Mulberry River Society for patrons to utilize.
Compost will be collected, hauled away and used by a local farmer while recycling will be collected and sorted onsite by Greensource. Lighting and other non-essential electrical needs will be filled by Richter Solar. Any solar energy captured and not utilized will be fed back into the grid to offset the stage and utility needs. Before anyone arrives, HGMF is spreading the word of the wonderful event by printing their handbills on recycled pulp drink coasters and seed packets containing wildflowers.  Needless to say, we are in awe of the environmental efforts of our music-loving brothers and sisters.
Headlined by Leftover Salmon and The Wood Brothers, the intimate stage will also be graced by Town Mountain, Earphunk, Hen House Prowlers, Taarka, Grandpa's Cough Medicine, Arkansauce (x2), Tall Tall Trees and more! 
This eco/family-friendly event will also feature a 'kid's tent' sponsored by Art Feeds along with local artists and teachers and will be a place for families to participate in activities and made crafts of recycled materials. Children 12 and under receive free admission all weekend, and upon request patrons can ask to camp in the camping area designated for families that require an 11 pm lights-out policy and are situated away from the performance areas.
Byrd's Adventure Center, an Ozark Mountain oasis, located directly on the Mulberry River is a true treasure. Outfitting canoes, kayaks, rafts and more as well as providing well maintained trails from hiking, biking, and off-roading. Camp sites with electricity are available but must be reserved in advance. Visitors and campers will be welcome to visit the well-stocked General Store on-site for supplies and necessities. An on-site bath house with hot showers are also a key part of offered amenities. Unlike other events at Byrd's, there is a strict 'no-pet policy'. 
We look forward to seeing you on the Mulberry!
Event Sponsors Include:
Phat Tire Bicycle Company - Hosting a bike ride from Fayetteville to Byrd's Adventure Center, and they shuttle your camp gear for you! They'll also shuttle your bike only for a fee. Mountain bike rides on Friday and Saturday morning at Byrd's on the trails for all skill levels.
Richter Solar Energy - Providing solar power for dishwashing stations, art installations, and will be feeding back into the grid to offset energy use. (Fayetteville, AR)
Nature's Water - Water filtration station for drinking water (Fayetteville, AR)                                                                                              
Mulberry River Society - Providing members as manpower to help run recycling/trash pickup and sorting
Patagonia - Assisting a local non-profit with funds for canvas tote bags.
Art Feeds - Running the Kids Tent and focusing on fun yet educational activities to teach children about recycling, upcycling, music, sustainable practices
Pack Rat – Providing volunteers to help educate about enjoying outdoor activities in a sustainable, low impact way. (Fayetteville, AR)
Greensource – Will have a large recycling sorting trailer on hand all weekend, and will haul off all recycling (Clarksville, AR)
Homegrown Arkansas Apparel Co- Facilitating contact with local farmer to get the compost; also assisting in construction projects throughout the spring (Fayetteville, AR)
Clif Bar/GreenNotes Division- Providing volunteers to promote change in food, environment and education.
http://homegrownfestival-ar.com/
http://www.byrdsadventurecenter.com/
leftoversalmon.com/