Sunday February 26, Julian Lage & Chris "Critter" Eldridge from The Punch Brothers performed a 90 minute duet guitar repertoire for a sold out house at Old Town School of Music, Chicago.
One could here a pin drop as the audience was so intensely focused on every nuance, passage, and improvisational direction. It is hard to grasp so much melody and sound coming from two guitars. At times they demonstrated intricate harmony runs as one played against full chords and the other ran single note lines. Other times crescendos were like speeding up a one-lane mountain road curve on two wheels. Critter even let a slight yelp slip out more than once as they too were deeply engrossed in the splendor of the moment. Their dynamics could turn quiet as often as their loud crescendos. The depth of playing was stunning.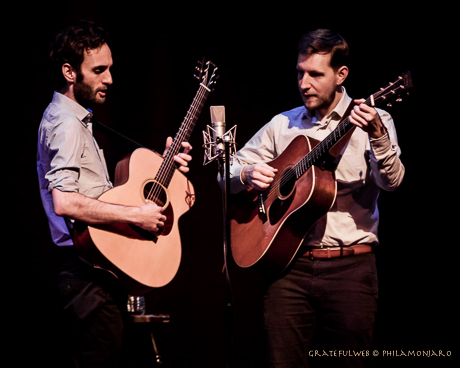 Any attempt to describe their sound in one category would be unjust. Their mastery of composition took the audience from bluegrass to ragtime, Americana to jazz, blues to classical as well as avant-garde. Even in the same song or same passage they would weave in and out of genres. Some songs hinted toward Pat Metheny or Béla Fleck, Carlos Montoya and Michael Hedges. Each song had their own original chemistry. Primarily instrumental arrangements, Critter stepped up to the mic a few times to sing. It is clear that this casual friendship has led to a solid musical partnership. Their new recording "Mount Royal" was just released last week and is available for purchase.
Old Town School of Folk Music instructor and multi-instrumentalist Matt Brown, opened the show.