Thievery Corporation is one of the most interesting live acts on tour. Having been around since 1996, founding members and musical pioneers Rob Garza and Eric Hilton have assembled a talented ensemble that faithfully performs their original songs spanning over their catalog of ten studio releases.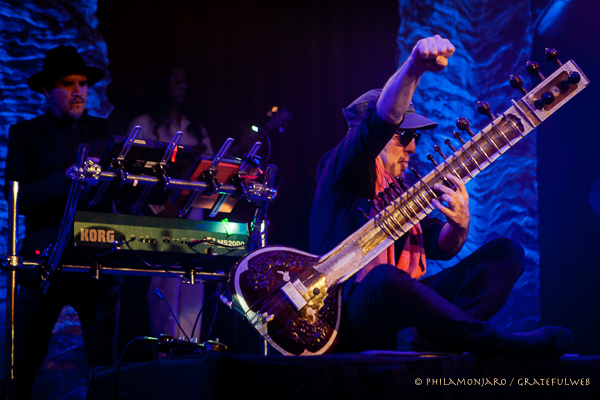 As pointed out on their website's bio, and the question that hangs in many of the fan's minds; how have they thrived for 20 years without a radio hit, a big budget video, or major label backing, and have managed to do high-profile TV appearances, own and operate their own independent label since day one, sell several million albums? The answer is musical integrity combined with focus and passion toward their mission.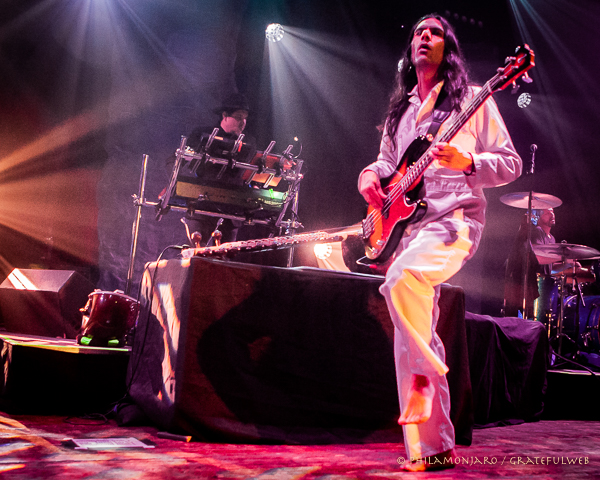 This approach proves that artists can stay true to their creativity and fans will respond. But if it was just that simple! There is much to unpack here. They are DJs, producers, songwriters, musicians, an ensemble, and political advocates. They invent what they believe in without accepting imposed boundaries.
Their music transcends genre bringing dub, world music, trip-hop, Asian lounge, downtempo, and every other influence that inspires them for arrangements that blend remarkably well, leaving fans dancing in pure abandon not really having enough descriptions to accurately size it all up.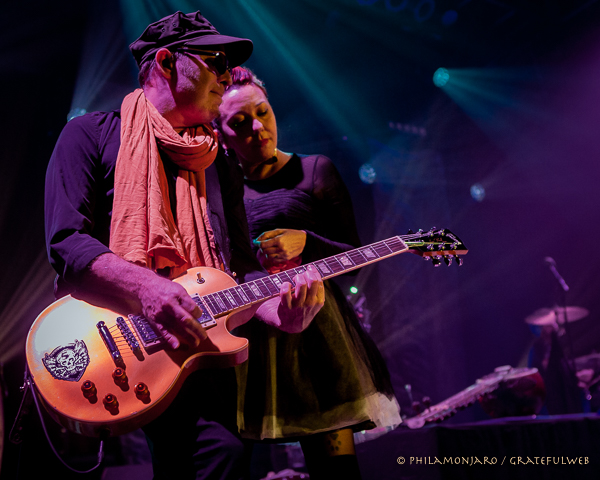 While their instrumentation remains constant: Rob Garza DJ decks/guitar, Eric Hilton - Sitar/guitar,  Shish Vyas - bass, Jeff Franca - drums, Frank Orrall - percussions, , vocalists vary keeping the energy high and bring stylish variety from song to song: Mr. Lif, Loulou Ghelichkhani, Natalia Clavier, Notch, Christopher "puma" Smith, Shana Halligan, See-I and Raquel Jones.
Grateful Web caught up with Thievery Corporation at the first of two Chicago shows on Wednesday, November 7th for their highly charged hour and 45-minute set. The full house danced the whole way through while raising the vibe further for the familiar numbers like "Illumination", "Culture of Fear", "Lebanese Blonde" and "The Richest Man in Babylon".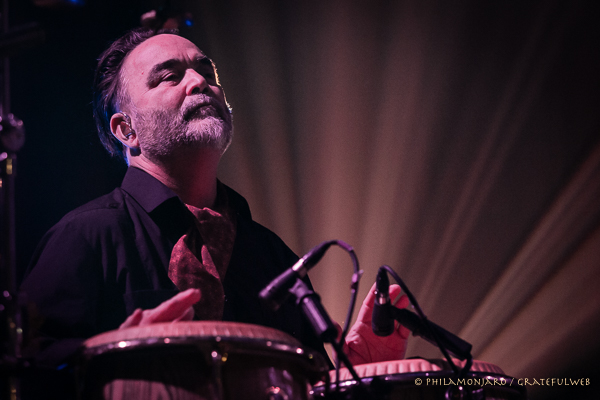 Their current April 2018 release "Treasures from the Temple" is a companion LP to the band's 2017 album, "Temple of I & I" featuring additional, recordings and remixes from the band's recording sessions at Geejam Studios in Port Antonio, Jamaica. 
Set List:
Illumination
All That We Perceive (feat. Natalia Clavier)
Amerimakca
Voyage Libre
Letter to the Editor
Culture of Fear
Until the Morning
Take My Soul
Ghetto Matrix
True Sons of Zion
Heart is a Hunter
Fight to Survive
Warning Shots
Forgotten People
Road Block
Revolution Solution
Sweet Tides
History
Lebanese Blonde
The Richest Man in Babylon