When Les Paul & Friends: American Made World Played dropped in 2005, it made history. Produced by Bob Cutarella and Fran Cathcart, it brought Eric Clapton, Buddy Guy, Sam Cooke, Steve Miller, and many others into the studio to play with guitar pioneer Les Paul. That recording earned two Grammys in 2006.
Cutarella and Cathcart's latest collaboration is Les Paul & Friends: A Tribute to a Legend. Building on the previous concept, these producers brought in some of the best players in the industry for a ten song tribute album to Paul but with a twist. This wasn't a tip of the hat to a musical honoree who had passed from these realms. It was a living tribute, an honoring of the man who created the solid state electric guitar who made all of their careers possible. However, to stand up some of the best modern guitar stylists against the chops of Les Paul was daring and brilliant.
Les Paul, a tinkerer and inventor, knew early on that an electric guitar had infinite possibilities. Starting out as a country guitarist, Paul created his first solid body electric guitar in 1941 but never realized that it would help shape a new kind of music, called a decade later rockabilly or rock and roll. His signature Gibson Les Paul is every guitarist's wet dream.
Paul also developed new recording and engineering techniques that paved the way for modern innovators of electronica and computer based music. He revolutionized recording by developing techniques such as miking instruments individually, echo effects, overdubbing, phasing, and multi-track recording. He even built the first eight-track tape recorder in 1954. Though that is considered a lemon in the recording field, it really was a necessary step that opened technicians to new ways of thinking about recording music. The cassette tape followed and finally passed by the wayside when digital recording and mp3s became the standard.
Les Paul, along with his wife Mary Ford, was inducted into the Grammy Hall of Fame in 1978, and he was inducted into the National Inventors Hall of Fame in 2005. In 2008, he was honored as the 2008 American Music Master by the Rock and Roll Hall of Fame and Museum.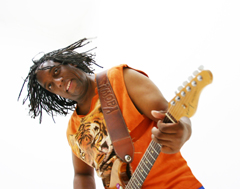 Though Les Paul & Friends: A Tribute to a Legend was designed to honor Les Paul, it actually pays tribute to Hiram Bullock, who died before this album was released. Bullock, a much in-demand session player with a broad range (funk, rock, blues, and jazz), sat in with everybody: Billy Joel, James Brown, Paul Simon, Miles Davis, Sting, Chaka Kahn, Pete Townsend, Roberta Flack, Spryo Gyra, Eric Clapton, and many more. Like blues icon Joe Bonamassa, Bullock was a musical child prodigy, studying piano at the age of 6 at the Peabody Conservatory of Music in Baltimore, eventually finding sax, bass, and finally guitar as a teenager. Known as the barefoot guitar player, Bullock was a member of the acclaimed Saturday Night Live band and even wrote songs for the soundtrack of the film, Under Seige. Since 1983, Bullock has been a solo artist, writing his own tunes.
Besides guitar work, Les Paul & Friends: A Tribute to a Legend, contains strong vocals by some remarkable singers and players. Joe Bonamassa sets a standard for this album by taking the vocal lead on his "The Good Luck You're Having." He shares guitar work with Bullock and Les Paul. Bullock's bluesy number, "The Walls Came Tumbling Down," follows with Bullock's strong blues wail and only Les Paul and his guitars adding to the mix.
Bullock and Paul contribute guitar work on Joan Osborne's rendition of "I Don't Want to Be with Nobody But You," which is an absolute delight. Bullock also adds background vocals with Osbourne, Ken Cummings, Bob Cutarella, and Elaine Caswell.
Equally impressive is Goo Goo Doll frontman Johnny Rzeznik's rendering of U2's "All I Want Is You." His vocals are as sensitive as Bono's work, and the cut is made exceptional by guitar work he shares with Paul and Peter Frampton. Brian Mitchell's piano work is an sweet added touch.
Lisa Fischer's funky, reggae-tinged version of "Slippin' into Darkness" is an organ and drum-laden tune underlined by guitar work by Paul, Bullock, and Fran Cathcart. Adding another layer of color is Jon Paris's harmonica and twin saxes, producing a jungle dance beat.
Simply Red's frontman Mick Hucknall adds a seductive blues note on "I Love You More Than You'll Ever Know." Guitar work here is done by Paul, Joe Pery, Kenny Olson, and Bullock. The saxophone and organ touches add an intenseness to the cut.
There are three instrumental cuts. A funk/rock instrumental, "69 Freedom Special," is reprised here, the only duplicate from the Les Paul & Friends: American Made World Played album. Bullock and Paul are joined on guitars by Barry Goldstein. Arranged with a strong four-piece horn section by Ken Cummings and Greg Mathieson's organ work, the cut flat out rocks.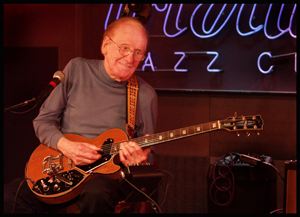 The other two instrumentals do not feature Les Paul. "Yocalise," a New Age, Spanish-influenced rendering by Slash, is a simple guitar, bass, drums, and keys number that lets Slash's guitar shine. "How Long" features lead guitar work by Jeff Golub with backup by Bullock. Ken Cummings and Bob Cutarella's backup vocals on this one add a Motown touch.
Even the last cut, "Great Hall of Fame," doesn't have Paul playing on it. It features Richie Sambora, the lead guitarist for Bon Jovi, on vocals and guitar. It's a country/rock anthem with gospel overtones that chronicles the hardships of life on the road and why musicians keep playing.
Though seven of the ten cuts have Les Paul playing on them, it seems odd he didn't add his guitar to those other three. Still, Les Paul & Friends: A Tribute to a Legend is full of guitar and vocal gems, making this also a tribute not just to Les Paul but to the modern guitar.