A Los Angeles gangster rapper turned Hollywood icon. Ice Cube (born O'Shea Jackson) -- founding member of N.W.A.—"the world's most dangerous group," stopped in Colorado for the second night of his 2011 cross-country tour. Fans and critics wondered if Cube could still pull off a live show, or if he'd gravitated too far from his hardcore gangster roots, and been softened by recent mainstream popularity in movies and sitcoms.
Once a gangster, always a gangster. Cube invented gangster rap and helped define rap music on the whole. A family man with mouths to feed, he's just "gettin' them ends," expanding his talents, and conquering mainstream media the way he conquered hip-hop from day one. Saturday's show at the Boulder Theater exhibited nothing less.
For starters, Cube is passing down the family business. His boys (literally—his male spawn), OMG and Doughboy, came out on stage for a multi-MC'd "She Couldn't Make it on Her Own," a track off 2010's I Am the West that thoroughly demonstrated that '"the nut don't fall far from the tree." Cube's boys got their daddy's flow, no doubt, and the old man kept up with them.
The first two songs of the evening—"Straight Outta Compton" (the title track of N.W.A.'s debut album) and "Hello," (a reunion of sorts with N.W.A.'s Dr. Dre and M.C. Ren) from 2000's War & Peace Vol. 2--confirmed Cube's roots: "I started this gangsta shit/ And this the muthafuckin' thanks I get/ Hello." The mission was declared. No bullshit, gangsta roots rap in the house.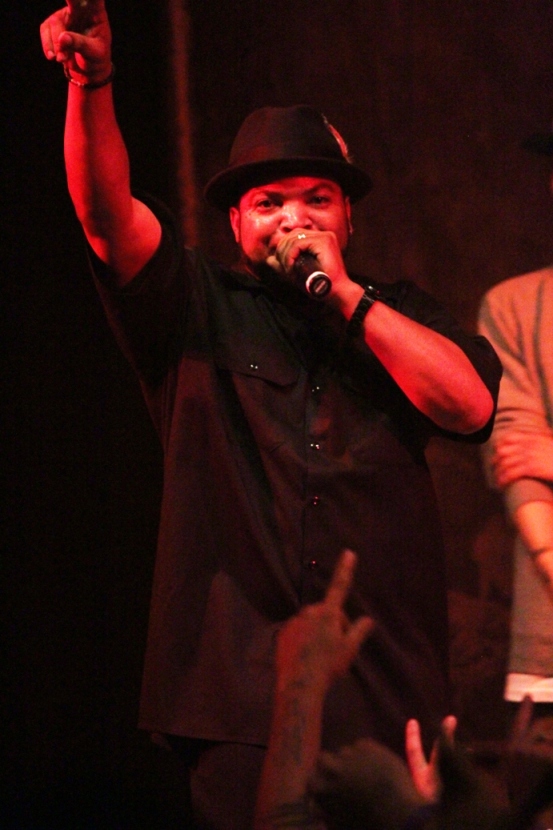 Joined by Westside Connection affiliate WC (pronounced "Dub-C") and his DJ, the boys took the crowd by force from the get-go, and kept them bouncing and bobbing their heads with their hands in the air. The crowd was hyped and moving, but perhaps a little restrained by the Boulder atmosphere, for good or bad. Ice Cube at the Boulder Theater sounds a bit oxy-moronic at first, and folks may have wondered about the artist/venue combo, but after succumbing to the most intensive security searches perhaps in the theater's history, everyone settled in for a truly remarkable performance.
Cube spoke with the audience between songs on everything from representing West Coast rap to marijuana laws to raising a family. At one point he had to intervene in a scuffle between some punks on the floor. "No more fightin' during the goddamn show. We came here to have a good time."
The backdrop to the stage, the cover photo from the 2010 release, I Am the West, showed Cube eased back in a rocking chair, old west style, black and white, with a shotgun laid across his lap. It was, despite being the current album cover, a perfect backdrop for a Colorado show, with the cowboy wild-west history and all.
Cube represented the generations of his legacy. "It Was a Good Day," "You Know How We Do It," and "Put Your Back Into It" kept the crowd on their toes, hands in the air and all that.  "Fat Cat," from his latest release, stood out in all its pussy-gettin', money makin' glory, showing that the man, despite all of his recent Hollywood residency, is still kickin' it old school.