Resiliency marked the opening of the Rhythms on the Rio Riverside Fest this past Saturday. After the spring fires, the summer monsoons hit the region hard, coloring the Rio Grande with black runoff from the burn scars higher in the mountains and swelling the waters into a rushing torrent. More of those rains hit the festival late afternoon creating some scrambling between the sound crew and the bands and forcing festivalgoers under any available tarps and canopies. When lightening started, there was some discussion of shutting down.
The festival started off sunny with a few clouds and no sign of what was coming. Beginning promptly at noon, the eighth annual Rhythms on the Rio stage welcomed Jason and Denise, local singer-songwriters who were the South Fork Music Association (SFMA) contest winners. It was surprising to me that this duo was a local Pagosa Springs Christian band because of the strong songwriting and very professional musical arrangements. For the most part, the songs were led by Denise, whose rich soprano had more power but as much accessibility as Alison Krauss and mountain folk artists who came well before her. The duo sang songs about rivers that were ever present here and others about faith and hope that weren't judgmental nor urging an altar call.
The best song of their set, though, wasn't one of their originals. It was Civil War's "Barton Hollow," a powerful song in its own right, but Jason's lead singing on that one made it a most haunting rendition. That song and a few others were backed by Truet Forest on standup bass and Kate Kelly on viola.
This was certainly not a saccharine modern gospel group that lacked the fire of some old time singers. This duo definitely has their own style and a timeless message, but they made both enjoyable for all audiences. That clearly showed why they were the SFMA's contest winners.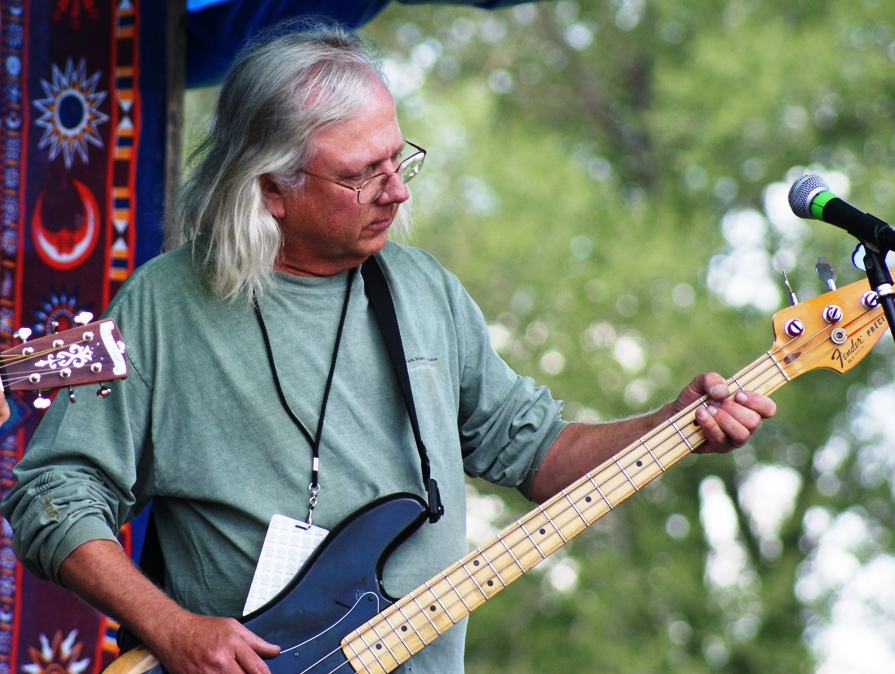 Next up was The Fabulous Schnebly Brothers, a four-piece band made up of local musicians who are also members of other groups in the region. None of the players go by their own surnames on stage but consider themselves Schnebleys (there has to be a story there that I have to find out about!).
The bass player, however, is known to me. He's Paul Orr, the long-time president of the SFMA.  Playing mainly classic rock tunes, rockabilly, and originals, the band is tight instrumentally and vocally. Orr swapped his bass for guitar to sing three of his originals. His take on material is all over the map—sometimes tapping into the literary style of some 60s art rock bands or beat poet, sometimes dipping into something more stylized ala Clockwork Orange.
I was most impressed with Orr's bass playing, especially on the cover "Summer Time," where the band just took that chestnut and turned it into a folk jazz number. Orr's rolling bass had me thinking of the old Peter Gunn theme. Quite a bright note amid this bands unique offerings.
I was especially pleased with the original material that guitarists Steve Baxter and John Gross brought to the stage. Their songs dealt with seduction, break ups, secrets, and a run in with an armadillo-some in fun ways, some very poignantly.
And, of course, their covers were A+, drawing from Neil Young to Billy Jo Shaver and others. I was very moved by Baxter's version of Dougie MacLean's tender Irish tune, "Caledonia." That song and others that Baxter sang lead on was backed up by Gross's vocals. And Baxter traded the favor on Gross's songs.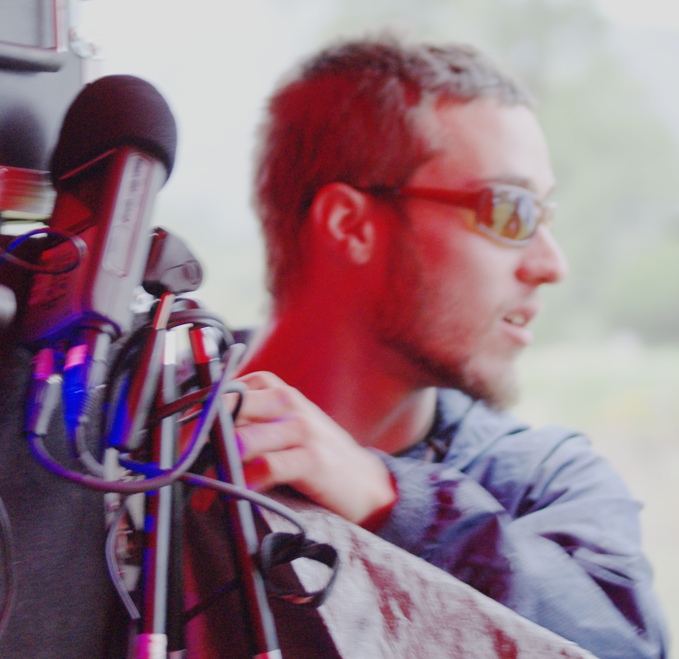 Instrumentally, this band is top notch. Adding color is Derek Gentry, a master percussionist, though young. His set up (conga, bongos, snare, chimes, and cymbals) was all hand played. Gentry got into every song but never overpowered the noodling of the rest of the band.
The O's, a pair of players from Dallas Texas, each played at least two instruments, often at the same time. Together since 2009, Taylor Young and John Pedigo came from several other bands to form the O's so that they could write and perform original music. They do throw in an occasional cover or two.
Young mans the acoustic guitar and a big bass drum. Pedigo handles banjo, steel guitar, tambourine (which he plays with a foot pedal), and harmonica. They both sing. They are currently touring to support their third album, Thunderdog.
Their original material is fresh with intelligent lyrics and very danceable beats. They are able to produce a bull band sound from just these two guys, without it dropping into the side-show realm. Pedigo's steel guitar work isn't your typical country or even western swing style. It's often thoughtful and melody-based, more like a regular guitar than a steel that sometimes just had a riff featured in most bands. His banjo work also is unique, running the gamut from claw hammer to three-finger Scruggs style to strumming. Once he dropped into some jazz ala Alison Brown. Pedigo's harmonica solos were dynamic!
Young is by no means a slouch either. His guitar work is spot on and the drum beats add color.
Vocally, Young and Pedigo are well suited, making the O's sound very pleasant.
Keep an eye on these guys. You're going to see a lot more of them
As it began to cloud up, Whitewater Ramble took the stage. I first saw this band last year at this festival. An outstanding array of musicians with an incredible set list of originals. Calling their sound high-octane Rocky Mountain DanceGrass is pretty accurate. Whitewater Ramble, from Fort Collins, CO, has been thundering across the country, hitting major festivals and winning fans right and left. Last year these guys put on one hell of a show and fans came back to see them—even singing along with some of their tunes. That always tells me that a band's music is getting into listeners' hands.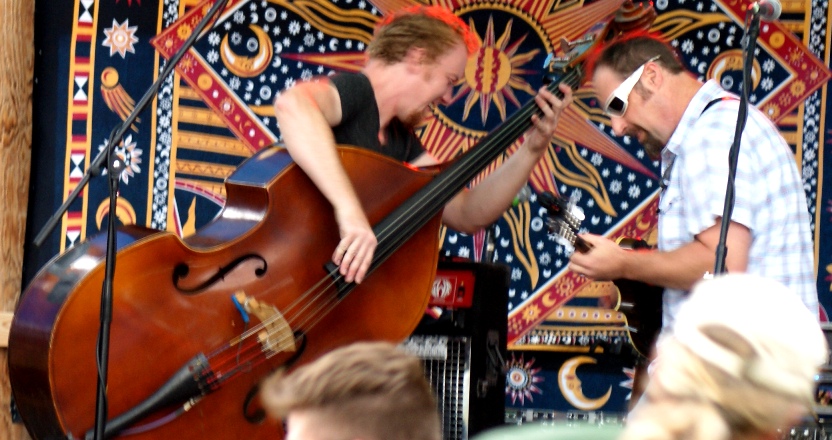 Yesterday, Whitewater Ramble started out of the gate fast and never let up in their hour and a half set. The first show showcased each of the five players.
Andy Whilden, their sound guy, manned the boards and worked his magic over a wide range of material. He told me that he started with the band in 2010 and overtime he became another band member, adding effects and highlights, helping develop the Whitewater Ramble signature sound and fleshing out songs. It's the mark of an jamband that all members bring input to each tune.
What these guys brought to Rhythms on the Rio steamrolled through speed bluegrass to jazz renderings to rock and roll. Not only were these guys hot instrumentally but vocally they were spot on with some amazing lead and backup singing.
Howard Montgomery did his stint behind the synth on a tune and also picked up his bass and played it like a guitar as well as jumped on the bass for some surfing that audiences wait for at every show.
For me, I always want to hear the song about the mines closing down and the touching song about pleading with the bank man not to take their home. And, of course, everyone wants to hear their signature tune, "Mexico."
There was a light mist as Whitewater Ramble took the stage. By the time they left it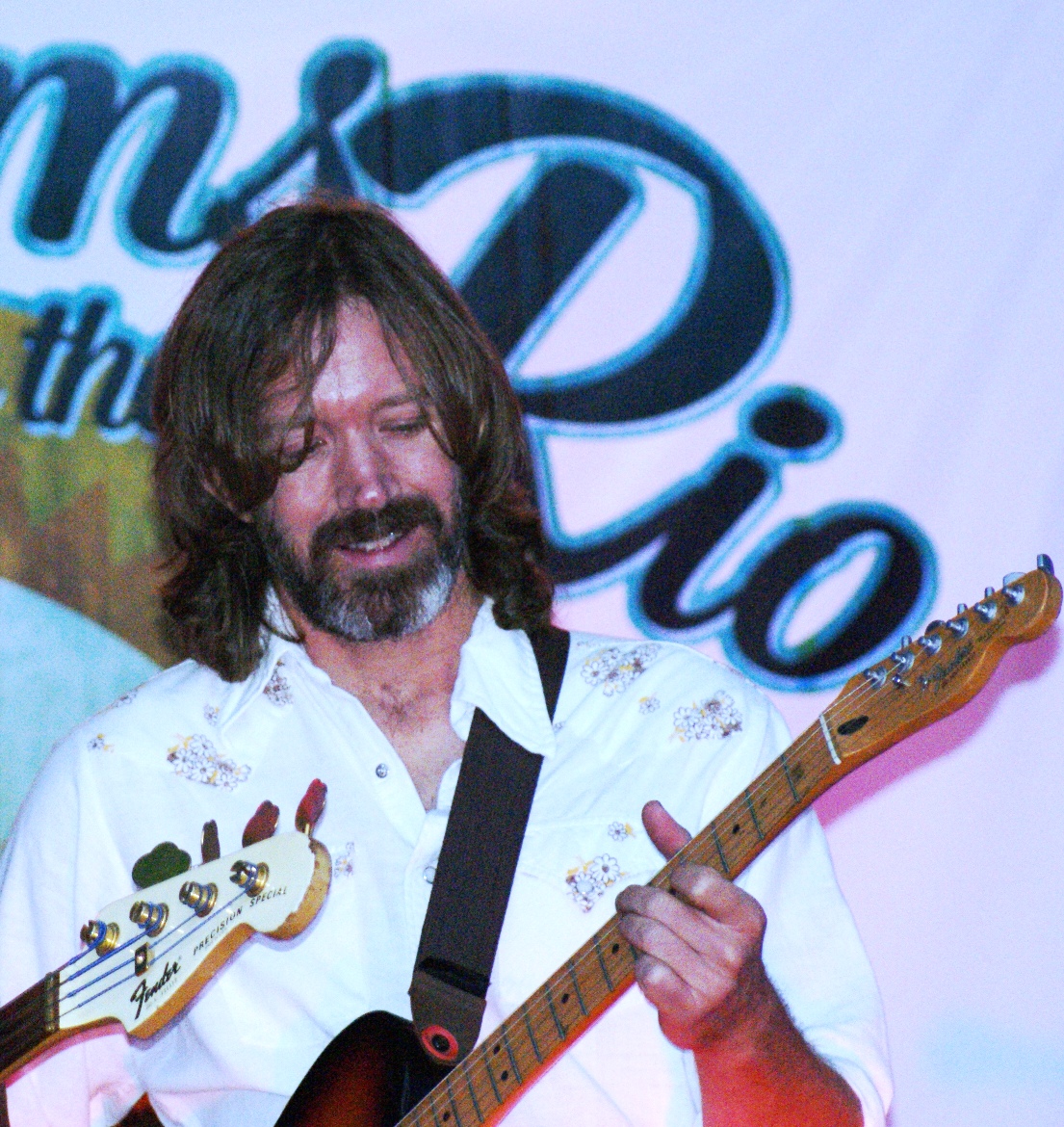 , there was a full downpour. The sound tent was battened down and equipment covered while the SFMA youth music class graduates played a half hour of music.
When Grant Farm strummed out their first chord, there was thunder and lightening and no one out dancing, except one brave soul in full rain gear. But Tyler Grant and his band are consummate professionals and they delivered a dynamite show. Their unique sound, what they've dubbed Cris-Co or country disco is pretty accurate, though I'd say they have more of a roadhouse rock and southern rock feel with some honkytonk piano thrown in. Grant's own guitar work isn't all flash but thoughtful and complex.  And vocally, the band is inspired.
Happily, Grant trotted out the Dead favorite, "Tennessee Jed," amid a country tune and a speed rock ditty about another horse. There was also some wit with "High Country Lady," about a woman you didn't want to bring home to mama.
Toward the end of the set, the rain stopped and a huge rainbow appeared, seemingly to arch over the festival grounds. Grant commented from the stage and then dropped into a gospel tune and ended with "Wave That Flag."
Getting set up for Euforquestra and making sure the equipment was waterproofed and other little delays throughout the day meant that that band took the stage about an hour late. But these guys put on a dynamite show, bringing their reggae, Afrobeat, Soul, Funk show to lift all of our spirits. Everyone was out dancing finally.
Euforquestra announced that they would be going into the studio next week to record their next album, which will be produced by Kyle Hollingsworth.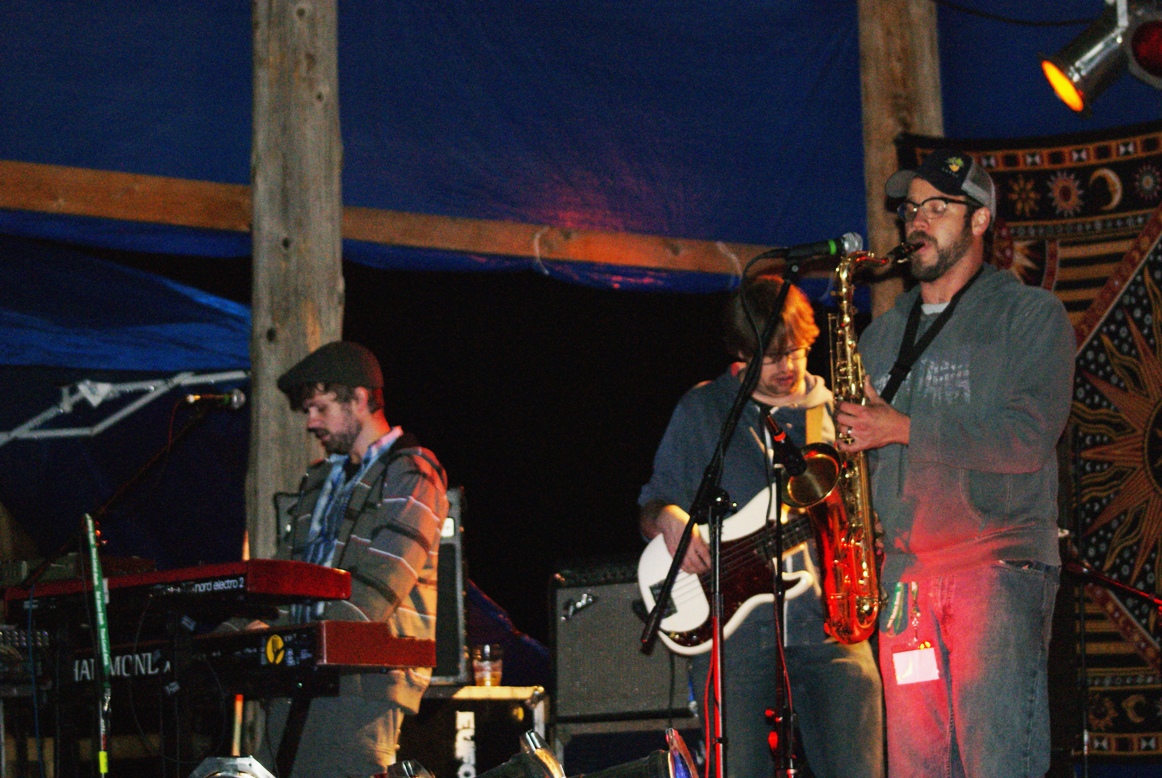 This band is fun, but can be atmospheric and exceptionally creative. They added a grisgirg sound to their song, "Wasted," which was an insanely unique touch.
If you get a chance, catch Euforesquestra live. They are NOT to be missed