I can't decide if it's better that I wait so long after the shows to turn in my reviews or not. This time was a bit excessive, and I won't bore you with my personal issues. I'm still new to this, so sometimes I want to get it all out but then I want to wait and see what sticks out in my mind in the long run…you know, what really was so fabulous I just couldn't forget it?  That said, I'm finally turning in my Vegoose 2007 review.  (There's all of that and the fact that I've been a horrible procrastinator lately) It won't happen again, it's not fair to those of you who want to read a review right away, so…my sincerest apologies.
Every year at Vegoose is a completely different experience. They seem to try so hard to switch it up and bring in acts that you might not anticipate seeing in the same venue. In fact, I think they might try too hard and get themselves into trouble. I've never seen so much pre-fest hype as what I've witnessed preceding Vegoose the past two years. No one knew what to expect the first year so that wasn't an issue but this year and in 2006, everybody was all in a tizzy about promises made and promises broken. My advice to those of you who've never been but are considering it….ignore all of that. I've not had a bad time yet and can't imagine that I ever will.
This year brought me lots of new bands to experience. Old favorites were there too, but the majority of bands I'd not seen before, so for me, that's the best part. Anyway, let's begin.
Saturday
Gorgeous weather makes me a happy girl automatically. Plus I hadn't yet gotten to see Emmy and Jimmy who live only a couple of hours from me up in Chicago, but I still don't see them enough and we get to spend serious quality time together when we converge in Vegas.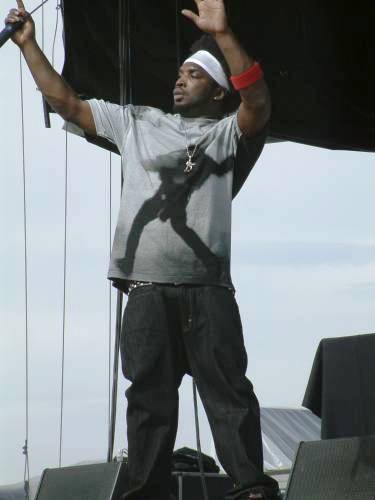 It was a shame Lupe didn't have a stronger crowd. The show exuded a great energy, but with Gogol Bordello playing opposite, it wasn't surprising that fans were lacking. Of course he performed "Superstar", which I'm quite partial to despite its general popularity and its staple-like concert status. Included in this set was "American Terrorist" performed with Matthew Santos, who also joined Lupe for "The Cool".
Despite other reviews I've seen, I think the guys were in good form and gradually those concert-goers who started at Gogol Bordello filtered back over to the Double Down Stage for a great ending to one of Vegoose's opening sets.
So several of us that were meeting up in Vegas talk about what and who we're going to see while we're there so as to maximize the time we get to spend together but still get to see everything we want to see. I'd been seeing all the talk on Myspace about Gogol but just hadn't gotten around to checking them out online yet. Emmy forced me to while I was visiting the week before we left. Appalled! I couldn't believe that this caused all of the hype I had read. Completely disappointed…but of course I was going to catch at least part of the show. Really could that many people be wrong?  Maybe the choices for their profile just weren't doing them justice.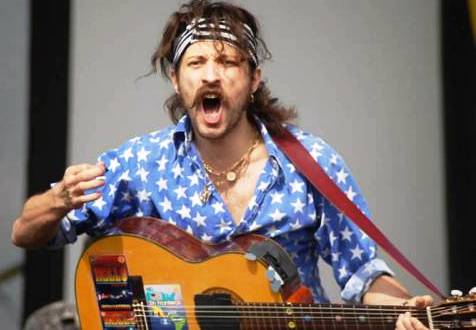 I left pleasantly surprised. They were just as entertaining as I expected. I've never seen anything quite like it though their sound was more discordant than I was in the mood for so I moved on to Blonde Redhead, which I'd been super excited about!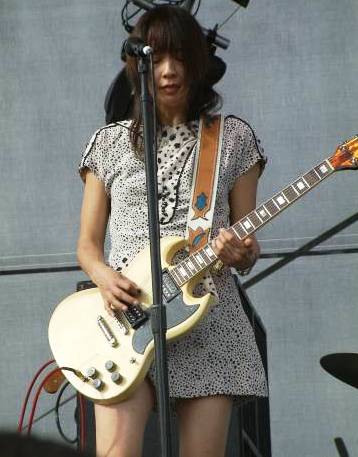 Blonde Redhead was even better than I anticipated. I'd been listening to their latest album for the past couple days during my pool time.  They had a pretty strong crowd for the first couple of songs but then there was a bit of an exodus once Sound Tribe came on, which was disappointing simply because I'm sure a lot of people there had seen several Sound Tribe shows at least. Part of the lure of festivals like this is getting to see new bands and spending a lot of time checking out stuff I've never experienced before while throwing in some of the traditional stuff.
Overheard at Mastodon, "Oh shit! They're gonna chop off some goat heads." After seeing the shocked look on my face, they added that it's "all tongue-in-cheek".  I'm afraid it just isn't my taste though, so I can speak with no authority here. The friends I was with seemed to enjoy it greatly and were a bit mesmerized at times. Personally, I couldn't stop wondering at the appeal of hanging an upside-down cross made of bones around one's neck Mr. Sanders. "Naked Burn" just kinda hurt my ears to be honest, but I will not deny that they seemed to be rather talented musicians despite the discord.
I've seen both of these bands several times and since I knew I'd be catching the late-night STS9 show, I popped in for a couple of seconds to take some pics and just check out the crowds. As I said earlier, I was more excited to see those bands that I've never seen before. For that, this year's Vegoose was the place to be.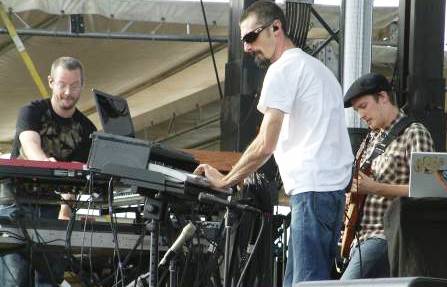 Cypress Hill rocked. Soooo good. The only "bad" thing was the contact high I picked up while watching the show since I had my interview with Blonde Redhead at 6. Honestly, I got so nervous after I realized my condition that it took a little bit to start to enjoy the show again and realize I was completely capable of functioning in this state without making a fool of myself.
With the best quote of the weekend during the opening bars of "In the fade", "It's ok to clap but not get the clap."  My friend Don loves QOTSA, so we spent a good portion of the show texting back and forth about what he was missing. I'll say I'm more impressed with their musical talent than their singing abilities. What I loved even more were Troy's white shoes, but that's me being a girl for you. While I'm not as enamored with them as he is, they had a great crowd who so obviously loved the show. The audience can make or break a show for sure, so things quieted down a bit as people started to filter over to the Snake Eyes stage for the Stooges show…me among them. There was no way I was about to miss a bit of that. Sacrifices had to be made including missing most of Thievery Corporation, but c'mon, it's the Stooges.
Whoa. I'm not sure what I expected, but it wasn't this. First, I expected the re-creation of the Fun House album to take more than a little longer than half an hour. I don't know why. I own the album. I listen to it frequently. I know it's short. But it seemed to fly by when it was happening in front of my eyes.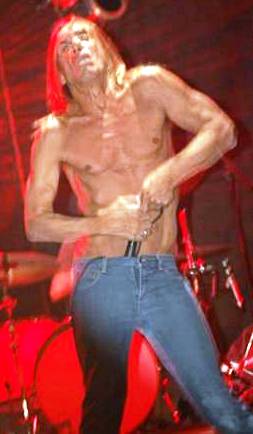 Iggy was of course his usual self, complete with slowly southward creeping pair of knickers. I'm surprised they didn't fall off before the end of the show though by "No Fund" they were most definitely undone. The humping of the speaker thoroughly caught everyone's attention as well.
This is what I'd been waiting for and for sure I got to see a phenomenal show. Others agreed. I heard several people remark that it was an incredible closing night to the "Alive" tour. I've not seen Daft Punk before and thought I might be too excited and let myself right into disappointment. I have a habit of doing that despite my initial pessimistic nature. The fact that I had photo pit access for the first several songs made it all that much better. Of course they did "Harder, Better, Faster, Stronger", in fact several times as both "Around the World" and "Face to Face" led into it. And while a lot of people seemed to think the rumors of Kanye joining them would come to fruition, they didn't for which I was oddly thankful surprising even myself.  The second time "HBFS" led directly into "One More Time", which also made another later appearance.  Sweet Jesus, I'll admit to being in heaven after a long day. No need for everyone to have worried about them ending early that night.
I completely disagree with all of you complaining about the lack of variety in their sets. Of course, they have a lot of songs to choose from, but in this type of setting why would you play anything except your most popular? I mean, haven't all of us wanted to go to a show and hear just exactly what it is we love the most? I missed "Digital Love," wished that had made an appearance, but I am in no way complaining. I had the most fun and was at my most joyful during this show. The energy of the crowd around me exuded everything I felt then, all of which was accompanied by a gorgeous light show.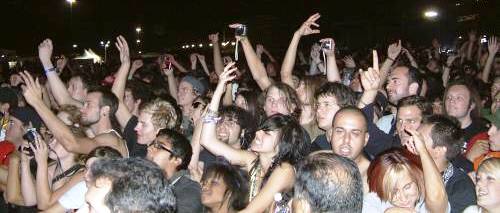 Too entranced to pay better attention to anything other than my absolute favs, I've had to snag the set list off the net. This is nothing official mind you and different people argue on order, sooo this seems the most complete. ** Cheers kids!
Sunday
The final day of Vegoose remained much more laid back than Saturday with a lot of people not showing up until later in the afternoon and evening. They missed too many good shows in my opinion, but even I didn't run myself ragged on Sunday, carefully choosing who I was going to go see and spending more time with my friends and enjoying the atmosphere of the place.
Ghostface Killah & the Rhythm Roots Allstars
Nuts. Wearing sweatshirts and/or long sleeves while under those lights and in that heat is just crazy. The weather was truly great so there was no need for anything other than a lightweight tee. I'd have died honestly, but still there they were. Not my favorite show of the weekend, but worth checking out.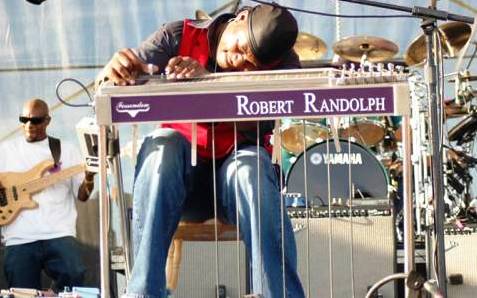 These guys are honestly some of the nicest musicians I've ever met. Didn't get the chance to chat at all this show, but I have previously and that colors all other times I ever get to see them. I'm a sucker for down-to-earth talented men. It doesn't hurt that Randolph is gorgeous on top of all that talent. I loved that his sister sang with them again. It happens frequently but not as often as I'd like. She adds a great extra dimension to the shows that I really enjoy.  And obviously any show that closes with a good version of "Purple Haze" makes me a happy girl.
Never heard of them, was tired and just wanted to chill, but Matt (aka The Ice Cream Man) would hear none of it. Said I couldn't miss it and to leave his presence immediately and I would not be disappointed. He was right. I wasn't. I don't know why I doubted him in this first place since he's never steered me wrong before.
Infected Mushroom
They totally had their crowd in their palms, though it took a bit of time to get the hand-waving in sync.  I didn't stay long here deciding to go back to my wandering…
Muse endured a ridiculously long sound check followed by more waiting. When they finally took the stage, it appeared as if the crowd found themselves splitting into a perfect harmony. Those wanting a mosh pit experience congregated to the left of the stage while those on the right retained more of a chill attitude just sitting and enjoying the music and the company.
Muse displayed great keyboard work, which broke up some of the heavier sounding stuff with some pretty trills. I hadn't familiarized myself with Muse as much as I would have liked, but left with a new interest for sure. Of course they played  "Knights of Cydonia" which is one of the few songs I felt I really knew and could recognize as being theirs regardless of context. Quite enjoyable. I heard a couple of remarks as I wandered the crowd that the sound was off, but I honestly think that just had to do with where you happened to be. UNKLE bled over a little bit from the Joker's Stage but it was no big deal.
Like I've said before, I enjoy seeing a connection between the artists and the crowd. After all, we're the reason they're here and back again. Must have been some pretty good costumes up front as they remarked on the number of interesting outfits. The very bluesy "Feeling Good" came up fourth I think and was just awesome. I could totally picture some glamorous 40s singer sitting on a piano singing this one. "Starlight" also brought lots of audience participation. Such a good show! So glad I made a point to catch these guys.
Another pleasant surprise as UNKLE opened with Beethoven's 9th. Loved that! Moved seamlessly into "Chemistry" which picked up the tempo quite well and led into another awesome show. These guys remind me of the Editors so much.  Tell me I'm wrong. I left with a whole list of lyrics that I wanted to look up so I could figure out the set list, but I didn't have to since it was easily found online…and able to be downloaded I might add, which was a total bonus. They finished as they had started with "Chemistry."  Total props for that one since I enjoy shows that come full circle in one form or another. It adds a lot for me if I feel there's closure to a show instead of just a "Thanks and good night!"  I think Muse and UNKLE tied for my favorite shows and definitely new-to-me artists for today.
I spent most of this show trying to make sure my friend, Matt, on the other end of a phone call could hear adequately. Unbeknownst to me, he's a huge RatM fan and was currently cursing the fact that I was there instead of him. In order to maintain the peace, I recorded as much as I could on my handheld, interview recorder, but he still wasn't too happy with me when I got back.
Thanks for the folks who set-up Grateful Web with a pass to the show -- Sadly, Vegoose 2007 ended up being the last one.  Check out more photos from Vegoose 2007.