JJGrey and Mofro guys can do no wrong in my mind. I've gotta admit I enjoy their more enthusiastic shows, some days JJ just is in a mellow kind of mood, but today did not disappoint in the least.  It might have had something to do with the fact that they hadn't played in three weeks, which Grey informed the audience early on. "haven't even had a lick of the snake and God this feels good!" I have absolutely no idea what that means, and couldn't find the answer anywhere on the net, and maybe I heard incorrectly but I wasn't the only one. I asked around and made a couple of the other photographers repeat what we heard and that's it. Whatever, it got a laugh from the crowd and put smiles on people's faces so that's all that really counts, eh?
Every song was more energized than the last which Grey characterized as now they were "cookin' with grease!"  Grey is a big proponent of getting out of doors and enjoying nature and the company of others.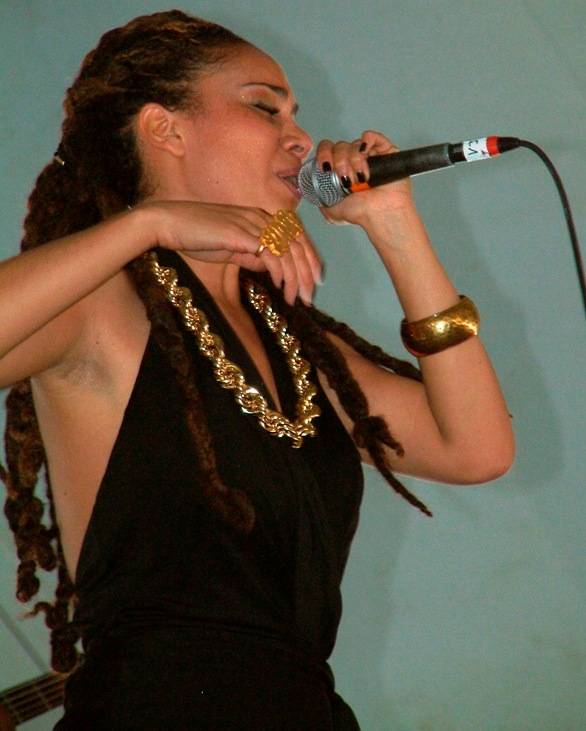 The fact that Luna Angel is gorgeous distracts from the fact that she is also talented.  Sauntering onto the stage in a black jumpsuit and gold twisted chains, the guys' jaws in the venue dropped.  Pretty soon mouths were closed and everyone was dancing to her smooth reggae sound.  The high energy show had just enough sensuality to inspire the couples in the audience to get a little closer when dancing.  Luna's uncle is Junior Marvin, the guitarist for Bob Marley's Wailers, so she comes from great musical stock. Her brother Moese also has put out an album, but she's definitely the one to watch.
These guys are just plain fun and crazy.  Walking up to the show from backstage in the artist's area, I was accosted by Ric, YMBFBB's drummer, demanding that I take a picture with him and a couple of the other guys because he was, correctly, convinced that not a single picture of myself existed on that camera.  Overlook the crazy outfits and focus on the rapport this band has with their audience.  You can't help but have fun when these guys are up there working their own booties off to entertain you and make your day better!
Okay, so I honestly ran into a couple of people that enjoyed this show, but overall, The Nightwatchman was being heckled backstage and in little conversations throughout the venue. We were an outwardly polite audience however, so we deserve props for that.
The Nightwatchman is Tom Morello, the guitarist for Rage Against the Machine and Audioslave.  He's amazing in both of those capacities and even as a solo guitarist as the Nightwatchman, but the general consensus is that he should stick to that and leave the singing to someone else.  I'll be nice and leave it at that.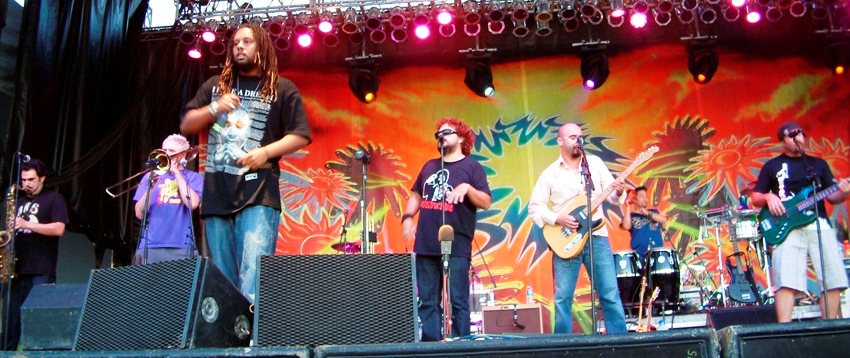 I usually don't like too much that can even be classified as Latin music...maybe it's the fact that I don't think I can dance very well to it without looking like an idiot. I have to be in the right mood for it, but these guys have so much energy it's ridiculous. But then one takes a look at their crowd and realizes that they have just as much so it's probably a vicious cycle of feeding energy off one another which makes for an exciting show! There's a lot of passion and talent up on that stage and the fact that their lyrics often have a decidedly political message suggest we not only enjoy for fun but take them seriously and listen to what they have to say.
P.S. When I was talking to a few of the other women backstage, one suggested that it helps that they boys of Ozomatli aren't hard to look at either.
I happen to be pretty fond of Galactic (any band that incorporates the sax catches my eye) but tonight they only rose in my estimation. Their cover of the Stones' "Sympathy for the Devil" was completely awesome.  I love that song anyway and for them to bring their own funky sound to it just rocked.  Then they pulled out Mofro's "Lazy Fo' Acre" and the set just got better from there.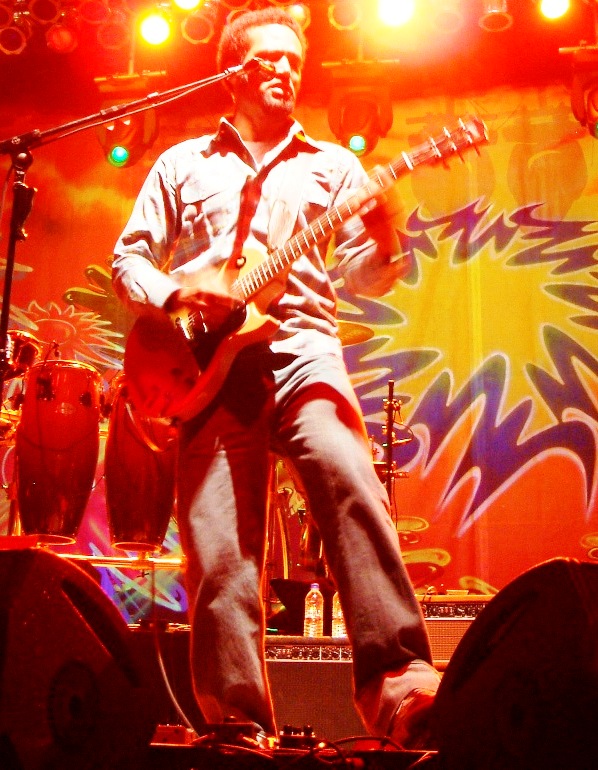 The crowd brought out all the toys for Ben Harper. I'm used to a more subdued crowd at Harper shows, not that they are boring by any means, but I'm not used to all the beach balls and Frisbees being tossed around amid clouds of bubbles like today.  It was nice though to see everybody in such an ecstatic mood. The crowd was very attentive and appreciative of Harper's attempt to keep the mood shifting by switching back and forth from strong, more energetic tunes to mellow, sensual songs.  The feeling was light, carefree and totally fun. Juan's signature kissing noises during "Steal My Kisses" always helps draw some grins and laughter.  I have to admit to being a nerd and saying that one of the coolest points for me was when a huge Luna moth fluttered above the crowds' heads near the front of the stage during "Burn One Down" which was the final song of the set. Harper didn't disappoint his numerous fans and ended with not one, but two encores which included "Walk Away" and "Exodus", two apparent crowd favs.
I don't really know that much about Tea Leaf Green so I had to ask those around me what songs were what when I heard something I liked. That said, they did a great job on "Dragonfly" and "Jezebel" though they got a slow start on "Not Human" which I hear is usually a great one though I'm not too fond of songs with more spoken-type lyrics.
I've seen them a couple of times at festivals but usually just in passing for a few tunes while I made my way to a different stage. This time they had a late-night set so I was able to hear a bit more.  I didn't catch the first part of the show, but really enjoyed the AC/DC cover "Have a Drink on Me"…that one I did recognize!