As I said, I had gone back to camp earlier to make sure things were as secured as possible and to attach the tent to the car just in case I needed to sleep in there that night. Good thing I had.  I awoke about 4 a.m. to raging winds and wicked rain.  I seemed securely attached…for now. The wind was blowing so hard that my tent was beginning to lean sideways. Where it attached to the car, it made a horrible, potential shredding noise.  I bolted awake and stood at that point where I felt it had the most potential for weakness…for the next 45 minutes.  Luckily, I have a fabulous mother who doesn't care when her first-born calls and wakes her up in the middle of the night simply because she doesn't feel like being alone while she deals with the possibility of blowing away.  Don't worry, I didn't make her stay up with me that entire time, but I did want to tell her I loved her in case I blew away that night.  She's used to me being jokingly dramatic at times.  Finally, the tent ceased leaning over and I crawled back into the little nest I'd created in the back of my Vue.
Saturday morning dawned clear, warm and blue. Perfectly lovely weather, not giving even a hint of last night's storms. Plus, with us being camped on such sandy ground, there wasn't the mud and ick everywhere to which I expected to wake up.  There existed some definite evidence of last night's wind though. For example, what once sheltered the media and our gear no longer existed. I'm not sure if the media tent had been taken down or had blown down, but was once a couple row of tables and a little living room-type setting was now some randomly placed couches, chairs and tables. Despite the crazy winds last night, everything else seemed pretty intact on the festival grounds
For some reason, the first thing I thought of was Schroeder, Snoopy and Pig Pen jamming out as I walked down toward the venue and the Swamp Stage, which everyone has to walk past to get further into the venue…not sure if I mentioned that earlier or not. So if you've ever watched that Peanuts episode (Play it Again, Charlie Brown), you know the only thing missing out of The Bad Plus is the banjo.
According to their website, bassist Reid Anderson, pianist Ethan Iverson, and drummer David King have known each other since their teen years in the Midwest. These guys most obviously have fun together and it comes through loud and clear in their music and stage presence.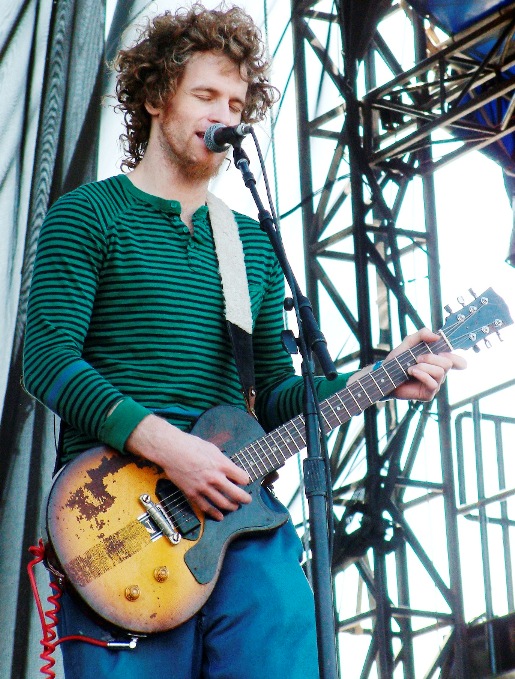 State Radio
State Radio became a cool, new find for me this trip. Their myspace lists them as rock, reggae and indie, which is accurate and oddly appealing.  Obviously, I'm not the only one since they're selling out shows pretty consistently.  Charlie Stokes' voice reminds me of Dave Matthews at times, but I have to admit my own friends disagree but have no better comparison to offer.  Regardless, you should completely check them out if they're near you. They'll be playing Wakarusa in Lawrence, Kansas later this summer, but they'll also be at Rothbury (and we've already established that's the show to be at this summer, right?) Anyway, they're spend the majority of May in the U.K. and one show in Ireland before coming back across to spend the summer in the U.S., so you'll have plenty of opportunity to catch them somewhere.
One of the highest energy shows of the fest had to be Arrested Development. They ended up being even better than I expected, which always makes for a great time. Who can forget Mr. Wendal or Tennessee? And, I'd honestly forgotten until I heard them played again today. They put on such a great show; I don't know how they kept up that pace the entire time. Amazing.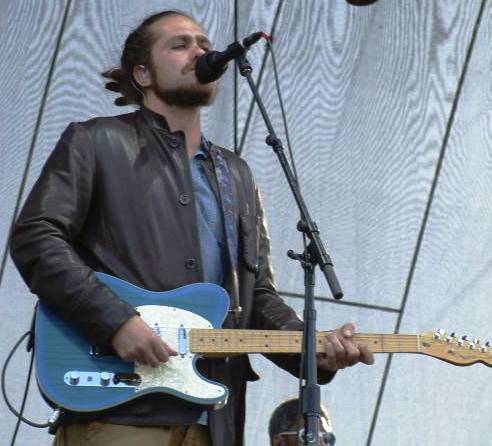 Citizen Cope had a small crew handing out cds earlier in the day, for which I'm super glad 'cause it's turned into one I've kept in heavy rotation since then. I spent some time talking to Julia and Megan before the show. I've quite possibly never met two people so excited to see a show. They'd waited to be up in the very front for a bit and were super stoked for the show to begin. Julia was beside herself, "I'm sooo ready for this music." They both were convinced this was going to be the highlight of the weekend.  I lost track of them after the show, but assume that since I loved the show and wasn't even familiar with Citizen Cope that they left without being disappointed.  CC plays Rothbury later this summer…getting the point yet kiddos?
Antibalas possesses an incredible amount of energy and funk.  Their horn section amazes everyone each time. All around good time and well worth skipping a bit of Ben Folds to catch.
I didn't get to see as much of Ben Folds as I had wanted to, but was blessed enough to start talking to a beautiful young lady from Boston the next day that saw the entire thing.  Alex had been introduced to Ben Folds several years earlier when her then boyfriend, and now fiancée, had made her a mix cd with Ben's "The Luckiest" song as the last track. Alex almost hadn't listened to the entire thing since he'd picked an odd collection of previous tunes to start out.  So, we all know Alex's favorite song; I'm partial to "Landed" myself, which I was lucky enough to hear during my short stint at the Sunset Stage.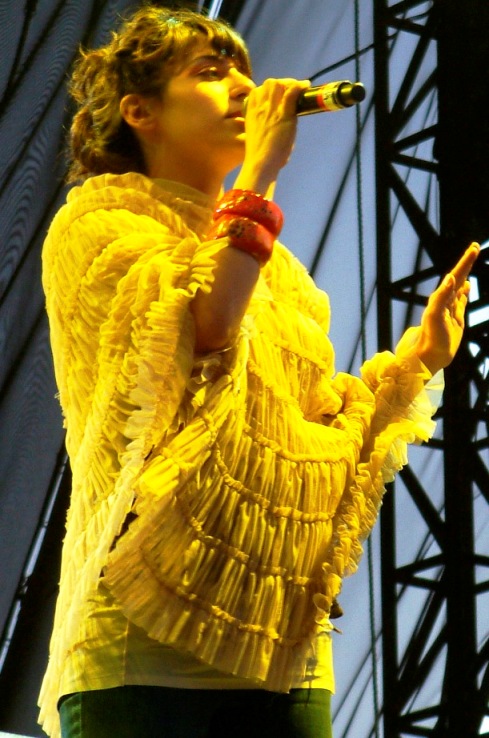 Thievery Corporation
I think it's becoming obvious that I love any band that puts on a show.  I love music in general, but there's something to be said about adding some additional entertainment in there to help set yourself apart. Thievery Corporation makes sure to do just that by having so many elements up on that stage. Throw in dancers and gorgeous costumes, and I'm hooked for sure. "The Passing Stars" and "Lebanese Blonde" have to be two of my favorites for sure. (LeeAnn and Dave, from earlier sections, claimed Thievery Corp as a new fav for them overall.)
They seem to be slated to play earlier in the day at some fests, though they had a late night show at Vegoose, but I think would be better suited for later night rather than mid-evening.  Regardless, they are amazingly beautiful and entertaining. Another definite band to see at Rothbury...
Medeski, Scofield, Martin & Wood
rocked. They always do. These guys brought their A-game tonight for sure.  I've heard some debate over whether or not MMW is better as MSMW, but for me there's absolutely no question. John Scofield adds a great life and energy to each show.
I caught Stipe's green, Obama t-shirt...and then a photographer next to me snatched it out of my hand. Bad, bad form to which he responded with a shrug of the shoulders and some "all's fair in love and war" themed comment. I was crushed until Stipe instructed him to give it up and throw it out into the crowd. Karma's a bitch, eh? Lol.
Never having seen R.E.M. live, I'd been looking forward to this show for weeks. Even though I heard a bit of smack being talked the next day, I wouldn't believe a word of it. I was there, silly. Of course they didn't disappoint, though there were a only a very few rather slow moments, but we'll ignore those. They opened with "What's the Frequency Kenneth". Totally awesome. Throw in "Orange Crush", "Bad Day", "Man on the Moon", "Losing my Religion", "The One I Love", and "Drive"…incredible.
Stipe threw in his political commentary whenever possible, starting with the Obama shirt and then with his little speech on how he's "sick to death of top politicians" telling him what he should fear.  He continued to say, "I'm old enough, smart enough, experienced enough and wise enough to know what it is I should fear and I fear politicians telling me what to do."
This show completely ties with the Beastie Boys for my favorite show of the weekend, and in certain moments, I'll tell you it tops them as my favorite. I vacillate.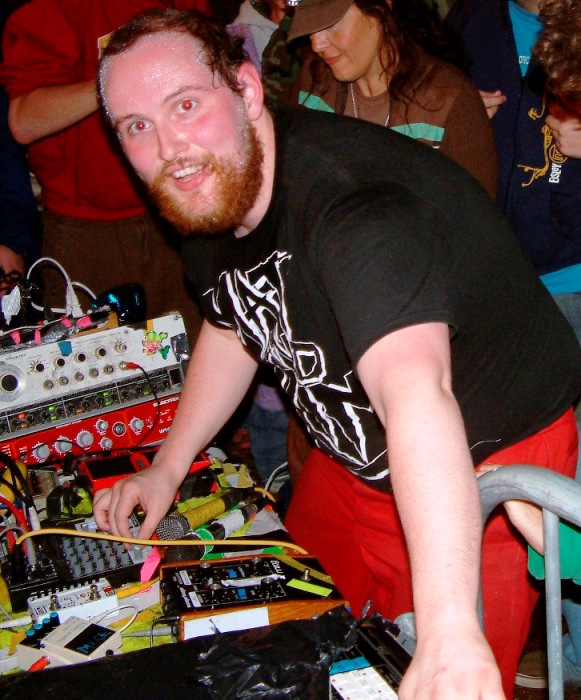 Go see him. I don't care where or when. Just do it. I had no idea what I was in for except that Santiago had said he planned on not missing this show tonight. After R.E.M., we split, and I went back to camp to download some photos. Deacon wasn't slated to be on until 12:30 and to be over on the Chickee Hut stage, which lives way over in nowhere land and requires a bit of a tromp through a swamp.  On my way back down to see the Biscuits, I noticed a growing crowd and some odd items over at the Swamp Stage. The Lee Boys weren't set to be on until 12:30, so I made a point to stop and see what was going on. Turns out Dan Deacon had been moved over from the Chickee Hut and was on earlier than expected
He set up his table of kitsch in front of the stage…not even in the photo pit mind you, but actually on the field itself.  Without a doubt, this takes the "most interactive" award of the weekend. He had the crowd following directions like a bunch of drunken school children.  They were more than happy to oblige. They pointed, they yelled, they formed tunnels.  Dan Deacon is an interesting character, dressed in a t-shirt and sweat pants, he worked so hard the sweat poured off of him as well as a healthy dose of steam rose from his balding head. The crowd obviously loved him, and he loved them back.
The Biscuits opened with Sgt. Pepper's Lonely Hearts Club Band, automatically putting them in my good graces, though I happen to really love them anyway, so...I've only seen the Biscuits a few times but and overall I leave happy though there's been a few disappointing moments, but this show might make it hard for them to top in the future.
(btw. I hear they're playing an amazingly, wicked show in NYC tonight…since as I'm writing this, I'm getting "wish you were here" texts from Emmy and Jimmy who're at the show right now.)
Sunday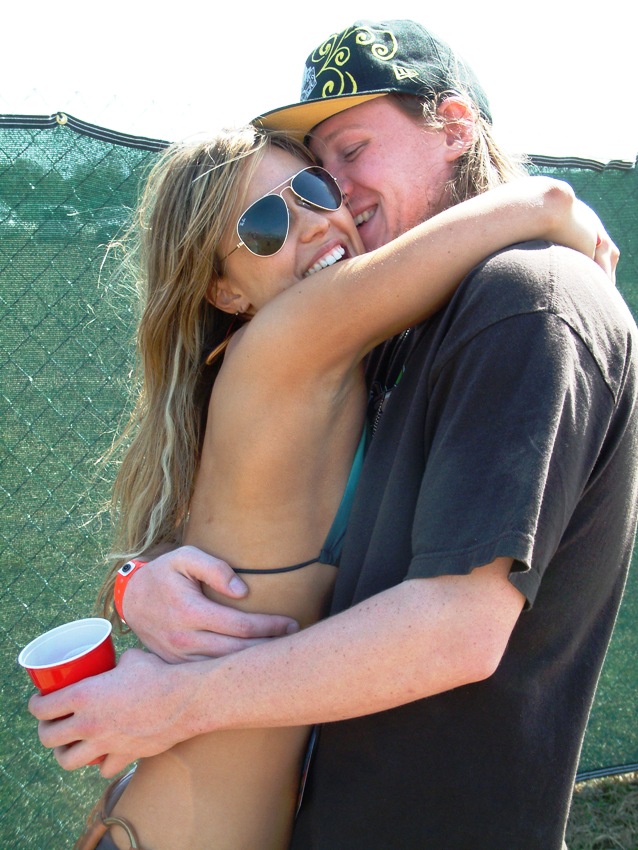 It's ridiculously cold tonight. Seriously, we're in the Everglades, and it was gorgeously warm yesterday. Now I can see my breath. That's bad. What's even worse is that I've left the Biscuits show to go home to some much-anticipated sleep. It's three o'clock, well technically four o'clock since we moved the clocks ahead one hour, and I'm exhausted. Nobody likes to be cold and tired. I like it even less than other people I've been told.
Anyway, so somehow I managed to lock myself out of my car…with everything locked inside: my bag, my phones, both sets of keys, everything. I'd locked the doors from the inside and walked around to open the back to go to bed in what I've now dubbed my nest, which is extremely comfortable filled with warm blankets, pillows and my stuffed black sheep, which I sleep with every night despite being made fun of by numerous friends. I really don't care. I travel a lot, and it helps keep me from freaking out when I wake up and forget where I am. Make fun all you want and join the club. Anyway, so I let myself into the tent and find that unlike the other two nights where this method worked, it's locked the back of the car as well as all four doors.
I go back up to the entrance to GA camping and found my new friend, and generally big security guy, Keith. After explaining that I'd locked myself out of my car and just wanted to go to bed, he promised he'd be able to get into the Vue, no problem. That was excellent news considering that that on-site car-problem guys had decided to go home and go to bed so unless Keith came through I was homeless for the evening. Well I guess I could have tried to sleep in the tent but I didn't have any of my blankets or anything. I also probably could have crashed next door, but I was craving my own "bed". Keith and I spend the next two-ish hours driving around in a golf cart looking for something that we can use to break into my car. I'm freezing. I try convincing him that if we can find one of the flat, metal rods holding the fencing in place that's loose enough, that might work.  Too bad they're all held firmly in place.  Finally, we find a piece of fencing not tightly held, and he wiggles the rod out.  We spend the next half an hour trying to unlock the car without totally destroying my paint job around the door frames.  Thanks to the couple of drunk hippies who were convinced that they knew best how to accomplish the goal of getting me into my car. Your intentions were greatly appreciated as was the huge laugh Keith and I got after you left.  Thanks sooo much to Keith for never giving up until I put myself safely and thankfully to bed.
Oh yeah, when I woke up the next morning…the car battery had died. I'm close to the edge here.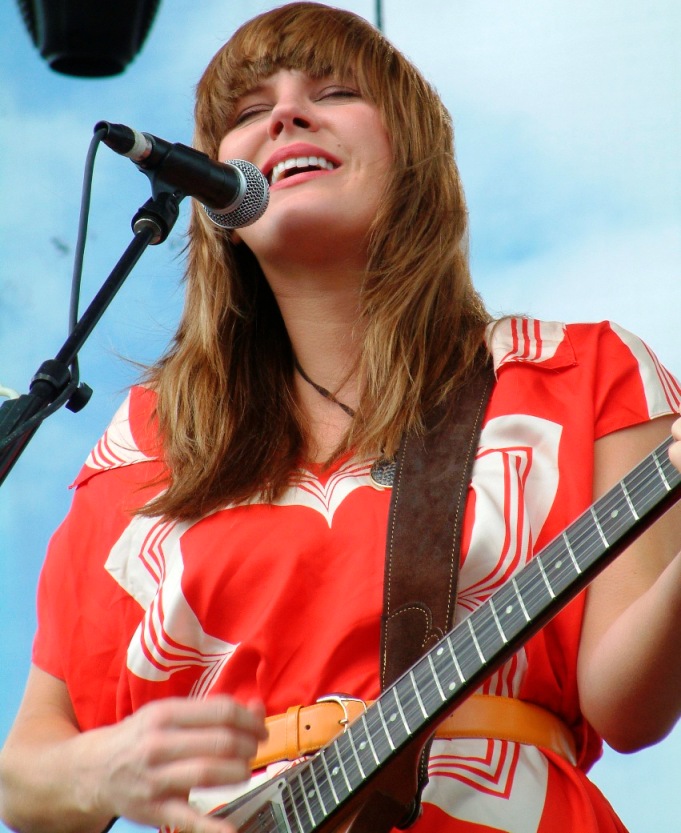 Grace cracks me up. She's so nutty and weird a lot of the time, but also kinda shy and quiet that I just can't figure her out. She's also known to be a bit moody at times, but today she played in top form and just seemed to be having a ridiculous amount of fun, which translated well onstage and became infectious.
Sidenote: I'm over telling my troubles a bit, but you have to admit it has gotten a bit ridiculous this weekend. As I'm walking through the crowd, getting some shots and heading back to the media area for a bit before Ani, some girl, who I later drag out is named Heidi, flings her arm out and knocks my camera out of my hand. This sends my camera crashing to the ground and bashing my lens out of whack, leaving my camera completely ruined forever and ever.  I get back to the media area and have the guys take a look at it. It's done, and I finally break down into tears.  They're all quick to reassure me with words and hugs and tell me how well I've handled the crappy adventures of this weekend…and that they wondered how long it would take before I cried. Lol.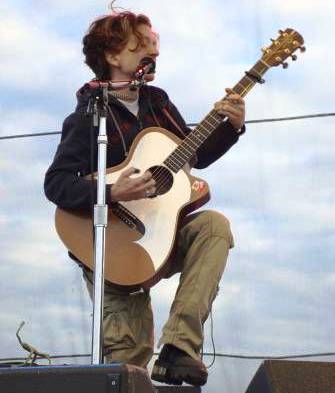 I wish I had stayed longer at Ani. She's incredibly talented. I wanted to run over and catch Blind Melon, but think my better bet would have been to stay here.
So there's this cute girl near the front in a bee costume (ala Heather DeLoach) which helps set the mood, but my mood for the old Blind Melon…the one I listened to in high school.  You know the one, from the days of "No Rain", "Change", "Tones of Home" and Shannon Hoon?  That's what I craved and not what I got.
Here's another nuts show that must be seen to be appreciated. of Montreal puts on a great Vaudeville burlesque-ish show.  I thought I might not like them as much without the show they put on, but I've frequented their Myspace quite a bit in the past weeks.  They're even more fabulous live of course.  Crazy costumes, coffins filled with shaving cream from which a covered Kevin emerges in only his knickers to sing while having balloons filled with glitter, confetti, puffballs and other small items suitable for sticking to creaminess popped above his head.  Go to a show. You can look forward to a veritable sideshow with an awesome soundtrack.
Hint, hint, guess who else will be at Rothbury?
Here's my dilemma. After Heidi knocked my camera out of my hand, I had no choice but to try and continue to shoot using my personal digital. I hadn't used it but a couple of times during the weekend, so I had neglected to keep a charge on the battery.  Because of this, I'd asked to be allowed to go backstage and up into the sound booth to charge it during the end of of Montreal. This now puts me hanging out watching the shows from backstage, which rocks. It also puts me within earshot of members of The National hanging out with friends and just chatting it up and talking about how they choose their set lists.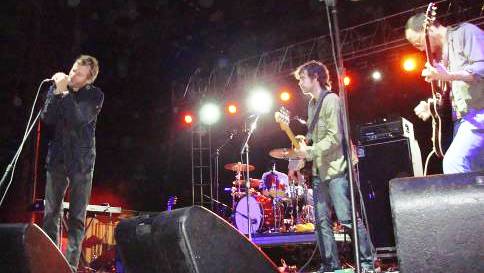 Now I'm not sure how ethical this is, but it's not like I'm revealing tawdry secrets so…plus I've always wondered how bands decide what they're going to play and how many fights break out over trying to make a list everyone can agree upon. Apparently, from what I overhear, The National tries to come to as much of a consensus as possible but understands that there are "just certain ones we do well especially at certain places."  There are 10-15 songs they do consistently throughout several shows, but the day of the show is when they really figure it out.  Today's show brought up a little bit of an argument over the set list. Aaron, Bryan and Matt apparently argue the most because each has his particular favorites, plus they like to change it up a bit more than Matt does.
Farewell...
After The National, I wandered back through the venue and said my goodbyes to some of the other photogs and security I'd made friends with over the weekend. I was more than ready for bed in order to get up early and get all packed up.  Woke up before sunrise the next morning and texted Keith to see if he had any good stories from the night before. He came and chatted while I packed my stuff.  The interesting characters seemed to gravitate toward us as we were some of the only people up.  Some random guy had gotten dropped off by another security guy not too far from where we were. He felt the need to strike up a conversation and complain about his plight, which included getting caught in places he wasn't authorized to be within the venue and possibly paying off staff to let him backstage and being locked out of some RV that was his home for the weekend.  He'd left his keys with some girl that gives great massages but that he doesn't know very well.  He'd also apparently had a lot of drugs taken away from him earlier in the weekend. And something about how he was just going to report the rental as stolen since he didn't feel like taking it back to the company. Who knows? Just more interesting stories to relate, I suppose.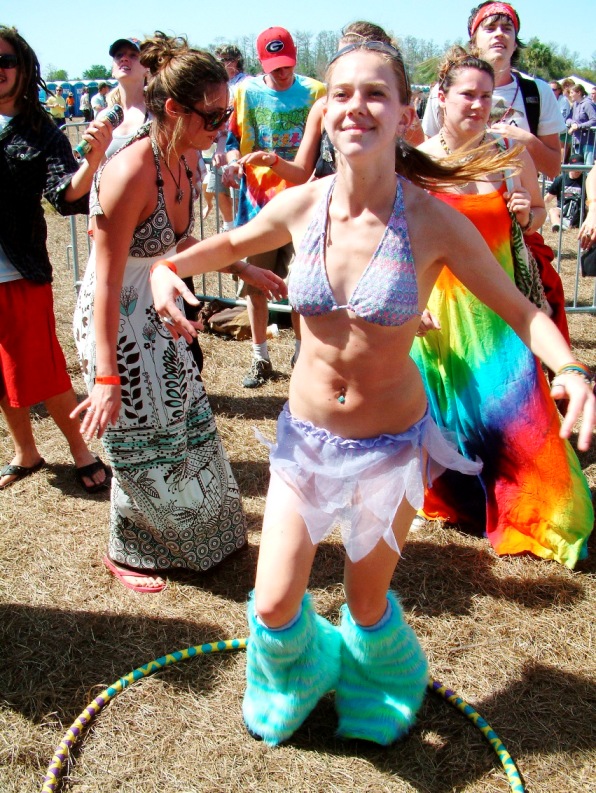 Finally, everything fit into its proper place in the car. After such a long weekend, all I wanted was a good coffee and I relaxing walk on the beach so I could pick up shells. My great Aunt Helen and Uncle Ronie used to bring me back shells from the Gulf Coast all of the time when I was little but I'd never been to a beach on the western side of Florida. My ride home took me right through Naples, so I decided on a detour to the beach. I walked along the beach picking up shells, making a perfectly enjoyable end to my stay in Florida.
Thanks for sticking with me through this whole thing. It is a bit longer than my other reviews but hopefully more interesting too. :)