The first year I attended Summer Camp also happened to be my first real festival. Years later, I've gotten a few more festivals under my belt including Wakarusa, Bonnaroo, Vegoose, 10,000 Lakes, Austin City Limits, Langerado, Hookahville…some in multiples and another so tiny, I can't even recall its name. That first Summer Camp found me recovering from a brown recluse bite, though the reason for my flu-like symptoms was unknown to me at the time.
I'd pretty much only come to see Ekoostik Hookah and support my friends who played in Blue Magoo. We had a tiny, little tent, and I'd carefully prepped everything we would need for superb quesadillas including sautéed mushrooms, chicken, blended cheese and home-made salsa. I have no idea why I remember that so vividly, but I do. We had tons of room to spread out under the trees and were ridiculously close to the main stage.
This year, we had a huge tent and a ridiculous amount of stuff. Just to be clear, I take full responsibility for this. I'm a girl…a girl who likes to be clean and comfortable. I like to dress and feel as much like a normal person as possible at these things…and yes, that includes doing my makeup in the morning. What about it?  Fortunately, Josh volunteered at the festival this year allowing us to arrive Wednesday evening to drive the car in to unload and set up camp instead of being forced to haul everything from the parking lot.
Josh and I staked out a great spot with lots of room, but people setting up the next day were not exactly respectful of some boundaries. Regardless, we ended up with more than enough room and some fantastic neighbors, Dave and Jake, who as we found out during daylight Josh has camped next to last year. Andrew and Katie soon joined us, giving me another girl to talk to for which I was immensely grateful.
While most festivals require the majority of campers to set up next to their cars and walk a ways into the actual venue, Summer Camp is self-contained.  Parking occurs just inside the park and festival goers pack in all their gear from there.  The only checkpoint happens between the parking lot and the festival grounds. While this allows for some great camping in the woods, it makes it super difficult to find your way home at night! Luckily there ended up being a "ceiling" of twinkle lights and a lit Frosty the Snowman in the trees just to either side of our camp.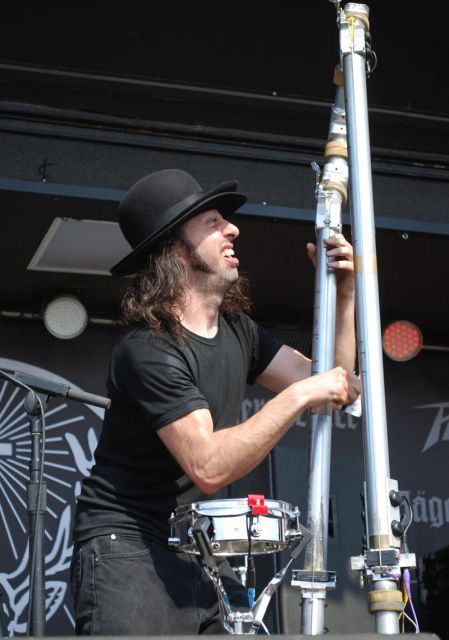 Even though we set up camp Wednesday evening, we ended up not being able to get back out to the venue until nine Thursday night. Lots of people still stood in line for tickets, so we weren't the only late-comers. I can't imagine actually having to set up camp completely in the dark, though I've done it many times.  This place was just so crowded, it would have been quite difficult without just dropping camp somewhere around the edges.
After too many last minute preparations getting our temporary home in order, we finally grabbed a few beers for him and mixed a strong cocktail for me and wandered out into the increasingly festive darkness to catch the last of Cornmeal's pre-party set on the Starshine Stage.  True to form, this bluegrass band had the majority of the crowd dancing…then groaning in displeasure as the set ended.
Most of the crowd began filtering up toward the roaring community campfire to check out the Campfire Stage where 56 Hope Road played that night.  Sorry to say that I didn't actually SEE anything on this stage the entire weekend…unless I was back in the VIP area to the sides and back of the stage.  Someone had a less than stellar idea to put it at the top of the hill this year instead of the bottom, so unless you happened to be in the first couple of rows, you weren't seeing anything either.  We scored preciously guarded seats on the logs around the fire and settled in to enjoy the music…which didn't sound like 56 Hope Road the entire time.  This sounded less bluesy, funk and more jammy, house. No idea and not complaining, but we'd all swear it wasn't them unless they'd decided to channel Lotus or Sound Tribe for the night without quite doing it justice.  No matter, good times were had, met a few new people, ran into some other, headed off to bed.
Check out lots more photos from Summer Camp 2009.