Saturday
This music makes me happy, though I have to say my highlight was his pre-finisher "Better Than."  There's just something about that song that makes me seriously think about my life and what's going on around me (not that "Used to Get High for a Living" doesn't but not in the same way).  I've found that it has that same effect on other people too, which I'm sure would make the boys of this trio happy because isn't that the ultimate goal of every musician? To entertain us while prompting us to think? Ending with "Funky Tonight" is always a good move, too.
I have to admit that I missed most of the Brothers Green show because I was paranoid about missing the beginning of Widespread since we had a strict shooting rule. Honestly, I should have known that WP would never start on time. But…These guys happen to be friends of mine, so I've seen them several times and can attest to the fact that they're good and worth seeing.  They'll tell you they make "emotional roller coaster music" and you'll see a tiny tagline on their flyers under the logo that states "Rock+HipHop+Blues+Soul+Funk+Reggae = the shake yo' ass buffet." That about sums it up.
Widespread Panic
Widespread was Widespread. Sometimes there's not much else to say.
I'll just go ahead and tell you. I caught just a tad of Son Volt.  I was exhausted but knew I wanted to catch Kid Beyond, Bassnectar, and Lotus that night, so I went back to the tent and took a teeny, tiny nap. Don't give me a hard time. I love Son Volt so it was a hard decision for me.  I heard it was a great show though!
Here's another recent discovery of mine with whom I'm enthralled. I saw Kid Beyond open for Imogen Heap at the Pageant in St. Louis this last year.  As a crowd, our jaws dropped collectively as we glanced around to see if everyone was reacting the same way.  He was the last thing we seemed to expect at that show.  This man makes all of his music with his mouth. He uses a live loop system to produce what we see/hear and everything is different each time.  Rarely do I like someone well enough to pick up their album at a concert, but this time I did, and I've been a convert ever since.
Kid Beyond is Andrew Chaikin and luckily I was able to get the chance to interview him and learn a little more about what he does, so keep your eyes out for that info coming soon. In the meantime, the vibe in the tent that night was amazing. It was much more packed than I expected from a late show playing opposite Bassnectar and Lotus. I saw a couple of people getting dragged into the tent by friends only to watch their faces light up and their bodies start to move to Kid Beyond's infectious mood and music.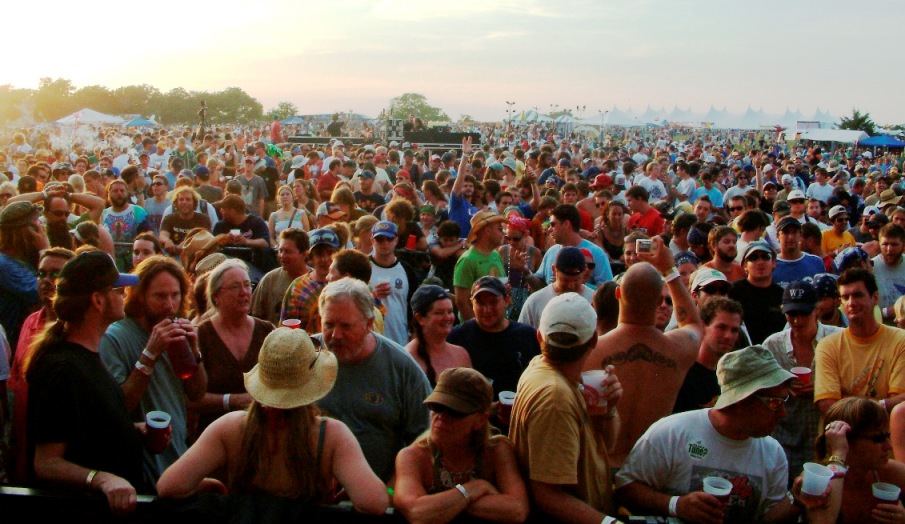 After Kid Beyond, I ran up to the campgrounds quickly to check out Bassnectar before heading back for Lotus.  I had been looking forward to this show but decided to stay for all of KB.  Even so, I ended up not staying at Bassnectar.  It was just too crowded. The entire stage was filled with people so I couldn't even see Ashton.  Trust me, everyone was having a great time, but there were only so many sweaty, dirty bodies packed into small quarters I could handle at one time, and I'd reached my limit.  What I heard sounded great and exactly what I'm used to at his shows.  The crowd was raging so I'll leave you to draw your conclusions…
So what festival is complete without a crazy, huge storm with lots of lightning, thunder, and a few outage scares?  It had been kinda of drizzling off and on all night, but we were lucky that Lotus was pretty much over when it started getting bad, but having that for the background of this show was pretty cool. The light show on the ceiling of the revival tent was incredible and a lot of the crowd seemed to be spending their time dancing while staring upward instead of dancing and watching the band.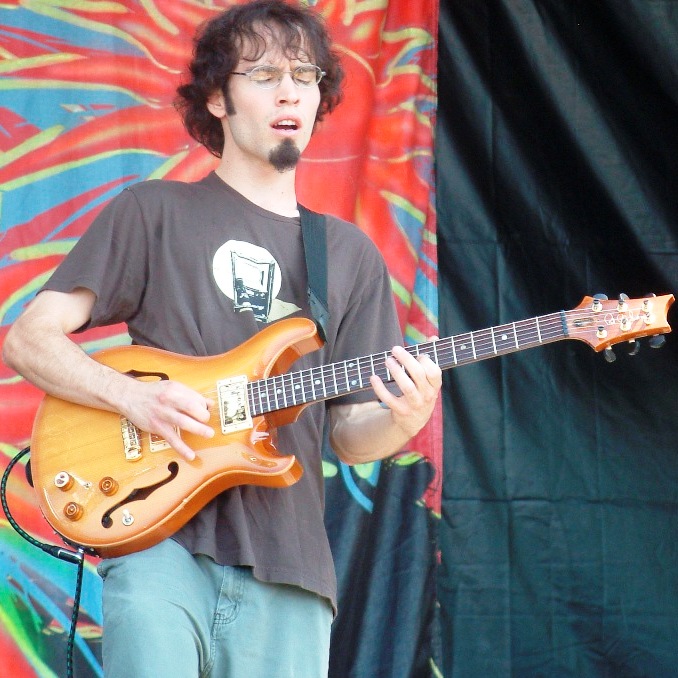 Before that though, the crowd went a little nuts when "Jump Off" smoothly went into "Legend of Zelda".  I admit I was addicted to that game when I was a kid, so hearing Lotus do it was fun to say the least.  There also was a bit of crowd commotion when they started "It's All Clear to Me Now" which moved into "Slow Cookin." Of course "One Last Hurrah" seemed the obvious choice for this set closer.
Talk on the net had people saying this was one of the sickest shows they've seen from Lotus in a bit and that this was THE place to be late night Saturday.