The second annual Winterfest on the Mountain music festival in Nederland, Colorado showcased an eclectic line-up of some of the hottest Colorado musicians and top-notch out-of-towners alike.
There was a basic theme among the musical acts on the bill—transcending genres; alt-country bands playing hip-hop, bluegrass pickers with effects pedals and drums and saxophones, pretty gals shredding fiddle strings, and vocal mountain harmonies that put the "folk" in "mountain folk." Each act put on their "weekends finest"—musically speaking—and took the audience on a musical trans-genre ride with their individual blends.
Friday
Dead Winter Carpenters from Lake Tahoe, CA had the crowd from the get-go. They were the "house band" for Friday evening, opening the event and playing sets in between the other acts. DWC were surely worthy of a spot on the main stage. Jenni Charles shredded so hard on her fiddle, I anticipated smoke would come off of it at some point. The crew's brand of Amerigrass stoked the dancing fire with song after song of heel-stompin' originals as well as some choice covers of Ryan Adams and Dr. Dre.
Elegant Survival (Elephant Revival minus Bonnie Paine, who was apparently in Africa on vacation or something) took the main stage by elegant force. The remaining foursome captivated the audience with a "transcendental folk" crusade through fiddle-heavy Celtic songs and banjo/guitar driven blends of country, folk ballads, and indie landscapes via originals "Rhythm of the Road," "The Reel McKay Wedding Set," and a cover of Woody Guthrie's "No Home." They defy categorization and as a result, have necessarily created their own.
Yonder Mountain String Band's duo of Ben Kaufmann and Adam Aijala filled the last two sets of the night. Their first set was played seated--with Aijala on acoustic guitar and Kaufmann on electric bass—and they had no problem getting the hippie girls and boys up dancing. The two fed off of each other perfectly. Each matched the other in intensity and note for note compliments, and their vocals melted panties. "Remind Me," by Royksopp, and originals "Mothers Only Son," "Honestly," and "Redbird," had the crowd locked in hard. They were joined by Jay Elliot, on drums, from Runaway Truck Ramp, playing the next and final slot of the night as Wicked Messenger for a rockin' run though some new versions of old songs, and a slew of classic covers including "Spanish Bombs," (Clash), "Tom Sawyer," (Rush), "Lithium" (Nirvana) and "Synchronicity II" (The Police).
Saturday
Veterans of last year's Winterfest, Whitewater Ramble from Fort Collins lit a fire amidst the snowy evening with their drum-backed versatile jam-grass hybrid. They employed a free reign of effects over their classic bluegrass instrumentation, and kept the folks dancing with a seemingly endless set of up tempo jams capped with a powerful rendition of Bob Dylan's "Hurricane."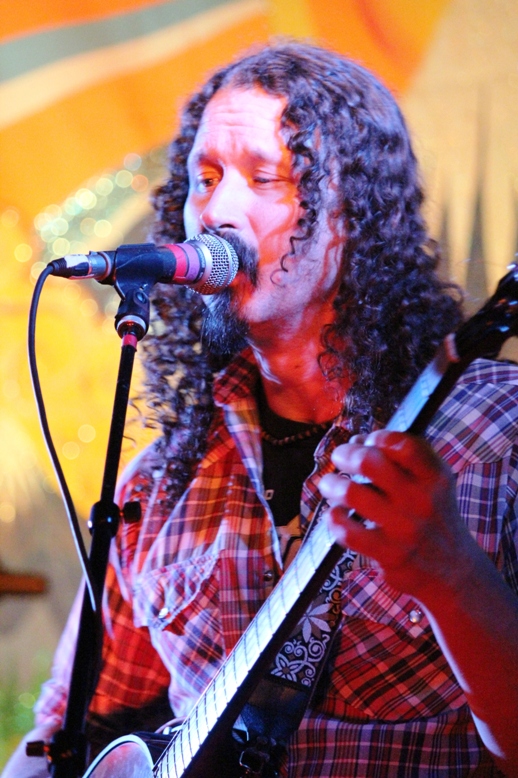 Nederland based Smooth Money Gesture was the hard rockin' house band for Saturday. The Diminico brothers' brand of funk, bluegrass, and key-heavy rock and roll kept the crowd moving between sets with entrancing psychedelic jams. Check 'em out along the front range, they're on the scene more and more everyday.
Mountain Standard Time's set was bluegrass with a jazzy/funk element and an omnipresent saxophone. These guys straight up tore ass! The strings' utilization of effects at times brought to mind the guitar sounds of Jerry Garcia. MST surely gets a "Hustle" award for the weekend. Their saxophone player could very well be a reincarnation of sax great Motorhead Sherwood (of early Frank Zappa fame), both in talent and looks.
Head for the Hills, another Fort Collins group, came out for an all-strings-on-deck bluegrass set, including a cover of "Me and Julio down by the Schoolyard" by Paul Simon, and their own "Priscilla the Chinchilla." Mike Chappell did a phenomenal job on his effects laden mandolin; you could almost hear a little Johnny Greenwood trying to escape at times.
Cornmeal was all the buzz among festival goers on Friday and Saturday, and when they began the first set of their performance to close Saturday evening, anyone who was unsure about them got hip real fast. The progressive, rootsy, jam-grassers from Chicago threw down two full sets of goodness--a virtual caffeine shot for the audience.
Sunday
Amidst a lineup mostly consisting of bluegrass based acts, Sunday's starting line-up was definitely more in the rock and roll vein. Boulder based Ego Vs Id got the day running, exploding with driving guitars and snarlingly lovely vocals; plowing through punk, alt-country and rock and roll tunes from their debut studio album Taste. A highlight, in my eyes, was a kick-ass cover of "Frankie's Gun" by The Felice Brothers.
The Springdale Quartet utilized a microphone for a single song, a stellar rendition of Neil Young's "Helpless," to close out their set. I hardly expected something of this caliber from the guys who rocked mostly instrumental bluesy, jazzy, psychedelic guitar jams, with punctuated organ and sax solos over deep cutting bass grooves for the bulk of their set. Their guest saxophone player, "Bob," who they met backstage moments before going on, fit so well you would have thought he was a regular member. If Saturday night was ruled by bluegrass, the early part of Sunday was surely jam band time.
Tour de Force Jet Edison's fused rhythms and technical prowess filled in the spaces and then some on Sunday. Their lyrics do their intricate instrumentation justice, and by reputation these guys could've played the entire day without a break.
Bill Nershi, guitarist for The String Cheese Incident and the Emmitt Nershi Band, and his lovely wife Jilian took to the stage next for an intimate set of beautiful mountain music. Nershi's reputation as a songwriter and master picker are strong in the Colorado hills, and Jilian's soft, sweet vocals made the duo's sound nothing short of angelic. Overall, the audience was treated to a beautiful set of folk and country numbers that reminded you of how nice it is to be high in the hills.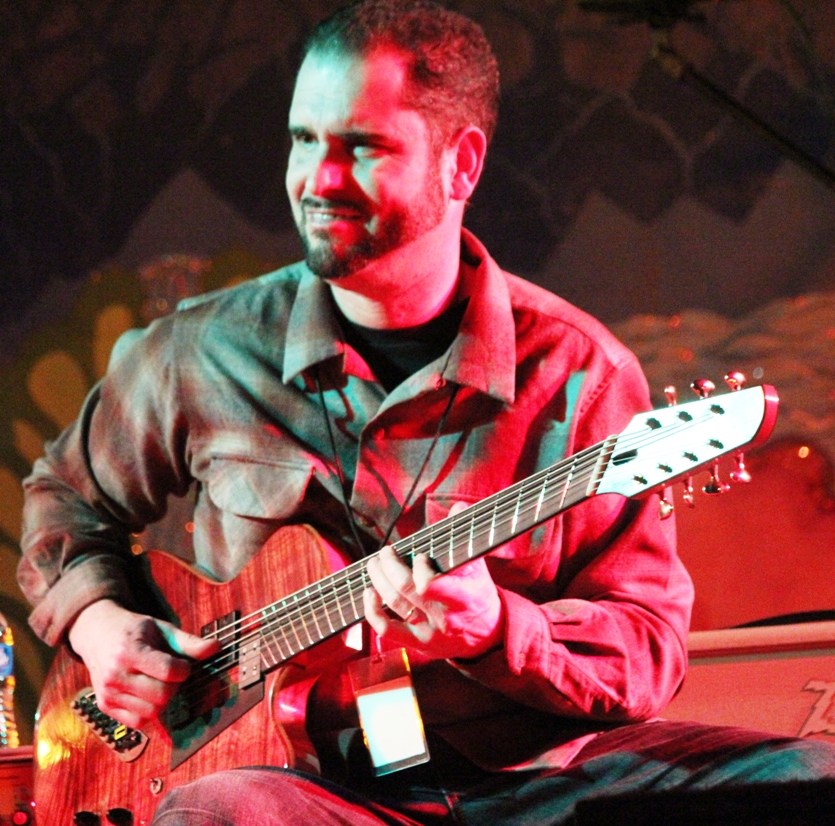 Charlie Hunter: what can you say about this guy that hasn't been said? With seventeen albums under his belt, Hunter passionately slaved over his custom, seven string electric guitar--playing bass lines along with intricate guitar picking, rhythm, harmonics, and string slapping, sounding like he had two other band mates up there on stage with him. A captivated crowd was treated to songs off his latest release, Public Domain, including "St. Louis Blues," "Cielito Lindo," and "How You Gonna Keep 'Em Down on the Farm."
"You want some jelly," experimental piano virtuoso Marco Benevento asked the audience Sunday evening, hovering over his effects pedal strewn acoustic piano. Playing the last slot of Winterfest, Brooklyn based Benevento and his trio was ready to throw down, and throw down they did, like it was their last day on earth. Hitting keys with one hand, tweaking a pedal or a knob with the other, finding a groove, and then tweaking it some more, Benevento moved over heavy chords and solos alike. Piano and bass played a winding rhythm, with drummer, Andrew Borger hustlin', sweating, and banging out fills, hard and distinct. Percussion samples and vocal samples looping, Benevento played off of them, dueted with them, whether playing the small synth atop his piano, the piano itself with a reverb effect, or straight piano, he was driving and profound, and smiling the entire time.
The guys at Silverfox Productions definitely know how to organize a festival. From the artists, to the organization of the daily line ups, Travis Albright and his crew hooked it up! If you weren't there, don't miss it next year. Head up the mountain and get your mind blown by an eclectic line-up of musical talent. This festival will undoubtedly grow in size and stature in years to come.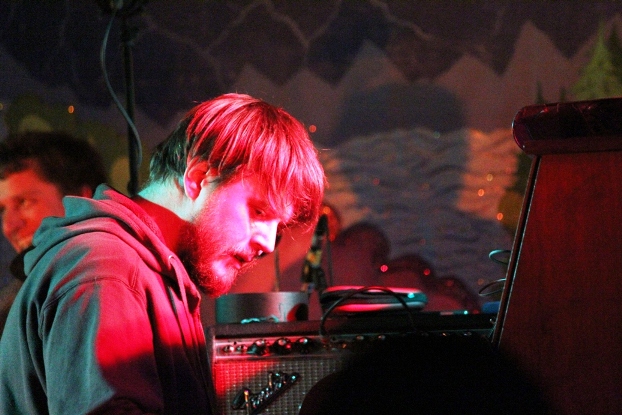 Check out more photos from the Winterfest 2011.