The last day of this festival began slowly with the contemplative music of Tony Vines. Visitors like me new to Rhythms on the Rio might not fully appreciate what they were hearing from this talented young man. A skilled guitarmaker and musician, Vines struggled with bipolar disorder for two decades, often diving deep into depression and near suicide. He sat on the stage on a cool Sunday morning in South Fork, Colorado, unmedicated for his disorder, healed by the power of his faith, singing songs of hope and belief. His appearance was part of his Christian mission. Locally, he plays for churches, youth groups, colleges, recovery groups, hospitals, and coffee houses, sharing his testimony through song.
On this particular morning, Vines sang a number of his original contemporary gospel songs. His guitar work is intricate and rang out over the festival grounds as he sang a love song to God and one he couches as God's love song to us. I was struck by his lyrics: "Let us dance these fears away….Let us dance for the joy is rising." That set a tone for me for the rest of the day…. Let us dance for the joy is rising…
Following the Tony Vines Musical Ministry, the local band US filled a slot that originally had been slated for an exhibition square dance group. US, fronted by Paul Orr, president of the South Fork Music Association, and backed by a standup bass, banjo, and percussion (ashiko and bongos), ran through a number of Americana originals. They were joined by The Derailers' frontman, Brian Hofeldt, for the last two songs. Hofeldt rocked out on his Fender Strat.
It was a sweet taste of what was to come in the next set when The Derailers once more took the stage. Since it was Buck Owens' birthday, half their set was their version of Buck's songs----"Tiger By the Tail," "Under Your Spell Again," "Beyond the Call of Love," "Love's Gonna Live Here Again." They pumped out song after song, not wasting precious stage time for small talk. They'd barely end one song before beginning another.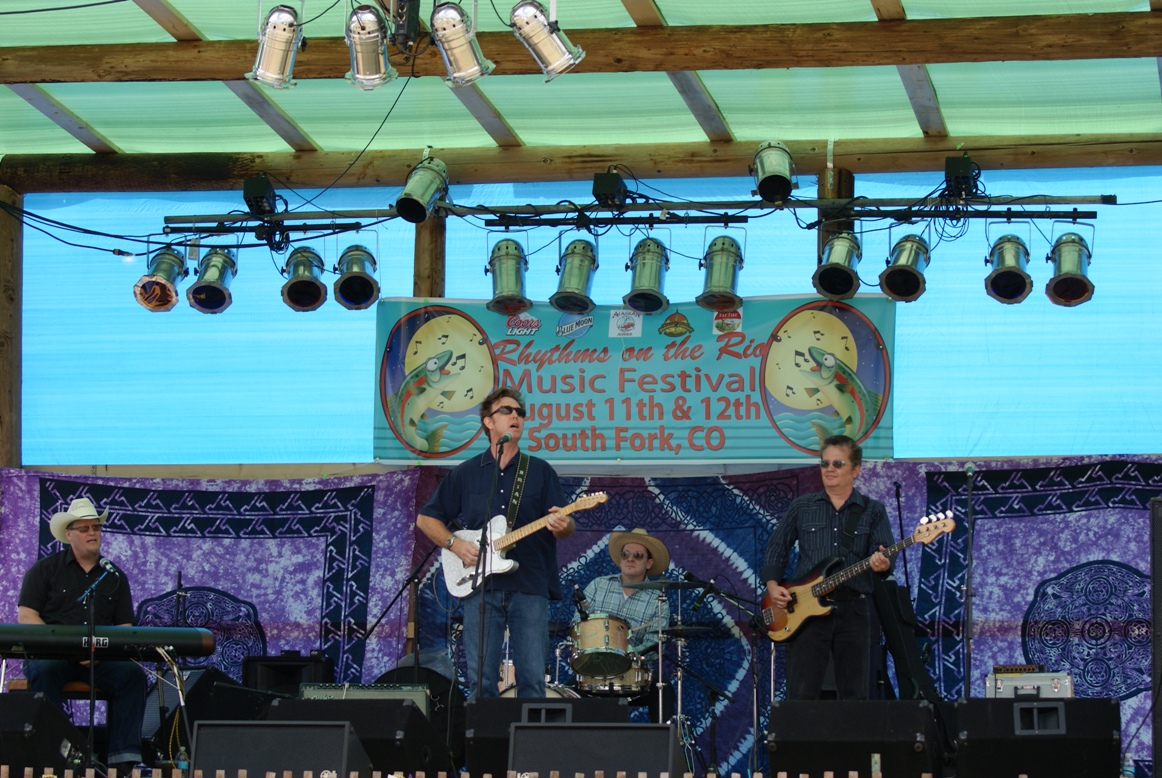 This, I think, was to keep the dancers who'd come up to the front of the stage happy. The tempos was often fast two-step, but once in awhile they'd drop into a country waltz or slow two-step. They interspersed some of their original music-- "Bad, Bad Girl" and "Wallflower"—into their set list, which included a Beatles tune that they said had a very definite Buck Owens influence. And as the night before, they included "Hey Valerie," a song that has become one of their signature tunes.
The Derailers have pumped out twelve albums in two decades, including Under the Influence of Buck, a Buck Owens-filled treat. Check them out at: http://derailers.com
The next band up was the reason I agreed to drive almost five hours to this festival. Whitewater Ramble, from the front range of Colorado, looked like any other bluegrass band, except their instruments were all plugged in. But when they plunged into their first song, you knew this wasn't grandma's bluegrass. With their own special twist to the idiom and their own expertise with their instruments, these five incredible players delivered! Each of these players is exceptional—bass, mandolin, guitar, fiddle, and drums.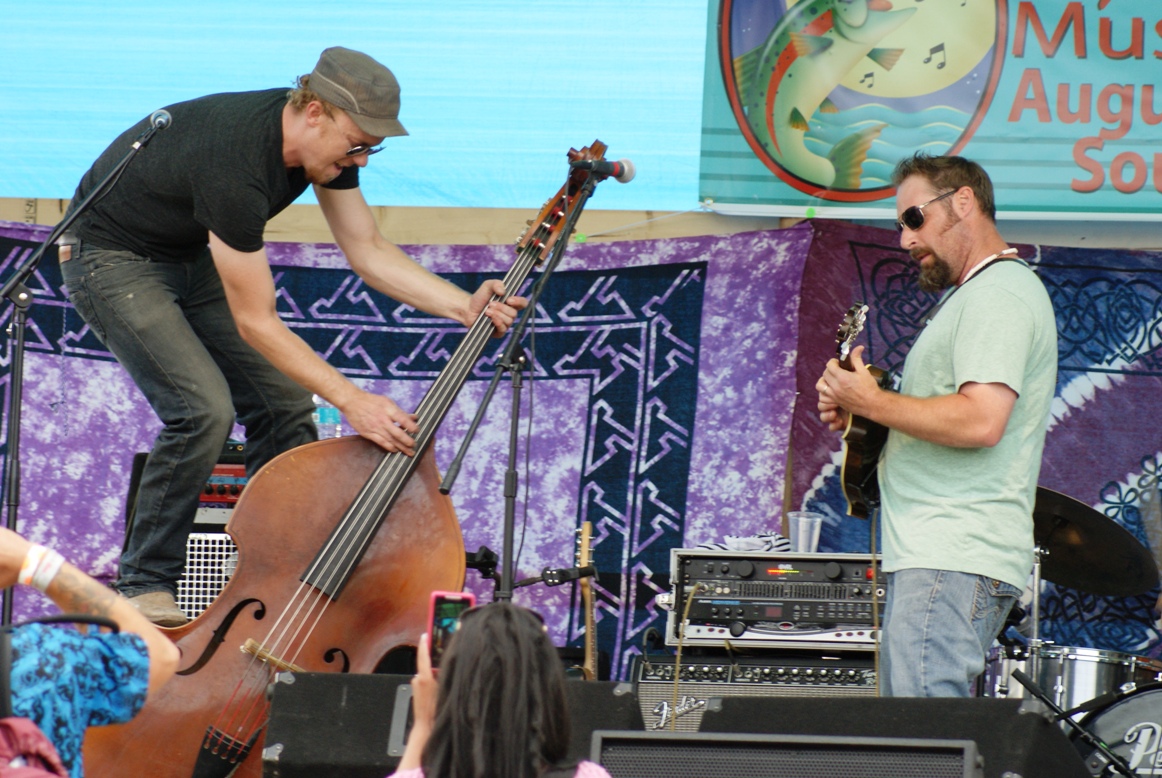 These guys aren't just strong instrumentally. Their vocals are solid. The bass, mandolin, and guitar players traded turns leading vocals on songs in their set. But it was their tight, well-blended three-part harmonies that grabbed me. The drummer, Paul Kemp, took a turn at a vocal mic on a Caribbean song that was more reggae rap. He was backed up by vocals from the string players. The addition of fiddle on a reggae tune had a Railroad Earth feel.
I always pay special attention to drummers, and Paul Kemp is extremely creative, while keeping this acoustic train driving down the track. Kemp varies his style according to the tune and that's always an aural pleasure.
It was always great to hear "Miss Ohio." It's just a fun tune.
The high-spirited song "Nellie Jane" slowed down into the Dead's "The Wheel" and jumped right back to "Nellie Jane." The audience went wild!
The last son was unexpected. It was sort of a tokin' bluegrass tune with guitar work that sounded like Eastern European gypsy zither and Patrick Sites' mandolin echoing that. It started slow and soon was jumping.
The band closed their set but was immediately called back for an encore. They hit a long bluegrass instrumental that showcased every band member. Howard Montgomery set his standup bass on its side and did a little synth work in the back that was more like a turntable sound. The guitar player picked up bass duties during that side adventure. Montgomery took up the bass again and started playing it in guitar position. At the end of the song, Montgomery titled the bass on the stage and climbed on top of it, still flailing on beat in the song. I'd never seen anything like it EVER!
This version of Whitewater Ramble is different from who fans have been seeing for the past six years. The inventive fiddle player is one of several rotating violin masters who supplement the core group. His last gig was with the Emmitt-Nershi Band. The drummer and guitar players are both new as well. But are they every virtuosos!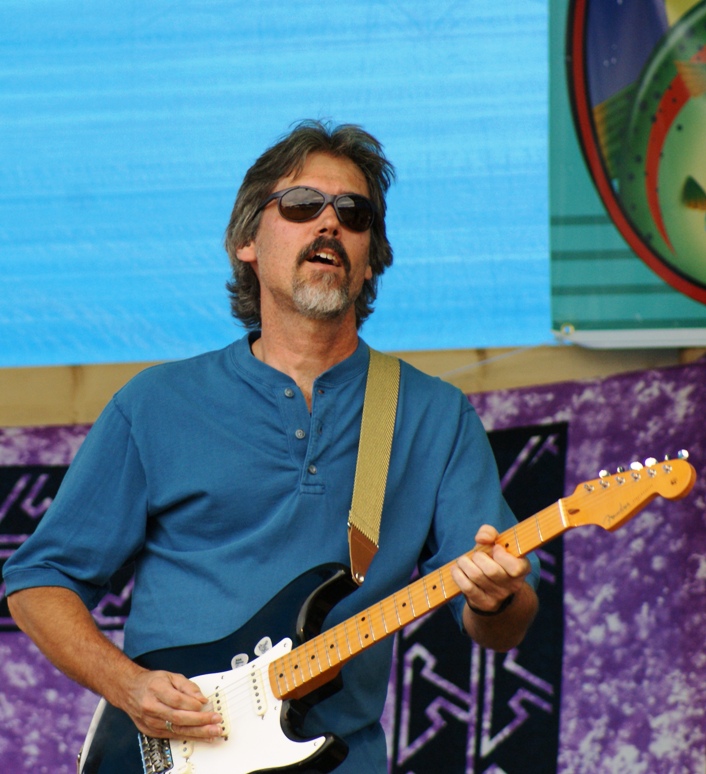 Who could follow these guys? Only veterans. The Kirk James Band kept the attention of the dancers and the rest of us as they dipped into straight blues. Kirk James smoked, not only on electric guitar but vocally. Hal Lot on bass was solid, but the drummer was exceptional. He not only could drive the band; he cooked on his own. Interspersed with traditional blues, the band also did a moody version of "I Shall Be Released."
Kirk James has opened either as a solo performer or in his band for Coco Montoya, John Lee Hooker, Jr, Tab Benoit, and Saffire—The Uppity Blues Women, among many others. He writes blues tunes as well. His song with the chorus "… like a road leading home" was one of them most tender blues songs I've heard in along time.
The Kirk James Band also was called back for an encore and they did, "I'm a Night Train, Baby." The audience howled. They were so jived.
Closing out the festival was The New Orleans Suspects, a power band composed of New Orleans veterans. "Mean" Willie Green has been the drummer for the Neville Brothers band since the 1980s. Reggie Scanlan spent 33 years playing bass in the Radiators, the longest running rock act in the history of New Orleans. He's also backed James Booker and Professor Longhair. Jake Eckert, the lead guitarist, plays with the Dirty Dozen Brass Band and shared his chops with Derek Trucks, Col. Bruce Hampton, Warren Haynes, Dr. John, Allen Toussaint, and Dave Matthews, among others. Keys player CR Gruver is classically trained but has toured with Outformation. And the newest member, Jeff Watkins, spent 12 years as the leader of James Brown's band, playing as a core member of funk-rockers Groove Thangs, and recently has been a producer, engineer, and performer with Joss Stone. He was inducted into the Rock & Roll Hall Of Fame and has toured all over the world.
With those credentials, we had high expectations. We weren't disappointed. These guys cooked all night. Song after song after song. A lot of them were New Orleans favorites, a mix of jazz, blues, and funk. Someone requested some Second Line music and they broke into the Professor Longhair classic, "Tipitina." That one song made my night! I could hear from CR Gruver's touch on the keys that he was familiar with Professor Longhair's stride piano style and I just wanted to hear him bust out in it. And he did….in spades! Phenomenal music.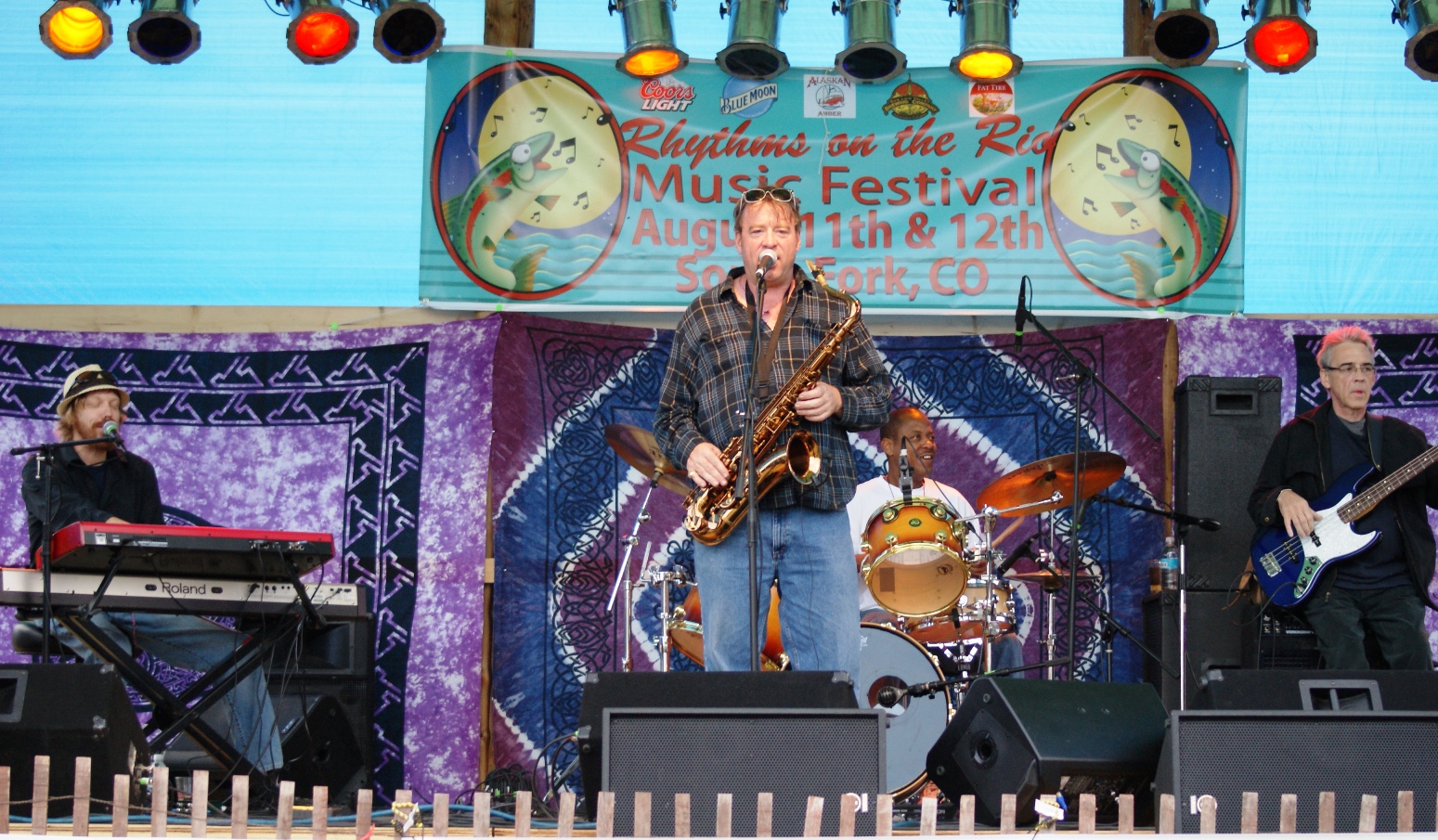 Rhythms on the Rio closed out its seventh year, hosting 1275 people in two days. An intimate festival, it allowed music lovers to interact with bands right up to the stage and when they walked the festival grounds. The artists were accessible to fans and very warm. Rhythms on the Rio also collected 420 pounds of food for the local food bank, and their silent auctions continued to raise funds for music opportunities for area youth.
I was so warmly welcomed at this festival I'll be back next year when they have another top-notch lineup of bands.