This year's Rhythms on the Rio opened with a bang. It's hard to judge numbers but the campground seemed fuller and the dance area most certainly was as packed as last year's Saturday night, with some folks who had never been to this little festival appearing by the recommendation of friends. That's always good to see.
Opening this year's festival was a regional group called Muddy Mountain Orchestra. This four-piece acoustic band was comprised of players from New Mexico, with the odd man from CO. Mark Dudrow was more than odd; he was unique. Bringing an amplified cello into a mix of guitar (Kate Mann), banjo and mandolin (Rob Watt), and upright bass (Caroline Watt), Dudrow added color and freshness to what could have been the usual bluegrass/old timey band. His addition encouraged the band's eclectic music tastes and Muddy Mountain Orchestra was elevated to the jam scene.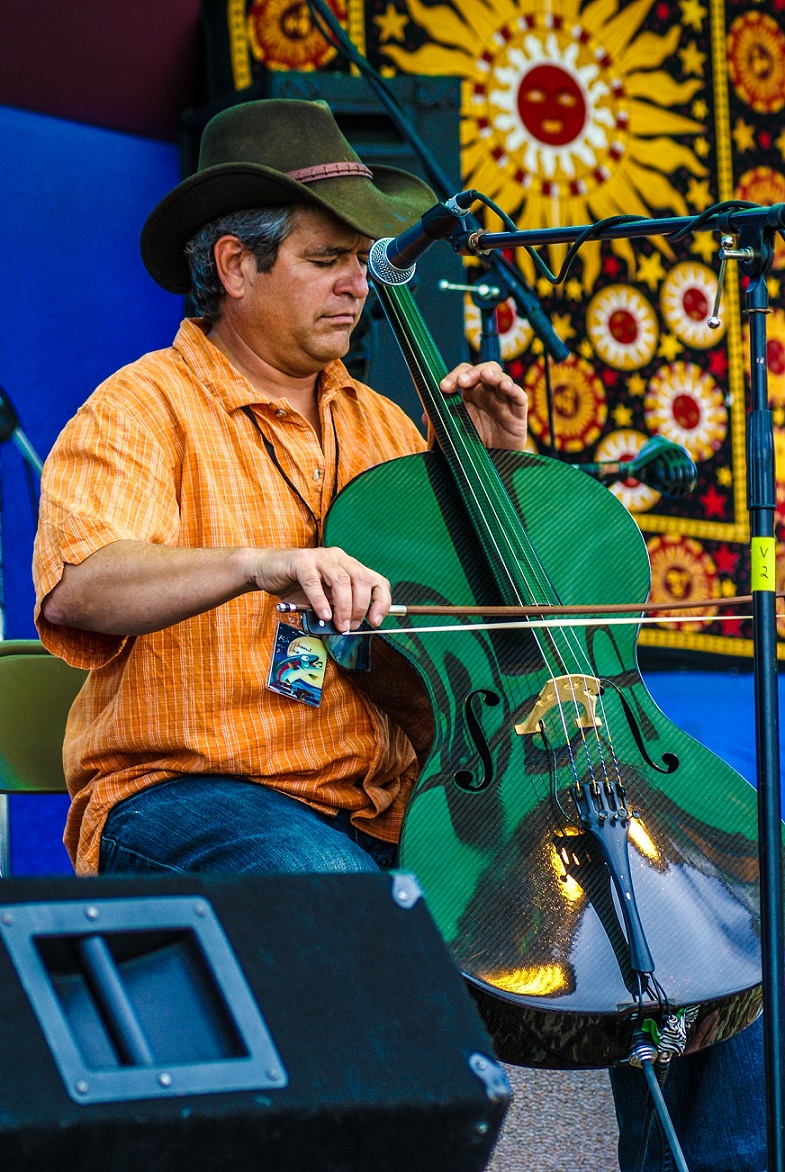 Dudrow himself provided a mix of musical treatments in his support of traditional songs like "Deep Elem Blues" and when they plunged into a traditional Tex/Mex tune or delved into Chuck Pyle's "Cadillac Cowboy" and Fred Eaglesmith's "I Shot Your Dog," or Guy Clark's "She Loves to Ride Horses." The cello often sounded like straight bluegrass fiddling or melded into complex plucking or bowing that would make any lead fiddler jealous. Often there were just bowed fills that added depth as would the string section in an orchestra. And then there was just pure jazz—from plucked riffs to gypsy jazz!
But let me not take away from the skill of the other players, including the lead vocals and four-part harmonies that came out of Muddy Mountain Orchestra. Kate Mann's deep vocal register, coupled with her often plaintive delivery enhanced every tune she led, most especially her originals. "Rattlesnake," one of hers, was outstanding.
Dudrow and Rob Watt also led a couple of tunes. However, the harmonies added so much to what would have been a good song, elevating it to something more.
But the highlight of their set was a medley of "Love Potion No. 9" and Talking Heads' "Psycho Killer." This showed the band's ability to take a risk and pull it off.
For me, however, I loved their rendering of Dylan's "You Ain't Goin' Nowhere." But it was Dudrow's Eastern European cello tune that the band supported that got me. He implied it was Greek by his "ompah" at the end but it sounded more like gypsy jazz to me and pulled at my own gypsy roots.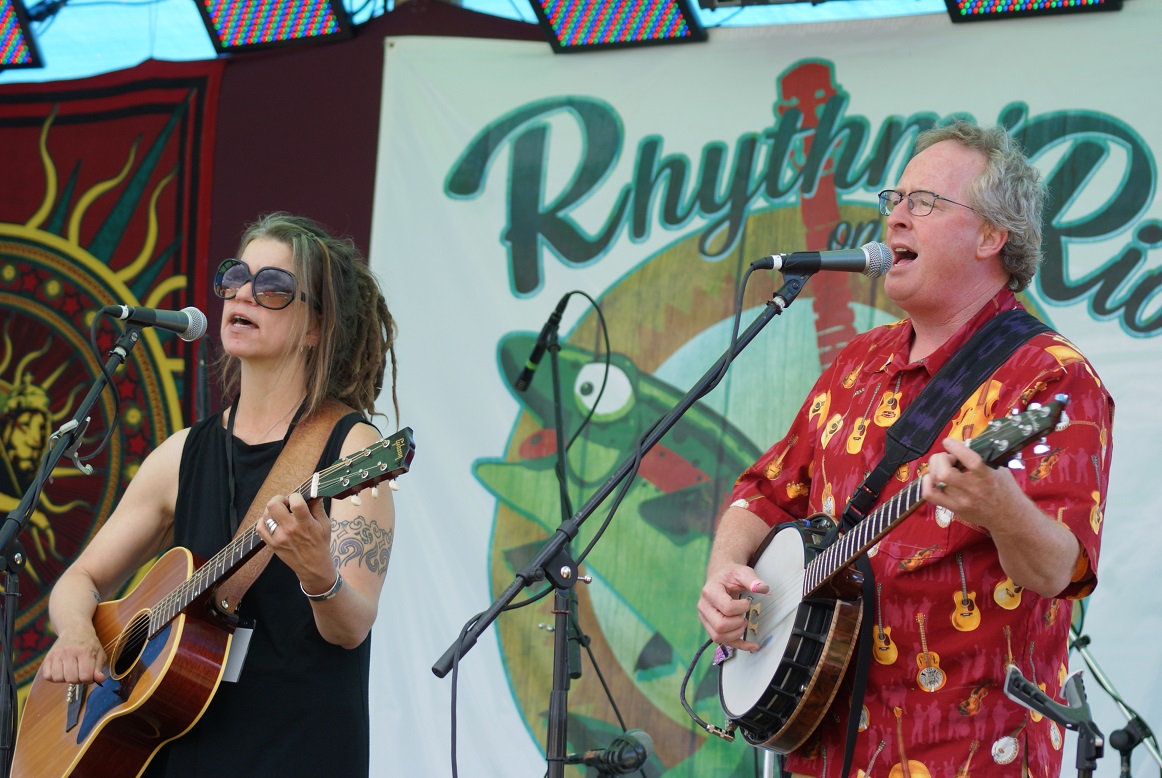 Next up was Big Medicine Gang, a true jam delight. This seven-piece band, based in Breckenride, CO and now Pagosa Springs CO, cranked up the jam factor.  All stellar players, this band cooked. They did a mix of what they called Rocky Mountain reggae, some rock, funk, and a heck of a lot of just good jazz/jam noodling across every instrument. Supporting a brand new CD, they delivered some exceptional sounds that ranged from great laid-back tunes to hot danceable grooves that were backed up by a talented brass section (Gustave Hoffam on trombone and Sam Wise Ganja on alto sax) and solid percussion (Clay Bedell on bass, Matt Coddel on drumkit, and Alex Schuldt on percussion). Providing intricate color was Seth Strickland on guitar and Andre Gragg Lansfjord (keys and melodica).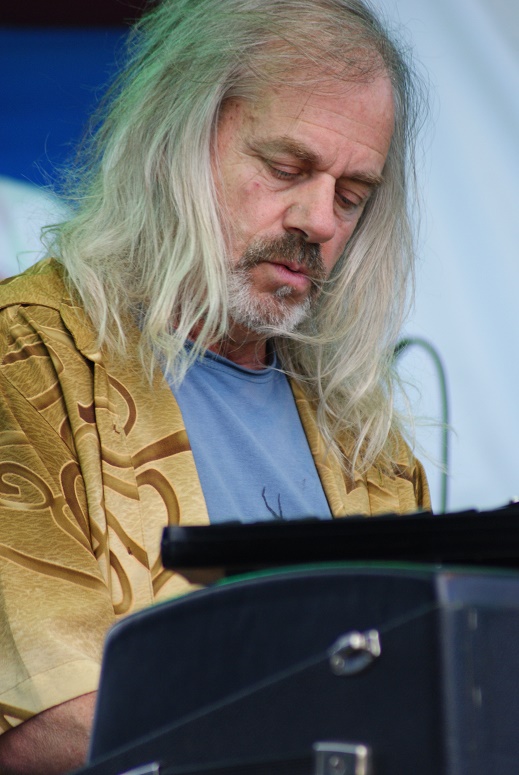 All of these players were skilled and spot on and able to wander away from the melody to find richness in alternative exploration and skip their way back to the groove. But, for me, it was Lansfjord's and Strickland's vocals that impressed me the most. Usually, when you hear a lead singer, you often hear their signature voice and how they use that vocal instrument. It's their unique way of delivering a song. With these guys---both of them—you never heard the same voice coming out of either of them.
For example, Lansfjord sometimes drifted into Leon Russell's tone and delivery (without his New Orleans accent). Then Lansfjord would belt a rock tune that would be the envy of a metal band, but not drifting into that wrestling growl of hardcore.
Stickland, on the other hand, had a vocal approach that was more laid back. On the reggae tunes, he dropped into the soft cadence of the tune but didn't affect a patois. Then he'd turn around a deliver a tune that sounded so much like J.J. Grey of Mofro I had to look up and see if that jam favorite of mine had walked on stage.  On a couple of other songs Stickland slipped into another delivery style that was also familiar but I couldn't quite place it.
Big Medicine Gang had a cure for anything that ailed you. At last night's festival opening, they set the tone for more to come throughout the festival and what was to follow in the days ahead.
Ending out the evening, Euforquestra graced the stage. This stellar band played last year's festival and was eager to return. They got everybody up dancing, producing a danceable evening of originals and unusual covers. Euforquesta always delivers and continues to bring audiences into their grooves.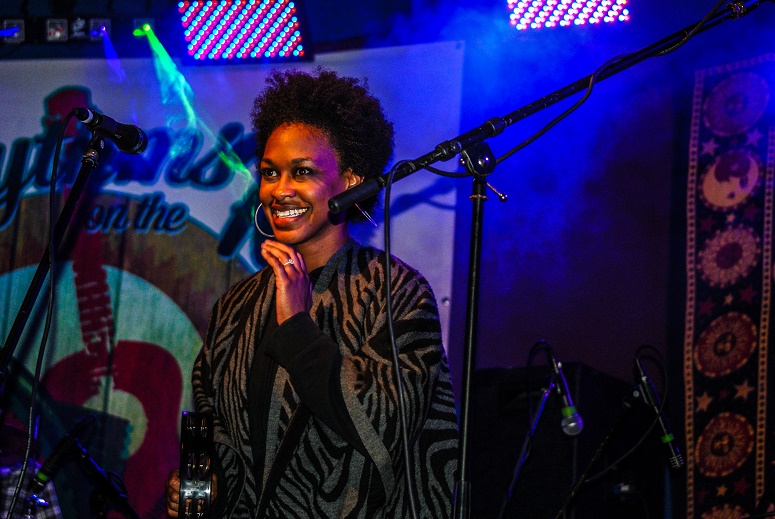 This year they were graced by Kimberly Dawson's power vocals. She stirred us with a Chaka Khan tune and added lovely harmonies to other tunes. This young woman has a solid future, not just with Euforquestra. She has the chops to become the next big R&B powerhouse.
I was most impressed by the pure joy of Euforquestra's playing. This was a band that was fun just to watch, much less dance to. They were generous with each other on stage, showcasing certain sections of the band at different times. The horn players (Austin Zalatell and Ryan Jeter) danced in unison and with Kimberly Dawson like big bands of ages past. All the players also left the stage to allow Craig Babineau (drums) and their new percussionist shine on stage. They offered intricate, original drum work.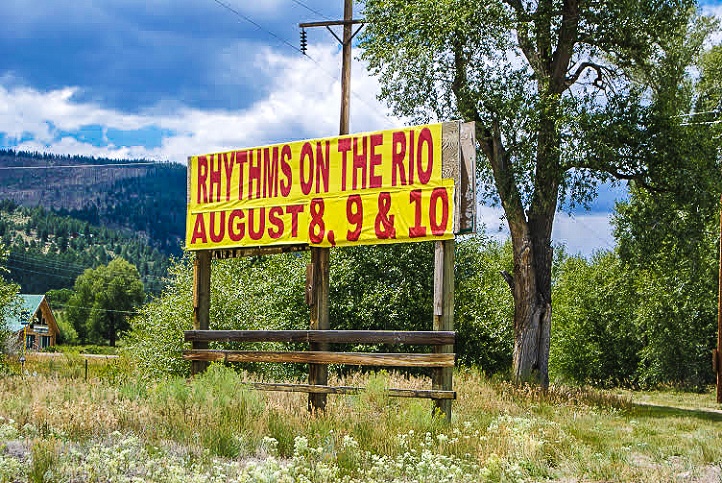 The first day of Rhythms on the Rio 2014 was bliss. There is much more to come Saturday and Sunday.