What a glorious day yesterday was! The second day of Rhythms on the Rio 2014 was jam-packed with musical goodness in the rarified air of the southern Colorado Rockies.
Starting of the yesterday's slate of artists was Ashley Raines, the winner of this summer's singer/songwriter contest. Raines offered originals that ranged from bluesy tunes to more Americana fare, warming up the audience for what was to come.
Taking the stage next was That Damn Sasquatch from Boulder CO. This four-piece did a mix of bluegrass, zydeco, and great Americana with their own twist—a few covers and a lot of their own originals. Of note was "57 Bel Aire," a hot bluegrassy tune.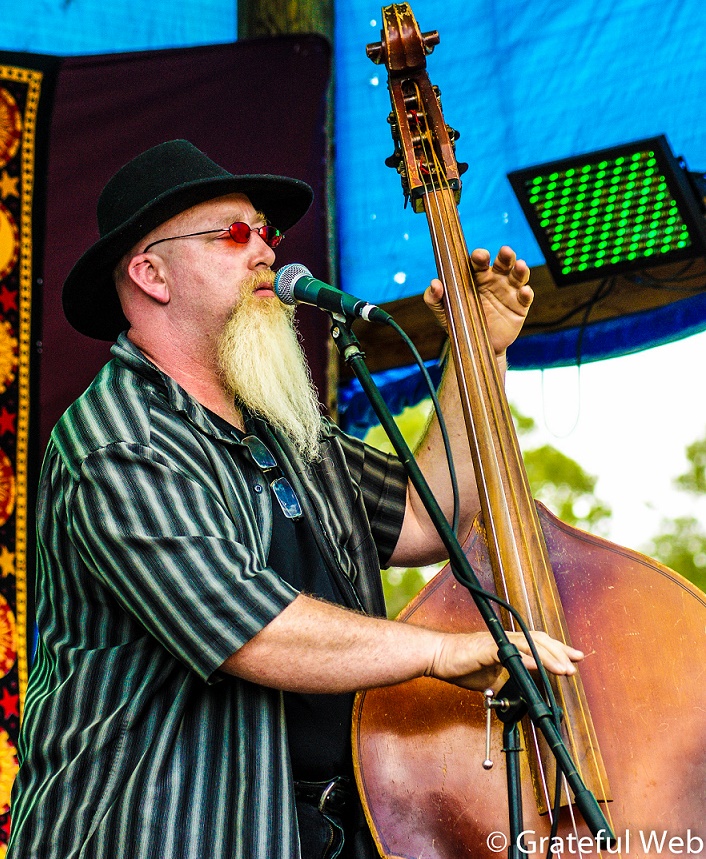 They were joined on stage by a friend who added snare to a couple of zydeco tunes. Mike Hall traded his mandolin for a rub board and Spencer Crawford swapped out his banjo for an accordion—both added that great Cajun flavor. Their version of the popular "Iko Iko" was fun and got people up dancing.
Changing up the mood, they did Richard Thompson's "1952 Vincent Black Lightning," a hardhitting song about love, not only of a great bike but also of a feisty redheaded woman. 
The band moved into some of their originals. "Come Back to the Holler," a fast-paced tune about coming home to Kansas (not exactly the state I'd associate with having a "holler"). Since all of the members, except one are from Kansas, it was a unique look at the nostalgia of place.
"Writing on the Wall" let the bands vocal harmonies shine in a song that revealed the backstory of a man's criminal recidivism. "Jesus Rancheros" told the tale of Spanish bandits or heroes, depending on which side of the border dispute you were on. And then there was "The Regulators," a moody jazzy piece that the band aptly described as "funk with a gansta twist."
Derek Bridges (guitar) and Jim Fisher (upright bass) swapped lead vocals on the songs. Strong singers, they brought these varied musical tales to eager ears.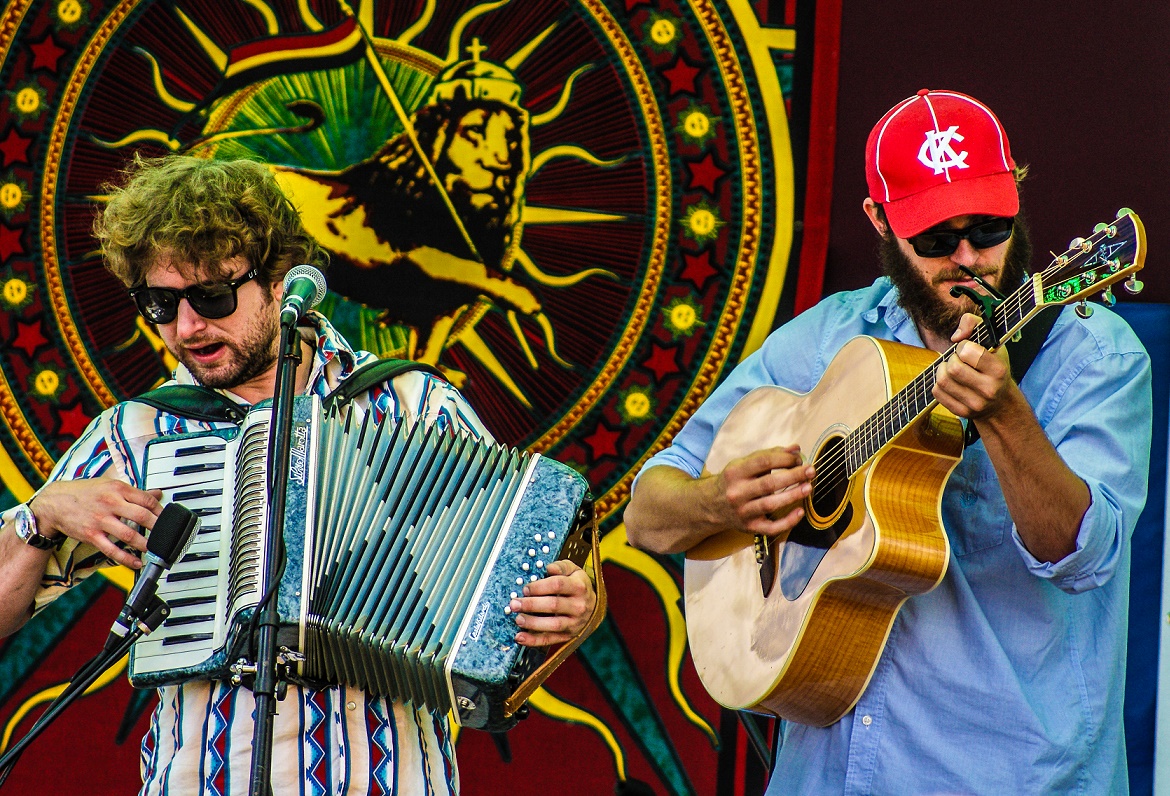 Next up was a showcase for the students of the SFMA's music program, the reason behind this intimate festival. The Thacker kids did a song with the oldest of the group, Ann Marie, on guitar. Then she showed off two of her own original numbers, complex songs for a young teen.
While the next act was setting up, I wanted around the festival grounds. Two local artists were painting musical themes on boards near the stage. There was a horseshoe tournament going on. And an inflatable bounce house amused some children while a variety of hula hoops entertained others.
As I wandered around the vendors, one caught my eye. John Vick's Front Porch Gittars. I'd seen other craftsmen who'd made wooden cigar box guitars, which Vick did have on display. But what caught my eye was a steel guitar made from a wooden ironing board. Vick played a few strains on it and it had a good tone. Surprised the heck out of me. He did say that his wife was a little nervous about his work. "I think she's afraid that she'll come home from work and find a hole in the coffee table and me putting strings on it."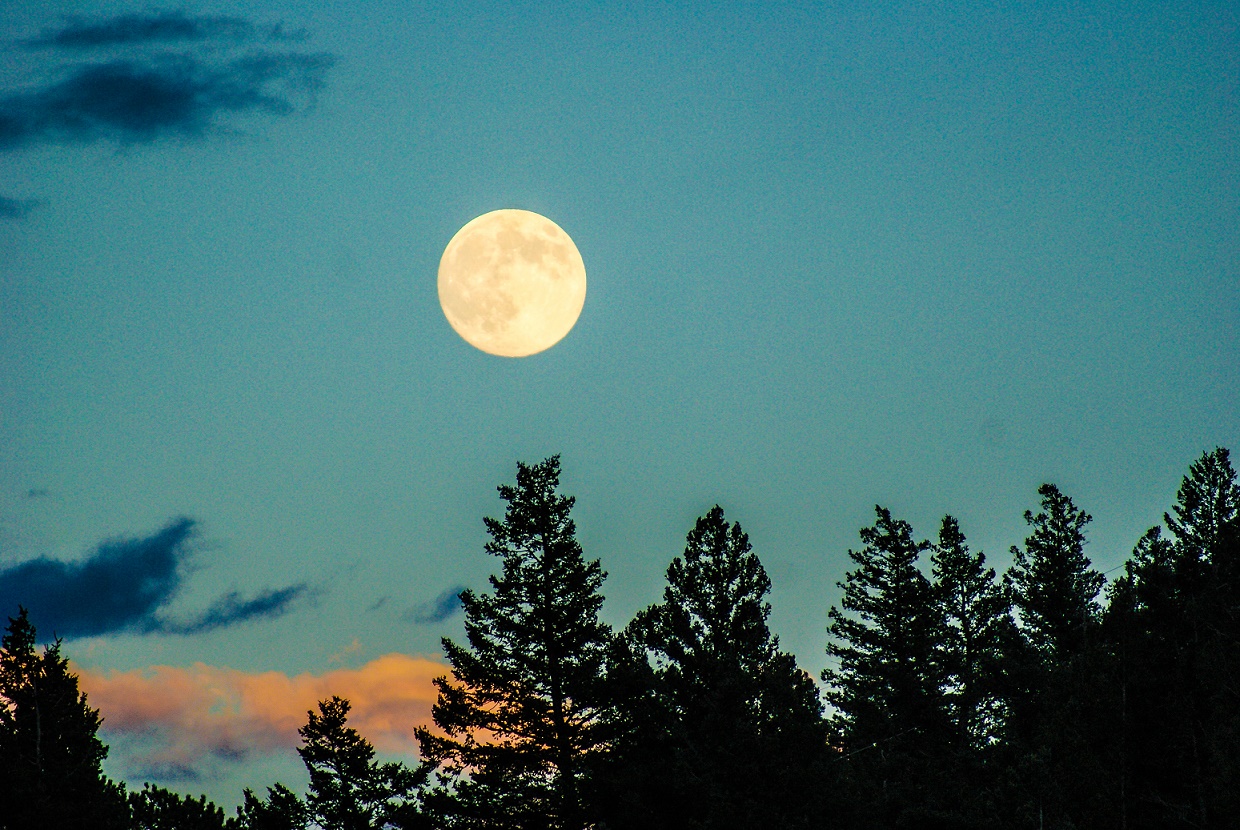 The fabulous O's returned to Rhythms on the Rio, making this festival debut last year. This two-man band is always amazing to watch. Taylor Young mans guitar and bass drum. John Pedigo handles banjo, pedal steel, harmonica, and a tambourine operated by a foot pedal.  You'd think that this would be a novelty act, and audiences would be distracted by the dual one-man band chaos on stage. But not so. These players add layers of instrumental color through a variety of musical moods without a hiccup. The bass drum and tambourine often just underline vocal phrasing. At other times, those instruments drive the musical train as would a drummer/percussionist in a bigger band.
I was most impressed this year by the vocals these guys produce. Pedigo has a lighter tenor voice that's ideal for a lot of their high energy songs and for good harmonies. Young's deeper register adds an emotional depth to the songs. Sometimes he displays a Neil Diamond quality that makes you listen closer to the lyrics.
The O's do a lot of originals ranging from fun tunes like "Dallas" to more sensitive ones like "You Are the Light" or "I Think I Might Have Found the One" or "Deep." They also deliver some fine covers, especially one by Townes Van Zandt.
The O's will be back on Sunday so it will be interesting to see what surprises they have to share.
Next up was Good Gravy, a five-piece band with electric standup bass, drums, percussion, guitar, and mandolin. These musicians brought long psychedelic jams that lured dances to the front of the stage. With little chatter between songs, these players moved from song to song that sometimes had a more bluegrassy flavor to straight Dead-type extended trips to the groove of an island jam. There were vocals, but it was Good Gravy's instrumental focus that hooked their audience.
Then there was Grant Farm. These guys have been to Rhythms a few times, with frontman Tyler Grant coming down for several of the SFMA's summer music concerts. Grant Farm is always a great time with good songs (covers and some originals) and a lot of dance tunes.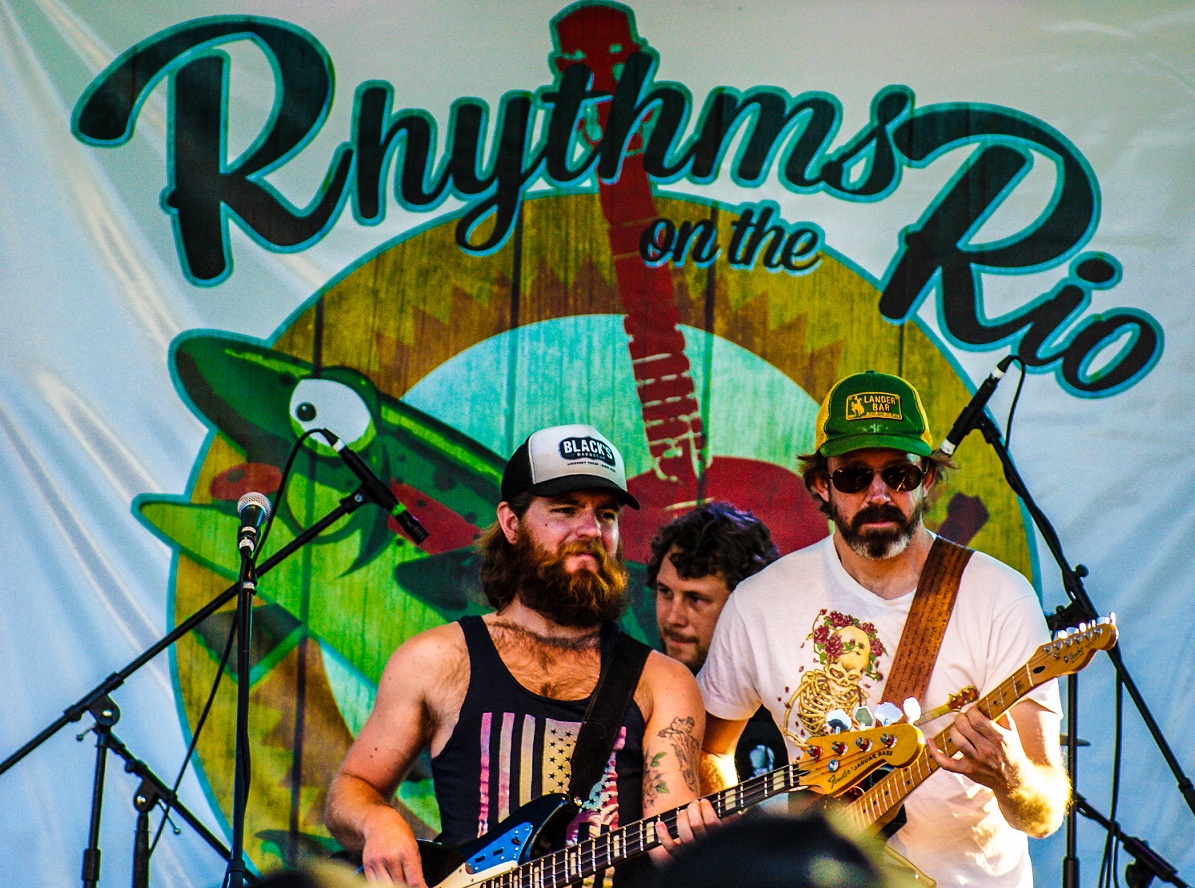 I always find it amazing that this band formed just three years ago. Tyler Grant, a national flatpicking champion, played with the Emmitt/Nershi Band and built his own group from solid players. Grant himself sticks with electric guitar for this group. He is joined by Adrian Engfer on bass, Sean Macaulay on drums, and Stephen Thurston on keys. All are phenomenal players.
But don't think that is an ordinary rock band. By no means. Grant Farm delivers rock, country, and even a good gospel tune. "High Country Lady," a song I remember from last year about a woman who wasn't a lady, was presented with freshness. Featuring a carnival, Eastern European, funk and led by Adrian Engfer, the song took on a really different edge. "I'm From the Country," a little roadhouse tune allowed Stephen Thruston's chops to shine on keys. And there were more and more and more.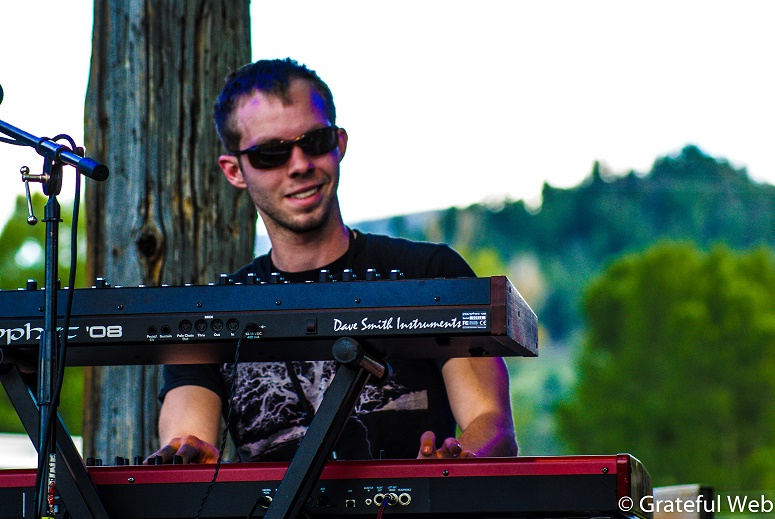 Grant Farm livened up the campground stage after the festival shut down, bringing a tight acoustic set to campers. It was a mix of traditional songs and gospel that allowed listeners to sing along.
Grant Farm--a must see band when they are in your region.
Making his first appearance at Rhythms on the Rio, Keller Williams closed out the main stage. Williams brought his one-man show to this stage. It was interesting for me to see for a couple of reasons. First I'd seen Keller Williams several times at the 10K Lakes Festival in MN in the early part of the 21st century. He was moving into this computer-enhanced, looping, one-man show back then. But it was all instrumental, sometimes just drifting into experimental aural happenings. Last night, Keller Williams sang and whistled and did all manner of theater for the audience. It was all in great fun with some yoga overtones. A lot of it has the whimsy of early Phish.
B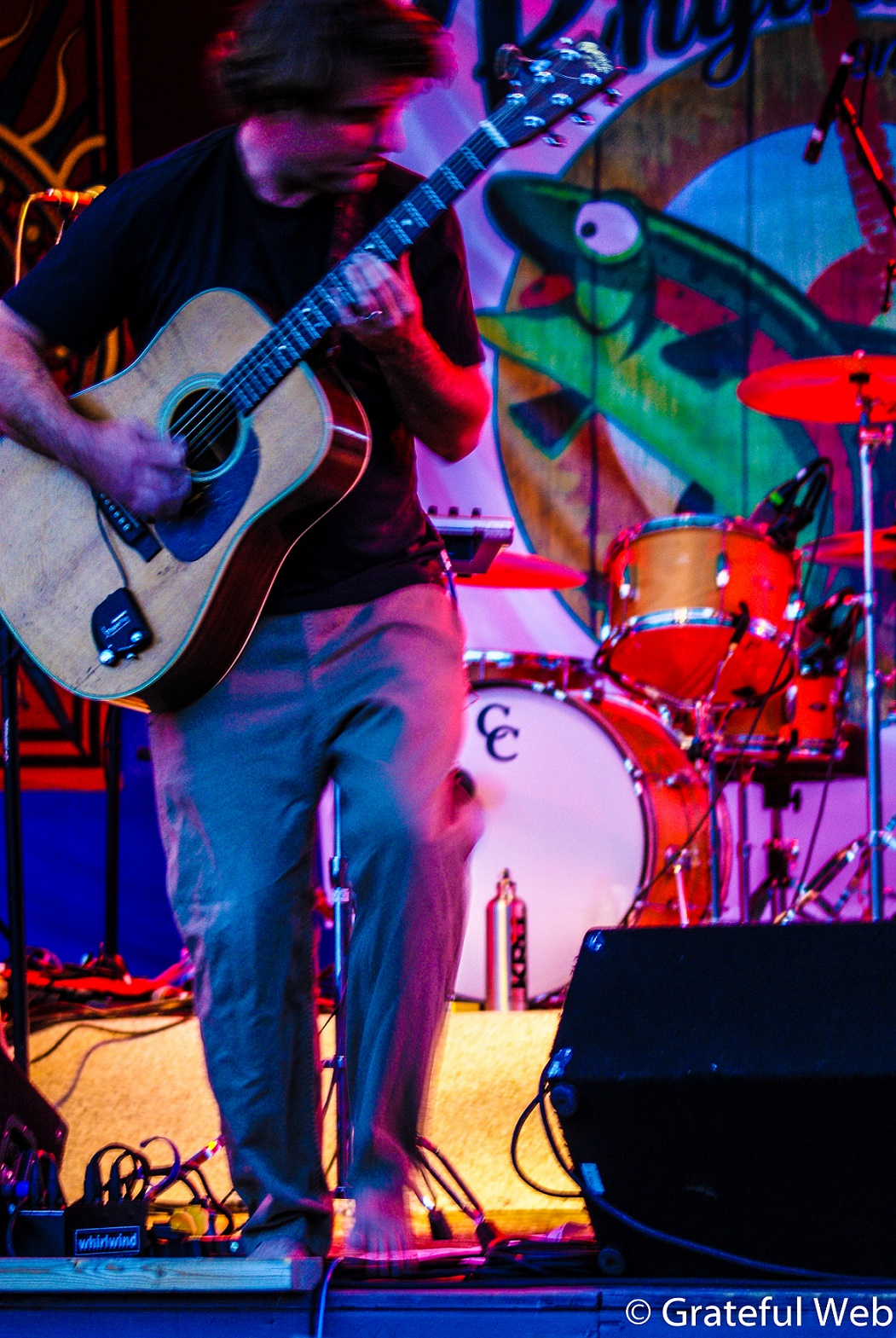 arefoot on stage, Keller Williams danced, sang, and played the heck out of his guitars. He even added drum beats with a computer pad on stage.
But the other part of the show was in the soundman's booth facing the stage. Blake Himmert stepped aside as Lou Gosain, Keller Williams' sound tech, took the reins. A board and computer wizard, Gosain managed all of the loops, flourishes, and shenanigans from the stage through Blake's huge board, stack, and Gosain's computer tablet. Plus, Gosain added background vocals through a mic set up over the board. Everything was synced though I imagine there was a thread of spontaneity about some things.
I had a ringside seat as I watched all of this unfold backstage so to speak as well as on stage. It was a fun, magical set that only got better when Keller Williams invited Grant Farm on stage for a medley of Jerry Garcia tunes.
I had wondered whether the audience members knew what to expect from Keller Williams. Some I talked to afterwards said they hadn't heard of him and were just blown away by what he did on stage. Others knew who he was and, for them, that was the highlight of the entire festival.
I've always been impressed with Keller Williams' generosity on stage with other musicians. And yesterday was no exception. Back stage before he went on, he took a selfie with members of Grant Farm. It was like a group of friends having a laugh. It made me smile when I witnessed it….in fact, I grinned. Good stuff.
So the second day of Rhythms on the Rio came to a joyful close.