In our looking back at last year's 10,000 Lakes Festival in Detroit Lakes, Minnesota, we turn to Day Two of the four-day event.
Day Two actually begins with an experience that happened in the wee hours of the first day of the festival. In the VIP campground where all the bands, media, and high-end ticket holders were camped, a lone saxophone began to play from someplace deep in the trees. It was soothing and pleasant after so much high energy music and dancing that first evening.  After a few minutes, across the campground, a trumpet answered the soulful moan of the sax. For a few minutes, the instruments did this quiet call and response that eventually drifted away into the night.  It was a jazz lullaby to nudge us into sleep so that we could be rested to enjoy the first full day of festival adventures.
I missed the opening act, Stellar Road, a five-piece acoustic band from Chicago that emphasized strong songwriting and was playing in the Saloon. It was also the same time as a media press conference. But I was backstage of the restricted Main Stage area, chilling out in leather recliners in the sun with O.A.R.'s lead guitarist, Richard On, doing a quickly pulled together interview that had been arranged just minutes before by their publicist. It was amusing with O.A.R.'s road manager, a big, balding biker type with a lot of metal in his face came calling for me in the press trailer. He looked me over in my tie-dyed African clothes and guessed my age was way over O.A.R.'s regular audience. We both wondered if the interview would go well for either of us, and quite frankly I knew little about the band, except for something general that the publicist had sent me the day before.  But, I was curious why a pop band was playing a jam festival and I dived in, asking about On's musical background, the band's early beginnings, and what they expected the response to be with this particular crowd.  In the end, what had the potential to be uncomfortable for both of us really turned into a pleasant experience.  It also gave me some insight later when I saw O.A.R. from the Main Stage.
I managed to finish my interview to catch Garaj Mahal on the Field Stage. These four musicians create a world sound that moves through jazz, South Asian styles, and rock. An added surprise came when drummer Stephen Perkins slipped on stage and stood in for two songs, playing the drumkit rack, drum rims, anything other than the drums themselves, not wanting to interfere with Alan Hertz's rhythms. It added color and so much fun to the set. (See Garaj Mahal band profile coming soon.)
Trampled by Turtles had the Barn Stage packed with their speed bluegrass. The crowd was even bigger than it had been the night before. I trekked up the hill to check them out briefly.  The band, as always, was in top form. I've never seen these guys ever slack off. They are always intense, and they always take the audience with them. Hyentyte was in the Saloon Stage and had a small group of loyal followers there. This soul/funk Minneapolis band deserved a bigger audience.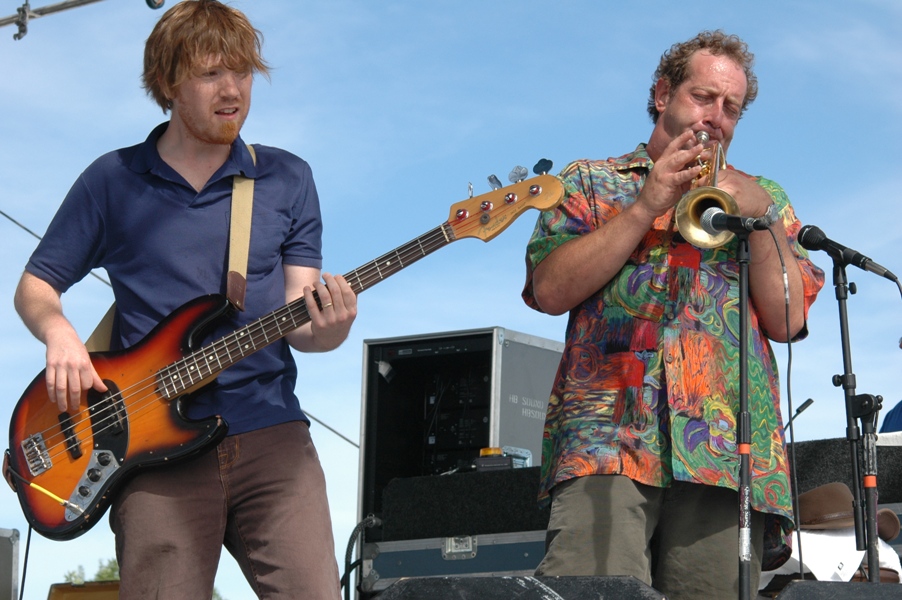 Steve Kimock and Stephen Perkins took the Field Stage and proceeded to take fans ever higher in their extended jazz improvs. They were joined by Jacob Fred Jazz Odyssey's bassist Reed Mathis, Willie Waldman, the phenomenal trumpet player who's backed Rob Wasserman and Tupac Shakur, and Assembly of Dust's keyboardist Nate Wilson. It was intricate and intense. Unfortunately, I had to cut that short to hike up the hill to the Barn Stage to catch the last part of Tea Leaf Green's set. These young rock/pop players were tight, showing that they were worthy of opening for Gov't Mule, Bruce Hornsby, and the Dave Mathews Band.
During this time slot, Family Groove Company and The Cool Waters Band played up in the Saloon.  I totally missed the Family Groove Company, but later on their street team passed out CDs so I got to give them a listen back at my tent.  The Cool Waters band, a southern rock laced roots and reggae band, had a full house in the Saloon.
After dinner, O.A.R. took the Main Stage, the first act there for the day. I was surprised that the band members were taking their time to do some noodling with their usually four-minute, radio-friendly songs. What they were doing was a reggae tinged sound on some of their pieces, creating a very relaxed vibe. I later asked a couple if they had heard them before, and they said that they were loyal fans and had even seen them live at a large auditorium just a few weeks previously. The crowd loved them.  They said that it seemed like they were a different band on the 10,000 Lakes Stage that night.  Previously, in all of the other O.A.R. shows they'd seen, the band had done their slick pop, just like on the CD.  This was new territory for them.
GypsyFoot, a Minnesota jam/tribal band, was up at the Saloon during O.A.R. with a good crowd, band members told me. And, Freshwater Collins, in their new 4-man format with a completely different sound managed a crowd before things started on the Main Stage again. Though I was aware that Freshwater Collins had changed their sound, it was definitely still rooted in rock.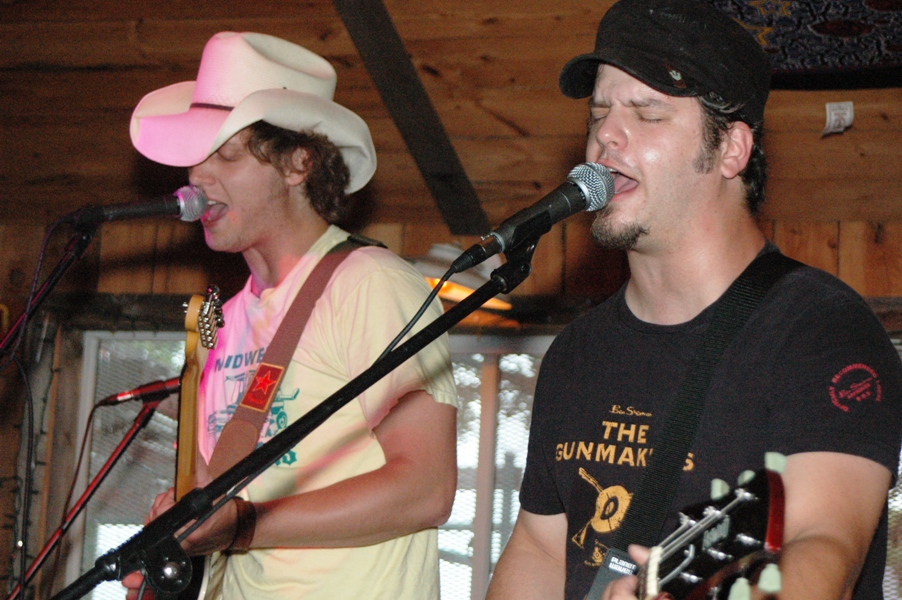 While Freshwater Collins finished, String Cheese Incident did what they always do, explored different genres and took the audience with them. All of these little plastic thingies being tossed in the air during their light show created something magical and carnival-like.  I only went down to see a part of their two sets. I hiked up the hill again to see those Minnesota bad boys, the White Iron Band. They were in top form, though obviously they had started their party long before they took the stage. These guys always do great southern rock, but they do have a rep for pulling feisty stunts and this wasn't an exception.  The lead singer in the band started calling out Shooter Jennings for a "rock-off" to determine who was the best.  Shooter was due in the next day. Had he been there, I think that these boys would be in the hospital before the sun rose. Still, they still brought down the packed house with their signature song, "Whisky River."
But the night wasn't over. Railroad Earth packed the Barn Stage after the Main Stage went dark.  They were to play again the next day, and I opted to see them and greet them then. Mutaytor (Look for a feature on Muytator coming soon.), a group of drummers, dancers, and fire performers from California, spilled out all over the Field Stage. Fire Department personnel were there, just in case, but these folks are professionals and no emergency help was needed. Their show was amazing in the dark!
Meanwhile Backyard Tire Fire did their rocking best up in the Saloon and was followed by New Orleans swamp blues man, Papa Mali.
The only problem with music festivals like this is wishing you could clone yourself two or three times over so that you could see everything.
You will have the opportunity to see Trampled By Turtles, Family Groove Company, GypsyFoot, and the White Iron Band again at the 2007 10,000 Lakes Festival.