The Jackpot Junction Casino Hotel near Morton, Minnesota, tried a new experiment this past fall. Though their gianormous outdoor Amphitheater offers racing and big name country entertainment, they have never brought in high caliber blues acts.
Other casinos on the plains have been attracting new customers with country performers and music legends doing their last hurrahs before retirement. In fact, it was at another Minnesota casino (Shooting Star Casino in Mahnomen) that I had the privilege of seeing Little Richard on his next to last public appearance a few years ago and the Neville Brothers at Fort Yates in North Dakota. These were both up close and personal concerts, if you were willing to fork over a little extra cash to get the VIP seats. Seven Clans Casino in Thief River Falls, MN, tried a different tack, offering a summer outdoor concert in their parking lot. Originally, it was one day with one headline act. This past summer, they had two days with several performers and a different headliner each night. The amenities were few with bleacher seating or bring your own folding chairs, with performers playing off a stage with a decent sound system. However, because it's portable, it has the potential of more things going wonky.
Jackpot Junction, run by the Lower Sioux Indian Community, however, pushed this blues idea a big step forward, hoping to lure more than aging boomer gamblers to their facilities. For their the first annual Backyard Barbeque & Bluesfest, Brad Frye, Director of Entertainment at the Jackpot Junction Casino, brought in six major acts, set them up in their state-of-the-art outdoor facility, and offered up a side of Famous Dave's Legendary Pit  Bar-B-Que to sizzle along with the blues. With a lineup of Bobby "Blue" Bland, Maria Muldaur, The Blind Boys of Alabama, Buddy Guy, Jonny Lang, and Dr. John, it was a combination that could not fail.

There was only one fly over these sauce-laden ribs:  the unpredictable weather in early September. Though there was no rain (or snow), it was overcast for most of the day, and the bitter winds off the southwestern Minnesota plains chilled many of us, including hardened natives.  In fact, backstage, Dr. John, dressed in a summer weight mauve suit, complained bitterly of being cold while t-shirted teenagers told him that this was actually warm for this time of the year.
Blues, nevertheless, draws people from all over. Most of the crowd came from Minnesota, some as far away as Minneapolis, about four hours away. Others came from North Dakota and South Dakota. My son and I drove over six hours to get there from Grand Forks, ND. But we didn't come the farthest. James Poe, who once worked in St. Paul, drove up all the way from Alabama to record the entire festival and stream it on internet radio.
The crowd, a mix of generations, however, was light. The VIP section, chairs in front of the stage, was full. That wasn't surprising since the VIP package was only $75 for music, dinner, two beers, and a t-shirt. Those there were paying guests as well as media who were covering the event. General seating, on chairs behind VIP or on bleachers, was $40 for the ten hours of entertainment; food and drink were extra. Interestingly, there seemed to be an equal number of general seat ticket holders as VIP, with the general seating area swelling later in the evening.
The light turnout was probably due to limited advertising about the event. Bi-monthly casino brochures that are sent to regular players and media noted the event. I found out about it doing research on Dr. John for a CD review I was writing. Many of the media present were from region radio stations, a local newspaper, and the staff of Blue Monday, a monthly blues newspaper out of Owatanna, MN. Poe and I were the only media covering the festival for a national audience.
The Backyard Barbeque & Bluesfest was a big deal for western Minnesota even though most of the performers had been to the region before. Jonny Lang, a Fargo native, comes back to the ares often, but had not played there before. Buddy Guy had appeared at the Seven Clans Casino the summer before, and the Blind Boys of Alabama had sung at Festival Hall at the North Dakota State University a few years ago. Maria Muldair had also been to Fargo and Grand Forks, playing small intimate theaters.  However, neither Bobby "Blue" Bland nor Dr. John had ever been to the region. And, frankly, Dr. John was the draw for many in the audience, including myself.
Bobby "Blue" Bland, now 76, still has that crooning R&B voice that's as sweet and smooth as lukewarm molasses. One of the originators of the soul-blues that came from gospel roots, Bland's hits started stacking up with those of Sam Cooke and Ray Charles. His velvety signature style was created in Houston with the backing of an orchestra, something new in the early 50s R&B sound.  I wasn't as familiar with him as I was with his songs. When he sang, "That's the Way Love Is" and "Turn Your Love Light On," I immediately recognized those hits, and so did the crowd.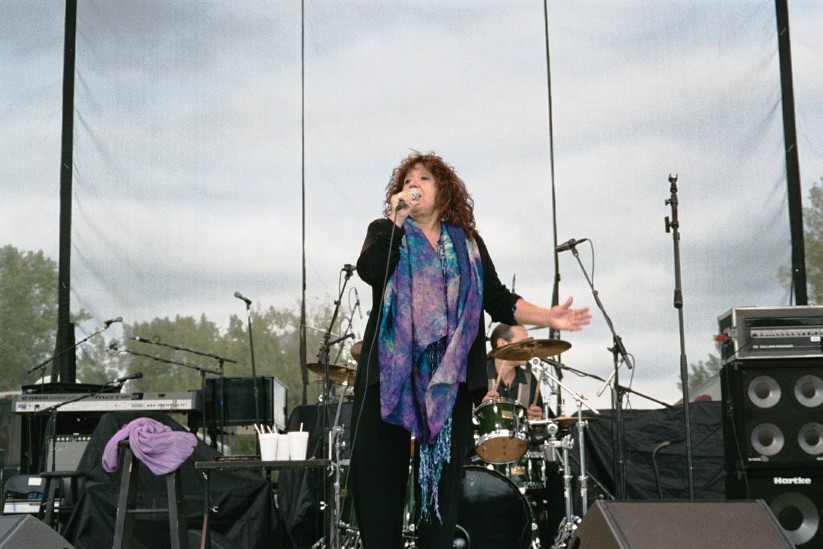 Maria Muldaur was up next. Her energy on stage is something you have to see. Though she grew up on country classics like those of Ernest Tubb and Hank Snow, she absorbed Fats Domino and Little Richard. She also sought out roots musicians like Doc Watson and Mississippi John Hurt. In the early sixties and seventies, Muldaur toured with the Jim Kweskin Jug Band and discovered the songs of Memphis Minnie, a legendary female blues performer. (Memphis Minnie is also a favorite of Canadian blues guitarist Sue Foley.)  Muldaur also met her ex-husband Geoff Muldaur and recorded her famous "I Am a Woman," "Midnight on the Oasis," and "Don't Touch My Thigh." All three of these hits she sung at the Bluesfest. "I Am a Woman" was well done and  "Don't Touch My Thigh" sizzled.  But, the long awaited "Midnight on the Oasis" was overdone. The tempo was speeded up and Muldaur added a lot of vocal flourishes that didn't work. It was as if this were an obligatory song she had to keep in her repertoire but one she disliked so much she had to keep playing with it to keep it fresh. (I usually really appreciate it when an artist tinkers with his or her own melody. This time, it didn't work.)
Marie Muldaur was followed by the Blind Boys of Alabama. I never tire of this group. Their brand of gospel always entertains. I saw them live a few years ago and was impressed then. Since their founding in 1939 by Clarence Fountain, Jimmy Carter, and George Scott at the Alabama Institute for the Negro Blind, they had been performing and recording to a niche audience. They plunged into the mainstream in 2001 and began recording with Billy Preston, Ben Harper, Peter Gabriel, and Charlie Musselwhite. They have won two Grammys and even sang a Phil Collins tune for the soundtrack for Disney's Brother Bear. Though George Scott is no longer with the group, Bishop Billy Bowers, another blind singer, fills in that position in the quartet. Also, they are backed by drummer Eric McKinnie, also blind and of their generation, and three young, sighted performers: Caleb Butler (rhythm guitar), Joey Williams (lead guitar), Tracy Pierce (bass).  Always a centerpiece of their concerts, Jimmy Carter, mike in hand, takes a walk out into the audience and sings to them.  He's followed by one of the young men who keep him safe and steered in the right direction. And, the Backyard Barbeque & Bluesfest was no exception. Carter charmed everyone.
Though Dr. John was gracious to fans and gave them the performance they came for, he never revealed what a stressful day he'd had. His vehicle broke down outside of Minneapolis in the early afternoon. The casino staff was racing around, trying to find out where he was so that they could send a casino van to the rescue.  All was well when he and his band, the Lower 9/11 showed up. The scheduling was adjusted to accommodate him, though no one really noticed that a few acts had been up on stage a few minutes longer and the interim act (a guitarist and a blues harmonica player) played a bit more as the crew loaded off the previous act and loaded in the new one.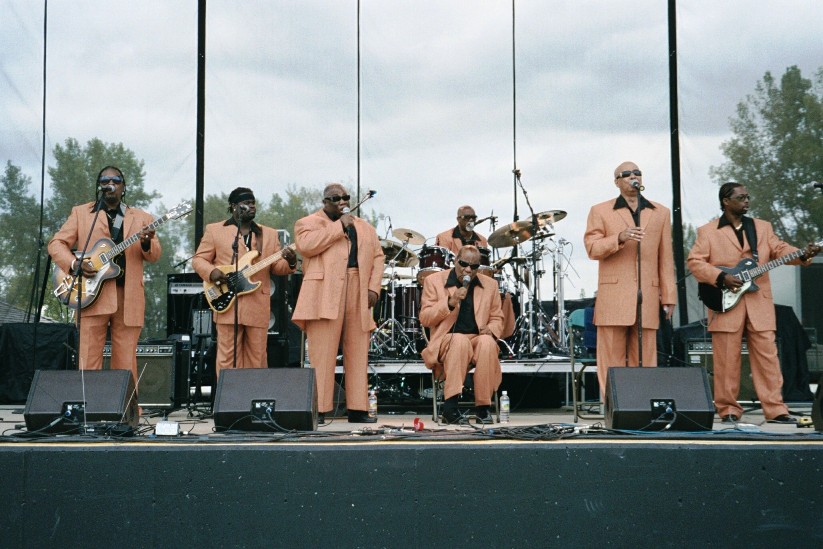 When Dr. John (aka Mac Rebennack) took the stage, it was all magic. He was also very economical when he began his set. There was no banter. He plunged into one song after another, making sure the audience heard their favorites, but he also cut an hour set to forty minutes. Everything was there, especially his two pianos with a skull on one. He stood for part of the set and sat for the rest. For part of his performance, Dr. John sang cuts from his new album, Mercenary, a tribute to the songs of Johnny Mercer. They still had his signature, but they didn't have the grisgris of his earlier work. When he launched into "Golden Splinters," I knew I had gotten to hear what I had driven all that way for. It was pure Dr. John, no imitation.
Blues legend Buddy Guy showed up in a striped shirt and overhalls. When I had seen him before, he wore polka dots and changed guitars like a fashion statement, including a white one with black polka dots on it. There was another change, too. Guy had only a four piece band. Back in 2005, he had a very talented saxophone player with him. The current configuration, however, is top-notch. They are master musicians in their own right, and hold up well in Guy's nightly game of dueling instruments.  [Look for a detailed feature on Buddy Guy and his band coming soon.]
At the Backyard Barbeque & Bluesfest, Guy delighted the audience as he always does. He even took his guitar, which has a wireless remote in it, and went out into the audience, playing to older women and children. It's always a thrill, and by this time, it had grown dark so finding him with the stage lights was a trick. Luckily, some extra lighting was found to follow him.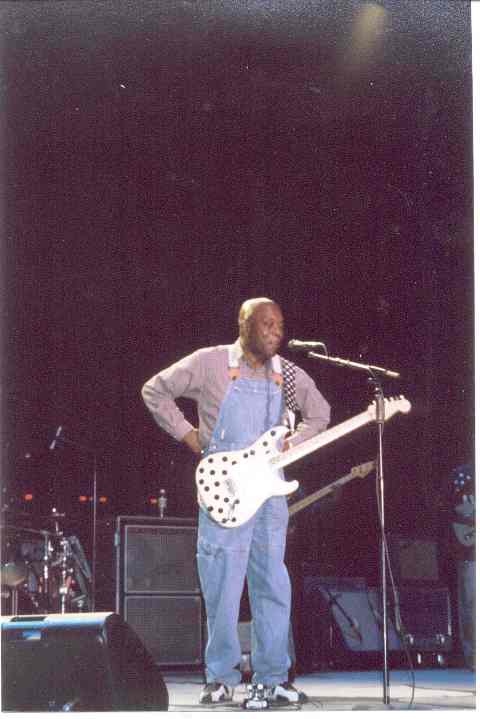 This local boy, once a young blues prodigy, drifted far from those roots in his last album. He decided to write a pop album. But like young Shannon Curfman, another blues teenager from Fargo, he realized that people want to hear blues from him. They know him for his electrifying blues guitar and his rasping, gravelly voice. He did manage to rock and wail at this Bluesfest.
The entertainment for the Backyard Barbeque & Bluesfest couldn't have been better, and the sound system delivered it flawlessly. There were no bad spots for sound and visually, the audience could see everything from just about anywhere. The barbeque was a great added feature for a day of music.
The Backyard Barbeque & Bluesfest proved that the management's gamble at Jackpot Junction Casino Hotel was really a sound business choice. I still would suggest that they move the Bluesfest to an earlier day since early September can be so raw.  Regardless, at the end of the day the management was grinning, talking of next year's event. With this lineup, you wonder how they could ever top it.