There was some major speculation regarding the trio consisting of Bob Weir (front-man for the Grateful Dead), Chris Robinson (lead singer for the Black Crowes) and singer/songwriter/guitar virtuoso Jackie Greene at the Rocky Mountain Folks Festival this past weekend. Acoustic or electric? Dead tunes? Originals? Blues covers? Additional musicians on drums and bass? As it was the trio's debut performance, questions, rumors and speculation were in full swing.
The three generations of rock and roll icons took to the stage on Saturday night with full beards and acoustic guitars, and it was on! The boys came on strong paying homage to the Grateful Dead with a slick run through "New Speedway Boogie," a lovely "Friend of the Devil" and the audience favorite "Ramble On Rose."
Clouded skies rumbled with thunder; an earthly affirmation of the energy of the evening. Or perhaps it was the late Jerry Garcia looking down, lazily nodding his head and joining the session. A slightly more conservative audience from Friday night morphed into a sea of Dead shirts and tie-dyes, and the reception complimented the presentation.
Greene took the helm on his song "Tell Me Mama, Tell Me Right" and Robinson opened the gates on "Appaloosa," but the beauty was in the general harmony, teamwork and exchange between the three.
Greene is the young-gun ace, the perfect compliment to the decades of experience his wise elder stage-mates had on him, the new blood, if you will. From his banjo work on "Ramble on Rose" and "Peggy-O" (which Robinson owned vocally) to his mandolin chiming through "China Cat Sunflower" into "I Know You Rider" and the sing-a-long encore of "Ripple," on through his stern presence on guitar and vocals throughout the nearly two hour long set, he got rude when it was time to get rude, and stepped back when it was time to step back.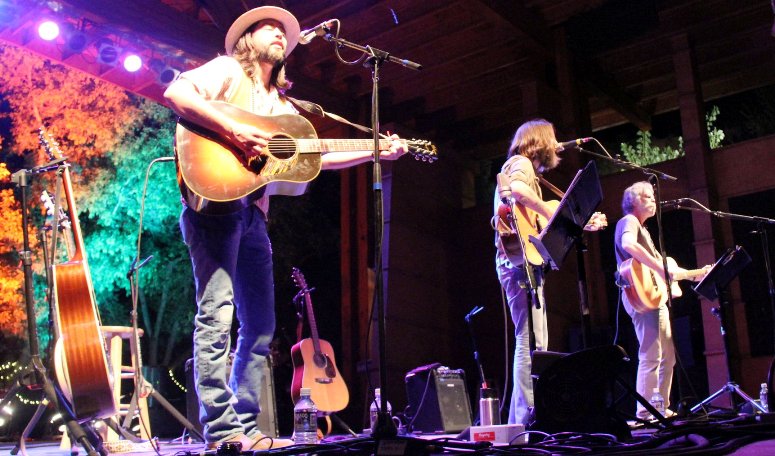 Weir does what he knows--he pulls the stops and plays hard for the audience. Some folks might talk smack about old Bobby, but on Saturday he was confident and consistent. Along with Robinson, who has been described as "a 400 lb. black man trapped in a skinny white guys body," and simply a treasure of soul over the last 15 plus years, this trio was destined for glory, and surely achieved it in Lyons. Whether you were an old school Deadhead or a general festavarian, the trio was the crown-jewel highlight of the weekend.
Setlist: New Speedway, FOTD, Ramble On Rose, Masterpiece, Catfish John, Tell Me Mama, Appaloosa, Big Bad Blues, Sugaree, Peggy-O, Birdsong, UJB, China/Rider
E: Ripple