The seventh annual 10,000 Lakes Festival opened yesterday to a large crowd that seemed small. This was partly due to the fact that the Main Stage had two acts running against the Saloon Stage (called the Vitamin Water Syn Saloon Stage this year). The Field Stage and Barn Stages were dark until 11:30 pm. This meant that the focus of last night's audience was on the Main Stage acts: Gomez and Widespread Panic. Unfortunately, this drew some of the crowd away from the acts up the hill at the Saloon.
Gomez's fans were in large numbers and were already rocking when I emerged from the VIP Chill Tent around 7 pm. They were an added subtext to my dinner.  Interestingly, though, the sound wasn't bad in the VIP tent, even if it was right next to the stage. The sound increased by large decibels the farther you moved into the concert bowl. Vocals were clearly distinguishable from the benches outside of the Saloon---or when a band inside paused between songs. This really made it difficult for acts that that didn't have a lot of loud instrumentation.
One act I did manage to catch about halfway through their set was Rock Plaza Central. I was not disappointed! This five-piece really cooked. They had a great bass player, a drummer, a banjo player who was the lead singer, a mandolin player who also played the trumpet, and a female fiddler who doubled on trombone. The bassman, fiddler, and mandolin player all dropped in to add incredible vocal harmonies. This band is fronted by a young man who also is a novelist. (I will be writing an in-depth interview about this band next month here at Grateful Web) Their latest album is a musical rendering of William Faulkner's Light in August. [To read my review, please go to www.refrainmagazine.com]
I was worried that Rock Plaza Central would have already done my favorite song from the album, "Don't Believe the Words of Handsome Men." But I wasn't there five minutes when the jumped into it. Wow! That made all of the labor of preparing for this festival and struggling with high winds to set up my tent and a screen tent (where I'm writing this daily update) worthwhile.
Following Rock Plaza Central was the Nathan Miller Band. I'd been trying to nail an interview with the frontman for this Minneapolis band for months, but we kept missing each other. Since 10KLF draws a lot of fans from Minneapolis, Nathan Miller had a full house at the Saloon Stage. His band consisted of him on a guitar that he played like a lap steel, a bassist who also did backup, a drummer, and a very talented conga player.  Nathan Miller announced that he would have a new album in the fall.
Zach Deputy, the gravely-voiced singer/songwriter came up next and just dropped his audience. He is always brings plenty for audiences to get into.
By the time Nathan Miller started, Widespread Panic was just starting to cook. I dropped down to the Main Stage. I usually try to sit pretty far back so that I could see any light shows that might happen. And, I wasn't disappointed.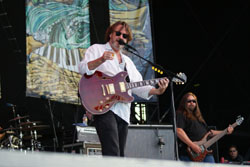 The Main Stage this year is new and improved. It's a much taller edifice, allowing for more creative use of the concert space for light shows and other creative rigging. There are new backdrops and a new round 10KLF logo that has piano keys around the outside of the lettering for 10KLF. Though it's in black and white, it's very striking. Widespread Panic's crew or the 10KLF crews ran psychedelic spots against the main backdrop and synchronized their powerful white spotlights to the pulse of some of the music. These spots were so bright they reached out into the night sky like searchlights.
Widespread always brings a great party, and makes us remember why we come to this festival. They were here for the very first 10KLF back in 2003 and have returned often to enjoy the beautiful festival grounds. Last night, they pulled out a lot of the crowd favorites and also featured their conga player prominently on one tune. I really got into that one.
When the Main Stage went dark for the evening, the music didn't stop.  Pretty Lights pleased its fans with its techno sampling and other bags of tricks. The band also brought out its signature light show. Pretty Lights announced that they had played Bonnaroo and a ton of major festivals this year, and 10KLF was the last and they were bringing everything they could to this last festival. They certainly did not disappoint.
Up at the Barn Stage, though, the music took a different path. Kinetix brought its usual mix of rock and jam. These guys always deliver a good show.
And taking the first night of 10KLF 2009 into the wee hours was Carney. I don't know how they handled the crowd up in the Saloon. These guys, unfortunately, weren't well known in this region, but since they were the only party available, except at your campsite, festivalgoers came—and in large numbers. I'm really glad to see that happen because this band is a killer rock band with intense vocals. Their lead singer has a Robert Plant quality. (Almost a clone---but with their own twists and turns around the rock vernacular is Parlor Mob who will be closing out the evening tonight—also at the Saloon. And, their lead singer also has the passion and vocal quality of Robert Plant.)
All in all, 10KLF 2009 got off to a great start.  Today is dawning clear and very warm, though I'm told that rain is expect later today and all through the rest of the week. Let's just hope the good vibes of the bands and the festivalgoers will generate their own sunshine to push those rain clouds away.