Dark Star Orchestra crashed into Eugene's McDonald Theatre last Saturday night and poured their brilliant light into ashes of moments, shows and tours past. 
They resurrected a spry Dead set from early '87—April 7, Brendan Byrne Arena (NJ)—that  again moved a crowd of hopeful dreamers and warmed yearning hearts with smiles, smiles, smiles.
"A recreation of the Grateful Dead experience," DSO poses burning questions for the uninitiated, like "Will it happen;" or an even more fundamental, "Why?" 
There's a point in the Grateful Dead Movie when a knowing head tries to crystallize exactly what all of the hullabaloo is about.  "There's nothing like a Grateful Dead concert," he simply and assuredly explains.  While slightly overstated, "nothing like it" remains a sentiment most tour veterans can readily understand, which begs a query.  Why even attempt to recreate the Dead experience?
DSO's McDonald Theatre show offered, not so much an answer, but a hint of understanding gleaned from rekindled sparks of an inextinguishable flame.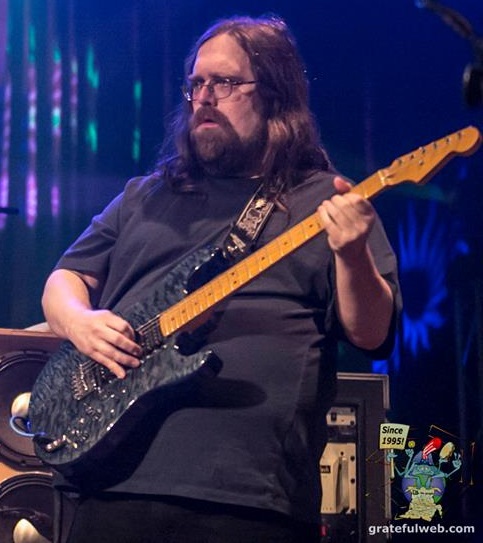 1987 was a watershed year for the Grateful Dead. Jerry had narrowly escaped death the year before, and the boys returned to the road in '87, livelier and healthier than any of them had looked in quite some time.  They recorded and released their 12th studio album, "In the Dark."  Propelled by the success of the Top 10 single, "Touch of Grey" and its accompanying Gary Gutierrez-directed video, the album attained double-platinum certification in the U.S.  They also performed a handful of historic, summer stadium shows with Bob Dylan.  They were as visible and vital as at any time in their storied career; and, this was the year thousands of new converts climbed on the bus as the trip grew larger and stranger still.
Striking synchronicities started to occur on Saturday as DSO's reconstruction began to take shape.  I didn't have to wait long for telling insights to appear.  I caught my first dose of live Dead at Alpine Valley (WI) just a couple of months after GD played this Brendan Byrne gig.  Now I was reliving the moment at my first DSO show. 
Saturday night's proceedings (re)commenced with a rousing, well-received Touch of Grey that immediately hit the proverbial spot.  I was longing for reassurance—"We will survive!" 
A thumping Minglewood Blues quickly followed, engaging both band and brethren in a sweaty boogie.  Keyboardist Rob Barraco's Hammond strutted as singer/guitarist Rob Eaton growled.  I puffed out my chest and contemplated the bravado of "stealing women from their other men," when the guy standing next to me offered his hand and simply asked, "How you doing, man?" 
Warmth and recognition washed over me.  My face cracked into a mile-wide smile and I happily embraced the whole damn thing—Strangers stopping strangers, just to shake their hands.
I was returning, not (exactly) time-traveling to Spring Tour '87, but returning to something inside myself. 
A sparkling, leisurely paced Friend of the Devil unfurled after Minglewood and my restless uncertainty was put at ease.  I was among friends.  Beat It on down the Line upped the tempo again, and it was at this stage of the show where DSO started to distinguish itself (for me).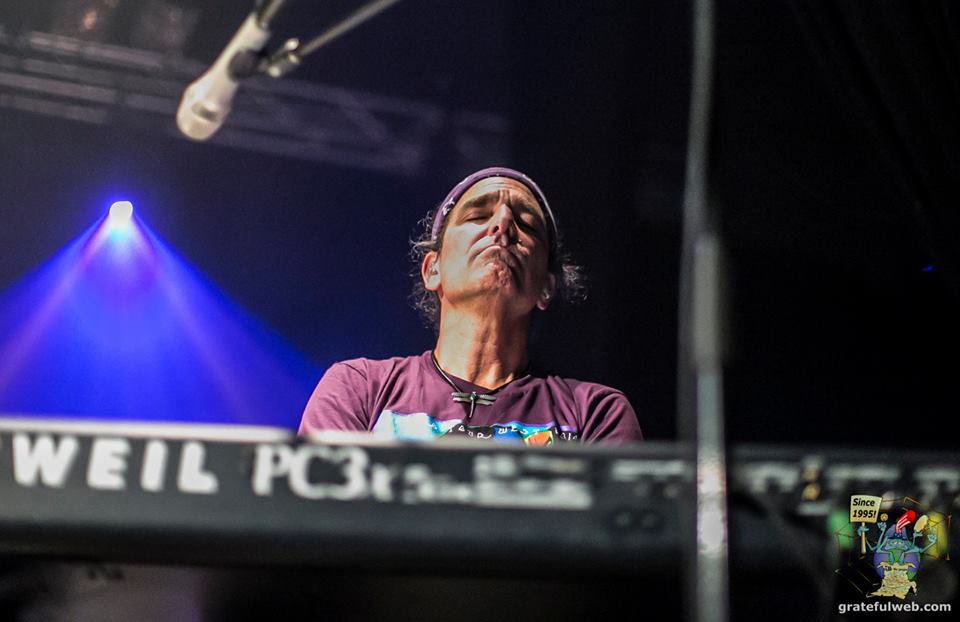 The Dead were decidedly perky in the spring of '87, but my first exclusively DSO impression was, "these guys are tight!"  The rhythm section in particular (Dino English and Rob Koritz, drums/percussion; Skip Vangelas, bass) were dropping a taut groove.  Lysergic considerations aside, time and tempo in the Dead could (at times) become very loose.  This was not always an unpleasant occurrence, yet on Saturday, I found myself really appreciating DSO's solid rhythmic base.
Stagger Lee, a Hunter/Garcia original thick with ancient folk/blues connotations, stepped-up next and underlined the realization that great songs outlive their authors.  As singer/guitarist Jeff Mattson poignantly rendered Billy and Delilah's sad tale with all of its requisite heartache and humor, I finally decided the complexity of emotion packed within this ballad's narrative is timeless and extends beyond the ownership of any individual performer.  These songs can belong to anyone who dares to hear or sing them.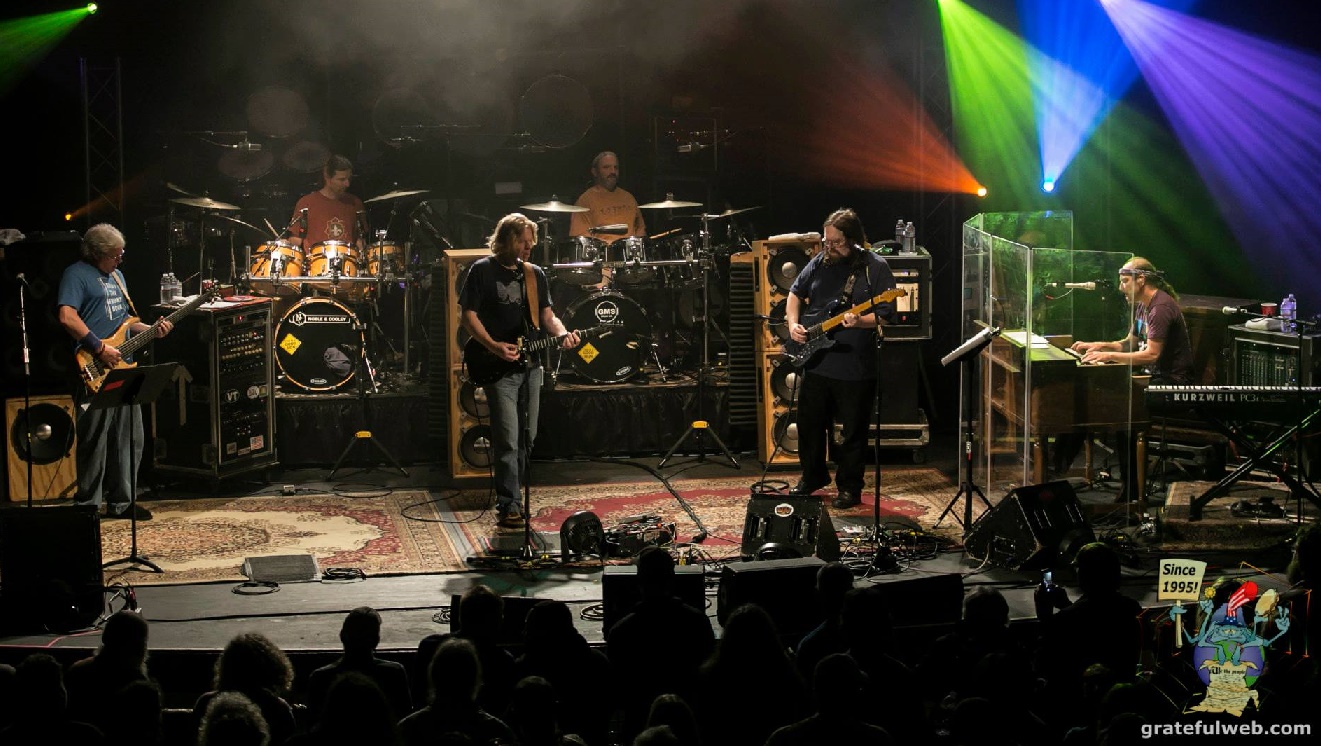 DSO quickly reminded me of this again with two twangy, country classics, Mama Tried (Merle Haggard) and Big River (Johnny Cash).  Whipping the crowd into a full gallop, while covering the Dead's covers, Mattson and Eaton traded licks and finger-picks until the floor was duly lathered.  We were all singing along.
The rest of the first set—West L.A. Fadeaway, Hell in a Bucket, Don't Ease Me In—continued to welcome me back to a forgotten but familiar place.
The second set was an equally fun-loving swinger that largely featured DSO's newest member, bassist Vangelas.  He took to the "Phil Night" joyfully, lending full voice to the opening Box of Rain and the later Gimme Some Lovin', while also shredding stompers like I Need a Miracle, Bertha and Man Smart, Women Smarter with his Alembic vibrations.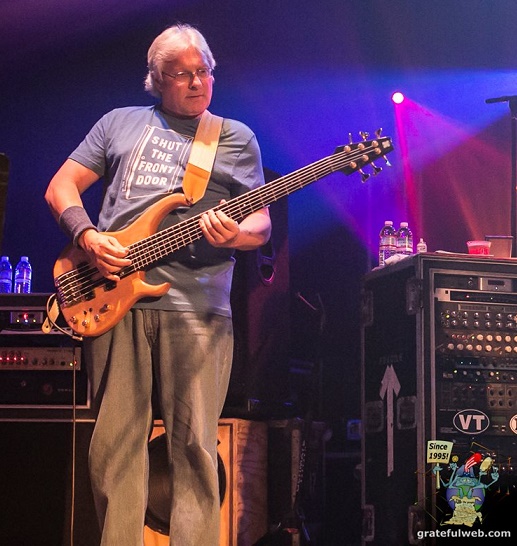 Throughout the show I was struck by DSO's unified presence.  Each member could be heard fully committed to the task at hand.  Members of the Dead were known to have lapses when their creative energy seemed to abandon the cause, leaving it the others to carry the load.  While Vangelas' performance stood-out, he was in no way covering for deficiencies elsewhere.  It could have been another feature of the recreation, as '87 found the Dead firing on all cylinders, but I sense this pleasing dynamic is routine with DSO.  Why reconstruct a disjointed show?
The Dead's original set-closing crescendo—Morning Dew, Throwing Stones, Not Fade Away—combined equal parts of defiance and hope typical of the early '87 tour.  They were sending a strong message—"A love for real, not fade away!" 
DSO's recreation echoed a similar refrain.  This inexplicable thing didn't end when Jerry died and it didn't start with the Warlocks (or even Mother McCree's Uptown Jug Champions).  This spiritual tribe of outlaws, honky-tonk angels and circus clowns is bound together by energy even larger than the Dead.  And, these amazing songs, the lifeblood of the union—they're alive and well too, in some pretty good hands.
After a jubilant Mighty Quinn encore there was time for one more exclusively DSO experience—"You walked right into my life/and told me love would find a way/to keep on growing!"  Amen fellas, and see you at the next show!