With a career spanning over half a century, it's difficult to conceive of a musician treating an audience to tunes that sound nothing but fresh.  However, Mr. David Grisman is able to do exactly that.  With an intimate and conversational style, the David Grisman Bluegrass Experience (DGBX) provided their audience with a delectable musical treat at the Boulder Theater on July 13th.  Besides the musicians and their instruments, the stage was nearly bare, as DGBX dished up meticulous acoustic sounds and warm vocal harmonies.
Mr. Grisman, known affectionately as "Dawg," was interactive with the crowd throughout the show, including thoughtful introductions of each band member.  While he is known for his melting-pot style of "Dawg" music (a conglomerate of folk, bluegrass, jazz, swing, Latin, and gypsy), Mr. Grisman guaranteed, with a sense of reverence, that the evening would be delivered in the style of "hardcore traditional bluegrass;" the crowd roared in approval.  The band opened with "My Walking Shoes Don't Fit Me Anymore," and then Dawg presented the band members individually, with each introduction respectfully followed by a song that allowed that musician to shine.  These introductions added to the intimacy of the evening, allowing the audience to get acquainted with individual styles before the group began their seamless collaboration that permeated the evening.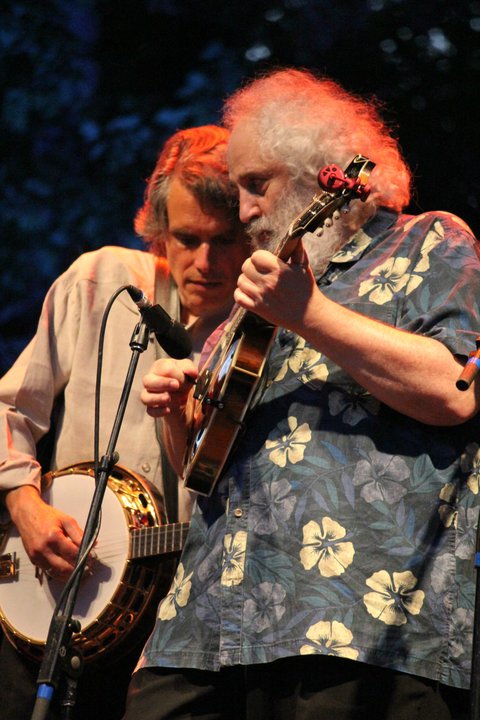 Dawg began by introducing Keith Little, noting his poignant banjo stylings and tenor voice.  The band then played a rousing rendition of "Little Maggie," which served as the perfect backdrop for Keith's talents.  Jim Hurst was then given a warm welcome, with his guitar playing and honey-smooth vocals displayed in "I'll Just Pretend."  Fiddle player, Mike Barnett, was next in the spotlight.  Dawg noted that the group was lucky to have him, as a skilled musician from a "younger generation."  His fiddle playing took center stage in the instrumental "Horn Pipe Dream."  All the musicians made notable contributions, and a rousing fiddle solo punctuated the song.  Lastly, Grisman had the pleasure of introducing his own son, Samson Grisman, as the bass player for the band (referring to him as "a bass fiddle player," commenting that a bass is in reality a big fiddle).  Grisman noted with pride that Samson has been part of the band almost since birth.  In response, the crowd nearly levitated with excitement.  The band played "Highway of Sorrow" to complete Samson's introduction, which Sam complimented with his bellowing bass.  Keith Little then introduced our magnanimous host for the evening, David Grisman, and his mandolin, supplementing the introduction with a heart-felt hug.      
The remainder of the show was highly collaborative, beginning with a boisterous version of "The Cuckoo."  Although Grisman is the official leader of the band, his respect for his fellow band mates is clear on stage, without the slightest hint of elitism.  In a recent interview, Dawg noted, "music for me is a team sport."  He clearly demonstrated this idea through the egalitarian nature of the show, with all members' contributions respected and honored. Instrumentation was sewn together, and while solos abound to feature each artist's specialized skills, the solos were discrete and controlled.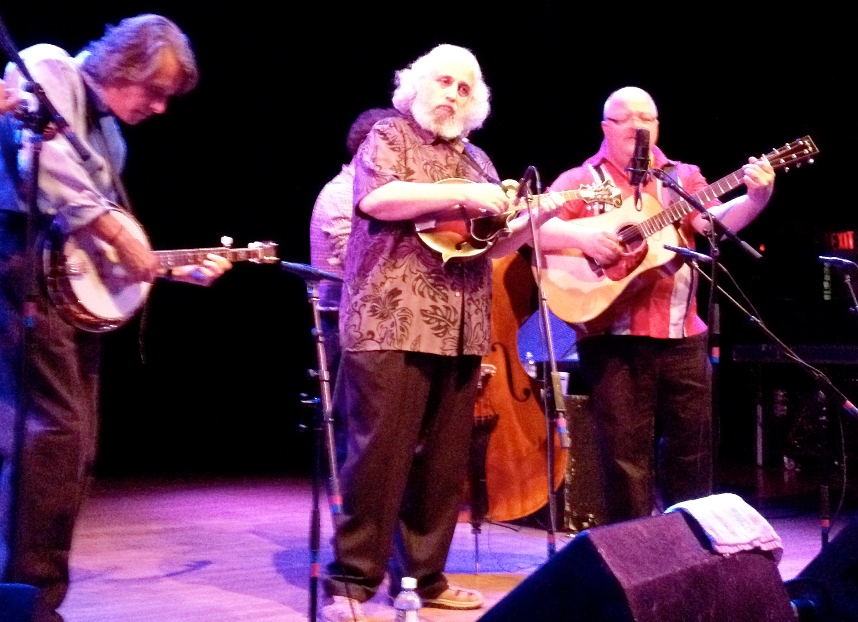 Despite his impeccable reputation within his genre, Dawg presents as unaffected, with his humility bolstering his ability to perform.  He is in awe of those that came before him, as well as his peers.  Dawg provided the audience with historical background information in between each song, referring to it as an unofficial "bluegrass 101."  At one point, he joked with the crowd, "Are you writing this down?" (Ironically, I was indeed furiously scribbling the morsels of information he bestowed upon us).  DGBX's historical course on bluegrass began with "Lorena," a song that was popular with both factions during the Civil War.  The song was slow and sweet, marked by Jim Hurst's soothing voice, and conversational playing between the fiddle and the bass.  This was followed by a rousing rendition of "Thinking Tonight of My Blue Eyes," as a nod to Dawg's recent release of Del and Dawg - Hardcore Bluegrass in the Dawg House, featuring Del McCoury.  Moving through bluegrass history, Grisman touched on the notable "brothers' duets" of the mid-1930's, playing a rocking version of "Lost All My Money But a Two Dollar Bill."  He then used the notion of brothers' duets to segue to a song by Mr. Bill Monroe, the widely accepted father of bluegrass (and former member of a duet with his brother, Charlie).  DGBX played "Will You Be Loving Another Man?" as a nod to Bill Monroe's prowess within the world of bluegrass.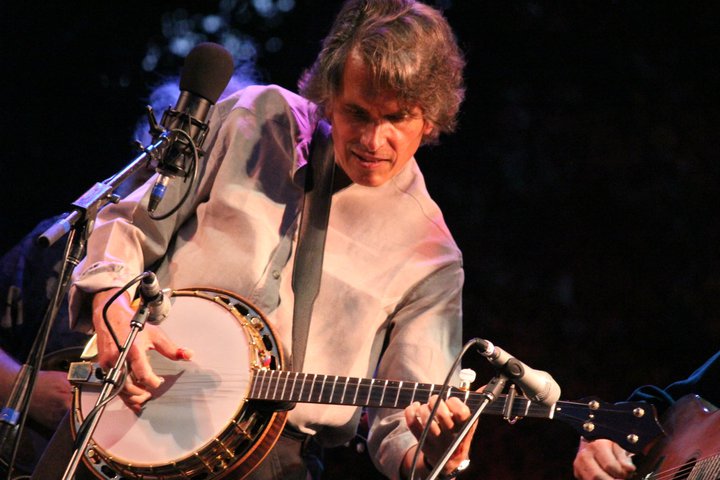 The first set was polished off with two tribute songs, honoring artists that recently passed away.  DGBX played "The Watson Blues" for Doc Watson, and "Dawgy Mountain Breakdown" for Earl Scruggs.  Both songs were entirely instrumental.  "The Watson Blues" was slower and haunting, opening solely with Dawg's mandolin before the remaining players moved in, including a notable fiddle solo by Barnett.  "Dawgy Mt. Breakdown" had a faster pace, and featured Keith Little on the banjo, in the role of Scruggs (appointed playfully by Grisman).  This song wrapped up the first set, but its rousing pace clearly left both the crowd and the band ready for more after a brief intermission.
For the second set, the band picked up right where they left off, with the addition of two new musicians on the stage: Bobby Britt (fiddle), and Sally Van Meter (slide guitar).  DGBX started off strong with an up-tempo rendition of "Don't Let Your Deal Go Down."  The second set was full of fun, foot stomping beats, like "Dawg Bite Your Hide," "Another Night," and "'Til the End of the World Rolls Around."  Rich vocal harmonies between Grisman, Little, and Hurst pervaded the set, with all three pouring their hearts out around a single microphone.  Interspersed in the fun, Grisman continued to weave in more emotional aspects, including a song dedicated to his wife, Tracy, ("I'll Never Love Anybody But You"), as well another tribute "Happy Birthday, Bill Monroe."  Additionally, Keith Little put his tenor voice to work on the emotionally laden "Dream of Miner's Child."  This song was particularly well enhanced by Sally's slide guitar.
The band wrapped up with a single encore song, "My Last Days on Earth."  Grisman reported that Bill Monroe composed the song 10 years before his death, when he was first diagnosed with cancer.  He referred to it as a "very quiet song," which immediately demanded the audience's attention, as members of the crowd shushed each other to give the final song their undivided attention.  Soulful, solemn, and beautiful, Keith Little played mandolin in conjunction with Dawg, ending the evening on an emotionally raw and intimate note.  Overall, Grisman's show was perfectly satisfying, rendering its grateful audience members even bigger fans than when they entered.
Band Members:
David Grisman (mando)
Keith Little (banjo)
Jim Hurst (guitar)
Mike Barnett (fiddle)
Samson Grisman (bass)
Bobby Britt (fiddle)
Sally Van Meter (bass)
Set List – First Set:
My walking shoes don't fit me anymore
Little Maggie
I'll just pretend
Horn Pipe Dream
Highway of Sorrow
The Cuckoo
Lorena
Thinking tonight of my blue eyes
Lost all my money but a 2 dollar bill
Will you be loving another man
The Watson Blues
Dawgy Mountain Breakdown
Set List – Second Set:
Don't let your Deal Go down
(unknown)
Dawg Bite Your Hide
I'll never love anybody but you
Another night
Dream of a miner's child
Happy Birthday Bill Monroe
'Til the end of the world rolls around
My last days on earth