Didn't you always dream of having Jerry Garcia and David Grisman pick the night away in your living room?
Yeah, me too.
The reality of that is a long shot, especially since it would require crossing into different spheres of existence, but Dawg's recent re-release of the 1991 Garcia/Grisman album is the next best thing.  Mr. Grisman released the album for Jerry's recent 70th birthday, but it is really a gift to all of us.  The album is available exclusively through Grisman's record label Acoustic Disc, using meticulous recording methods to preserve the quality of the acoustic sound.  The result is music that sounds freshly picked from the studio, almost as if you were sitting there watching (however, I have seen Grisman play live, and not even his scrupulous recording techniques can rival that experience).  Furthermore, David has released an alternate version of the album: Garcia/Grisman Alternate.  The track list is identical, with each song replaced by a different take to give you a closer look at the intimate Garcia/Grisman experience.
Garcia/Grisman is not only a delight to listen to, but it is emblematic of the close friendship between the two artists that continued until Garcia's death.  Although the musicians met in the '60s, Jerry and Dawg had not recorded together in 15 years when they began this project in 1991.  The album became somewhat of a catalyst between them because they remained close friends and musically entrenched until Jerry's death in 1995.
Despite the pervasive association with bluegrass that we attach to this pair, the album touches on a much wider range of genres, all skillfully tackled with acoustic instruments.  In fact the opening track is a well-known blues song, stamped with their acoustic signature.  The duo play the blues with "The Thrill Is Gone," a song made popular by B.B. King.  Jerry and Dawg also include "Two Soldiers," a folk song from the Civil War, about the devastating impact that war had on soldiers and their families.  The inclusion of this song provides a different perspective on Jerry Garcia, who is so commonly associated with the light-hearted fun of his live Grateful Dead performances.  "Two Soldiers," a song passed on through oral tradition, gives a glimpse at Jerry's reverence of music, the crucial role it has played in society, and the way people have used music to make sense of their often chaotic and painful worlds.  Additionally, the dark and heady "Arabia" also gives listeners a different look into Garcia and Grisman's musical sensibilities.  With its Spanish feel, the sixteen-minute track is ambitious and expansive; it is a well-rewarded departure from their more frequently utilized musical styles.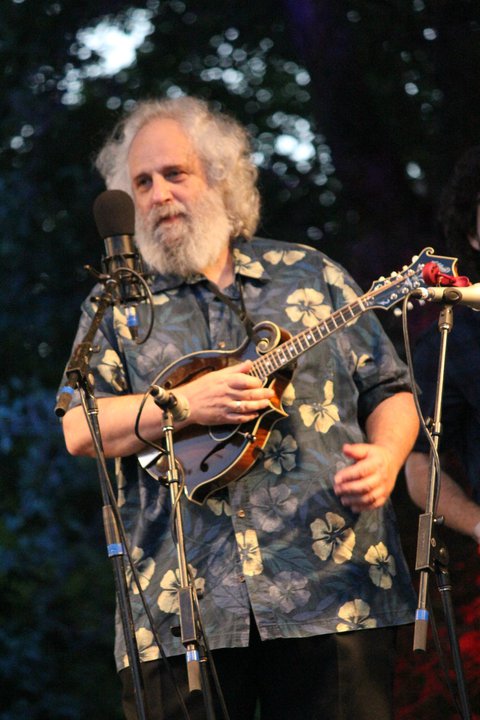 Furthermore, Garcia/Grisman is the birthplace for many songs that we now consider classic, such as "Grateful Dawg," "Dawg's Waltz," and their well-known acoustic rendition of "Friend of the Devil."  Garcia/Grisman fans may feel deeply entrenched in numbers such as these, and will surely feel nostalgic listening to them in the context in which they debuted. 
As previously noted, there are two versions of this masterful and emotional collection of songs.  Of course, I cannot choose a favorite.  My speculation is that was not the point of Mr. Grisman's exercise, but rather David is throwing fans a bone during this tender birthday/anniversary time.  I may be jeopardizing my pride here, as I reveal the depths of the nerd within; however, to best appreciate the delicate differences between the original and alternate recordings, I created a playlist that allowed me to listen to the respective versions of each song back-to-back.  The differences between the original and alternate are subtle; Mr. Grisman is simply giving us more a very good thing.  Thank you to David, for giving us just a little bit more of Jerry to hang on to, to keep him alive in our hearts.  We already know that this is a pure and beautiful collection of songs.  It sounds great on any day, but especially now as means to honor one of the artists behind it, who is tragically no longer with us.