Gauging the reaction of their audience, Jet Edison could simply be defined as people-pleasers in the confines of their Saturday August 4th show at the Fox Theater.  The sweaty crowd spoke pretty clearly with their enthusiastic and incessant movement.  Jet Edison is a Colorado-based jam band, consisting of four members: Phil Johnson (keys, vocals), Max Kabat (guitar, vocals), Adam Mason (bass, vocals), and Alex Johnson (drums, vocals).
Jet Edison has a decidedly Phishy feel, a quality which their audience seems to enjoy.  Their music is rife with round, funky, keyboard influenced jams, and singer, Max, delivers mellow, crooning vocals, not unlike those of Mr. Trey Anastasio.  Regardless of these correlations, Jet Edison is not devoid of their own individualized personality.  Between the barefoot keyboardist, decked in neon, and the wild haired guitarist in an 80's style, animal print, wife beater, it would be difficult to confuse this quartet with anyone else.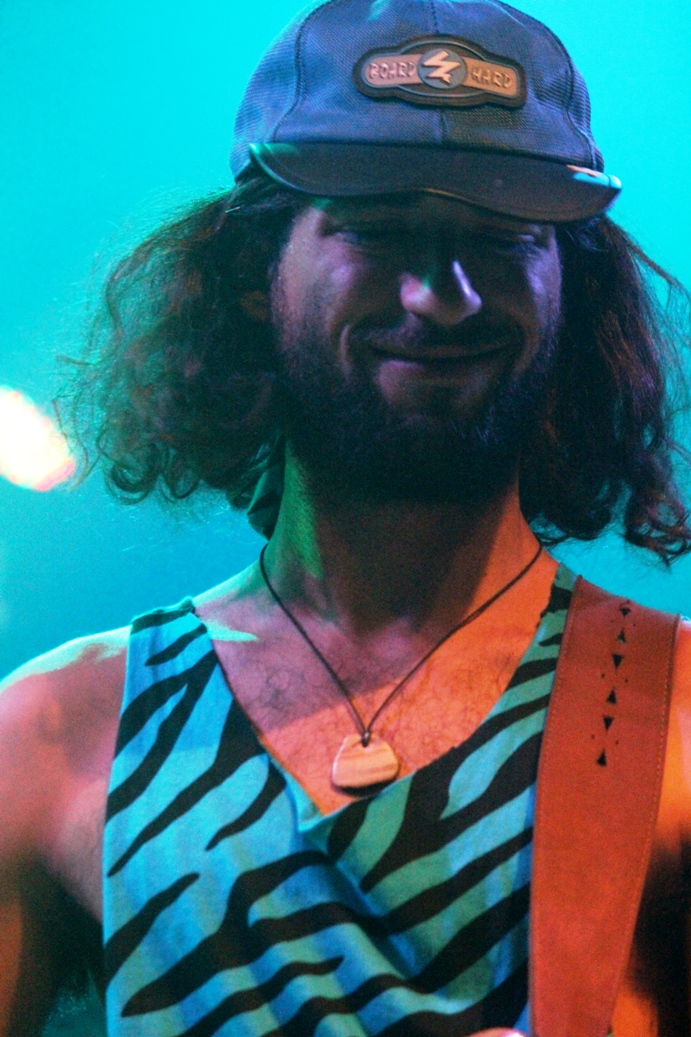 In the style of a true jam band, Jet Edison played leisurely instrumental jams, ripe with funk.  Keyboardist, Phil Johnson, adds a lot to the equation, as he is practically hemmed in by keyboards, which he knowledgably navigates.  Saturday's set was full of new material; the band played only one song, "Pi," from their studio album, Adopt a Highway.  Staying true to form, the group focused the majority their energy on the instrumentation, rather than vocals, with each song stretching to an approximate average of ten minutes. 
Mid-way through the set, Jet Edison surprised the audience with a crew of special guests: a trio of brass players, and local guitarist/celebrity Matt Flaherty (of Hot Soup, and The Matt Flaherty Band).  As there is never a dull moment with Matt in the room, he showed up in full force, ready to groove, decked in an ankle length, floral print housedress, circa 1983. 
This was a great song in the show (although the name went unmentioned), augmented by the additional guitar, and brass section.  Also, Phil Johnson threw in an additional trumpet, giving his keyboards a chance to cool off.  The band followed up with some bluegrass, or more accurately jam grass, and the show proceeded like a well-oiled machine.  For the many Boulder jam band aficionados, Jet Edison is an easy sell, and they make for a fun evening of grooving, with the band and the crowd being very much in their element.