Grateful Web was recently fortunate enough to speak with bluegrass/newgrass mandolinist, David Grisman.  Dawg was kind enough to share some of his history with bluegrass legend, Del McCoury, David & Del's new release, Hardcore Bluegrass in the Dawg House, David's music label, Acoustic Disc and the hi-definition re-release of the classic Garcia/Grisman album, Grateful Dawg.
GW: I understand that the recently released Del and Dawg - Hardcore Bluegrass in the Dawg House is comprised of music recorded on two separate evenings, with a lapse of seven years between them (1992 and 1999).  What prompted you to currently release this combination?  Why now?
Dawg: Why not?  Since building my own studio, I've recorded a lot of music without any particular deadline or project in mind. Sessions with Del and the boys, Jerry Garcia, Doc Watson, John Hartford and others occurred during visits and informal get-togethers. A few of these tracks were used on several other projects, Life of Sorrow (ACD) and Happy Birthday Bill Monroe: Dawg Plays Big Mon (Acoustic Oasis.) It seemed a good time to release all of the tracks from both of these sessions.
GW: How will the newly released Del and Dawg album impact your current tour?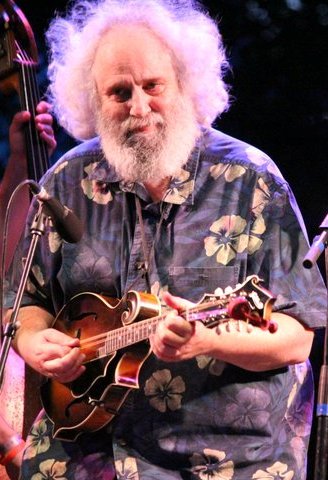 I'm always playing gigs with my various groups (David Grisman Quintet/Sextet, David Grisman Bluegrass Experience and FolkJazz Trio) and it's always good to have a new release. Beyond that, I'm not that scientific about marketing strategy. Too much thought about the biz can hurt your playing.
GW: You have a long history with Del McCoury, both personal and professional.  Can you give me some background information on your relationship?
Dawg: I met Del the day he played his very first gig (on banjo) with Bill Monroe and his Blue Grass Boys. It was at NYU (where I was a student) early in 1964. We became friends and played our first gig together in 1966 in Troy NY (documented on the Early Dawg LP (now CD) that was released on the Sugar Hill label. We both became fathers of first-born sons (Ronnie McCoury & Monroe Grisman) within a month of each other in 1967 and have maintained our personal connection through the years until now.  I've felt for quite some time now that the Del McCoury Band is the best bluegrass band in the world. For pickin', singin' and the bluegrass groove, in the style of the architects of bluegrass, they are unequaled.
GW: I understand that your label, Acoustic Disc, was developed in order to preserve the integrity of acoustic music.  What techniques do you use in order to maintain the quality of sound?
Dawg: Well I still record on analog tape, and use the same microphones and recording techniques that I learned from all the fabulous engineers and producers that I've worked with for nearly 50 years now. Of course, having great musicians playing great-sounding acoustic instruments, recorded by a great engineer with great microphones is essential. Basically, attention to detail rules.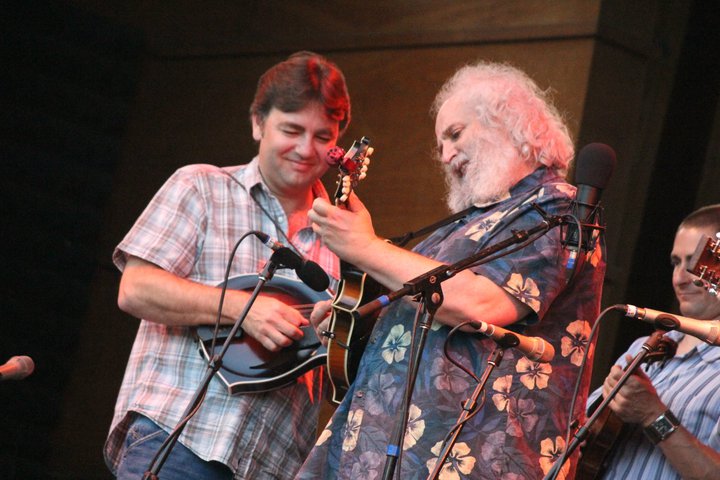 GW: How do you plan for a performance or develop a set list with 50 years of music to choose from?
Dawg: Well that amount of experience yields plenty of tunes, arrangements and set lists. Having that amount of material makes it pretty easy to pick the "cream of the crop" at any given moment or situation.
GW: Your accompanying bands rotate throughout your tour.  How do different bands impact your performances?
Dawg: One of my favorite elements in music is the interaction between musicians. Music for me is a team sport, and having different vehicles with different repertoires allows me to have a very broad reach in my musical endeavors.  It's both challenging (very good for any artist) and stimulating. I'm having a ball!
GW: Do you have any pre-/post-show rituals that you would be willing to share?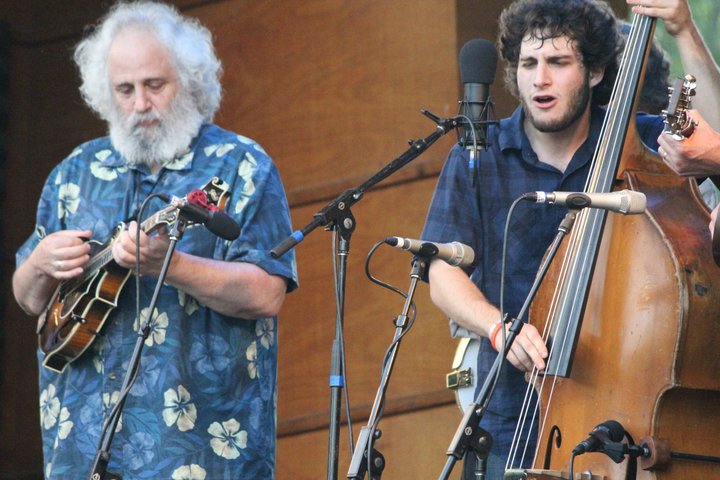 Dawg: Not exactly rituals, but we generally rehearse in the hotel room, do the sound check and play our butts off.  What else is there?
GW: Do you have any plans or ideas in place for after the tour?
Dawg: Yes. Keep checking the AcousticOasis.com website.  I'm about to launch a series of Hi-Definition downloads that are noticeably better sounding than CDs. This month we're releasing  a series of compilations, HI-DEF FOLK, HI-DEF JAZZ, HI-DEF BLUEGRASS, and HI-DEF DAWG. On August 1, we'll release a HI-DEF version of the original Garcia/Grisman CD, along with a complete Alternate CD of unreleased tracks. I'm very excited about this and many other projects that keep me continuously busy in Dawg Studios.