Karma dictates that you get what you give; if this is the case, Langhorne Slim & The Law's performance at the Boulder Theater is a prime example, where the band and crowd seemed to reciprocally pour all their energy into each other.  The result was a ubiquitous good time guided by our fearless leaders' winning combination of talent and unbridled enthusiasm.  Langhorne Slim is backed by "The Law," comprised of Jeff Ratner (bass), Malachi DeLorenzo (drums), and David Moore (keyboard and banjo).  The group recently released their fourth studio album, The Way We Move, which demonstrates Slim's quirky and personal style of songwriting.  The new album was clearly a driving force in the development of their set list, as Slim tackled well over half of the new material in the course of the show.
With his unique style, Langhorne embarked upon the stage donning a bowler hat, and immediately pulling the crowd in with his energy.  With an effortless vigor, Slim stormed DeLorenzo's drumset, hiking up the drums in his leather boots, as he belted out one his new songs, "Bad Luck."  He continued to rock out in "On the Attack," another new song that showcases his distinctive vocals.  Slim's singing is highly modulated, and he easily demonstrates his ability to move between warbling high notes and low, guttural tones.  Slim sings with the raw intuitiveness of a seasoned performer, combined with the accessible vulnerability that steeps his lyrics.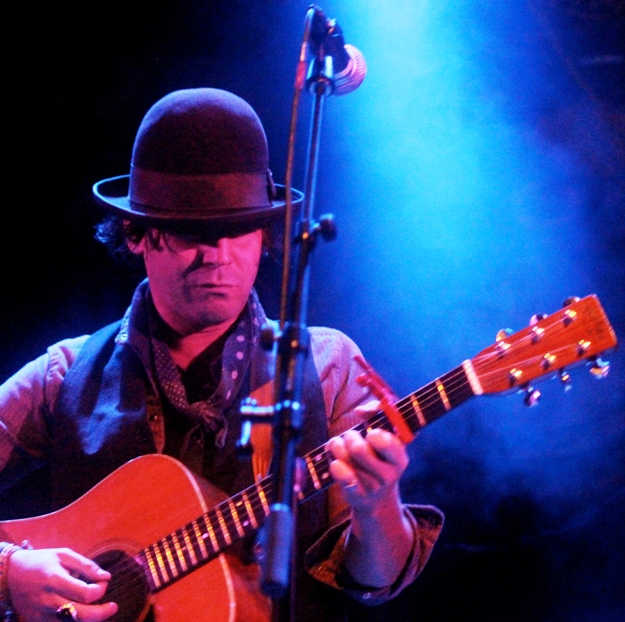 The Boulder Theater sees a great deal of hip swiveling and arm waving; however, at this show, the audience took the usual concert-induced wiggle to another level.  After stepping away for a moment, a glance from the lobby area revealed that the entire crowd seemed to bounce together.  Langhorne Slim's songs almost uniformly end in his audience dancing feverishly.  During the song, "Fire," Slim put his guitar down for the first half of the song to join his fans with equally spirited movement.
Langhorne Slim displayed a wide variety of tricks throughout the show to keep everyone engaged, including jumping to the point of propelling his hat off head, and then attempting to kick it up in the air in order to catch it with his head (so close!)  He also did a powerful, solo mini-set of two new songs ("Coffee Cups" and "Wild Soul").  Additionally, he improvised the end of "Honey Pie," referencing the Colorado stars, the only place a man might lose a girl to "a guy named Tree."  During this episode, Slim also professed his love for DeLorenzo, with a spontaneous, screeching "I love you, Malachi!" and mentioned the possibility of soothing his broken heart by purchasing a pet mouse named Charlie.  Clearly, Mr. Slim knows how to keep everyone on their toes.
Langhorne Slim & The Law finished their show with a strong encore, including a rendition of the song "Mary" that took both the band and the audience to a fever pitch.  All four musicians gave it everything they had, including a notable banjo solo from Moore, who appeared to be playing his instrument with his entire body.  Langhorne Slim & The Law's sincerity and impassioned hard work make for an above and beyond music experience.