On Saturday August 4th, Rocktin Grove managed to epitomize a postmodern band without the slightest hint of pretention.  Seamlessly sewing together select pieces of other genres, Rocktin Grove concocts their own unique blend of music, complete with a wide variety of instrumentation, rich, engaging vocal harmonies, and original material.  Rocktin Grove took the stage at the Fox Theater just three days since its re-opening, after being closed for the summer due to renovations.  The usual cast of characters filed happily into the theater, relieved to be back at this coveted spot, and Rocktin Grove's well organized, well-executed tunes simply allowed the already joyful crowd to ride their happy wave.    
Rocktin Grove consists of an impressive seven members, with the majority of them being multi-instrumentalists.  Band members include: Jon Kimbell (mandolin, vocals); Will Viitanen (drums); Wilson Harwood (guitar, banjo, vocals);
 Adrian Flynt (bass, vocals);
 Nate Luebbe (mandolin, violin); Garrett Cropsey (saxophone, vocals); Theo Farver (acoustic guitar, harmonica, percussion, vocals).  It is no wonder the band is able to tackle funk, bluegrass, Latin, rock, and even Celtic flavored tunes with the wide variety of instruments in their repertoire.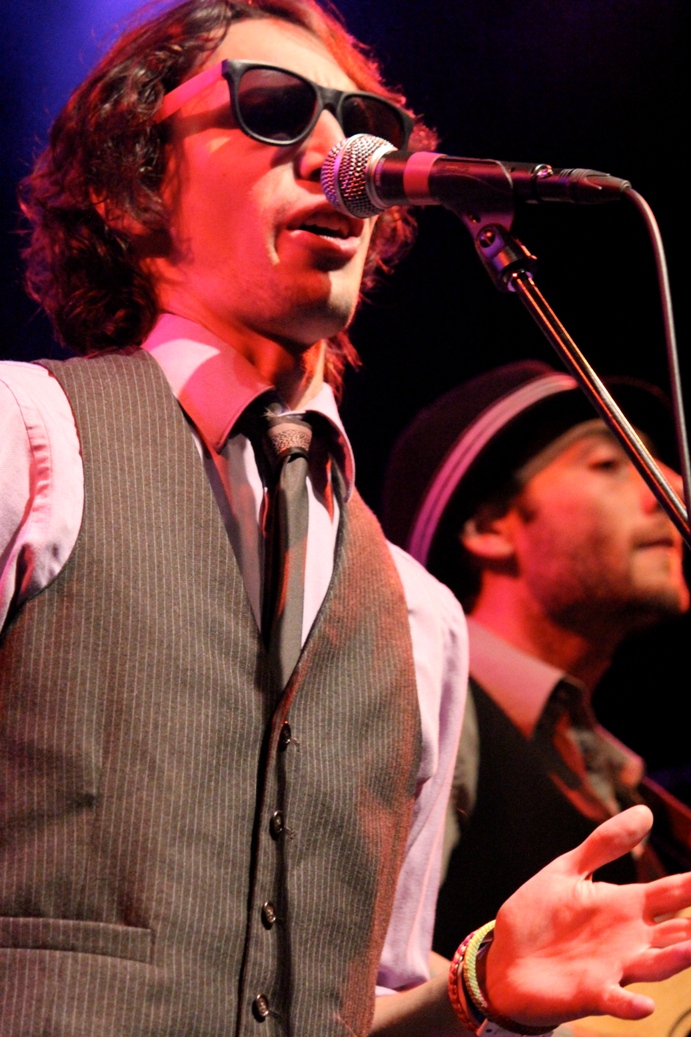 Although they were not headlining the show, Rocktin's six-song set gave their audience a comprehensive tour of their capabilities as a band.  The set included a few songs from their EP, as well as some new material.  They opened up with a Latin groove, called "Ice Cream Cha Cha," that is on their EP.  They neatly juxtaposed the Spanish feel of the song with some unexpected strings, resulting in the crowd's immediate buy-in.  During the course of the first song, the space in front of the stage went from nearly empty to swollen with bouncing bodies.  With the next song, they brought in banjo, mandolin, and a more pronounced presence from Nate, the adept violin player.  The third song was also from Rocktin Grove's EP, entitled "Time Is," which starts out mellow and soothing, and transitions to a more rocking beat, wavering effortlessly between the two sounds throughout the song.  The violin also notably punctuates this song.  The band also threw the audience a bone with a great funk number, which was effectively fortified by Garrett's saxophone playing. 
The set was appropriately finished with a new song, never before played live.  In this slower and crooning item, the three primary vocalists (Jon Kimbell, Wilson Harwood, and Theo Farver) dished up rich harmonies, and lyrics revolving around "The Path of Least Resistance."  This song literally left the crowd begging for more; people were chanting as the instruments were swapped out for the next act.  Luckily, for the many fans that were left wanting more, Rocktin Grove will be playing a full set on Friday August 10th, 10 pm, at The Lazy Dog in Boulder.