After last night's rain, it dawned sunny and warm with a few clouds. The humidity was greatly reduced, too, promising to be a great day for music.
When I went down to the VIP Chill Tent for lunch, I thought I'd eat quickly and head out to catch some of the early afternoon acts in the saloon. But when I got there, I soon found myself in music heaven. Harper was setting up to do an acoustic act and did a great set that rocked the lunch crowd. He closed out his set with a song about the plight of aborigines in his home country, a song he didn't do yesterday up in the Saloon. Harper was backed up by his great band, especially his guitarist who sang backup. Tasty work.
I had finished my lunch during Harper's set and thought I'd still leave until I looked around and saw a fan with New York plates unloading into the Chill Tent. Then I saw bearded Ryan Rightmire walk past and I thought—Wait a minute. That's Turbine!  I was up and running to the van, looking for frontman and songwriter Jeremy Hilliard to give him warm 10KLF greetings. After hugs and a quick catching up on their tour and their asking after my husband's health, I returned to my seat at one of the long dinner tables and waited for Turbine to come on board.
I had remarked that a couple of tunes on Harper's new album, Day by Day, sounded a lot like Turbine tunes, it was serendipity that they followed Harper for this impromptu show. Like Railroad Earth, this band is very song-driven, but today they followed Railroad Earth's own example of moving well away from the familiar song structure. Turbine did a killer jam set that had diners up dancing and giving them roars of applause and hollers. When they did do a few vocals, they were still tight 3-part harmonies between Ryan, Jeremy, and their bass player, Justin Kimmel. Usually, Turbine audiences are mesmerized by Ryan's original harmonica work with effects that sometimes mimic a Hammond organ. But today, Jeremy just smoked on his electric guitar, showing a side of himself I have never seen.  As they moved into jazz realms, Jeremy's shredding often fully competed with Ryan's loud driving harp effects.
I asked him afterward, "When did you learn to shred like that?"
He smiled shyly and said, "Well, I could always do that. It's just that now that they band has had a chance to develop as a band, we're finding ways to give more."
I really thought that the hardest workers of that band were Kimmel the bassman and their drummer. These guys had to keep the rhythmic foundation going while Ryan and Jeremy did their thing. Now, how can you do that and still maintain some creativity? Well, these guys certainly knew how to do that. Kimmel was pumping out bass noodling around his concentrated rhythm without losing site of where the tune was going and where the other band members were with the tune. And the bassman and drummer were showcased on the last tune, allowing them to really step up and show their chops.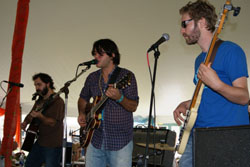 It was a great start to a wonderful day of music, though I missed Mountain Standard Time and Tim Sparks in the Saloon.
I parked myself at the Field Stage for the Everyone Orchestra and for Steve Kimock's Crazy Engine. I just couldn't face the steep climb to the Saloon today so I begged off any of the acts up the hill. I sent my two photographers out to catch some vibes and take some photos.  But my lounging at the Field Stage was well spent. Members of Ragbirds and another Ann Arbor band played with the Everyone Orchestra, along with Steve Kimock and his son, drummer John Morgan Kimock. Matt Butler, organizer for the Everyone Orchestra gave time for the good folks at the Rex Foundation to make a plea for donations before the band dropped into a Rex Jam. Butler had launched the first Rex Jam two years ago. The Rex Foundation raised several thousand dollars to revive the Detroit Lakes Schools Music Program, buying new instruments and refurbishing older ones.
Steve Kimock and John Morgan Kimock stayed on stay as they brought in Melvin Seals' vintage Hammond and the Trevor Extor, the bassman, got set up. They did some reggae and island music, with some funk and rock. Seals sang a couple of blues tunes. But there were no backup singers on this tour, though they have appeared at some venues on the Crazy Engine tour.  They ended with a Kimock standard, "Tongue and Groove," that a group of Kimock fans had been patiently waiting for. But one of the fans kept waiting for a signature cymbal crash at the end of a line of music and at every point that was supposed to occur, there was just silence. It was driving the fan crazy.  Kimock, of course, was phenomenal and so was Melvin Seals. But I was really impressed with Trevor Extor's bass work, very inventive, and always on the money.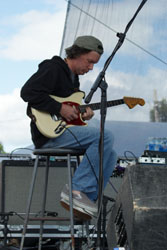 At six o'clock, Trampled By Turtles took the Main Stage before Widespread Panic. While Turbine and Railroad Earth diverted from their lyric-driven works, Trampled By Turtles did just the opposite. They did their familiar speed bluegrass repertoire, but they also injected some of the finest folk-grass tunes I've heard in a long time. It makes me want to track down their publicist and get a copy of something new that they have out.  And, Widespread Panic, well, they just cooked nonstop for over three hours. I couldn't believe you could play that long without a necessary bathroom break but these guys just kept coming.
At 11:30, late night acts included Wookiefoot on the Field Stage, who restricted photo access to their designated videographer, and BoomBox on the Barn Stage. Both shows were well attended, but my son said that BoomBox was killer for what they did with just two guys! Competing with these two acts was The Macpodz in the Saloon.  And later, Backyard Tire Fire carried everyone into the wee hours in the Saloon Stage.
I did want to point out that starting yesterday with Akron/Family, the Barn Stage was always Standing Room Only. And today was no exception. Cloud Cult had festivalgoers packed under the canopy and standing all the way to the entrance of the Saloon Stage and even up the steep walk to either venue. And the crowd didn't thin out and may have gotten larger for Tea Leaf Green. Both shows were tight and very different. I wasn't surprised that Cloud Cult would draw like they did because of the fact they had two painters on stage who would pause periodically and step to the mic to sing.  And, Cloud Cult has a passionate following because of their heartrending story of grief and hope and their environmental stand. But Tea Leaf Green, who had been to 10KLF previously, obviously brought fans and earned new ones.
My only regret was that I missed seeing Corey Chisel, The Ragbirds, and even Enchanted Ape one more time. Still, an old body can only do so much and I was beginning to feel its toll.