It's amazing what a good night's sleep can do for a body! Today's report about Friday at the fantastic 10KLF will be devoid of whinning!
Though music started yesterday at noon with Blue Martian Tribe and Bill Smith at the Saloon stage, I was writing my report and wasn't able to start my music listening and viewing until 2pm when I made my way across the Concert Bowl to the Barn Stage. The Everyone Orchestra was heating up the audience with what only Matt Butler can produce. I saw Allie Kraal from Cornmeal playing fiddle and Steve Kimock on guitar. It also looked and sounded like Jen Durkin from Deep Banana Blackout was offering vocals that don't normally occur during an Everyone Orchestra event. Butler and the Rex Foundation also were organizing a donation drive to support the Detroit Lakes Public School music program again. Last year, they raised $1600 in an hour!
I eased into my chair and was most pleasantly refreshed by The Waybacks. (See full band feature on Grateful Web.) The guys played their entire new album, Loaded, and a couple from their previous recording on Compass Records. They played "Black Cat" right off. But it was their "Northwest Passage" about global warming, written as if it were a sea shanty, was amazing. There were plenty of Waybacks fans there who were singing along, even on a record that was just months old. James Nash easily moved from acoustic guitar to mandolin, but when he picked up the electric guitar, the band launched into a medley, including a Dead tune, a Texas swing number, and a rock and roll tune.
Next up, was JJ Grey and MOFRO. It was amazing what a following he has! But it's no wander. His songs are solid, his band is deep in the pocket, and he gives a truly genuine performance. He did nearly all of the songs from Country Ghetto and included what has become his signature tune, "Lochloosa." Early into that song, he started his chorus and just stopped singing as the audience completed it. The sun could only compete with the grin on his face! He asked the audience to sing it again and finally a third time. The last time he was at 10KLF, some of the audience knew the words, but this time, I think nearly every one did, including myself.
JJ's set went non-stop with him only talking briefly about how we're hung up on technology. He said, "When I was growing up, we had technology. We had a channel changer for the TV. My dad would say, 'Hey, kids, turn the channel."
His new band is killer. The horn players really add a lot of color to the musical mix, but his friend and long time bandmate Daryl still stole the show with his slide work. Though he sits on the side of the stage, just quietly playing, he can bring down the house with a few licks from his guitar.
When I met with JJ backstage, he was stoked, grinning about how great a audience it was and how he really appreciated Minnesota. That was the best musical high I've seen on a musician, except maybe when my husband opened for James Talley last year!
Around 6 pm, Wookiefoot hit the Main Stage for the first time. Though they have played this festival many times, they have always been on other stages. All I can say is they killed it!!! It was dead on musically, vocally, peace-activism-wise, and spectacle wise.. And, the audience loved them! They kept chanting Wookiefoot long after the band had left the stage, but Jo Jo Lash, the founder and leader of the Wookiefoot family, kindly told the audience that they needed to clear the stage for Slightly Stoopid.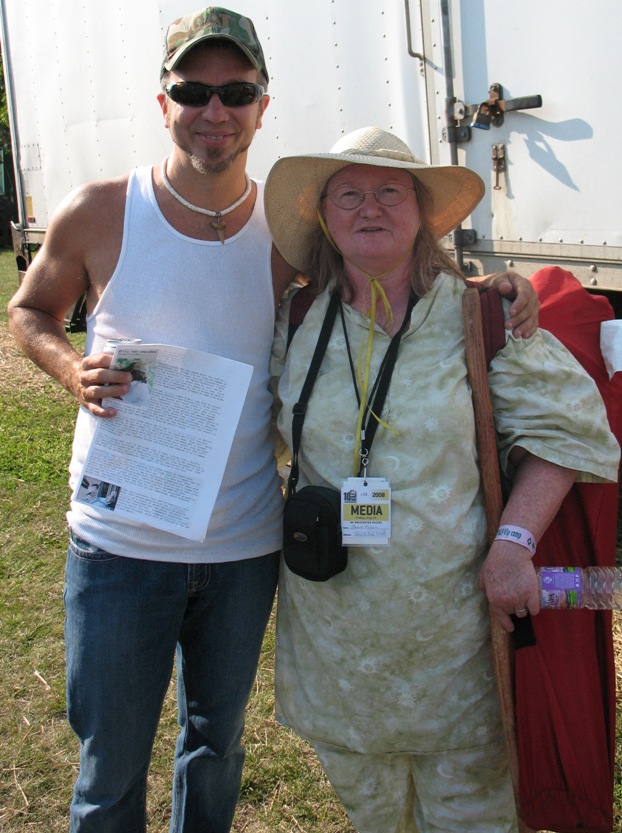 When that California band got on stage, the audience continued the welcome. They did a mix of reggae, wall of sound, rock, and hip-hop. I really enjoyed their horns and percussion. They were in a party mood themselves and this whipped up the audience more.
It didn't take long for the stage crew to move all of Flaming Lips technical gear in place. They had a video screen behind the band and multiple fog machines, as well as mini-canons shooting confetti in the air. The band also brought along what looked like a couple hundred gigantic inflated balloons that they released into the audience.
The spectacle was there, but frankly that was all that I saw. The vocals were hoarse and the instrumentalists were good but not what you would expect from a band of this stature and with as big a following. Perhaps it was the circus atmosphere that has boosted this band into the national limelight. And, part of it is their Led Zeppelin cover where they invited the audience to get naked. I didn't think that would happen in this region since we're in such a conservative area. But the festival promoters had given permission and people did go bare for the duration of that song.
Deep Banana Blackout on the Field Stage and Secret Chiefs 3 at the Barn Stage keep the party going. Both were dynamite shows. Kinetix was in the Barn Stage, which was a shame since this band has a national following and should have been at the Barn Stage or Field Stage. The Histronic closed out the evening at the Saloon at 3 pm.
It was a great day of music. Today will be as good, even though it will be a hot one in Minnesota.