I'm pretty weary this morning as I write about yesterday's great bands. I was kept awake all night last night by a group of campers who were still keyed up after George Clinton's fantastic set. These folks brought their own karaoke setup and some would-be rapper laid really bad rhymes on us. I finally got a couple of hours sleep after security pulled the plug on them after two warnings. I guess this year I'm finding out what some campers deal with since we had to move because we were shooed out of our regular campsite and told we couldn't camp there. But by Thursday when my other photographer got here, he was allowed to camp, along with a ton of other campers.
Then today, after five years and two days into the festival, media were moved to a different location that was packed with photographers shooting acts for the festival.
Despite rules changing by the minute here, the music has been terrific.  Festival workers, bands, and media were treated to some of Lynx's loops, raps, and vocals during lunch in the VIP dinner tent.
Things started out with blueswoman Kelly Ritchie playing her heart out on the Field Stage. She just shredded! Her backup band, a kick-butt inventive bassman and a driving drummer, were outstanding. Her versions of "I Shall Be Released" and "Hey, Joe" were unusual renderings, though her guitar work on the Hendrix tune I'm sure had him smiling down on her. Ritchie also did a bit of showmanship by playing the guitar behind her head. But she didn't stop with the usually wild strumming and chording up the neck, she managed detailed note work as well. It had to be seen to be believed.
At the same time, The Dub Trio packed the Barn Stage. Though the band was into hardcore, I was surprised to hear my singer/songwriter husband say, "The Dub Trio was a lot more interesting to listen to than other metal/punk bands I've heard."
But, it was, The Limns, a very young band that kicked out reggae at the Saloon Stage that really got my energy up. They were giving it up with gusto.
Next up on the Field Stage was Bonerama. This New Orleans sensation kicked off their set with a creative, but respectful, twist on "The Star Spangled Banner."  Then they moved into their great high-energy set. At one point, the band had three of the trombone players using hand shakers while the other trombonist took the lead. Bonerama's performance made me really look forward to my trip down to the Big Easy this fall. Look for a special feature on them on Grateful Web next month.
The highlight for the evening, for me, was Mickey Hart. Vocals were led by Jen Durkin of Deep Banana Blackout. Doing her backup vocals were Kyle Hollingsworth on keys, and he even took lead on a couple of tunes. Meter's bassist George Porter, Jr, did vocal honors on "Fire on the Bayou."
Instrumentally, Mickey Hart played a huge percussion rig and invited his long-time friend from Africa who is a talking drum virtuoso.  There was also a trap kit player.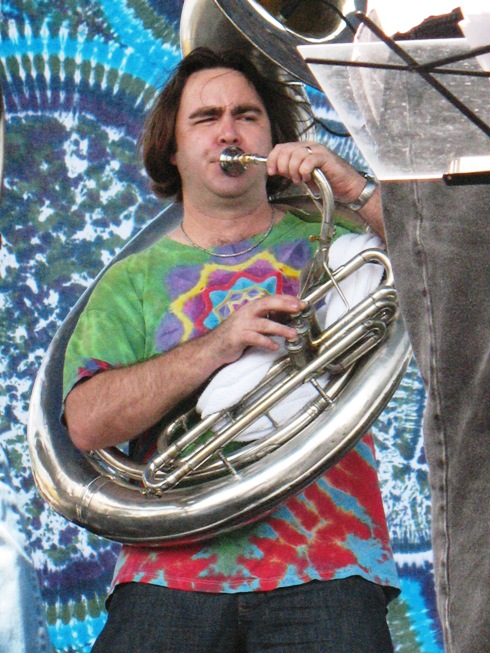 The songs ranged from Dead favorites like "Fire on the Mountain" and "Sugaree" to "Papa Was a Rolling Stone" to Wrecking Crew." They also did a couple from Hart's Global Drum Project CD. But the show stopper for me was "Going Down the Road Feelin' Bad" that started out with Kyle taking lead, then Jan took the reins, and George Porter, Jr. took a verse, with all manner of harmonies going down. It was a terrific three hour set.
Following Mickey Hart was Michael Franti with Spearhead. His set was backed with his anti-war banner and that was the prevailing theme during his set. He did do a song or two about young lovers and about parenthood.  I must say that Michael Franti knows how to whip up an audience and keep them with him through every song. He even invited the talking drum player to help out on the stage as well as some one from String Cheese. I couldn't catch the name over the roar of the crowd.
I caught a little bit of Ultraviolet Hippopotamus in the Barn Stage. This band plays a variety of genres, but last night, they were in their metal/rock phase.
George Clinton closed out the Field Stage and EOTO ended out the night at the Barn Stage. The Hue and U-Melt kept things going until 3 am at the Saloon Stage.
George Clinton was, well, George Clinton. He and the Parliament Funkadelics brought a terrific show, complete with some anti-administration politics. Well-done.
One thing that did ease my troubled sleep last night, after the rapper was shut down, was the lingering echoes of a Native American drum group that healed me and, hopefully, healed our campground.