Recently, Ivan Neville commented, "Derek Trucks is a happening deal. He's the best guitar player I've heard in years." And, he's absolutely right. It is praise such as that, coming from his musician peers, that has followed Derek Trucks' entire life. Touted as a genius guitar virtuoso when he wasn't out of high school, Trucks could have been either a flash in the pan or a pain in the butt. Fortunately for the musical work, Trucks has demonstrated staying power and innovation, while being just a humble, heck of a nice guy.
Trucks, who joined the Allman Brothers when he was 20 years old, recently did a year's tour with guitar god Eric Clapton. That could swell a young head, but not Trucks. "I think we played something like 26 countries. It was a pretty amazing year," he says. "I got to see and explore a lot of places that I didn't think I'd get to play or visit. On top of that, the man was amazing. To be on tour with Eric Clapton for a year was not a bad way to go."
Like Joe Bonamassa and Jonny Lang, Trucks found his roots with blues bands. "That was a base for me," Trucks says. "That was pretty much the music that I grew up with back then. BB King records. Elmo James records. Allman Brothers records. That was really the starting point for me." Trucks' uncle was in the Allman Brothers band so it was natural that he gravitated to Southern rock and blues.
Though he has sat in with nearly every blues great out there and recorded on plenty of albums, recently he toured all of June with his wife, roots performer Susan Tedeschi. Combing her own firey guitar work with Trucks and her powerful voice, that tour put folk, gospel, blues, and rock out there for audiences to eagerly lap up.  "It's a chance for the whole family to be on the road," says Trucks. "My kids will be out. My younger brother will be playing drums. My mom will be out helping with the kids." For Trucks and Tedeschi, it was a working vacation that allowed them to create music together and do some writing.
But Trucks' greatest growth to date has been the work he is doing with his own band that is marking Trucks as far more than an erstwhile child prodigy.  He has learned that he has to stand on his own continuing evolution.
The Derek Trucks Band, started when Trucks was a teenager, may have been a way for him to feel validated as a young performer. Though Trucks had his first paying gig at 11 and started his first band at the ripe old age of 12, he wasn't the youngest prodigy in his own band. Kofi "Punky" Burbridge started flute at six and later picked up keys. "Punky was playing really young with jazz bands and sitting in with city orchestras. When he was at 10 years old, he was out there doing it," says Trucks.  "Enrico Scott, our drummer, was playing in the church quite young."  Scott, though twenty years older than Trucks when he joined the band, started playing drums at seven. Todd Smallie, the bass player, also had similar experiences as Trucks.
There is always an awe around young players. Having members of a band who shared the stares and the brouhaha of early performance put him on an equal footing with his band mates and also showed him that there was some staying power after the first flush of ability.  "But at this point, after I've been on the road with Ernico and Todd for 15 years now, the whole feeling has really shifted. Now at 27, you're kind of in the middle of what you're doing. You're not really the young guy any more. Early on, it was nice having guys like that around.  At this stage in the game, the over all feel is a little different. You're expected to have it all together by now."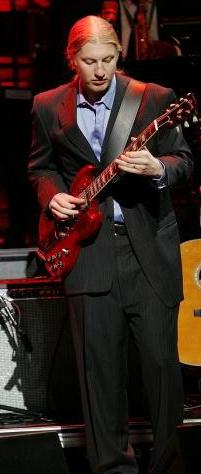 Evidence of having it together is shown in his sixth album, Songlines, released last year. This CD is remarkable. Though solo guitarists often dominate an album and let their egotism drive the music, Songlines, telegraphs Trucks' creativity and his generosity. The kickoff track, "Volunteered Slavery," with its tribal sound enhanced by hand drums and an electric guitar melody line, sets the tone for what follows.
Trucks and his pale blondness, representative of the majority culture, stand in stark contrast to the ethnic and cultural richness of his band and this album. Yet, he delivers an eclectic sound that stirs. Trucks only has four original songs on this CD. Some of the other tracks are purely instrumental, making it clear that lyrics aren't the selling point of this collection. It is the strong world music feel of the CD that transports the listener out of ordinary circumstance.
The combination of fuzzy electric guitar with intricate musical noodling and the intensive layering of hand drums, flutes, and other percussion creates a musical soundscape that moves more than the body and mind. Of particular note is the blues tune "Chevrolet," which showcases Trucks' Delta dobro work.
"All of the music on the record is something that we had heavily been into individually or as a group. It's just music or styles that are important to us," Trucks says. "Before we moved on to making more genre-specific albums, we wanted to do one that we really felt strongly about that went across the board. I think we've got that with this one."
Additional members of the Derek Trucks Band are lead vocalist Mike Mattison and Count M'Butu on congas and percussion.  Everyone sings in the band, except Trucks. Mattison's vocals, however, are stirring, recalling the soul of Al Green and the freshness of Shu and spinning it all together with a rootsy earthiness that can only be Mike Mattison.  Trucks is grateful for his contribution to the band. "He was kind of the last piece of the puzzle."
Trucks and his band will continue to craft a tonal experience that bridges ethnicities and  musical styles while exploring emotional spiritual depths.  You can catch The Derek Trucks Band live at the 10,000 Lakes Festival in Detroit Lakes, MN,  on Saturday, July 21, 2007, at  11:45 pm at the Field Stage.