When the Minneapolis-based White Iron Band released their latest CD, Devil's Sweet Revenge, the band offered up something quite unique and very unexpected for these frozen Southern rockers. The hard-driving rock sound is still ever present in the 13 tracks, but there is a richness of content that I know no one expected to come out of these guys.
The White Iron Band has been around for about a decade, pumping up audiences and developing a renegade reputation. With beginnings in rowdy college days in Ely, MN, founder Matt Pudas said that the band's name was really a fluke. "We did our first big show on White Iron Lake," he recalled. "We needed a band name so we became White Iron Band, and the name stuck."
What has also stuck has been an image of rowdies who were hard-drinking and quick to settle arguments with their fists. In fact, there is a story that these guys once loaded in at a venue and went down the street, only to get hauled in by the police for a fisted tussle with locals, canceling their show. I did see them once at a festival on stage late at night, well into their cups, calling out Shooter Jennings for a Rock-off—and they weren't subtle about it. Thankfully, for everyone's sake Shooter wasn't at the location yet and both bands didn't need to face off with guitars and/or fists. Ironically, Pudas admitted, "I'm a big fan of his." That incident, like many others, was just added to the White Iron Band's bad-boy mythos.
Over the last couple of years, though, I've seen a different side to this band. By day, Pudas is a roofing contractor with his own company, West Side Roofing. "I work all day and play all night," he said, then added. "I think roofers are actually wilder than musicians." So, there has to be much more to this musician than just drinking and raising hell. After all, you really can't climb a roof when you're boozing—at least not for very long.
When the White Iron Band released their 2005 album Take It Off the Top and their live CD, White Iron Band at the Cabooze (2006), the records had far more originals than covers, though their live shows still begin with what has become their anthem - Willie Nelson's "Whiskey River." And, like Willie, they have been mixing a few touches of Tex Mex, blues, and jazz with their Southern rock. Pudas, who is the principal songwriter, has been slipping in songs like the tender "Rosalita" and "Black Tar" and "Whiskey Town" that dealt with social and personal issues and give audiences some life to chew on along with the boozy party. Their live album also introduced "Willie Nelson, You Ruined My Life," a song that is both satire and homage to the Redheaded Stranger.
Their latest album, Devil's Sweet Revenge, is rank departure from their good-time fare. Though the initial cut "Lay Me My Money Down" and "Whiskey Drunk and Bullet Proof" may still get fans up dancing and drinking, especially if taken in isolation from the entire album, it is just a part of what Pudas and the White Iron Band is boldly attempting in this CD. "It's a lot different actually from a lot of our other stuff," Pudas admitted. "It's more of a blusey rock album. It's got more of a darker overtone."
It is indeed a bluesy walk on the dark side. And, it is far more ambitious than just a good-time album where the band just walked into the studio and played the songs and said it was good. "We recorded it differently," Pudas explained,"digitally instead of how we've always done it on tape.... This one, we kind of made a lot of it while we were doing it."
That kind of close craftsmanship is evident once listeners tune into the lyrics and what instrumentation is involved. The White Iron Band has created a Minnesota rock opera or suite in three movements separated by hymn-like instrumental seques. The songs speak of hard drinking, addiction, and isolation, and are very street real. Though this wouldn't be something that a band would attempt in a bar setting, the White Iron Band did record this album with eyes wide open about its intent. They will, however, play selections from the CD that are dance-friendly.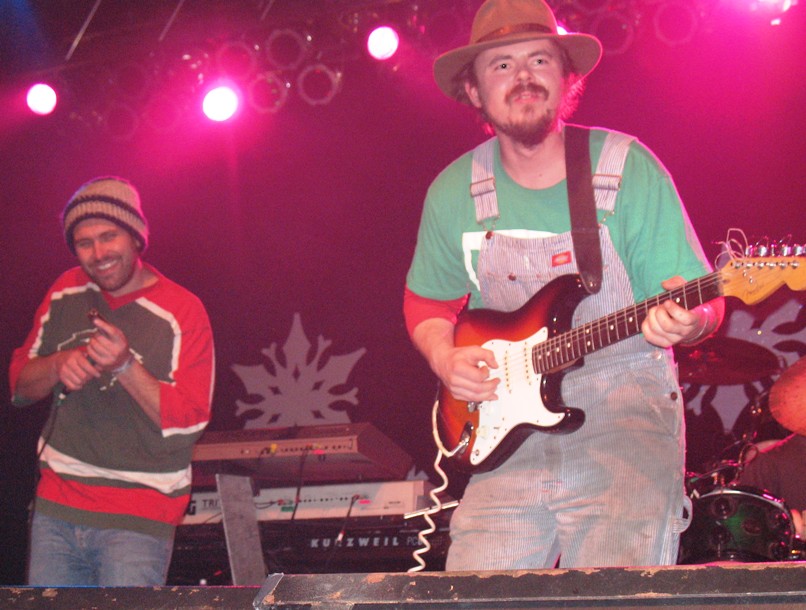 The first movement of this rock suite consists of four songs: "Lay Me My Money Down," "Devil's Sweet Revenge," "Angels," and "Satisfied." This section deals with why the protagonist is in the situation he's in, mainly drinking and popping pills to ease the pain and burning spiritual bridges, thinking that there was no redemption. It is a portrait of a troubled soul looking for redemption and fearing that it isn't possible, where there "ain't no angels out on the road tonight."
Pudas' vocal delivery on "Angels" is unintentionally Springsteen, and he's backed up by phenomenal players throughout the CD. Though Pudas plays guitar, he only sings and lays down incredible harmonica tracks. Sammy Weyandt plays guitar, Eddie Juntenen takes on the keyboards, Matt Walvatme plays bass, Mark Pudas adds another guitar, Jeff Underhill hits the skins, and John Molin adds fiddle. Weyandt, Juntenen, Walvatne, and Mark Pudas both add tight 3 part and 4 part harmonies.
The second movement also has four songs: "Whiskey Drunk & Bullet Proof," "Goodbye Momma," "Losin' Game," and "Dead & Gone." This section deals with the intransigence of addiction, the desire to change, and the realization of the trap the protagonist has made of the life he has chosen.  "Goodbye Momma" is a heart-rending song about realizing what a mess this guy has made of his life.  He plaintively sings, "Goodbye Momma/Goodbye Papa, too/You don't need the debt I put on you." "Losin' Game," which deals with being trapped by life, has background effects that sound both like coins being raked in and the clink of hammers on a chain gang. It is extremely effective. And, "Dead & Gone" is just plain creepy. It deals with a death wish done in chant fashion with only percussion and a vocal echo.
The final movement has only two songs: "Crazy" and "Devil's Gonna Win." These show the final spiral downward. "Crazy" is sprinkled with overdubs that create a devilish madness of the soul. And, "Devil's Gonna Win" is a loud claim that the Devil will take it all in the end—but holds out some hope, urging, "Start fightin' off the Devil, boy, or the Devil's gonna win." That cut lingers on with an almost native chant coming from the gut.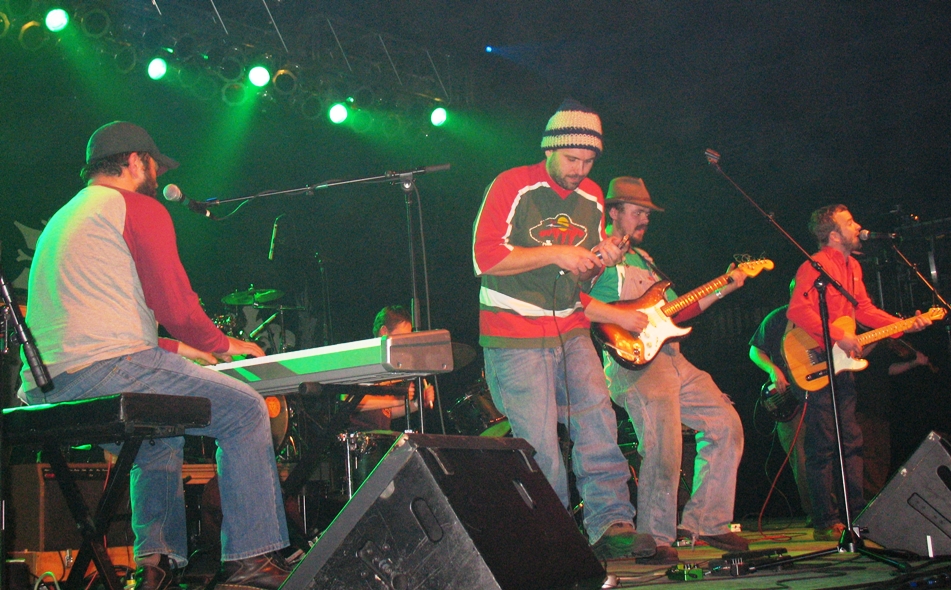 The hymn segues not only separate the three movements but also represent the prayers and interventions of loved ones. By ending on the CD on a final hymn segue, listeners come away uplifted, seeing that no matter how black it has gotten, there is hope at the end, there are folks out there willing to help, there is a Higher Power waiting.
The songs on Devil's Sweet Revenge are all attributed to the White Iron Band. "Everybody has a few songs," Pudas said. "But usually I bring it to the band, and we just see what we can do with it. Mark, our guitar player, has some songs that we do. Ed, the keyboard player, has some of his own songs that we do. My brother has some songs. Everybody contributes. But I would probably have the most songs I guess."
I would urge White Iron Band fans to grab a copy of this CD and spend some time with it. You'll see that the White Iron Band not only can produce a great time, but there is much more to them than what their outlaw reputations claim.