It has been my pleasure to watch Minneapolis band Enchanted Ape develop from a gathering of players who got together to have a good time and occasionally write a clever tune to a road-honed band that is producing intelligent songs with tight instrumentation. It is no wonder that they have been repeatedly asked back to Minnesota's 10,000 Lakes Festival and Summerfest in Milwaukee.
Formed in Wisconsin, three years ago, Enchanted Ape began with the dream of guitarist, lead vocalist, and songwriter Chris O'Brien and three percussionists. They soon attracted a stage full of guest singers and musicians, including harmonica players, saxophonists, organists, and even an electric cello player, that changed at nearly every gig as the band dipped into material that was equally eclectic and varied. Enchanted Ape did reggae, Southern rock, feel-good hippie jam, blues, and even some gypsy jazz - -some covers but mostly O'Brien's original material.
In 2005, the band released its debut album, Three Ring Symphony, to a growing fan base and was able to pass some of those discs around at their first 10,000 Lakes Festival in 2006. That album gave audiences a taste of the rising songwriting talent that O'Brien was developing. Songs like "False Flags," a tale of the high seas wrapped in a haunting melody, "Soulfood" with its meaty message in an island feel, and the exotic melody line and deeper meaning of "Fungi Lullaby" only hinted at what Enchanted Ape could become.
But the band went wanting for a permanent, cohesive set of dedicated musicians to drive this new music coming out of O'Brien. In 2007 when O'Brien relocated to Minneapolis, Rob Bruce (bass/vocals) originally from California, Brad Danielson (one of the original percussionists), Adam Kuchelmeister (drums), and Pat Riddle (electric guitar/vocals) made a commitment to Enchanted Ape. They went into the studio later that year and recorded Off the Ground, an impressive sophomore album that many bands only hope to achieve after a dozen forays into the studio.
Prior to this, the band had been doing a lot of live recordings, trying to get some decent bootlegs. "We've been handing those out quite a bit, trying to get the music out there, "O'Brien said early last year. But the band wanted something more polished for their audiences. "At least at the get-go, we are going to do some songs that we've been playing on the road for awhile, stuff that we've never recorded before but we've definitely kind of worked out. As it progresses, we may throw in some brand new stuff, too. We have some new songs that we've been writing collaboratively, and we've just been still kind of forming."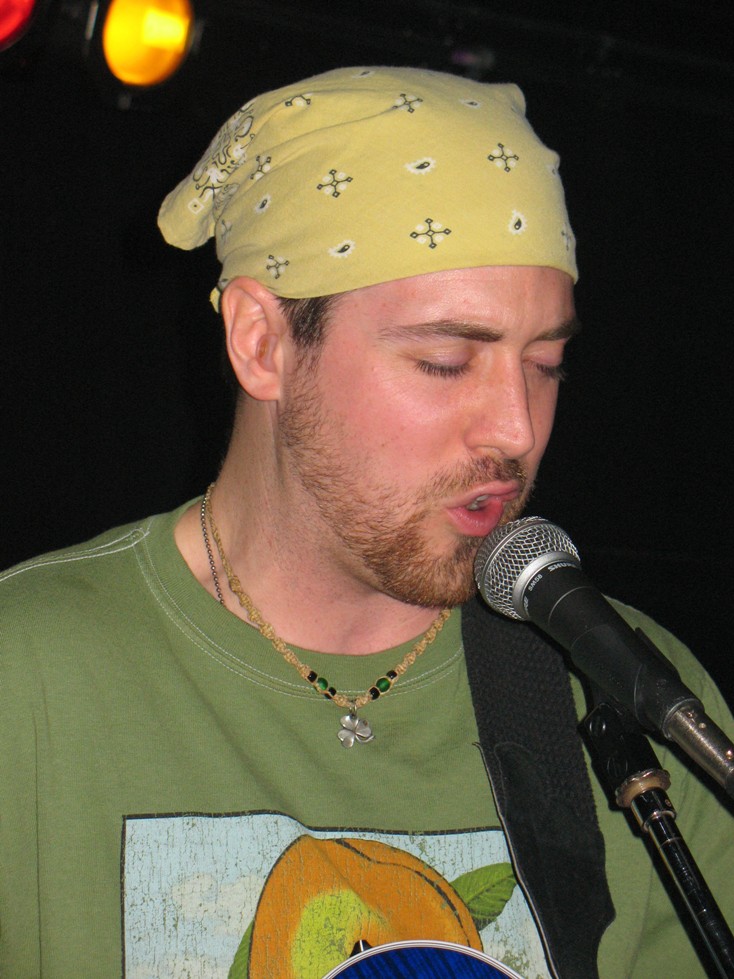 Though Enchanted Ape has recorded new things first, O'Brien felt that there was something to be said for road-tested songs. "It seems that a couple of months down the road, the songs have changed so much. Sometimes, you wished you would have waited a little bit to record until the song really evolved into its current form. I guess you just have to look at recording as kind of a snapshot where a song is at any given moment in time."
That is proven out by O'Brien's take on veteran jammer Phil Lesh.  "I've been listening to a lot of Phil Lesh & Friends. It's just amazing how these songs 30 years later are still evolving and they're still playing them. It's really amazing that you can take something and keep reworking and reinventing it over and over again."
Off the Ground was released this past spring. And, not only is the material fine-tuned and professional, but it still has fire and intensity when these guys hit the stage for a live gig. The single-mindedness of the band members on stage marks this band as a cut above the average rock or jam band. Enchanted Ape has matured into a group that is centered on its music and delivers live shows with the concentration of classic rock artists of the past. Though they love their audiences, their shows make it clear that they aren't there for the party or the flash of guest artists or even for their own ego-driven musical touches. They are there to tell their stories through song.
Chris O'Brien wrote ten of the twelve songs on this album and collaborated with Pat Riddle on two others. The folky bluesy tune "Heat Waves" bears O'Brien's lyrics, but the music is a joint venture between him and Pat Riddle.  In contrast, the contemporary jazzy tune "Variable" in mainly a Riddle composition with O'Brien assisting on lyrics.
These two songs, especially "Variable," are a definite departure from O'Brien's style but does fit well with the album's concept, which still bears an eclectic feel. O'Brien's touch is more organic and folk rockish. There is some reclaiming of the early Grateful Dead in "Whisper," mainly through its guitar work and the vocal harmonies, and "27 Miles" offers a boogie blues.
One of the highlights of this album is O'Brien's ballad about a Wisconsin lumberjack caught in a love triangle called "Pine Tar Jack." On a similar folk rock note is "Red Eye River," while the instrumental "Lance Link" mixes an earthy element with electric rock opera suggestions.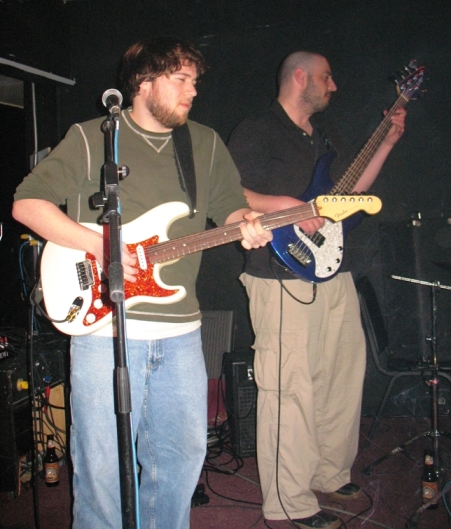 The album digs into relationships too. "Daggers" is a most unusual, unrequited love song, and "Hold My Tongue" is a classy, jazz number, encapsulating multi-layered lyrics about relating to others. Guest vocalist Amanda Hawkinson adds tasty backup on "Only One Tonight," which is a twenty-first century version of "Love the One You're With."
Finally, Enchanted Ape offers two songs that are most unexpected in the jam realm. These two tunes reflect the more philosophical aspects of O'Brien's writing, which shouldn't really be a surprise since he named the band after a quote from a nineteenth century philosopher Thomas Carlyle. Though "Crawl" at first seems to be a harkening back to the island, all-good feel of "Soulfood" - -and it is a song to lighten your spirit, it is a much deeper rendering of the human condition and hope. His chorus ends with "If we can't walk upright, we'll crawl—through the valleys of indecision, we'll crawl."
Then there is "Leave Here As I Came," the final track of the album. It is a uncomfortable look at the end of life and yet holds a plea to make it all mean something. This is rich material.
If you can get a chance to see Enchanted Ape live, do so. You won't regret it. The band offers a great show with slick guitar work, great vocals, and songs that you'll be singing long after you stumble to your car. With roots in acoustic storytelling and blues, the band also has a generous sprinkling of renegade rock and layers of tribal percussion. But if you want to savor the lyrics and digest what all these young players are trying to say in word and instrumentation, run and get a copy of Off the Ground.