It's been said that fine, delicate wines need to mature slowly. For bands, sometimes that's true. In GB Leighton's case, it has taken almost two decades of songwriting and serious performing to develop into a force that is poised to take on the musical world.  That maturing is grounded in Brian Leighton's songwriting, his powerful vocal delivery, and the backing of a phenomenally talented band.
There is nothing delicate about GB Leighton. However, there is a rootedness in Minnesota "nice" that pervades the songs and the band's performances. Even when Leighton sings about bad boys, there is still the urge to forgive the young pup, no matter what he did.
That is one reason why GB Leighton has been a big draw to Minnesota clubs.  Brian and his band seem to generate a good time wherever they play, whipping up audiences, not into frenzied crowds, screaming for his body or into drunken music fanatics, but  into warm friendly places where people dance till they drop and sing along with Leighton standards. The band creates a Cheers type of atmosphere, where everyone knows your name–or soon will–while  couched in musical refrains.
Leighton's love of music began in his Shoreview, Minnesota home, listening to the country outlaws of Waylon Jennings and Willie Nelson and eventually being turned on to Bruce Springsteen who offered a vocal delivery full of energy that profoundly influenced Leighton's own singing style. He began playing guitar at 14, and started GB Leighton at 18, his first and only band.  The band recorded its first studio album a few years later in 1991, when Leighton could legally play in bars. Then in 1994, the band produced One Time...One Life, an album of songs, some of which Leighton still pulls out at every show.  Other studio albums, live cuts, and a DVD followed, with nearly a dozen recordings to the band's credit.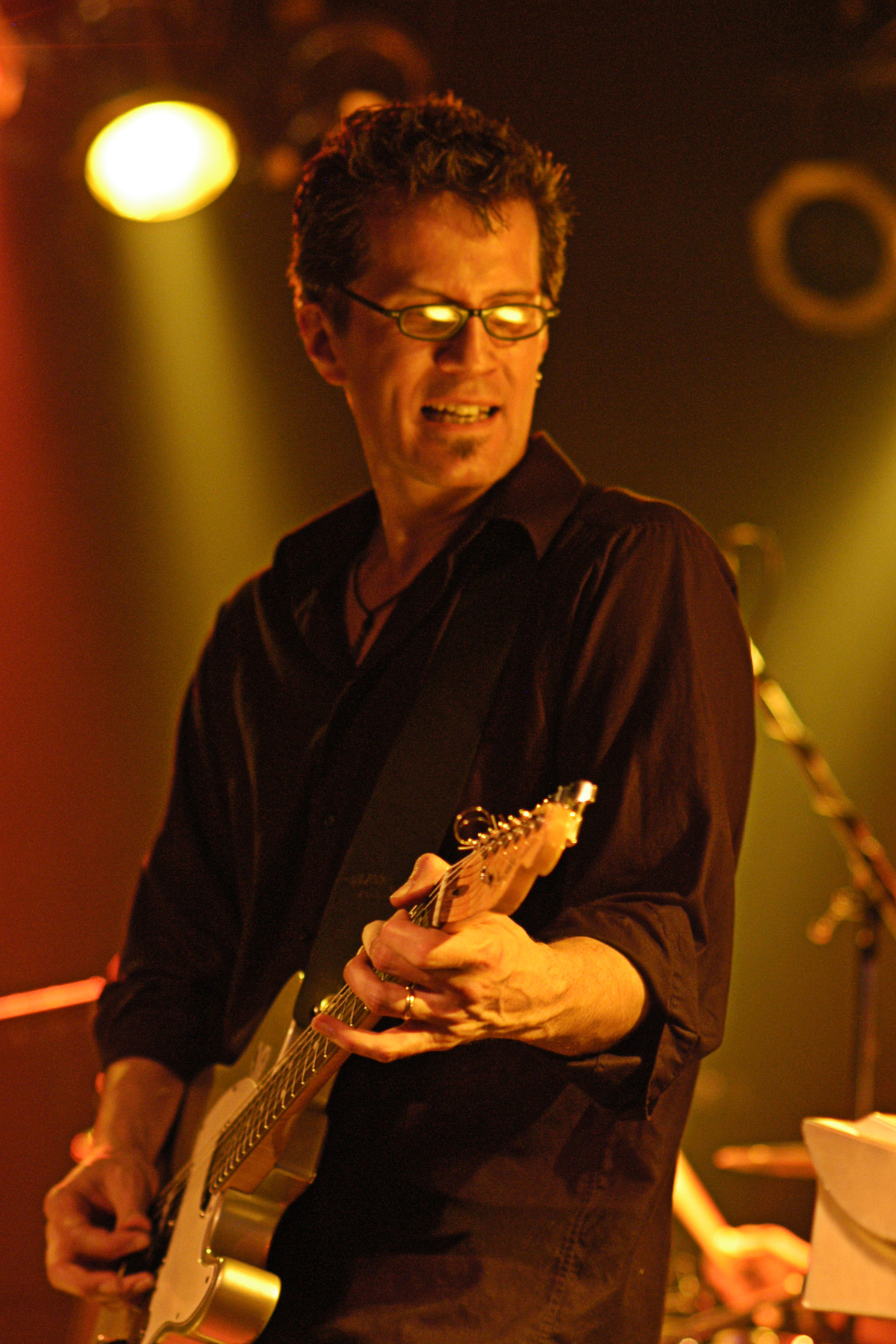 In the early days, GB Leighton burned a path through the US, playing such clubs as Tramps in New York, Howlin' Wolf in New Orleans, Mississippi Nights in St. Louis, and Bohager's in Baltimore.  The band even sold out in 800 to 1200 seat venues, while continuing to draw eager fans to regional clubs, becoming overwhelmingly one of  Minnesota's top-drawing bar bands.  Leighton has also opened for the BoDeans, bluesman Jonny Lang, and Joe Cocker. He and his band appeared in a cameo and on the soundtrack for the independent film, The Marksman, which was viewed at the prestigious Sundance Film Festival in 1997.
Though Leighton has stayed close to home for a number of years, only slipping down to Acapulco in the winter for a week of non-stop music, he and the latest incarnation of his band are ready for wider touring. And, with good reason. His current band lineup is strong enough to stand against Leighton's powerhouse vocals.  Now, he has to reason to hold back and doesn't, allowing him to give everything he can during performances without fear that he'll blow a band member (or the audience) out of the venue. He has a big sound that comes from deep inside, but there is a clear, understandable quality to his singing without distortion or screaming. His audiences want to catch not only the words but the vocal nuances that he uses and his choice of phrasing. That is further enhanced by strong vocal backup by band members Luke Kramer, James Patrick Carey, and Jason Perri.
Though Leighton is definitely in charge on stage, he is also generous. Long time bandmate, Kramer complements Leighton's songs with intricate guitar riffs and, on the new album, Shake Them Ghosts, lap steel, and takes several solos during shows. Carey on keyboards and Perri on sax and fiddle (yes, fiddle, in a rock band!) add color and energy throughout the songs. Perri shines as he struts on his part of the stage, adding those high note solos, and Carey rocks, swinging his keyboard layout to the side so that the audience can see his fingers dance among the keys. Nick Salisbury on bass and Ryan Inselman on drums, the anchors of the band, keep the musical organism moving and always danceable, and sometimes take a solo themselves.
Though the band is tight and has great vocals, GB Leighton could remain a bar band for another twenty years if it weren't for the songs that Leighton has been writing. And, the latest batch on the new album, Shake Them Ghosts, have shifted the band into brand new territory.  As Leighton evolved over the years, the energy and pureness that was present in his Live From Pickle Park album (1998) was lost as Leighton moved into more pop sounding arenas that culminated in his This Life album in 2003. Though the songs themselves were good, there was something missing. When Leighton and his band entered Winterland Studios in Minneapolis last December to record Shake Them Ghosts, Leighton not only was reclaiming something of himself but also moving out into a gutsy, rootsy genre that had a much broader appeal and spoke to a wider audience than the cute babe in the bar.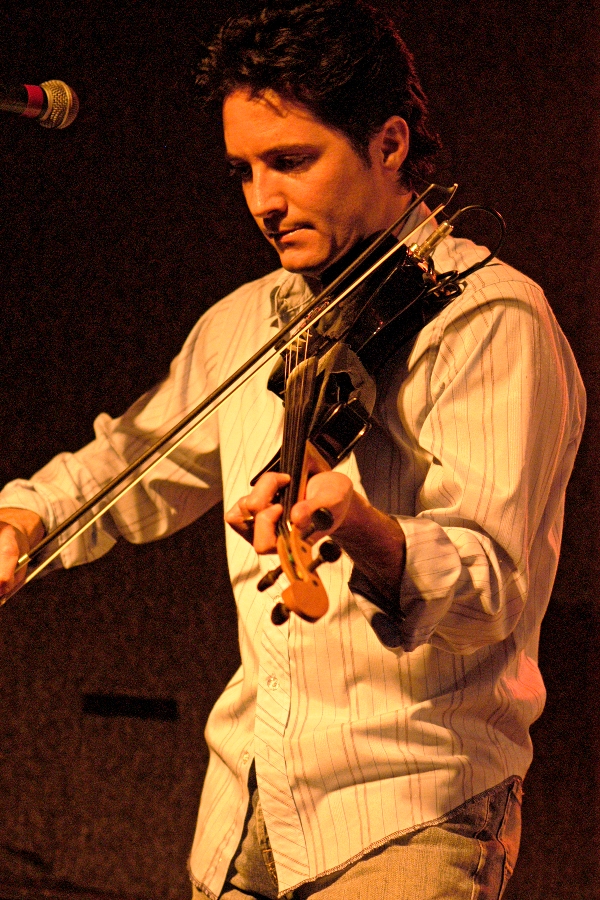 The groundwork for Shake Them Ghosts was laid months earlier when Leighton journeyed to Nashville to work with Nashville songwriters at Still Working Music, the publishing company owned by Barbara Orbison, Roy Orbison's widow and manager.  There he connected with writers like Clay Mills whose work has been recorded by Reba McIntire, Trisha Yearwood, Danielle Peck, and Diamond Rio.  Mills lent his skills to two of the most infectious songs on the album, "Twisted" and "Wings Workin' Overtime."  Leighton worked with other writers: Rachel Thibodeau, a Minnesota native, who has written for Marina McBride and Lila McCann; Jay Knowles whose songs have been cut by George Strait and Montgomery Gentry; and Liz Rose who has a song on Bonnie Raitt's latest studio album, Souls Alike.
Though you'd expect collaborative work coming from writers like these to be the stuff of pickup trucks and honkey tonks, what happened was a matchup of closeted rockers who really wanted to help Leighton shape his ideas.   "We're not in there to just write a great country hit or anything like that," Leighton says. "We're there to write something just a little more rocking and something that will use words that I'm going to say live."
Leighton has always been able to capture more than a smooth pick-up song. His "Man in the Moon," a song from one of his older CDs, tells about faithfulness and standing with someone no matter where they are, and "One Foot Over" is about having the determination to follow your dream. However, the songwriting experience of throwing songwriters in a room and expecting something to come out that often is daunting to so many was actually the necessary stimulus that Leighton needed.  "I did definitely learn a lot about writing songs from people who do it every day and who live in a city that expects great stuff to come out of them," he says.
Then as Leighton and his band came into the studio to produce these songs, the album was further shaped by producer Don Dixon who had produced The Smithereens and R.E.M. Dixon also brought in rock drummer Kenny Aronoff to assist the album since Leighton had just hired Ryan Inselman who was very new to the band.  Aronoff, named #1 Studio Drummer for five consecutive years by the readers of Modern Drummer Magazine, had previously kept time for  Bob Dylan, Rod Stewart, Elton John, John Mellencamp, Smashing Pumpkins, and Willie Nelson. Inselman, however, didn't just sit on the sidelines. He observed Aronoff and even added hand percussion to a few tracks. "After he was in the studio watching Kenny Aronoff play," says Leighton. "I just saw a different drummer."
The resulting album is strong and intense. The good times are still there, but there's a maturity and a personalization in the details of the songs and in the whole band's efforts, vocally and instrumentally, that takes this CD to another level. "Wings Workin'' Overtime," a collaboration with Clay Mills about the transformative power of a woman's love, is more than worth the price of the album–or five albums for that matter.  However, "Twisted" and "Favorite" are lighter cuts that attract audiences but offer more. "Twisted," for example, co-authored with Clay Mills and Stephanie Lewis, is twisted. It begins like Primus rising up through the floorboards of a backwater honkytonk and morphing into a crap-kicking rock anthem. It is pure Leighton, delivered with guts and warmth.
GB Leighton is a band to experience. Find them and the party at a venue near you or in their latest recording,  Shake Them Ghosts. Check out tourdates and CD info at www.gbleighton.com.
 - - - - - - - - - - - - - - - - - - - - - - - - - - - - - - - - - - - - - - - - - - - - - - - - -
Other Janie Reviews:
1.
The White Iron Band (6/16/2006 6:44:38 PM - http://www.whiteironband.com)
Their hard-hitting tunes make the Kentucky Headhunters seem like lite rock, and they can sweet talk you out of a band mood with the strike of a chord or the honeyed blend of multiple-part harmonies.
2.
Phil Lesh Legacy (7/14/2006 5:00:43 AM - http://www.gratefulweb.net/photos/photoInterface/photos.aspx?direct=Ban…)
But it is Lesh himself who is venturing out to major jam festivals this summer in search of the vibe and some answers. He's looking to explore why the jam scene keeps going and what it all means. As part of a long-term oral history project, Lesh has started formally dialoging with people of his generation and young people today about the 60s, what some have thought was a Golden Age of enlightenment and music or a time of unachievable idealism and unrest.
3.
Enchanted Ape: An Enchanted Experience (7/16/2006 6:17:05 AM - http://www.enchantedape.com/ )
Enchanted Ape takes their name from Thomas Carlyle's (1843) written comment about non-conformists, where he states, "...and thou art as an Enchanted Ape under God's sky, where thou mightest have been a man, had proper schoolmasters and conquerors, and constables with cat o'nine tails, been vouchsafed thee...."
4.
Umphrey's McGee: Layers of the Unexpected (7/16/2006 4:45:30 AM - http://www.umphreys.com/ )
An Umphrey's McGee show is a musical extravaganza as the band members trip in and out of musical genres. This band is unique even in the jam scene because of the musical diversity, not only within each set, but within each song. Audiences can hear jazz, rock, ambient space music, Primus-edged metal, and even country wedged up against each other.
5.
Blues on the Prairie: Backyard Barbeque and Blues Fest (1/1/2007 2:44:03 PM - )
Blues legend Buddy Guy showed up in a striped shirt and overhalls. When I had seen him before, he wore polka dots and changed guitars like a fashion statement, including a white one with black polka dots on it. There was another change, too. Guy had only a four piece band. Back in 2005, he had a very talented saxophone player with him. The current configuration, however, is top-notch. They are master musicians in their own right, and hold up well in Guy's nightly game of dueling instruments.
6.
The Bands of 10,000 Lakes, Part 1 (3/15/2007 10:49:07 AM - )
With warmer temperatures, jamfans are already looking toward summer festivals. To tempt you further, we're going to take a look back at last year's 10,000 Lakes Festival in Minnesota, the new kid on the festival circuit that is drawing fans to its musical honey and its truly sweet location.
7.
Unity the band: Bringing the Love (3/16/2007 8:17:47 PM - )
Though reggae, like American hip-hop now, is found all over the world, roots reggae differs depending on where is it nurtured and grown. "The difference with reggae we have in the island," Pita says, "is we have a little bit more of an African flavor, our African heritage and Indian nature. It's old style. It's almost a little faster than reggae, but it has a little pop to it."
8.
Turbine: Always Turning Out The Good Stuff (3/17/2007 5:38:42 AM - )
In 2005, jammers at the 10,000 Lakes Festival were floored by the power duo from New York City, Turbine. Ryan Rightmire (harmonica, acoustic guitar, vocals) and Jeremy Hilliard (electric guitar, vocals) had audiences awe-struck when they launched into their set. "There was a moment after the first long jam of the set, and no one was making any noise during the song, " recalls Hilliard. "We finished and for a second, we were wondering what was going to happen. Then everyone sort of exploded."