Karl Denson's Tiny Universe blew into the Boca Raton's Funky Biscuit for a pair of shows on Thursday and Friday, August 29th and 30th.  Denson's shows were scheduled around The Rolling Stones concert at Miami's Hard Rock Stadium that was slated for Saturday, August 31st. That show was initially scheduled for April 30th and moved to Saturday, August 31 after Mick Jagger's heart surgery. Denson took over saxophone duties with the Stones in 2014 after the passing of their longtime sax player, Bobby Keys.  With Hurricane Dorian approaching Florida's east coast, the Stones concert was bumped to Friday night with an earlier than usual start time of 8 PM. The opening act Juanes was also canceled. The latest schedule change would seemingly allow Denson to play the with the 'World's Greatest Rock N' Roll Band" and still make it to the Funky Biscuit on Friday night for a post-Stones show. Even with all the rescheduling, Denson, the professional that he is, kept his schedule and delighted fans on Thursday with what amounted to as a day before the pre-Stones show and then treated fans on Friday to an (abbreviated) post-Stones show.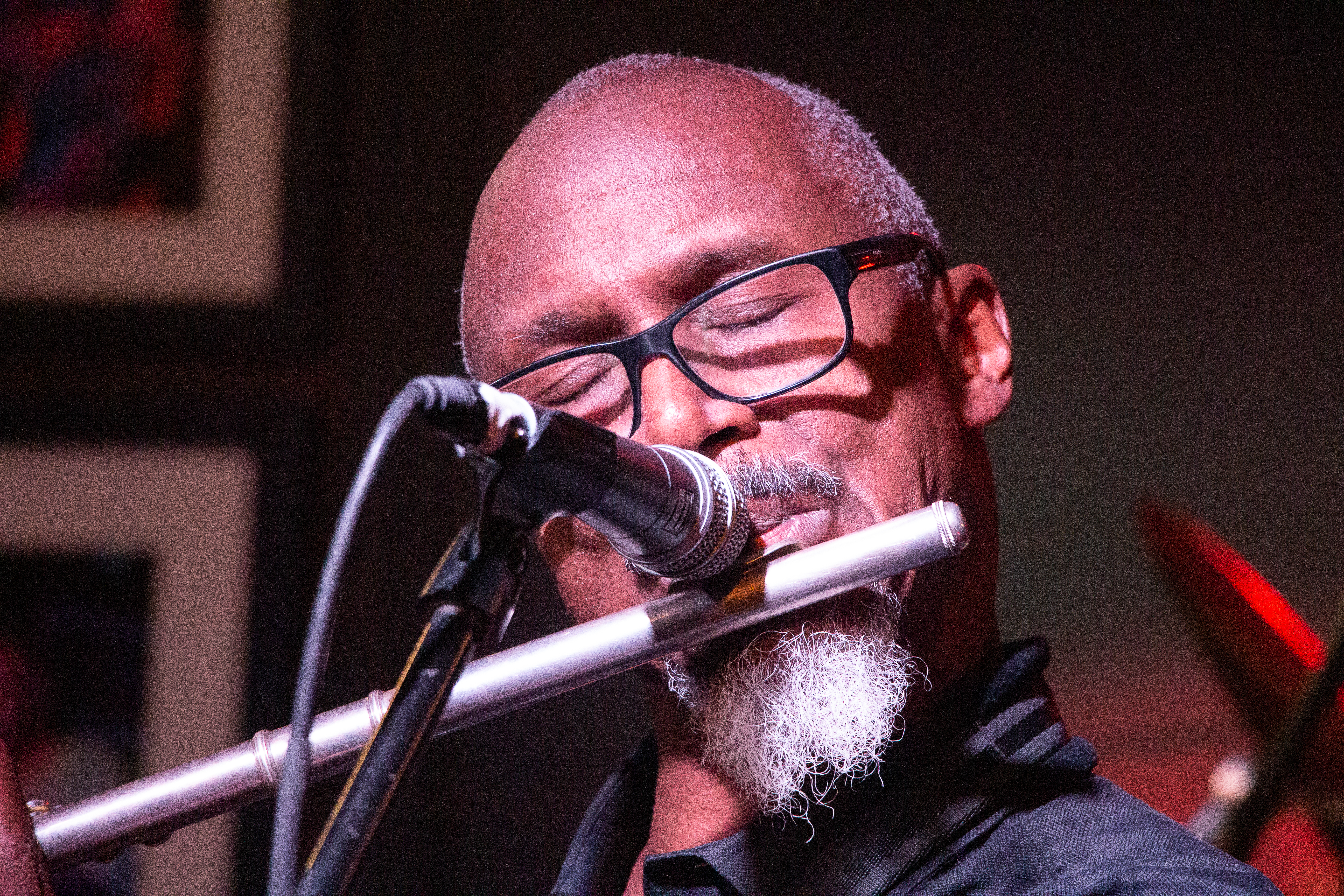 Thursday's show featured Denson on saxophone and flute as well handling the lion's share of vocals. The septet had the crowd dancing to their brand of groove-based funk, steeped in soul. The smattering of Stones shirts in the crowd was proof that this show was kicking off a Stones infused holiday weekend. The dual guitar attack of D.J. Williams and Seth Freeman as they complimented each other with Littlefield providing funky licks on his Fender Thinline Telecaster while Freeman showcased some terrific slide work on both electric guitar and lap steel. Chris Littlefield added some excellent trumpet the highlight of which was on a soulfully jazzed up version of "Under My Thumb." Drummer Zak Najor was a treat to watch and listen to as he never stopped smiling the entire show. His drum solo during "Under My Thumb" gave the band a brief breather but was also one the highlights of the night in that it was one of the most tasteful and sophisticated sound drums solos I can recall.  The audience was ready for more, and the band delivered picking up "UMT" where they left off at the end of which everyone felt gratified as well anxious for things to come. Chris Stillwell and David Veith on bass and keyboards rounded out the group.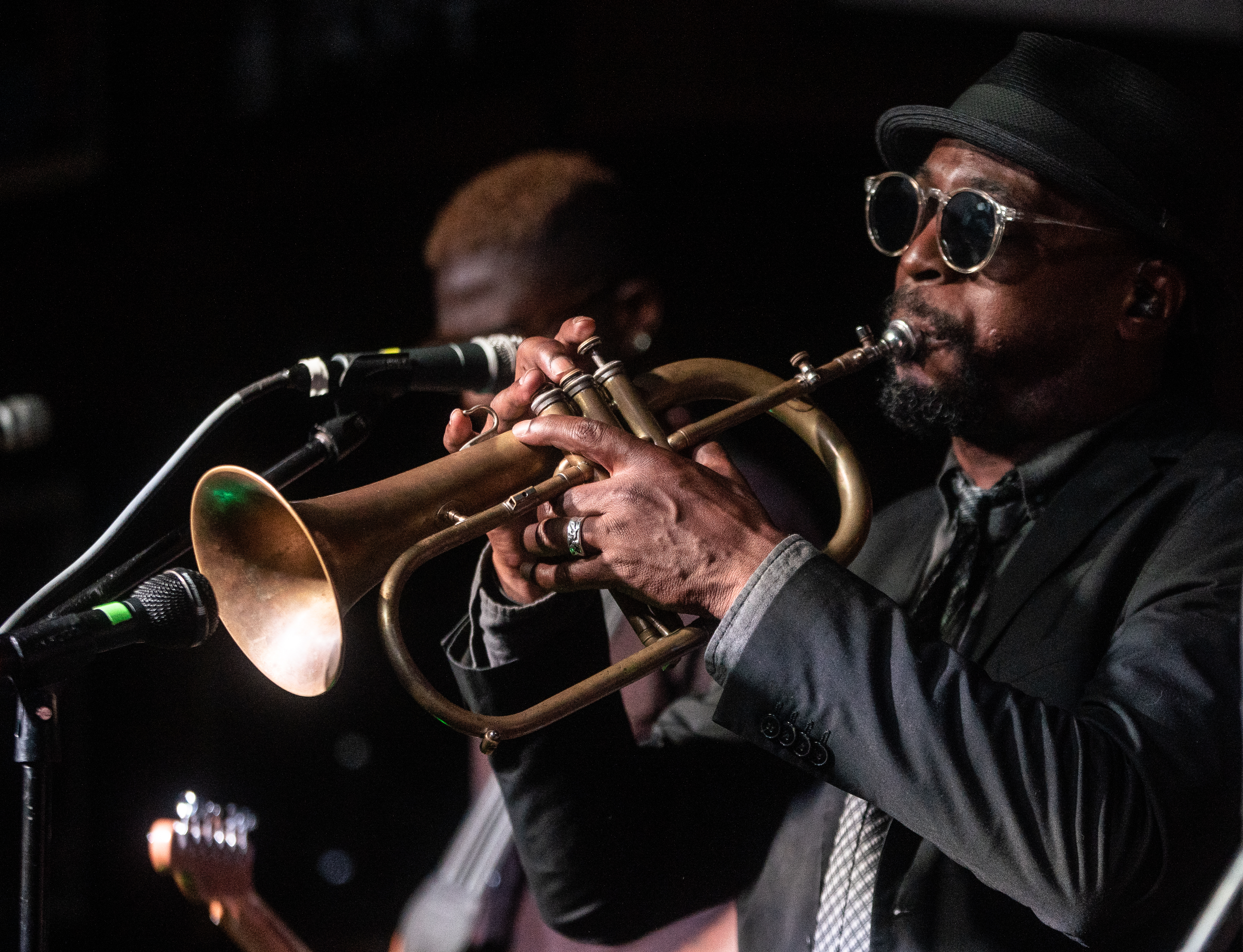 This reviewer was late in attending Friday show at the Funky Biscuit as heavy rain delayed both the start of the Stones show in Miami until after 9:30 PM and again on then again on the drive from Miami to Boca. I did manage to catch their version of a Stevie Wonder styled "Tumbling Dice" that was just sensational. If Karl Denison's Tiny Universe makes his way to your town, do yourself a favor and venture out as this man and that band can flat out play. They will have you dancing up a storm!
Thursday's setlist:
New Ammo
Boogaloo
Satisfied
What If You Knew
Gossip
Time to Pray
Just Got Paid
Rich Man's Welfare
No Where to Run
Under My Thumb
Millvale
Biggest Fan
Can We Trade
Dance Lesson #2