Few iconic bands who have been a group for fifty years truly play with the vigor and focus of their heyday. Not that there's anything erroneous regarding nostalgia, but for the seminal group King Crimson there's historically been little looking back. Denying the moniker of progressive rock (reasonably so, as they predate the subgenre) the group's core founding member Robert Fripp (guitars, keyboards, mellotron) generally led a charge towards new material every tour and an evolving methodology on arrangements. In their fiftieth year, classic members Fripp, Tony Levin (bass), Mel Collins (flutes, saxophones) and Pat Mastelotto (drums, percussion) alongside Jakko Jakszyk (vocals, guitar), Gavin Harrison (drums) and Jeremy Stacey (drums and keyboards) play with the vitality of a group in peak form. In the midst of a lengthy Fiftieth Anniversary Tour, the beloved group graced the stage twice more at Oakland's storied Fox Theater for two unforgettable performances.
King Crimson performances today have shifted towards featuring plenty of rare bust outs from their career spanning thirteen studio albums to please casual and hardcore fans alike. The group's three drummers sit stage front silhouetted by the stringed and brass players behind them. Soft stage lighting with essentially zero effects lending to distractions or inflated sensation. Crimson also politely enforces a strict no photo policy, especially cell phones. Those who are looking for overzealous effects and showy stage antics might have to adjust. As the group took the stage at the Fox for the second night in a row, fans were rousing audible anticipation that permeated throughout the 2,800-capacity theater.
The opening "Drumsons" gradually built a polyrhythmic sphere around the stage, eventually crashing into the title track off 2000's "The Construkction of Light." All the while Fripp, Levin, and Collins sat stoically heeding before erupting in orchestrated madness. Tony Levin's triumphant return to Crim (he'd sat out during the last North America tour) and his unmistakable runs on his Chapman Stick began to pilot the percussion trio in different directions.  A dreamy "Neurotica" featured a memorable duo of Fripp and Collins trading licks, blurring the lines between composition and improvisation. The current arrangement has been touring more or less for five years and has gelled in the abundance of material each tour has brought them. In a true musical democracy, the band blazed through "Level Five," a continuation of "Larks' Tongue In Apsic" suite first recorded in 1973 (with Greg Lake in the lineup). Next an illustrious recently-resurrected ballad "Islands" allowed Jakko the opportunity to showcase an exceptional vocal range augmented by Stacey's bittersweet harmonium and Collin's various of sax, oboe, and cornett backings. Another percussion-centered arrangement came with "Drumzilla" followed by the deep cut "Cat Food" off of 1970s In The Wake of Poseidon.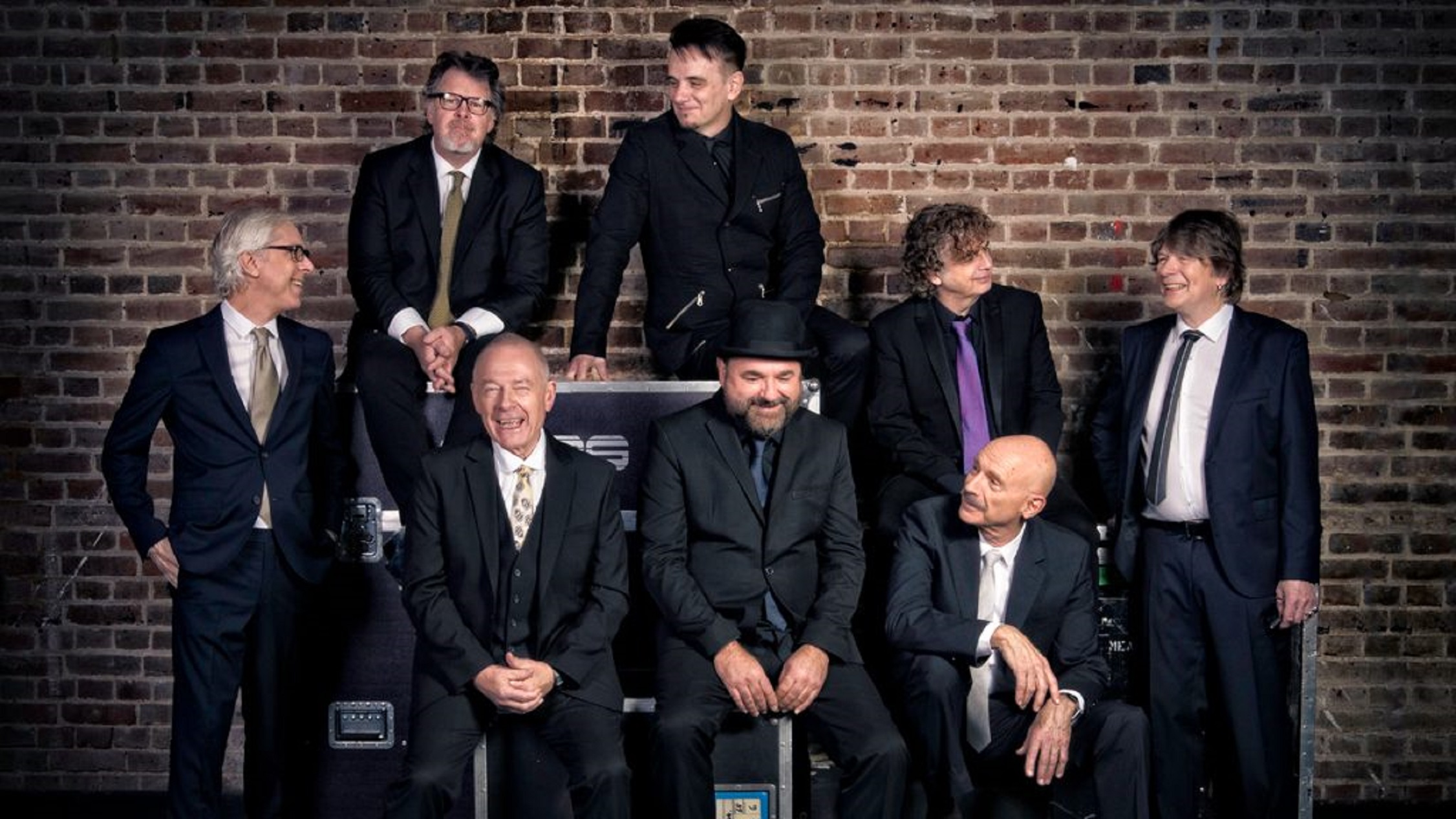 A ravishing "EleKtriK" gave Jakko his chance in the guitar solo limelight while Fripp wove simultaneous laid down a rhythm which reached crescendo simultaneous to eruption from the crowd which felt like part of the song itself. "Moonchild" and "Fracture" would close the career-spanning first set. After a brief intermission (think Broadway show brief) the sextet returned with yet another drum-centric "Drumsons" which built a simple hypnotic polyrhythm into what would become "Easy Money." The one change of stage lighting the entire night came with "Red," with a suitable blood red tinge. Levin continued conspicuous multi-layered rhythms and further enthralled with spot-on backing harmonies. What might have been the highlight of the entire evening came with "Epitaph", the fifty-year-old title track from a lineup which featured Collins and Fripp in primal form. All in attendance were taken back to those early days, once again making clear that the band's current iteration was a direct evolution of that classic lineup still snowballing their approach. Next came "Indiscipline" from 1981's Discipline, the first Crimson album to feature Tony Levin, indeed a comeback and change of direction. Diving deeper into the Red album came perhaps the lengthiest tune of the night "Starless," with a number of different movements lending itself nicely to the saxophone and drum trio instrumentation. Mastelotto, Harrison, and Stacey became one drum kit at times. The sextet became one instrument.
In proper form, the band closed the evening out with "The Court of the Crimson King" followed by an uproarious "21st Century Schizoid Man," encore. Entirely apparent from last Friday's performance was the level of present collaboration happening on every tune, every classic was a new song. Fripp is a guide, but not a bandleader. Our gratitude to King Crimson for inviting Grateful Web for the milestone.