On the last Tuesday night in May, Little Feat continued their triumphant 50th anniversary tour in Oakland at the storied Fox Theater. Time-honored members Bill Payne (piano, keys, synth), Paul Barrere (guitars), Kenny Gradney (bass), Sam Clayton (percussion), and Fred Tackett (guitars, mandolin, trumpet) were joined by Gabe Ford (drums) and very special guests Midnight Ramble Horns (Steve Bernstein, Erik Lawrence, Jay Collins,) for a night of career-spanning classics. The seated full-house would soon enough be bustling with folks grooving down aisles and soulfully singing along with the songs that developed their love of rock music. In a recent interview with Grateful Web, Bill Payne opened up about the desire to mark Feat's 50th anniversary as a special run of shows, "The question really becomes, how committed are we to doing this? I've felt lately, a revived spirit with Little Feat… When we get firing on all cylinders, there's no feeling like that in the world that can compare. It's not a band; it's bigger than a band, it's a life force…" Tuesday's two-plus hour show affirmed Payne's optimism that the band is indeed in a renaissance.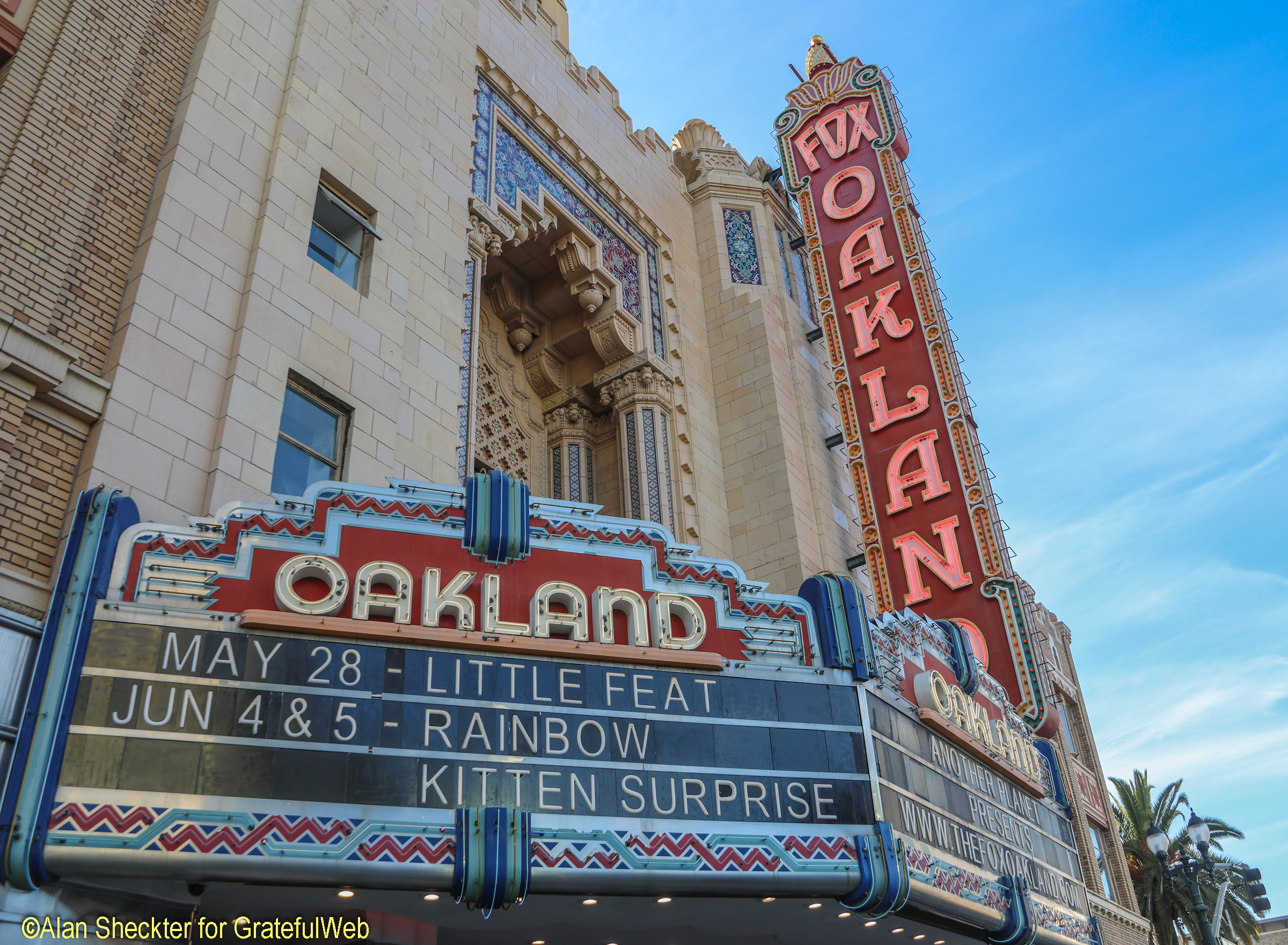 The extraordinary level of anticipation was felt as the band walked out onstage and launched into the '70s-era standard "Rocket In My Pocket." First heard by many off the legendary Waiting For Columbus (1978) double live album fronted by beloved founding guitarist/vocalist/bandleader Lowell George. Barrere's rendering did George's memory justice with a striking rendition, conspicuously pumped up by the Midnight Ramble Horns. Next came the familiar shuffle-beat intro to Let It Roll's (1988) upbeat opening track "Hate to Lose Your Lovin'" featuring barn-burning piano rolls from Payne and notably polished backing vocals from Clayton and Tackett. Displaying the vast swath of sounds that Little Feat encompasses, Payne led the band on a jammed-out version of their 1990 definitive classic "Representing the Mambo." With a flare towards Latin genres, Payne introduced the song accordingly: "We're about to take ya'll down to Rio De Janiero!" Next came the Barrere favorite, "All That You Dream," a bittersweet melody that brought back memories of the quintessential 1970s band, followed by a blistering rendition of "Spanish Moon," famously led by Sam Clayton's Howling Wolf-tinged drawl. The band took the opportunity to welcome out Marc Russo (saxophone) of the Doobie Brothers to pump up the raunchy-blues standard. Marc remained for the rest of the evening's performance.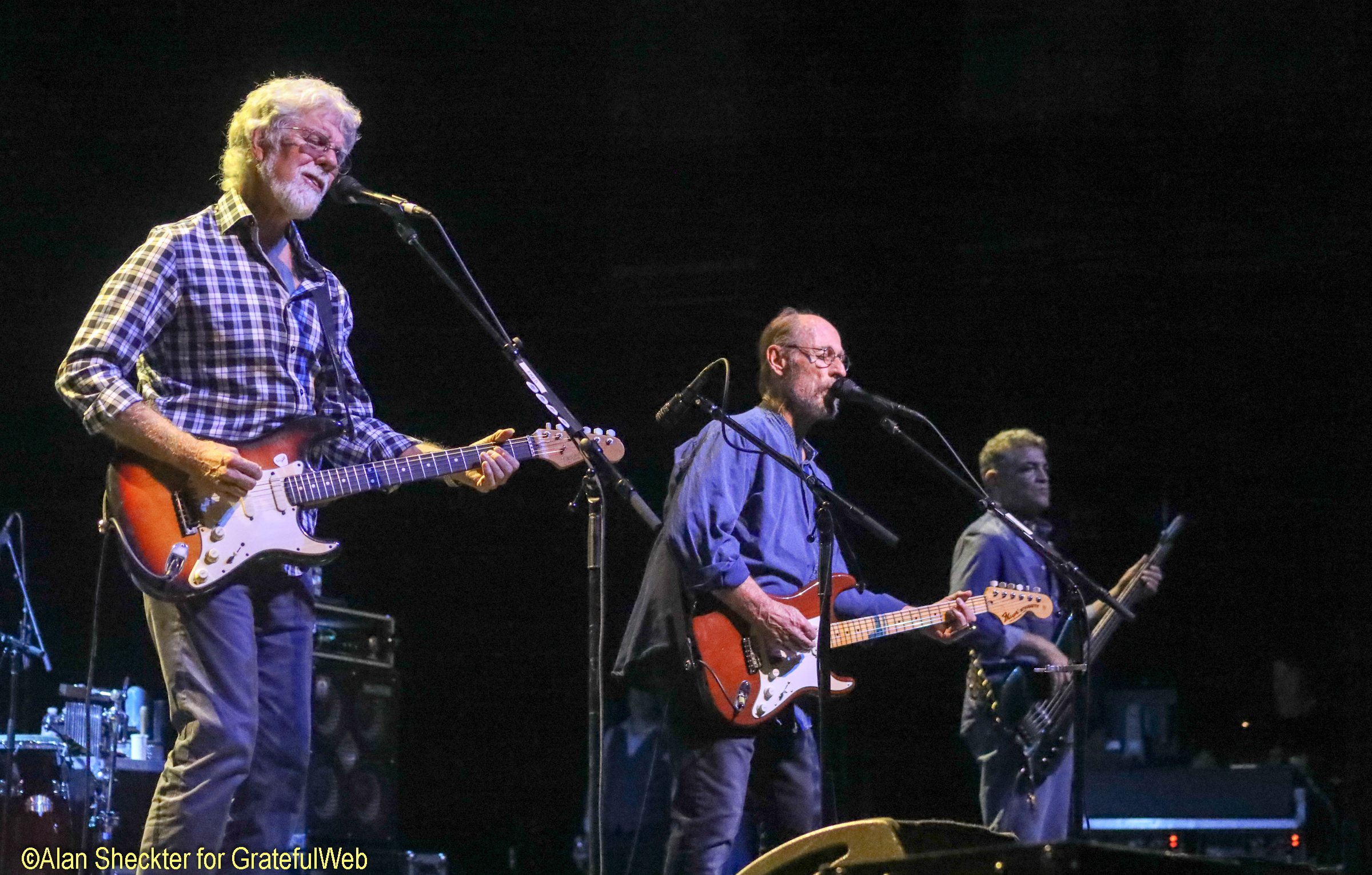 After leading the band through an animated "Home Ground," Tackett broke out his mandolin and Barrere his acoustic guitar for a curious unplugged interpretation of Alan Toussaint's "Everything I Do Gonna Be Funky (From Now On)." Keeping the acoustic arrangement intact, next came a cover of Hank Williams' "I Heard That Lonesome Whistle," following by the primal Feat time-honored "Sailin' Shoes." For the later, Barrere showcased his skilled bluesy-slide with the whole band singing the classic alongside the blissed-out crowd who knew every word. Next, Payne took the chance to introduce the first song him and Lowell George wrote together "Truck Stop Girl," an exemplary song from the first iteration of Little Feat (before Barrere, Gradney, and Clayton joined), fusing honky-tonk, rock, and soul. Gradney's unmistakable playing resonated strongly on the 1971 tune. In the spirit of honoring what so many fans remember as the voice of Little Feat, the band broke out the anathematic "Willin'," forever an homage to George, who brought the song from his respected tenure in Frank Zappa's Mothers of Invention.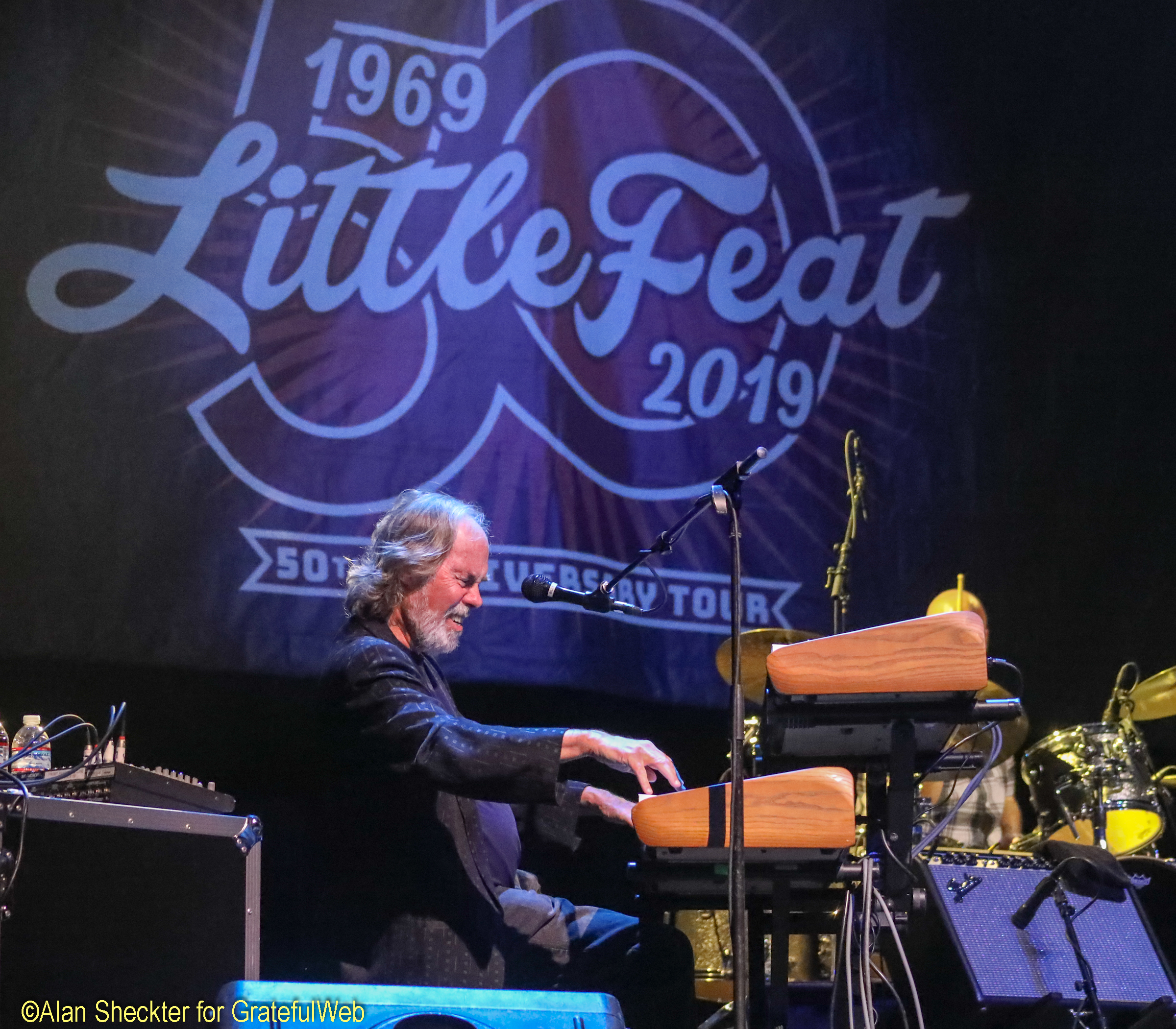 Honing the spirit of Levon Helm, Feat brought a blistering "Rag Mama Rag," more grandiosely with The Midnight Ramble Horns, than the classic recording of the tune by The Band. Next, Payne took us down south with his timeless, rocking hit, "Oh Atlanta." A warmly welcomed "Let It Roll," belted strongly out of the gates, again thanks to the horn section, faithful to the track (and album) that brought Little Feat out of hiatus in 1988. The jams continued with the horn section joining Tackett stage-front who typically fields a brassy intro to Feat's inarguably most famous tune, "Dixie Chicken." The song evolved astronomically from the New Orleans-flared four-minute album cut to a multi-movement jam vehicle that has shifted in many different directions over the years. On classic live recordings such as Waiting for Columbus one hears the future of jamband synth in Bill Payne's solos backed by the unmistakable beat of founding drummer Richard Hayward, who was sorely missed this tour. On Tuesday in Oakland, and at every show since Hayward's passing, Gabe Ford has channeled that quintessential Little Feat rhythm and drove the distinct beat of "Dixie Chicken" as a standard member.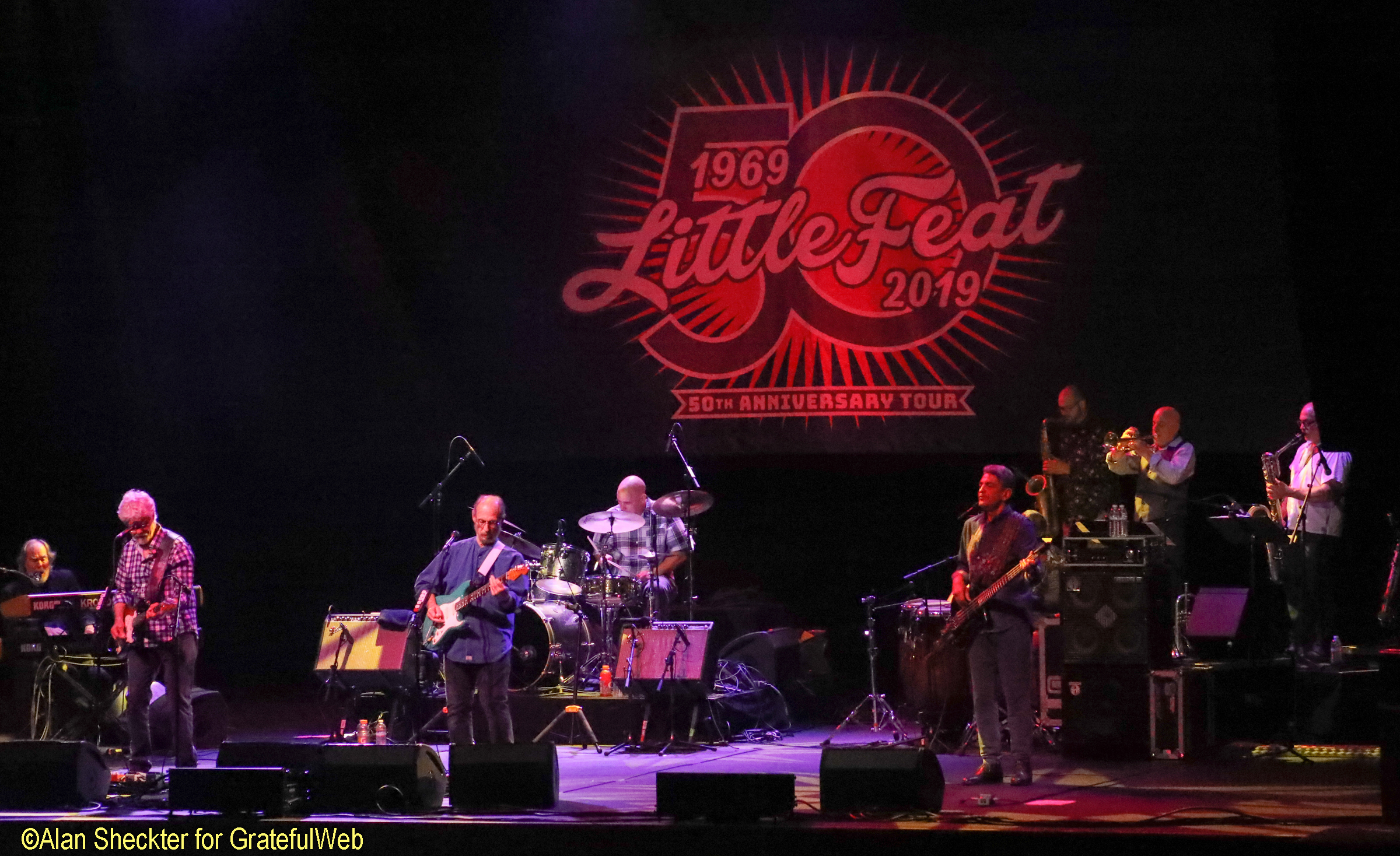 As far as encores go, nothing could have suited such an energetic performance's sendoff better than "Feats Don't Fail Me Now." It's hard to imagine that song without Lowell George's drawn-out "roll right through the night!" finale as engrained in many fans' memories, but Paul Barrere led the tune in yet another fine arrangement that brought that unmistakable vigor to the stage, closing out an outstanding concert in Oakland. Few bands still performing have had such influence as Little Feat, and Grateful Web was thrilled to be included for the monumental 50th anniversary occasion.