The early Saturday morning sun heralded a very warm day to come, but the sky was clear and looked like it would be a beautiful day. After uploading the photos I took from the day before onto my computer, I sat at my campsite and typed in Day Three's festival memories. I hauled my computer over to the VIP Chill Tent for lunch and while waiting to connect with my other photographer, I sent out Friday's report. It was a lot more pleasant than the new media trailer because I was out in the breeze and listening to Teddy Presberg's bass, guitar, and drum trio, doing some tasty jazz renderings of Teddy's original rock tunes.  It was a great way to start my day.
By lunch time, The Twin Cats and the Springdale Quartet were already cooking up in the Saloon. When I was finally free, I trekked across the Concert Bowl, catching only a tiny bit of The Bad Plus and their complex jazz tunes at the Field Stage. I found a seat up under the tarp of the Barn Stage and settled in to see the Wood Brothers, who were playing 10KLF for the second time. I noticed that this year, both Chris and Oliver were a lot more relaxed playing together. Chris got into slapping the bass and bopping around, while Oliver was moving to their music, flinging his long blond hair.
They played selections from their new album, Loaded, and their debut album, Ways Not to Lose.  Chris played harmonica on "Lovin' Arms" and beat a percussive rhythm on his bass for "Chevrolet." When Oliver changed from his resonator guitar to an electric, he got into a song so intensely that he tried to stand up and play and yelled out, "Somebody get me a strap!" But nobody did.
Earlier, Oliver had made a comment about the nice people in Minnesota. Someone from the audience called out, "Yeah, but do they know Jesus?" Without missing a beat, Oliver said calmly, "I'm sure they do, but they keep it to themselves." It was one of the nicest responses to what could have been an uncomfortable exchange.
The Wood Brothers played all of my favorites and even did a great version of that old standard, "Pallet on the Floor." Chris's lead vocals and backup vocals were more confident this year, and, of course, Oliver ranges from wailing to a sweetly tender delivery.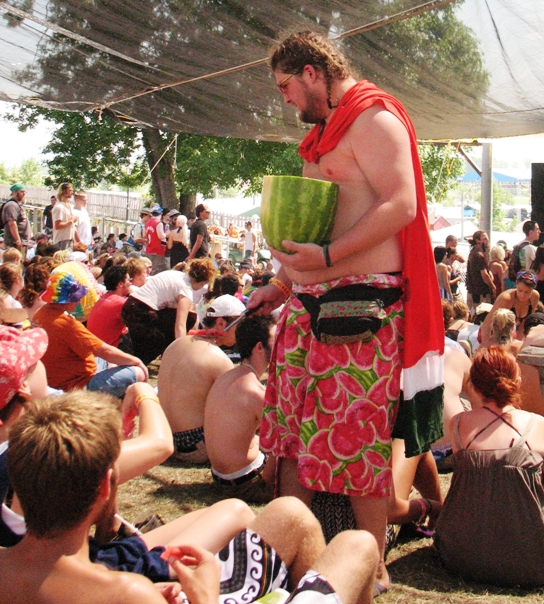 During their set, the Watermelon Man appeared. It was this guy dressed in a watermelon patterned sarong with a watermelon cape and sunglasses who scraped out scoops of wine infused watermelon with a slotted spoon and offered them to fans. When the watermelon half was scraped down to the rind, he cut ear and eye slots and put it on his head like a green helmet.
I caught a bit of Roster McCabe in the Saloon next. They were starting quite a party, complete with someone dancing on stage in a kangaroo suit! It wasn't the first sighting of unusual costumes I'd seen all weekend. On Wednesday during Extra Golden, a bearded man in a sequined Santa Claus suit was shooting photos from the back of the Barn Stage. Then on Friday, a man in a gorilla suit was walking along the chain link fencing in the Concert Bowl during Slightly Stoopid's set on the Main Stage. And The Flaming Lips had a bunch of folks dressed as Teletubbies on the stage with them that night. That was in addition to all of the ladies in fairy wings, the stilt walkers, and the peacock lady wearing a full feather display on her back.
Medeski, Scofield, Martin, & Wood took the Field Stage next, while Phix, the Phish tribute band, played at the Barn Stage.  MSM&W did almost two hours of ambient jazz that they pushed the limits with, taking it really out there. They ended on a slower, cool jazz note that was less complex and felt very grounding after they had played with our heads musically during their set.
At 6 pm, the Main Stage acts began, and Leftover Salmon did their usual mix of bluegrass, rock, cajun and calypso music. Their banjo player moved into some jazz ala Alison Brown during a couple of tunes, showing that this established band had a lot more new tricks up their collective sleeves. They hadn't played 10KLF since the initial festival in 2003. It was a great beginning to the evening and a nice intro for Phil Lesh's three and a half hour slot, which was broken up with an intermission that allowed the Illumination Fire Troupe to do their exciting dance with fire.
I can't say enough about Phil's set! He started out with the Dead signature tune, "Shakedown Street," that every Dead-inspired jamband has learned. There were some fantastic harmonies, with lead singing taken on by others in his band.  Phil carried lead on a few songs, however, his heavy touring schedule this summer is tiring his vocal chords.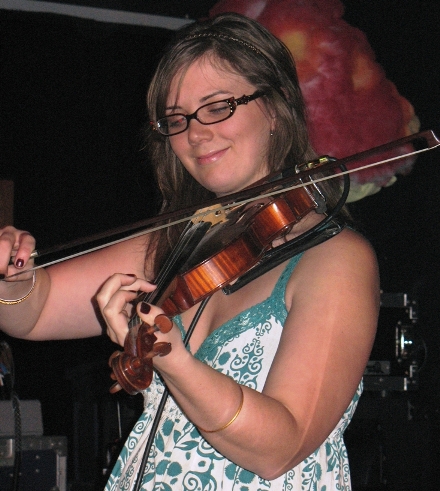 My husband was entranced by the lead guitar work coming from Phil's band. "The guitar solos were so vocalized, I thought I was hearing words." Then when Phil announced that John Scofield was guesting on guitar. My husband said, "No wonder the guitar was speaking to me!" It was phenomenal. The material Phil chose was excellent, ranging from classics like "Like A Ball and Chain" to the Beatles "Don't Let Me Down." There wasn't much chatter from the stage, just non-stop music that got everybody up dancing.
The evening closed out with Cornmeal whipping up their usual mix of hoedown/rock/doowop for an eager dancing audience at the Barn Stage. Down at the Field Stage, Lotus treated festivalgoers to their blend of electronic trip-hop club music and instrumental post-rock. Their music was made live, without computers, but moved and soared all across the Concert Bowl and into some of the campgrounds. They also had a fantastic light show on that stage. And, up in the Saloon, the White Iron Band continued to give everything they had—as they always do—and God Johnson just made everybody happy until 3 am!
The 2008 10KLF was a wonderful way to hear some fantastic music and meet once again with fellow jammers who really are into this music. Hats off to the festival owners and promoters!