The second day of the Meadow City Music Festival in Las Vegas, New Mexico, was packed full of talent; some well seasoned; some just getting over their first stage butterflies.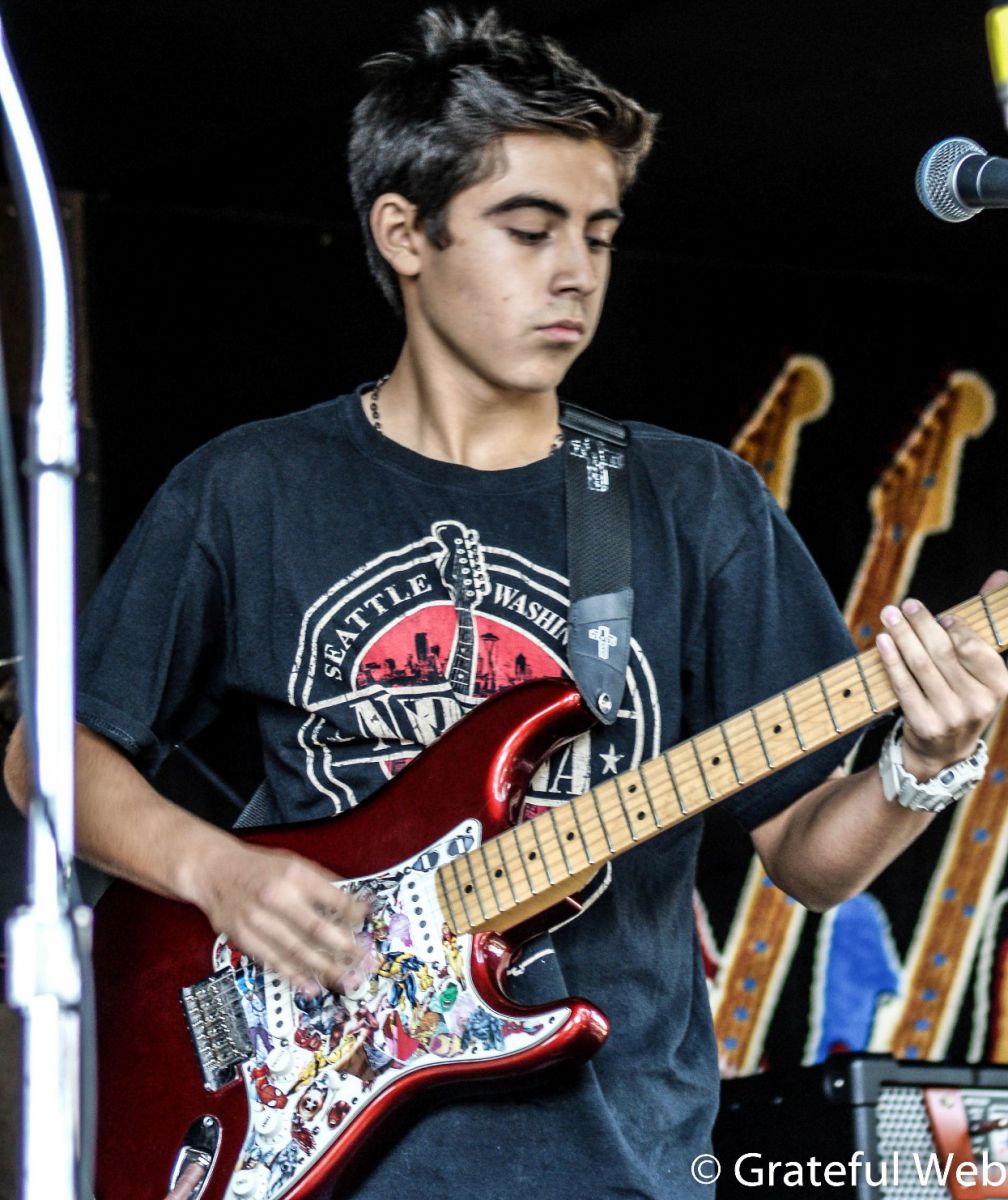 I was curious about the first act on the day's bill at the Plaza Park. I couldn't find a bio on the band. Actually, I found out it was two acts that agreed to share the same time slot and then do a number or two together. But the kicker was: they'd never played together before this festival. Now, that's not unusual for bigger festivals where bands know about each other or are old friends, and they ask someone to step up to the mic or plug in an instrument. This was different.
Sarah Lewis, a vocalist who accompanied herself on guitar, was young and did a mix of covers and originals in her five-song slot, opening up the festival. She started out with "Angel From Montgomery," a bold song for her voice, but she did a nice job with it.  Her originals were solid and well thought out. But I was surprised to hear her belt out Kacey Mushgraves' "Follow Your Arrow." It was a bold song for a conservative community, but I think Sarah Lewis personally embraced the power of the dream of following your dreams.
Those words lingered in the air as she finished her part of the set and the I-25 Band got behind their instruments. Two young men, electric guitar and drums---That's it.  I found out later that the guitarist was 14 and his bandmate was 15. They'd been playing together for two years, and the guitarist had taken lessons (and gotten touring musician life lessons) from Jeff Romero, who would close out the Plaza Park's segment of the day's festival. (More on Jeff Romero later.)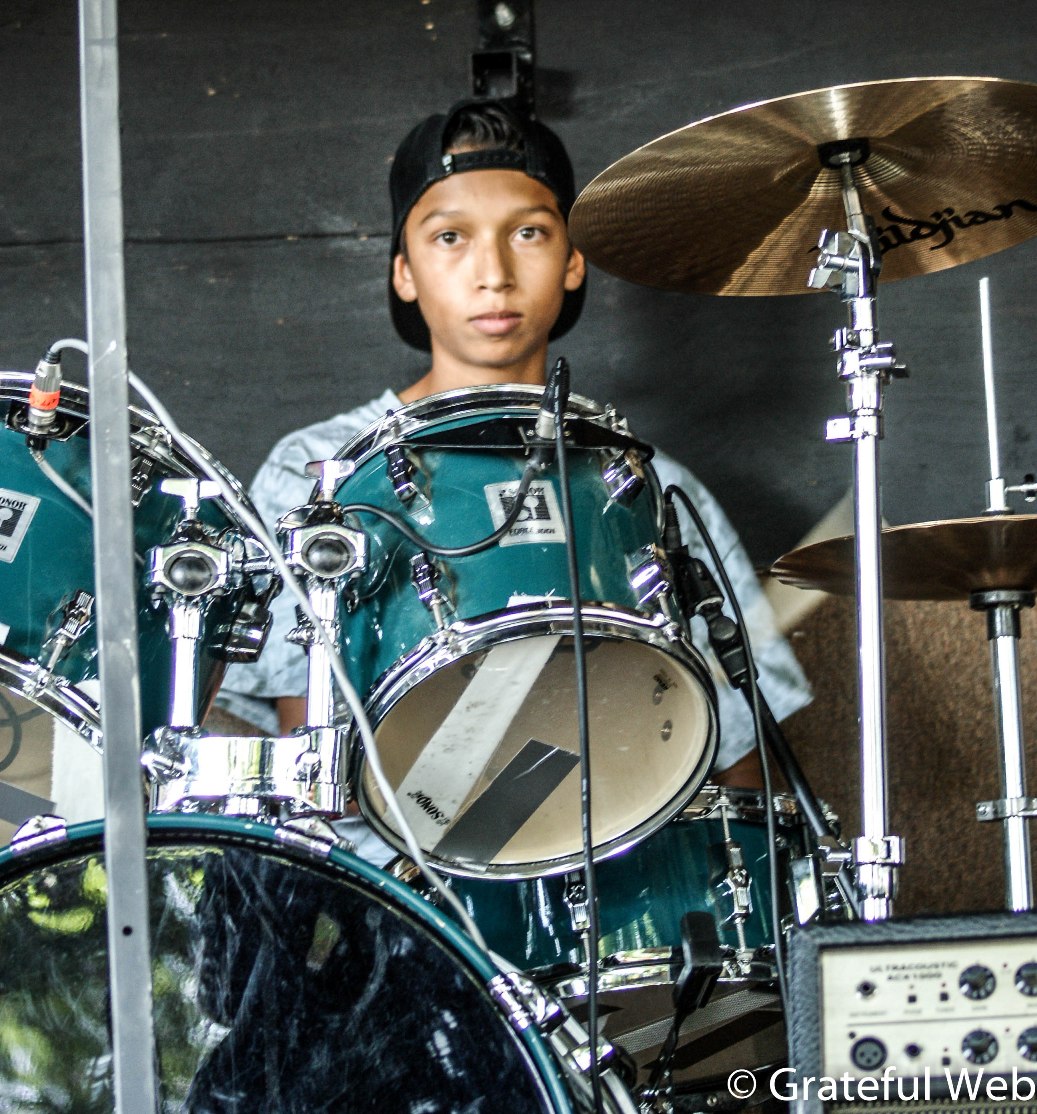 But I didn't know all of that when I saw these young guys walk on stage.  What I heard was solid guitar, sometimes distorted but always accurate and played with passion. His vocals were good, and he even sold me on "I Wish I Was a Catfish," the Muddy Waters tune covered by B.B. King and Jimi Hendrix.  The drummer set a "Hoochie Coochie Man" beat that was spot on. 
The young singer then did a Spanish song that the audience knew and really encouraged him on.  Yet, what struck me was his version of J. Cole's "Apparently," with the recurring line, "This is my canvas."  I wasn't familiar with the song. When I heard the original by the rapper himself, I was amazed at how this young band made it their own…and a much strong song that was more sung than rapped. This is what seasoned performers do.
Their last song was a metal tune with the drummer setting a driving beat. These two musicians created a zone of sound (very musical, mind you) that made me think a couple of other guys had crept up on stage and were playing along. It had a full band sound.  The audience (made up of mainly people much older than these guys) ate it up! I was encouraged that they had this kind of support in their community. When my son was touring, he drew a college age crowd and a few older players who'd played with him in other projects, but not like this.
Next Sarah Lewis joined the guys, and they laid down, "American You," by Yelawolf, again another artist and song I hadn't heard before.  It's a controversial song, but the audience liked it; whether they heard the words clearly or not, the melody got them. Lewis sang backup on it.
One song, however, showed off Lewis' voice. They did a killer version of "House of the Rising Sun."  That was a golden moment for both artists.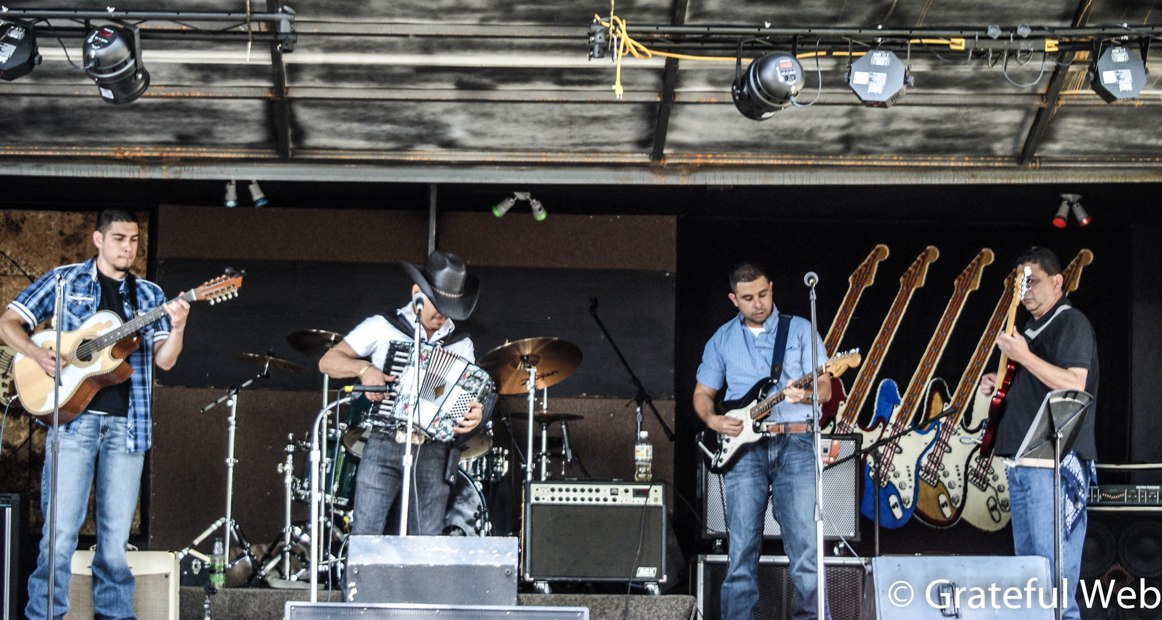 The next act was well known to the community and to a lot of New Mexicans throughout the state. Carlos Medina & Los Gallos play the NM State Fair often and many dance venues. Today, the five-piece Los Gallos band had a new bass player who was playing his first gig with them. And the drummer brought his dog, who was content to sit beside him behind the bass drum. Medina played accordion with the band and was the lead singer with the two guitarists offering vocal backup.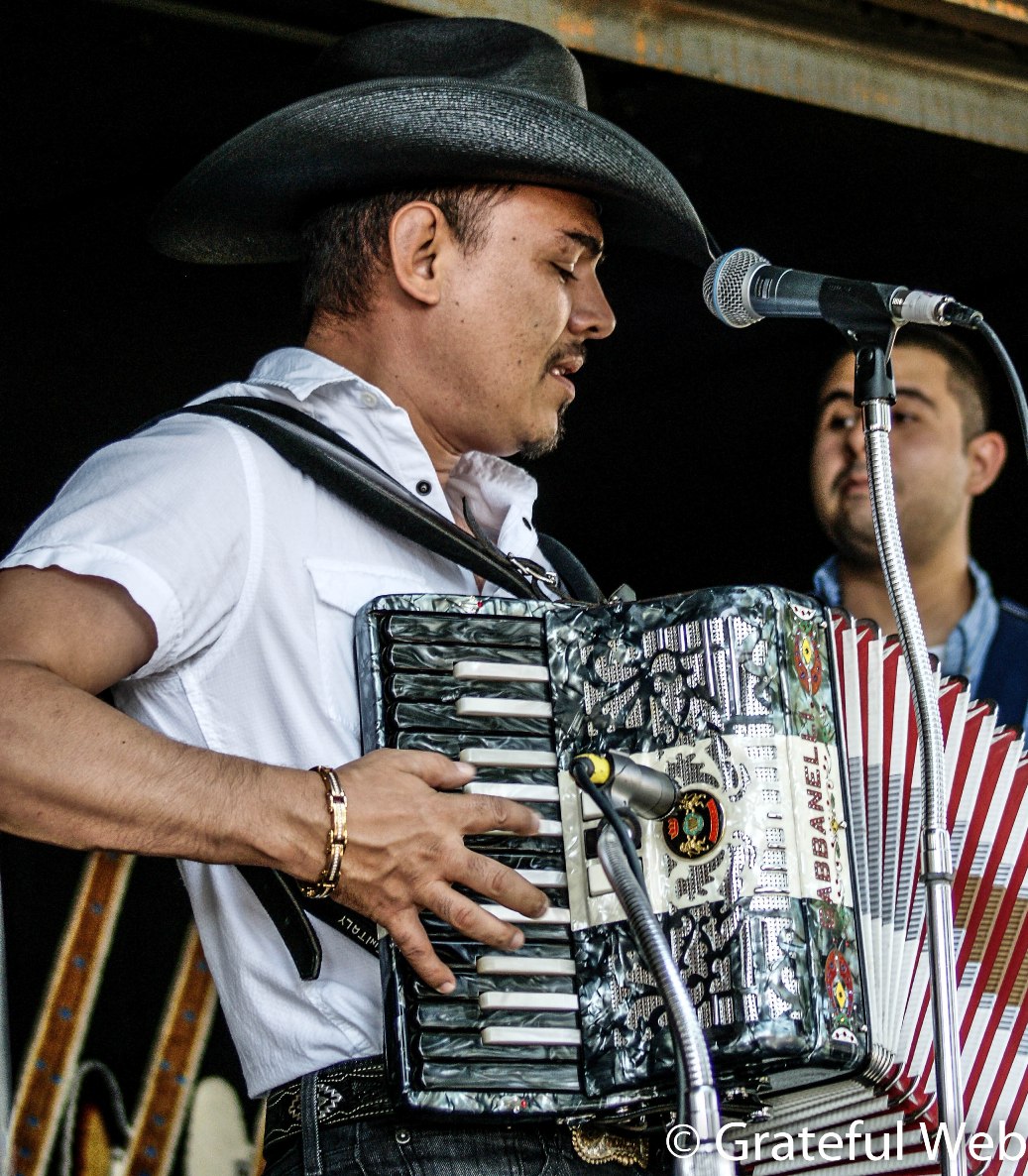 Carlos Medina & Los Gallos not only does traditional Hispanic music, but Medina also writes originals in Spanish. They played an original country tune that he had written with a mix of English and Spanish lyrics. It still translated as a country heartbreak song.  Medina also addresses his audience in a smooth blend of Spanish and English so everyone understands. It's comfortable for everyone.
Needless to say, Carlos Medina & Los Gallos brought out the dancers. They played cumbias and rancheras and a waltz or two, and the dance space was full in front of the stage.
Hearing him is one of the reasons I love New Mexico. The ranchera music is so ingrained in the landscape here. It's dance music of the soul…of joy. It always makes you feel good. Music here brings people together as one large family. Even for a gringa like me, it makes me feel as if I'm a part of a big reunion. Though Carlos Median started singing at fiestas as a small child, today he's a veteran in this kind of music and even as a very young man, he has become an icon of that.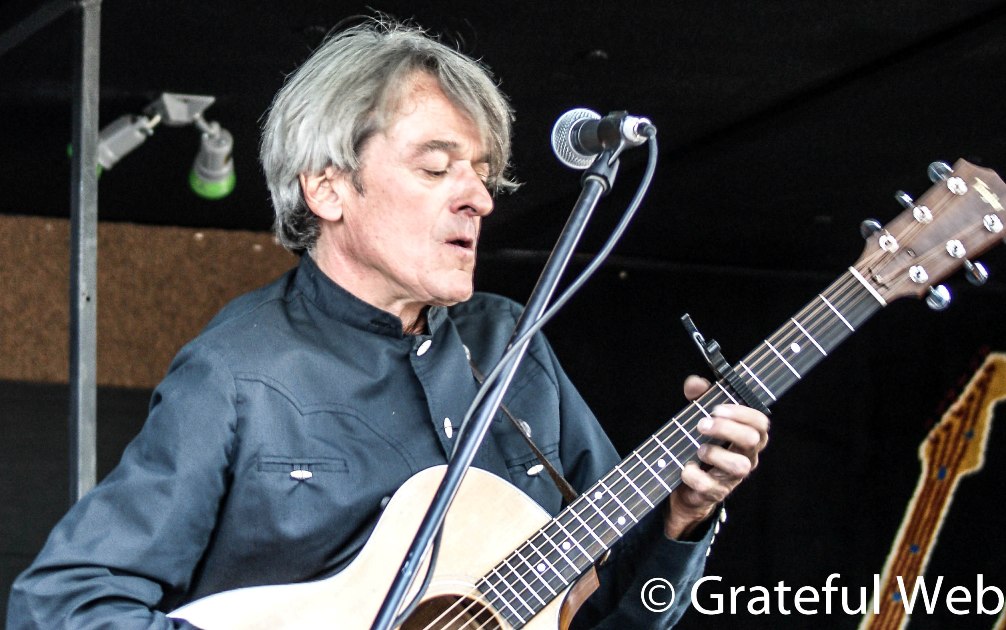 Taking the stage next was Jimmy Stadler, a singer/songwriter from Ohio who relocated to Taos several ago. He played guitar and keyboards and started out his set with three Americana songs. Then he welcomed Karliz De Marco to the stage and backed her up as she launched into a couple of tunes, including "White Rabbit." I hadn't heard that in a long time and it was sweet on the ears.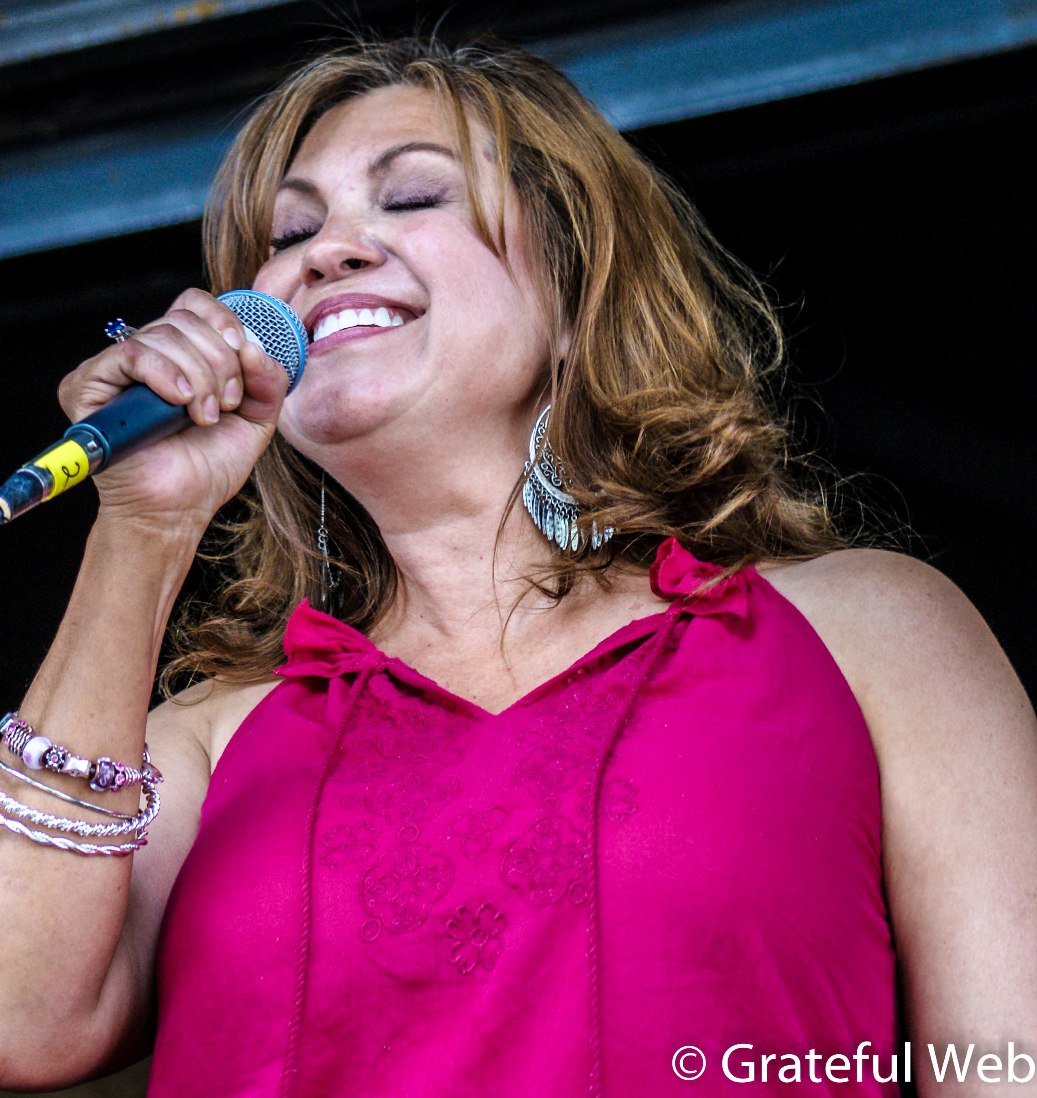 After her stint on stage, Stadler did a couple more songs, including a lovely tune he wrote about Taos.  He then backed up Brenda Ortega on keys as she sang "Don't It Make Your Brown Eyes Blue," and then he returned to the guitar for a Marti Webb song, "I'm Not That Kind of Girl," that Oretega sang in English and Spanish.
Before the next singer, Stadler sang his rowdy country, "It's Past My Beer Time." Olivia Ortiz did Neil Young's "Old Man" and another number.
All of Stadler's guest singers are local Las Vegans with big voices. Stadler was generous to share the stage with all of them. They closed the set with Brenda Ortega singing what she calls the theme song for the city, a country tune, called simply, "Las Vegas, New Mexico."
I was eager to her the next band again. From Durango, CO, Hello Dollface brought all the energy of Friday night's show at the Serf to the outdoor stage.  Ashley Edwards' powerful voice was still driving this band. They do a mix of jazz and R&B, though they are labeled as doing soul. They even did a hip-hop song laced with jazz; quite an interesting mix of material. They debuted their new single "Warrior of Light," and just kept punching out song after song, ending with a rock dance tune.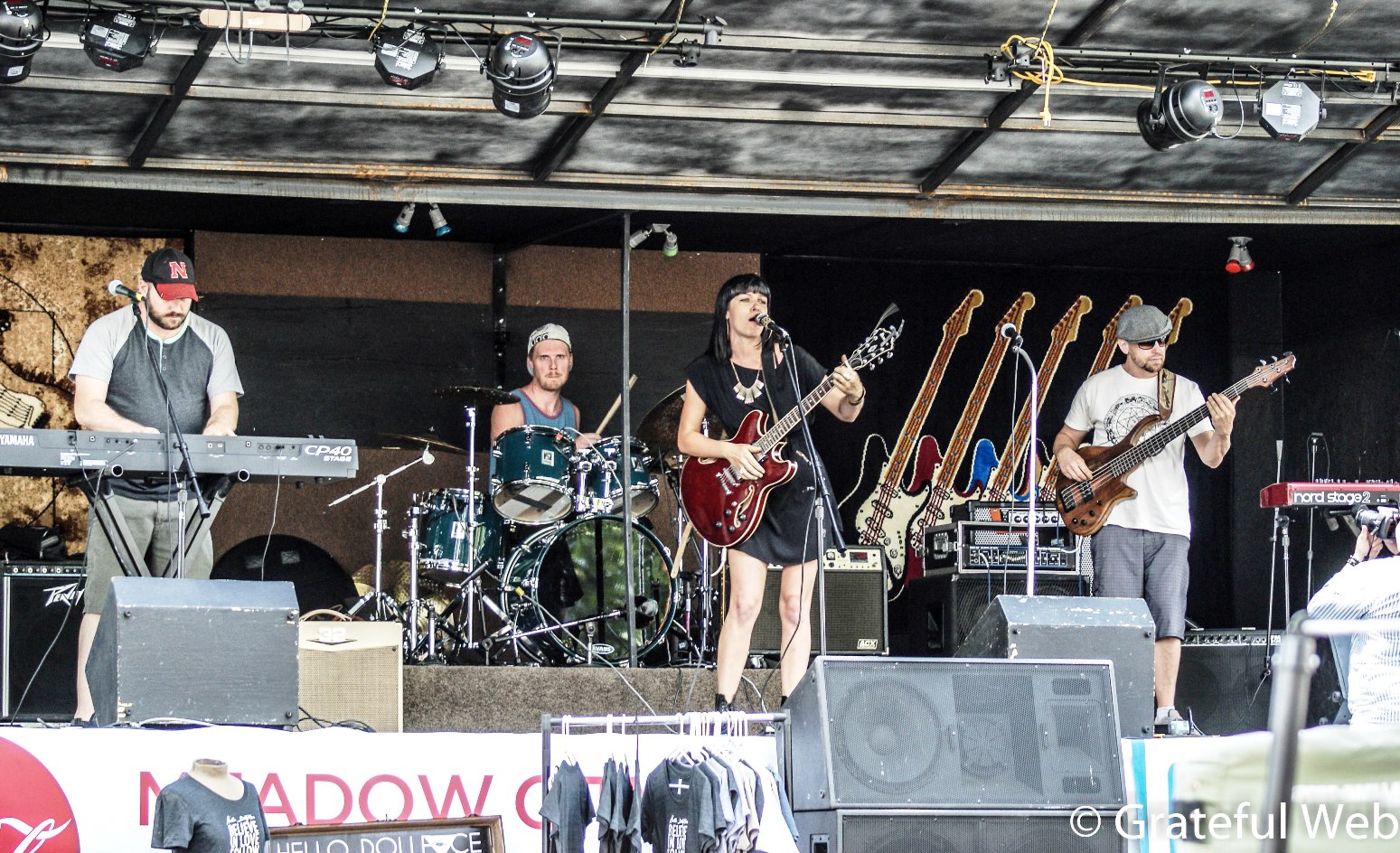 What little talk between songs was brief and mainly about their I AM Music Fest Sept 11-12 that benefits their non-profit I Am Music. This organization provides scholarships for music lessons for students in need, a free instrument lending library, curriculum development, guest artist and clinician experiences, and more student performance opportunities. You'll be hearing more about that soon.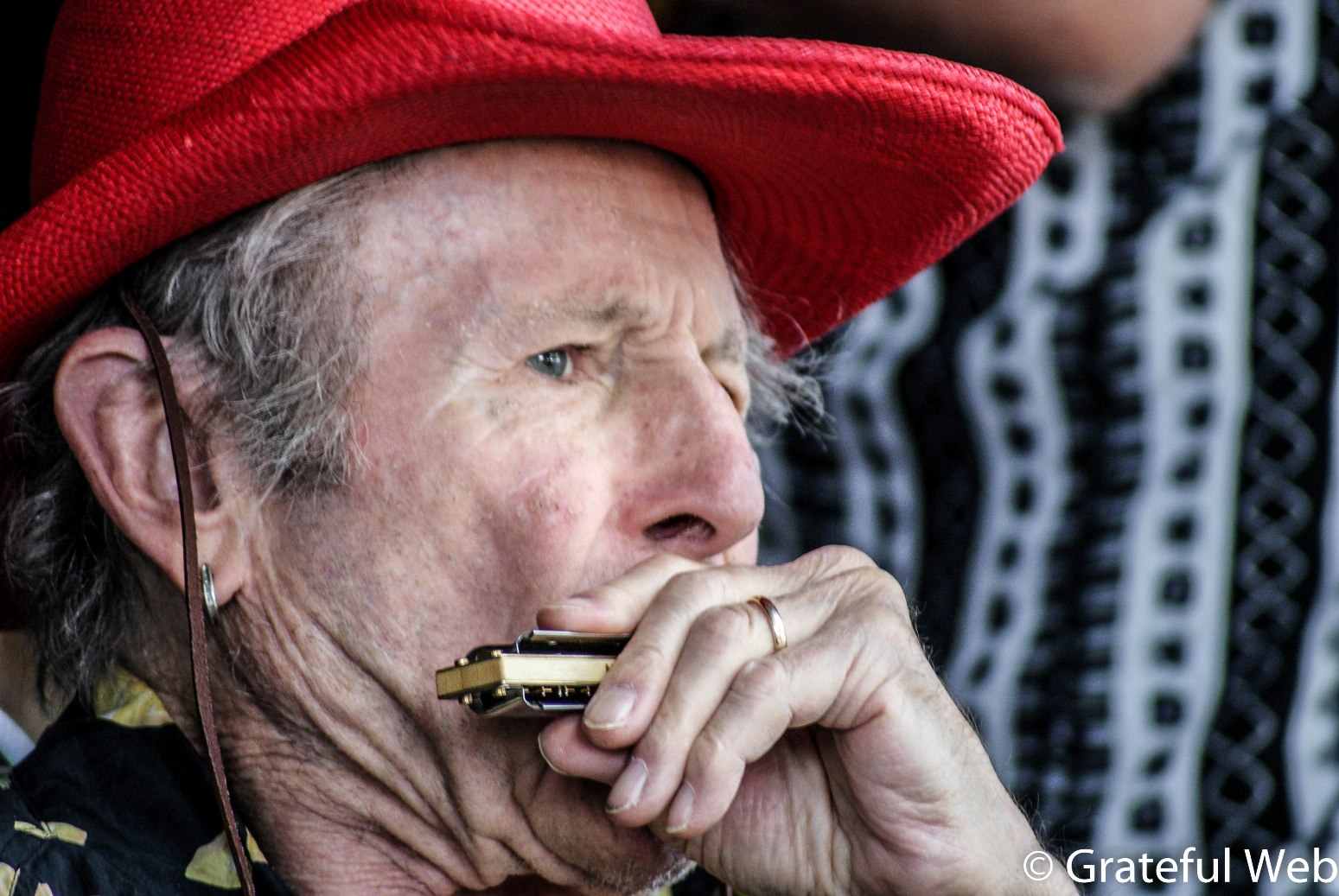 After Hello Dollface  the Low Down Daddies coated the stage with some Chicago blues, what one member calls Working Mans Blues.  A mix of old and young players, they oozed out "Blow Wind Blow," "Don't Lie to Me," "King Me," "Get Your Mojo Working," and "Built for Comfort," among others.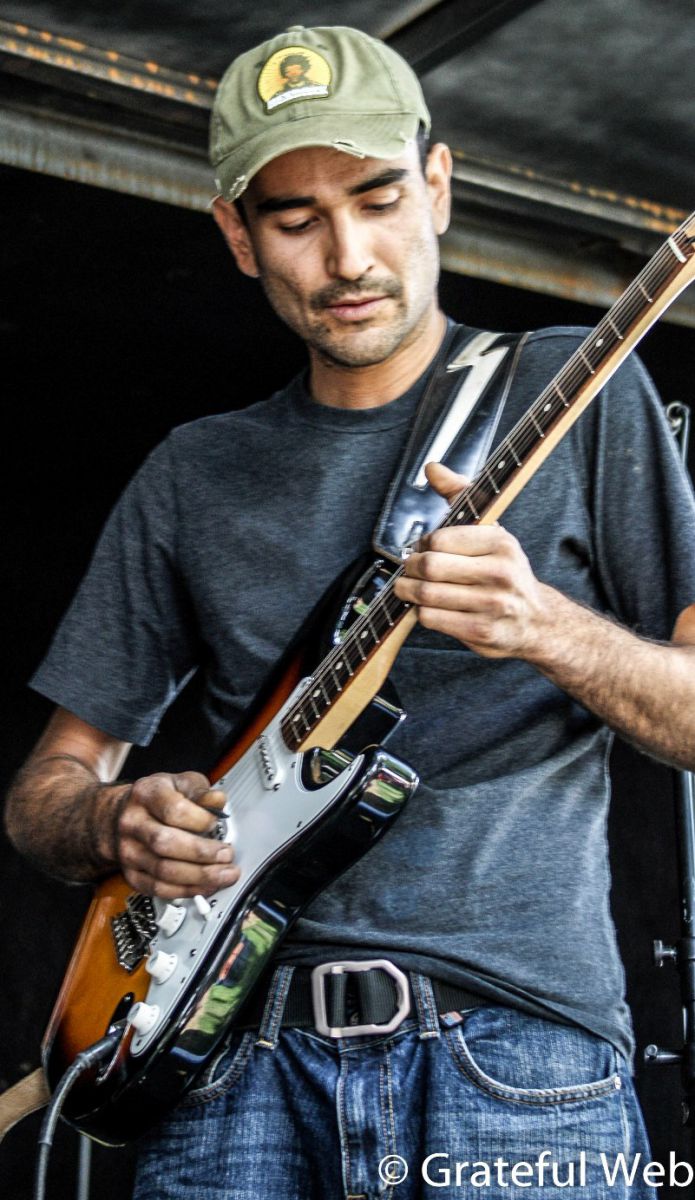 These guys play locally and a few wedding dances here and there. In fact, they were playing at the Plaza Hotel bar that evening. Dancers were up and crowding each other. Therefore, the bar will be packed by hotel guests, who couldn't get tickets to the Serf Theatre for the evening shows. They were sold out, even the SRO tickets.
The band was tight. The guitarists were spot on and their singer did a good job. And, of course, the bass and drums kept the whole thing on track. The elderly harmonica player was on key, but he didn't seem to have the power he probably had in his younger days. Still he added that great harp element.
Cascabel returned to give an hour set on the Plaza Stage. The whole town was out for them, it seemed. I can't say it enough. This band is damn good, and even their drummer sang a song. Of course, the cumbias and rancheras sprinkled among the cover songs were a high light for me.
The day's musical events closed with Jeff Romero and the Rainy Morning Blues Band. Romero sang all of the songs with back up from his band. Chief Sanchez,  trumpet player from Cascabel and Bruce Holmes from The Smooth Riders joined the blues band for most of the set. Romero is generous on stage, letting each band member shine, especially the guest horn players.
Romero, though an experienced rock and blues player, has had some classical guitar training. That's found in the precision of his electric guitar execution. His blues riffs are crisp, but they can get down and dirty.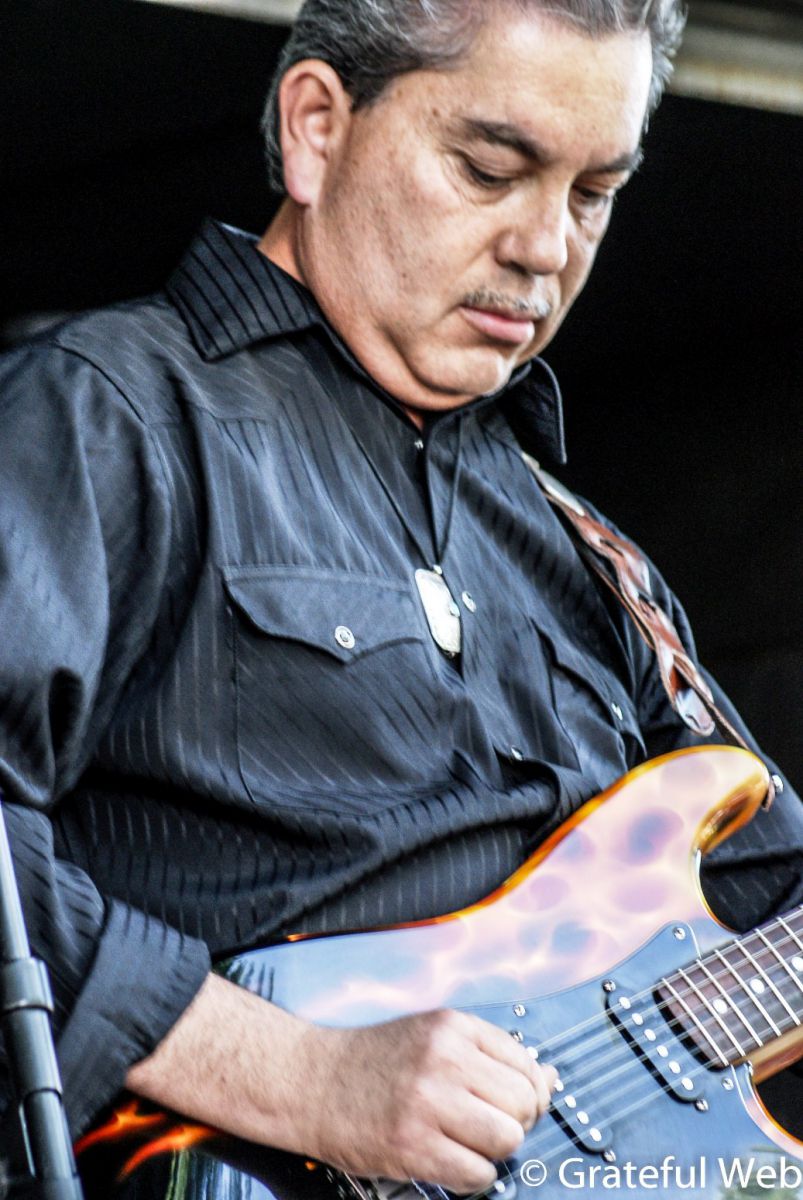 One of my favorite songs Romero and his band did was Marvin Gaye's "Pride and Joy." Bruce Homes put a little musical joke in his sax solo, lacing it with a nautical ditty. 
Also their rendition of "Me and Mrs. Jones" was unique. It was still tender, but Romero's distorted guitar added an interesting element to it.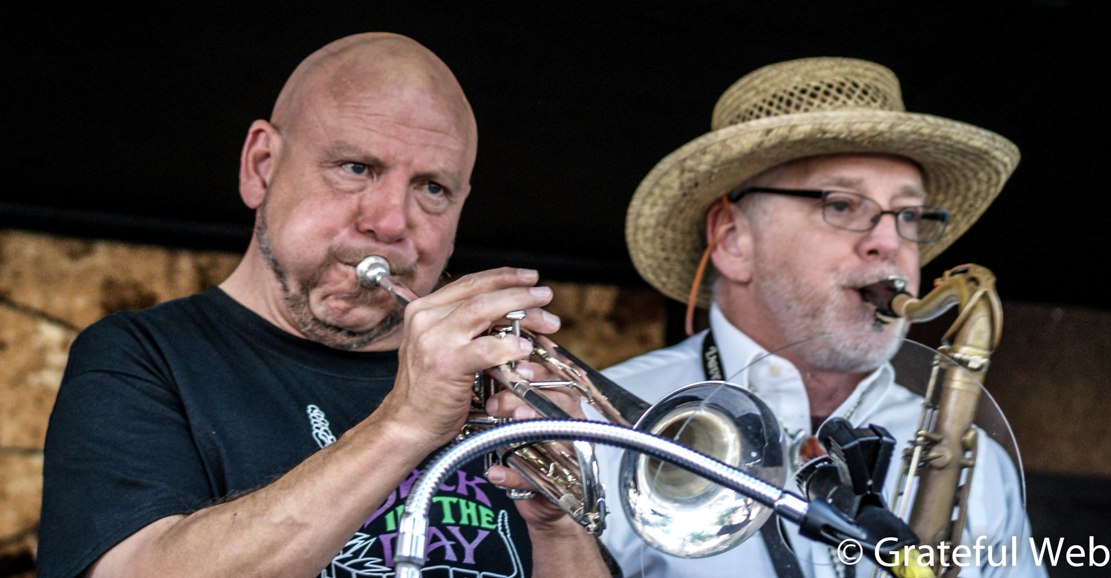 They closed out their set and the day of music with Stevie Ray Vaughn's "Crossfire." It was a rocking end to a wonderful day. But it wasn't over.
That evening at the Historic Serf Theatre three acts had extended sets. Cascabel returned with young hip-hop Benzo III and country singer Sim Balkey. More on them on Day Three coverage. It's been a long day.