Free Magic. Isn't that what jazz-fusion is? Using a launch pad of some familiar melody, rhythmic riff, or instrumentation, and building it forward and outward until it gets really weird. That's what Miles Davis realized about jazz music in the late 60s, that it was the root of all American music, and with that in mind any so-called style could be integrated into the so-called genre of jazz. This was the concept that birthed Jazz-Fusion and the groundbreaking 1968 record "In A Silent Way", which immortalized the careers of so many now cherished jazz artists. Experimental musicians who weren't satisfied playing the ordinary have kept the non-genre alive. Today the Kings of experimental jazz are indisputably John Medeski, Billy Martin, and Chris Wood. Their Keyboard, Drums, and Bass trio, MMW, has dumbfounded those who plainly categorize music for the sake of marketability. These three virtuosos have been toying with the idea of musicality and structure since their debut as a trio in 1991. Since, the band has been praised by the jazz, jam, rock, funk, and soul communities as one of the top "must see" acts currently performing. They have individually and collectively been sought after by legends of jazz that would kill for a chance to collaborate with them. Their most frequent collaborator is the legendary guitarist John Scofield, who still gigs here and there with them to this day.
Though MMW has enjoyed numerous successful studio albums, they are certainly a band best experienced live. Their onstage chemistry and experimental nature have manifested some of the most exciting musical performances I have ever had the pleasure of witnessing.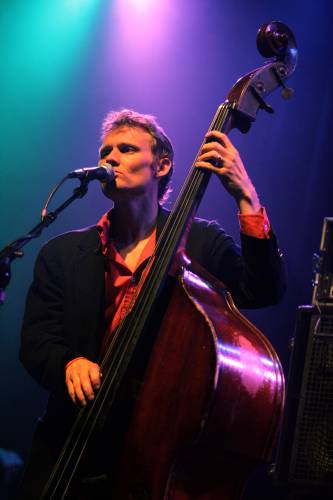 With a few live releases under their belt, the most exciting of all has arrived with Free Magic; a documentation of their anticipated first-ever acoustic tour from 2007. The release contains five tracks, four of which break the ten-minute mark. It evenly weights original material from all three musician's compositional efforts as well as their a few covers of their favorites. Calling this album accessible might be misleading, since the nature of MMW music is experimental, structure bending, and just plain out there. Calling this album a milestone in their musical career is an absolute truth. And let's face it; most MMW fans or fusion listeners aren't seeking out accessibility, but rather complex instrumentation and challenging compositional attributes.
The album begins with bassist Chris Wood's original "Doppler", which starts off as a Medeski and Martin toy piano vs. balaphone duel, which eventually falls into a pleasant piano-led groove that scales through different modalities until settling soulfully such. "Blues for Another Day" is blissfully chaotic in structure; sounding something like a Grateful Dead "Space" jam meets an "In A Silent Way" basement tape. Free jazz at its finest! When the dust clears and the track begins to take tempo seriously, we get another a Wood and Martin rhythm led blues jam that really resonates their acid-funk sound which seems somewhat kept at bay for most of this release.
One thing I noticed that though this is a fully acoustic recording, it doesn't always present itself as immediately noticeable. As mentioned before, that acid-funk feeling that Medeski's organ and midi-keyboard evoke may be absent. But so much else is going on musically that listening to the often acoustic Chris Wood on bass, and Billy Martin's eclectic take on non-electric percussion really sounds as natural as MMW ever has. Perhaps witnessing the acoustic element live, watching Medeski on grand piano and his other little toys, or witnessing Wood slide effortlessly down his upright bass might make these elements more prevalent. This presents no loss conceptually or musically, just an unexpected observation from listening and not seeing.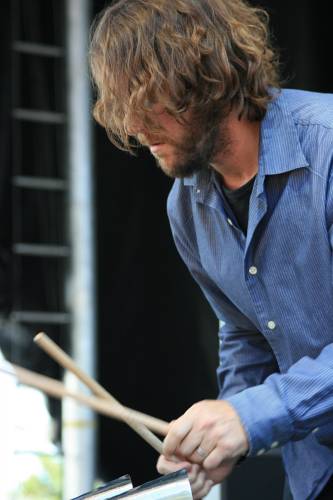 The title track, "Free Magic", is as eclectic as the album gets beginning with all three using their instruments percussively almost to the point of grating, until Billy Martin settles the rhythm into a funky beat and frees the jam of its discomforts into something beautiful. The groove then settles into a Chopin-influenced "Balade in C-Minor" which displays Wood in all of his virtuosity. The longest track on the album, "Where's Sly" begins with an enthusiastic audience member hollering "C'mon Wood!" Medeski leads the trio into a rearrangement of their classic original off of their 1993 "It's a Jungle In Here" album. The results are phenomenal improvisations in perhaps the most structured track on the entire album. Medeski's grand piano chops are greatly displayed here, proving that he is as classically proficient as he is experimental.  This is truly what separates MMW from the "jam band" scene (which they frequently tour on the outskirts of). Their true jazz backgrounds and ability to build highly complex instrumentals will find most highbrow listeners having something great to take away from every track. As "Where's Sly" builds, it reveals itself as the most consistently energetic cut from the album, culminating in a breathtaking Billy Martin drum/percussion solo.
If you weren't yet convinced that the trio roots itself in a comprehensive understanding of fusion and free jazz, the final track is a back-to-back cover. First off Charles Mingus' "Nostalgia in Times Square" played into a rare Sun Ra tune, "Angel Race". MMW was born in Brooklyn. Their sound evokes the business and rambunctious nature of the city that never sleeps. "Nostalgia" is just that, homage to the city that birthed them and a jazz legend that inspired their sound. Here we get a taste of the modal side of MMW. Really these guys could play anything, but choose to veer toward the experimental. After the trio culminates a rousing final verse they transition seamlessly into "Angel Race" by way of some heavy grand piano. The Mingus/Sun Ra duet is a fantastic note to end this release on. They got really far out there then brought us back home.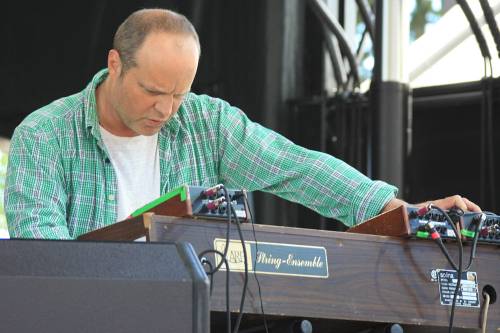 "Free Magic" was recorded on MMW's first ever-acoustic tour at the McCarter Theater in Princeton New Jersey, The Grand Opera House in Willmington Delaware, and the Birchmere in Alexandria Virgina. Medeski, Martin, and Wood are celebrating this release by embarking on their second acoustic tour that is currently gigging in the New England and Mid-Atlantic states. I wish they were touring in Colorado acoustic, however us Coloradoans have the pleasure of seeing the rare Medeski, Scofield, Martin & Wood quartet playing two dates (Denver and Boulder) in state. Basically, the trio is at an all-time peak and you would be silly not to catch them live if opportunity knocks. Regardless, do yourself a big favor and buy "Free Magic" off their website or in stores near you. It's a journey through all realms of musicality and even the most hardcore MMW fans will be wowed and surprised consistently. This is their closest release yet to representing the improvisational spirit of the trio properly and I'm sure they are proud to finally put it out there to their fans.